One of my favorite dessert recipes ever:  Snickerdoodle Blondies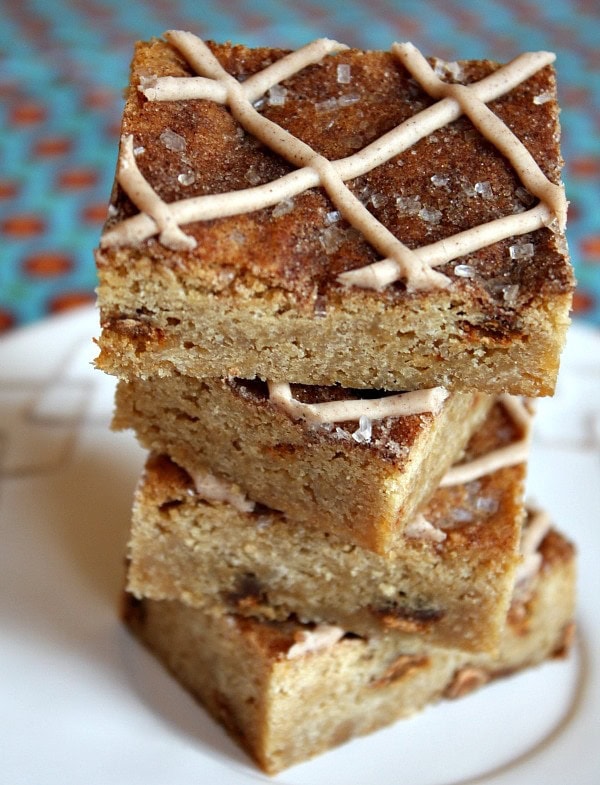 I like to think that there will be a special calorie-free place in heaven reserved for Snickerdoodle lovers like me. There will be beaches made of cinnamon-sugar sand and surfboards made of Snickerdoodle Cookies. On a nearby magical mountain, I'll ski down frozen layers of Snickerdoodle Ice Cream, maneuvering the mogul-like scoops with ease as I stop for a nibble every now and then. I'll live in a seaside castle made of Snickerdoodle Cake and sleep in a bed made of tender Snickerdoodle Marshmallows. My computer will sit upon a desk made of Superdoodles, just in case I get a hankering for extra cinnamon in my land filled with sweetness. And the steps to the castle will be made of Snickerdoodle Blondies.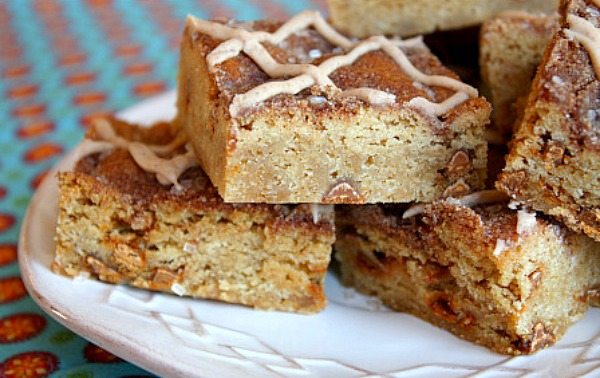 It'll be a shocker if I ever actually make it inside my castle since I'll be greeted the deliciousness of these blondies every time I approach my home.  Upon taking a bite, my taste buds will first be delighted with a light cinnamon-tainted glaze before my teeth break through the sugary crunch of the upper crust and into the tender Snickerdoodley interior.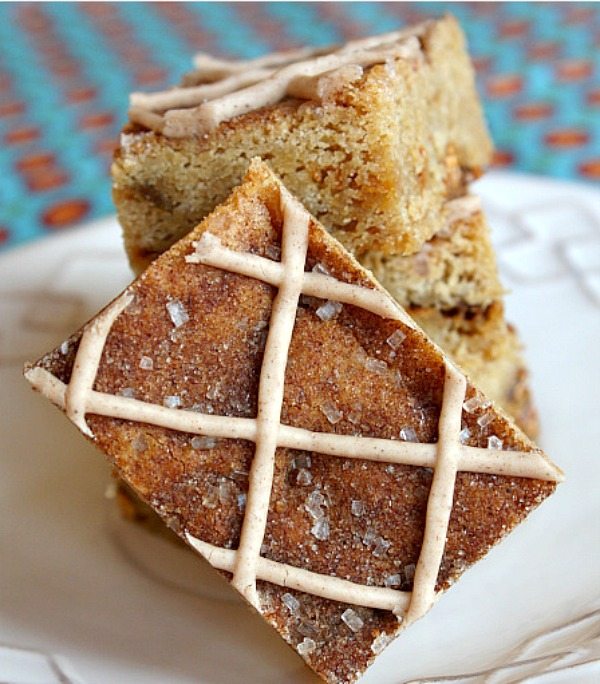 I realize that my vision is quite a stretch, but I'm quite sure that foodies everywhere are hoping for some kind of Gourmet Heaven in their afterlife.  I have my Mom to thank for my Snickerdoodle love.  She made them often as I was growing up, and they've always remained my favorite.  I'd take Snickerdoodles over Chocolate Chip any 'ol day.  And those Snickerdoodle Marshmallows mentioned above?  I have yet to develop that recipe
Snickerdoodle Blondies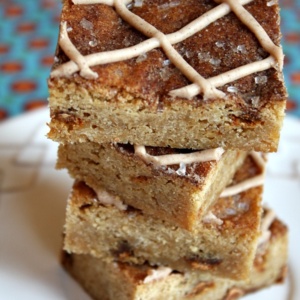 Yield:
20 to 24 bars
Prep Time:30 minutes
Cook Time:25 minutes
Ingredients:
Cookies:
2 2/3 cups all-purpose flour
2 teaspoons baking powder
1 teaspoon ground cinnamon
1/4 teaspoon ground nutmeg
1/2 teaspoon cream of tartar
1 teaspoon salt
2 cups brown sugar, packed
1 cup unsalted butter, at room temperature
2 large eggs, at room temperature
1 tablespoon vanilla extract
1 cup cinnamon chips, optional
Topping:
2 tablespoons granulated white sugar
1 teaspoon ground cinnamon
pinch of nutmeg
Glaze (optional):
1 cup powdered sugar, sifted
1 teaspoon ground cinnamon
1/4 cup heavy whipping cream
1 teaspoon vanilla extract
Directions:
Preheat oven to 350 degrees F. Spray 9x13-inch pan with nonstick spray. Line pan with parchment and let it hang over the sides. Spray parchment with nonstick spray too.
In a medium bowl, whisk together flour, baking powder, cinnamon, nutmeg, cream of tartar and salt; set aside.
In a large bowl, cream together butter and brown sugar with an electric mixer (3 to 5 minutes). Mix in eggs, one at a time, then vanilla. Keep beating until mixture is smooth.
Stir in flour mixture until well blended. If using cinnamon chips, stir them in now. The batter will be thick. Spread it evenly into the prepared pan. Spray your hands with cooking spray and use them to pat the mixture down evenly.
Combine the topping ingredients in a small bowl; sprinkle evenly on top of batter.
Bake 25 to 30 minutes or until surface springs back when gently pressed. Let pan cool completely.
When ready to cut, use ends of parchment paper to lift out baked bars. Place on a cutting board. If you're adding the glaze, whisk the glaze ingredients in a medium bowl and drizzle onto the bars in decorative fashion. Let glaze set (this will work more quickly in the refrigerator) then use a large, sharp knife to cut into bars.
Tips:
You don't have to use parchment paper in your pan if you don't have any.  You can always just bake them in the pan and then cut them and lift them out.  Baking w/ parchment though will help you to get the cleaner cuts seen in the photograph because you can take the whole thing out of the pan and work directly on a cutting board.
This is a very sweet treat.  Leave off the glaze if you wish, but it adds a good flavor to the top (and you can get a nice design out of it).  Put the glaze in a little zip bag, snip off the end and you'll have a way to squirt the glaze on in whatever decorative way you'd like.
If you have chunky, white, sparkling sugar, add that to the top too for extra sparkle.