Here's a salty-sweet dessert you're gonna love:  M&M Pretzel Blondies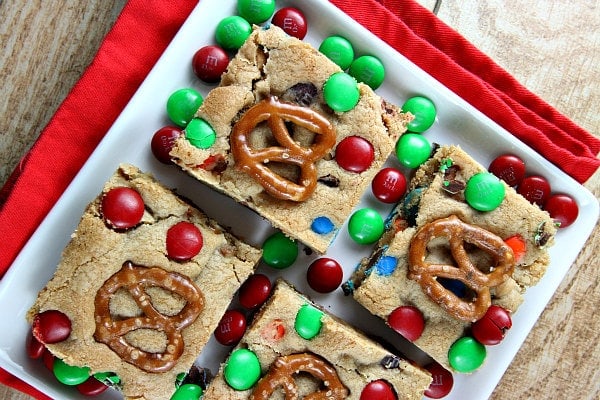 These bars are sweet and tasty.  They're full of peanut butter chips, broken pretzels and M&M's.  Make them with regular M&M's all year long, or grab the holiday M&M's to make for holiday treat platters!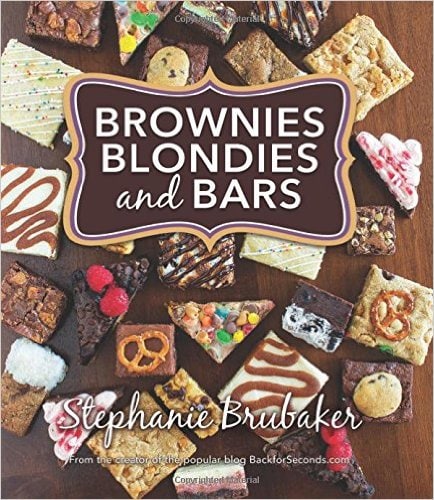 This recipe comes from a new book:  Brownies, Blondies and Bars by Stephanie Brubaker.  These are all easy-to-make desserts and favorite treats that you like to make again and again.  I have so many recipes bookmarked to make in this book.  Here are a few highlights:  Chocolate Chip Cookie Stuffed Brownies, Glazed Lemon Brownies, Toffee Cheesecake Brownies, Cinnamon Roll Blondies, Chocolate Carmelitas, Chocolate Pecan Pie Bars, and Funfetti Cream Cheese Bars.  It's a good book to have on hand when you need to bake a pan of hand-held desserts.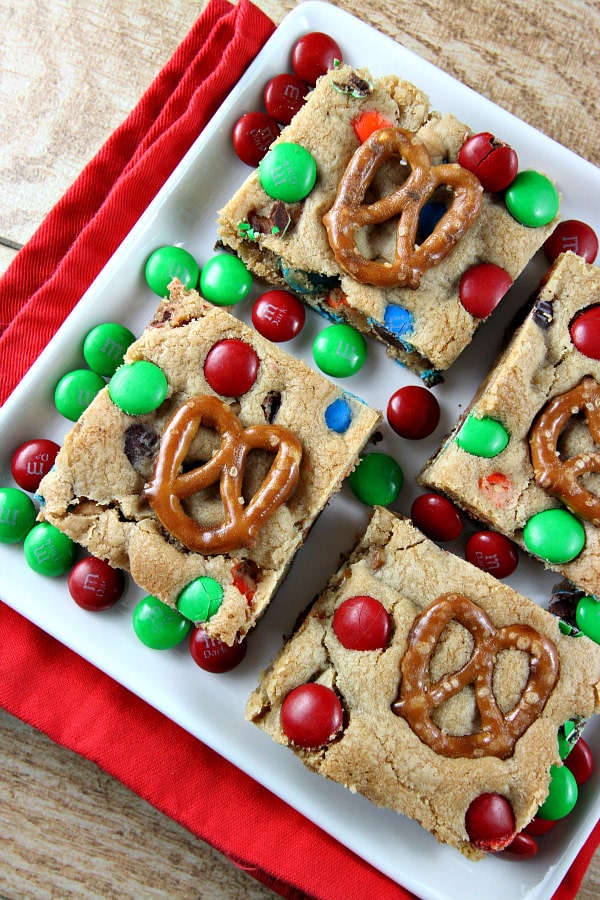 I happened to bake these for holiday purposes… while putting together some holiday cookie platters.  I thought the pretzels on top would be something different than the "typical" holiday cookie.  If you'd like to try another recipe from this book, my son (RecipeBoy) made the >> Mint Fudge Stuffed Brownies << and they are fantastic!
M&M Pretzel Blondies
Yield:
24 blondies
Prep Time: 15 minutes
Cook Time: 20 minutes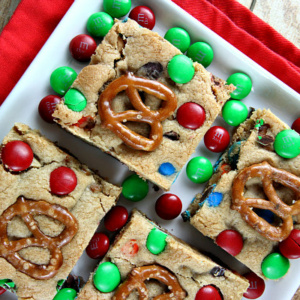 Ingredients:

1 cup (2 sticks) unsalted butter, softened
1 cup brown sugar
1/2 cup granulated white sugar
1 large egg
1/2 teaspoon salt
2 teaspoons vanilla extract
1 teaspoon baking soda
2 cups all-purpose flour
1 cup broken pretzels
1 cup peanut butter chips
1 cup M&M's (plus a few extra to press on top)
24 pretzel twists

Instructions:

Preheat the oven to 350 degrees F.  Line a 9x13-inch pan with foil, leaving enough to hand over two opposite edges.  Spray lightly with cooking spray.
In a large bowl, use an electric mixer to combine the butter and sugars until smooth.  Add the egg, salt and vanilla and mix well.  Add the baking soda and flour, and mix just until incorporated.  Stir in the broken pretzels, peanut butter chips and M&M's.
Spread the batter evenly into the prepared pan.  Gently press the pretzel twists into the top- 4 in each row for 6 rows.  Press some extra M&M's on top around the pretzels for a more festive look.
Bake for 20 minutes, or until a toothpick inserted into the center of the blondies comes out clean.  Allow to cool completely before cutting into 24 pieces.  Store in a sealed container.
Here are a few more blondie recipes you might enjoy: