These Funfetti Frosted Blondies are dense, chewy and full of sprinkles! They're perfect for the kid's lunch boxes or a simple celebration!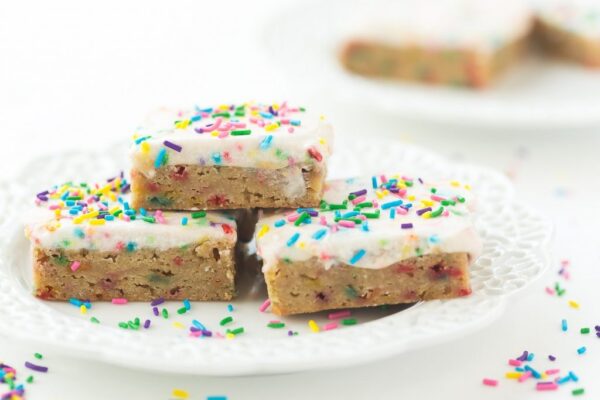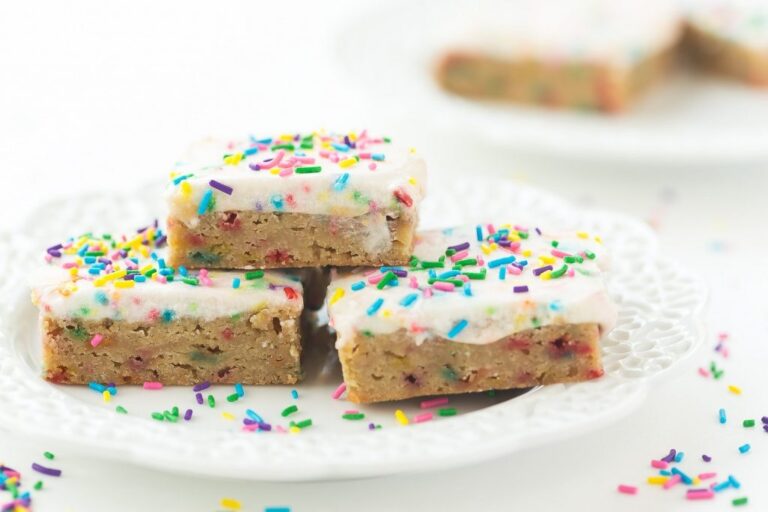 So, today is my birthday!
When Lori asked that my first post here be published on September 24, I knew that there had to be sprinkles. What is a birthday without sprinkles?
Oddly enough, I don't usually post anything special for my birthday. I am the kind of person who tends to forget about holidays, birthdays, anniversaries, etc., when I'm planning for my blog. In real life, it is the opposite.
There is nothing I love more than a good excuse to make cake and throw a party! Especially for one of the girls, and since they love sprinkles, I felt they were necessary here, too.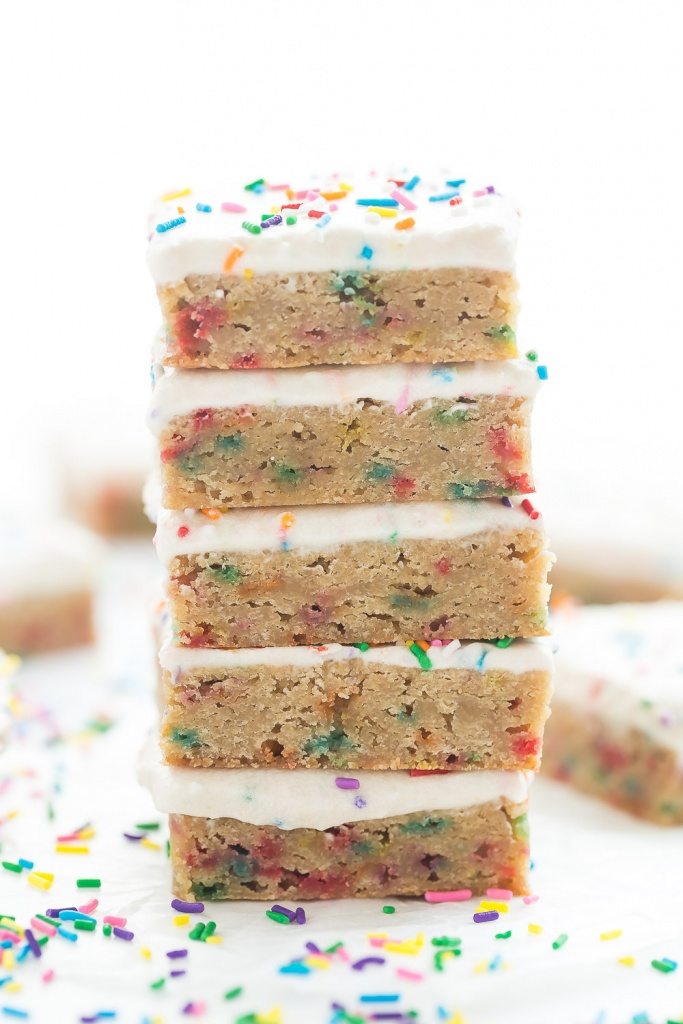 How do you guys like to celebrate birthdays? The classic cake? A special meal?
If you don't like things overly sweet, you can skip the frosting, or do half of the recipe and just drizzle it over, and they will still be delicious! These blondies also freeze perfectly, so feel free to make a big batch and hide some away in the freezer for later — if they make it that far!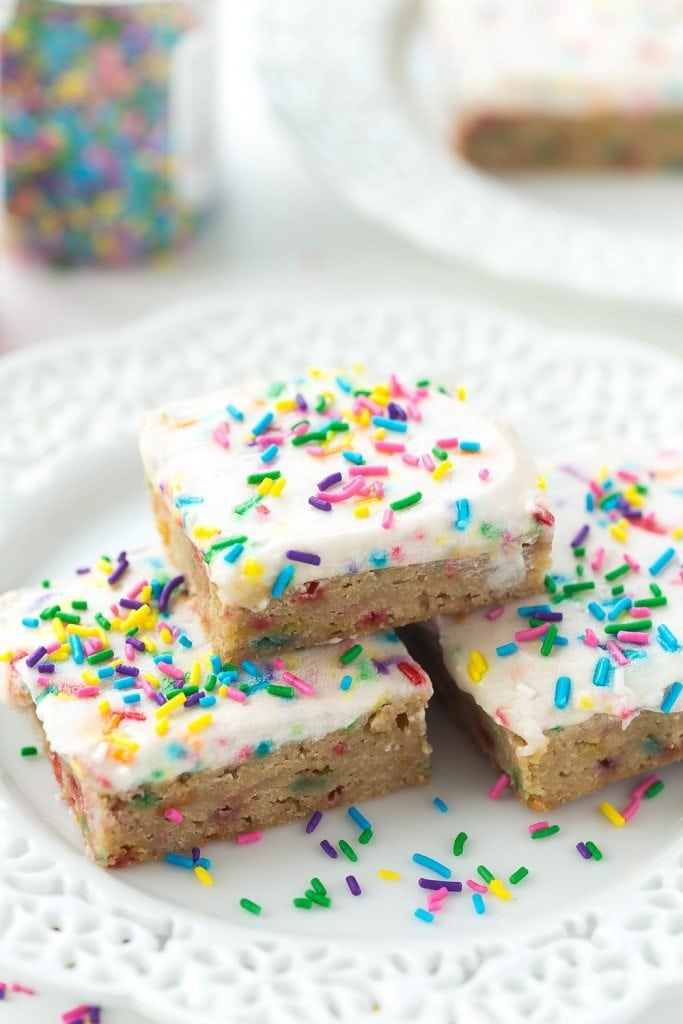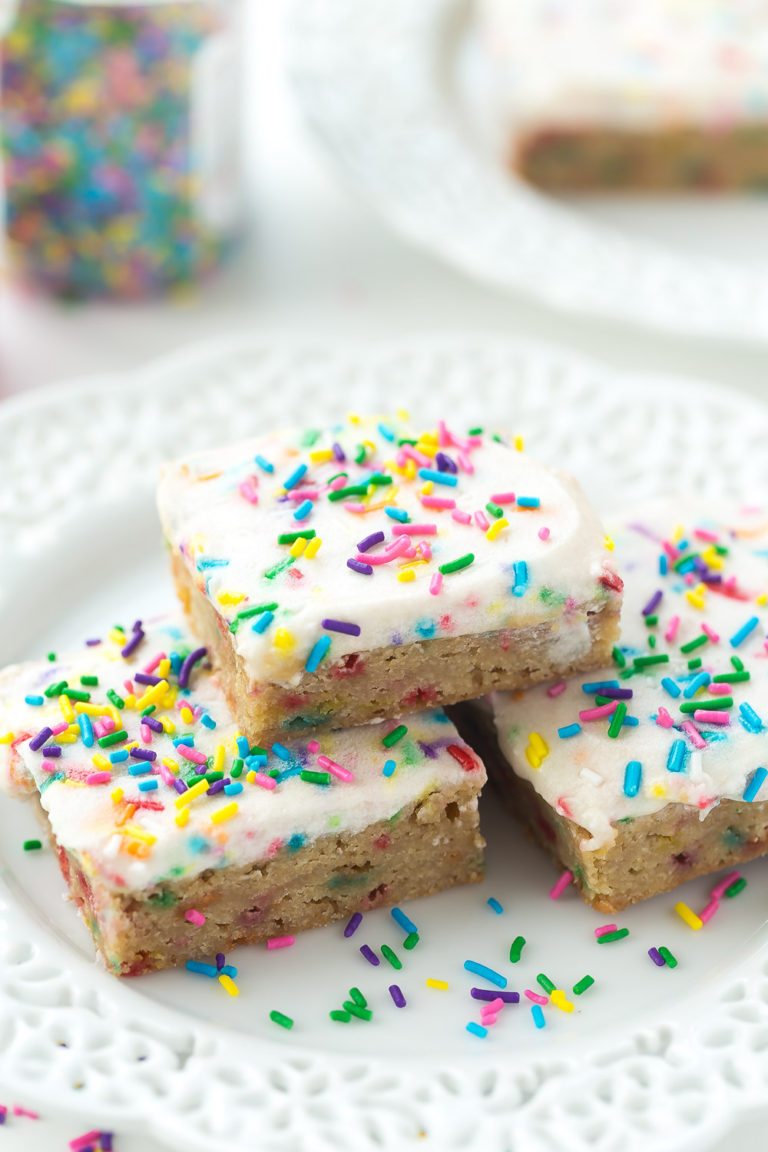 Funfetti Frosted Blondies
Yield:
18 servings
Prep Time: 15 minutes
Cook Time: 20 minutes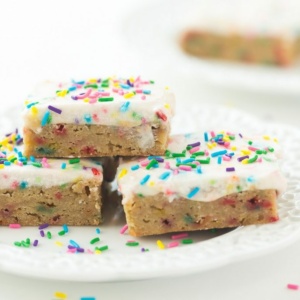 Ingredients:

Blondies:

1 cup butter (2 sticks), melted
2 cups brown sugar, packed
2 large Eggland's Best eggs
2 teaspoons vanilla extract
1/2 teaspoon salt
2 cups all-purpose flour
1/4 cup large rainbow sprinkles (they won't dissolve as quickly in the batter as the small ones) Frosting
1/4 cup (1/2 stick) butter, softened
3 cups powdered sugar
2 teaspoons vanilla extract
2 to 3 tablespoons milk
1 tablespoon rainbow sprinkles

Instructions:

Heat the oven to 350 degrees F and line a 9x13" pan with parchment paper or tin foil and spray with non stick spray.
To make the blondies: In a large bowl, whisk the melted butter and brown sugar until smooth. Add the eggs and stir until combined. Add the vanilla, salt, and flour and stir until just combined. Stir in the sprinkles.
Spread into the prepared pan and bake at 350 degrees F for 20 to 22 minutes, or until a toothpick comes out clean in the center. Set aside to cool to room temperature.
To make the frosting:  In a medium bowl, beat the butter with an electric mixer until smooth. Add the sugar, vanilla and 2 tablespoons milk and beat until smooth. If desired, add a little more milk or sugar to reach desired consistency. Stir in the sprinkles and spread over the cooled bars.
SOURCE: RecipeGirl.com
Here are a few more funfetti treats you might enjoy!