Butterfinger Blondies are the best blondie recipe with chunks of Butterfinger mixed in. This is the perfect dessert for lovers of Butterfinger candy bars.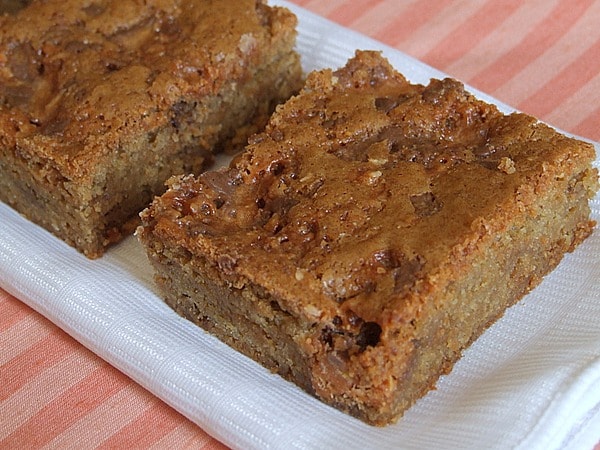 A good blondie recipe is buttery and sweet, and it has a nice, firm texture with a tender bite.  This is that kind of blondie recipe.

A good amount of Butterfinger candy bar chunks are swirled into these good blondies.  They're always the first to go on the dessert table at parties.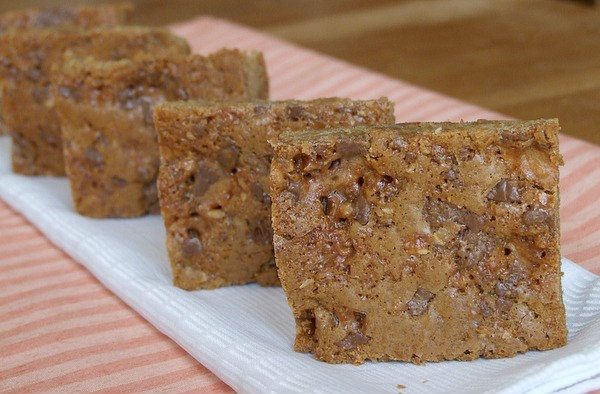 I'm a sucker for recipes that utilize candy bars in one way or another. I've tried Milky Way Cake… it calls for 8 full-size Milky Way bars. I swear that cake weighs about 5 pounds (it's awfully good though.) Hershey's Perfectly Chocolate Cake is another keeper… just one of those recipes that always turns out, well… 'perfect.' My son made a Snicker's Bar Pie for our County Fair last year. He won a blue ribbon with that decadent treat. And my absolute favorite Gelato recipe has chunks of Heath Bar swimming inside.
Butterfinger Blondies
Yield:
12 brownies
Prep Time: 20 minutes
Cook Time: 30 minutes
Ingredients:
2 1/4 cups

all-purpose flour

1 teaspoon

baking powder

1/4 teaspoon

salt

3/4 cup (1 1/2 sticks)

butter

2 1/4 cups

light brown sugar

3 large

eggs

1 1/2 teaspoons

vanilla extract

4 regular-sized

Butterfinger candy bars

, crushed
Directions:
Preheat oven to 350°F. Grease and flour a 13x9-inch baking pan.
In a small bowl, whisk together flour, baking powder and salt; set aside.
In a medium bowl, with electric mixer at medium speed, combine butter and brown sugar.
Beat in eggs and vanilla until smooth.
Stir in flour mixture and 1 cup of crushed butterfingers.
Spread in prepared pan. Sprinkle remaining crushed Butterfinger bars over top of batter.
Bake 30- 35 minutes, or until the bars are a bit firm to the touch. Cool completely before cutting into bars.
SOURCE: RecipeGirl.com