Butterfinger brownies are the best fudgy brownies with Butterfinger candy bar chunks baked into them.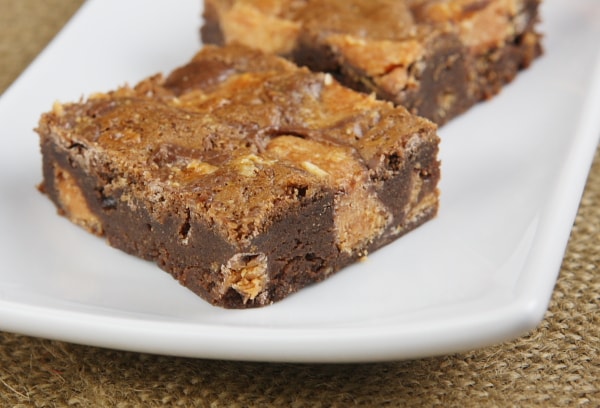 Kids are funny. They ask a lot of questions. And when they're approaching their pre-teen years, they tend to ask a lot of uncomfortable questions. I know those kinds of uncomfortable talks have to be had, but I'm sort of hoping that my husband will be able to take care of most of that. It gives me the heebie jeebies to think that I might have to explain the birds and bees to my son… my little darling who still occasionally calls me Mommy, still wants to snuggle when we watch TV and still manages to hang onto a good amount of innocence in this Lady Gaga world.
What does all of this have to do with Butterfinger Brownies? Nothing, really. Except that the joy of eating butterfinger brownies significantly outweighs the uncomfortableness of the questions that were thrown at me last weekend.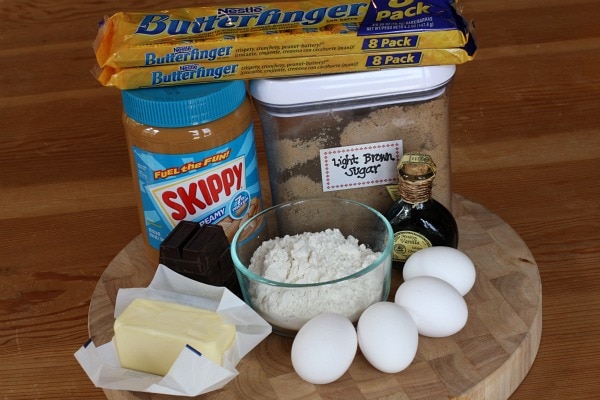 Ingredients needed for Butterfinger Brownies:
creamy peanut butter
butter
flour
unsweetened chocolate
light brown sugar
eggs
vanilla extract
Butterfinger candy bars!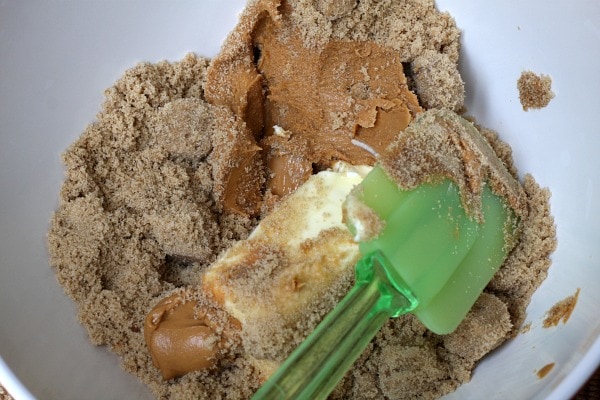 How to make Butterfinger Brownies:
Use a whisk to mix butter (melted), peanut butter and brown sugar until they're well combined.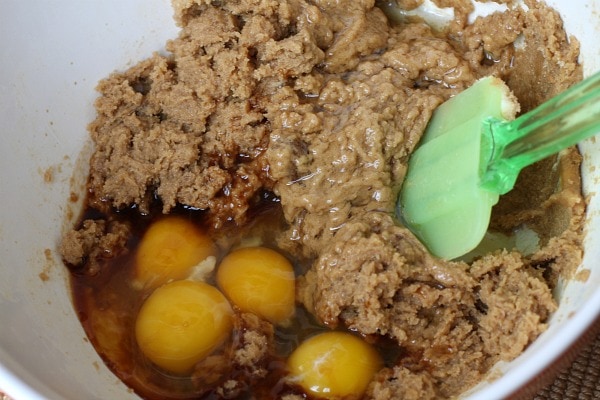 Stir in eggs and vanilla extract.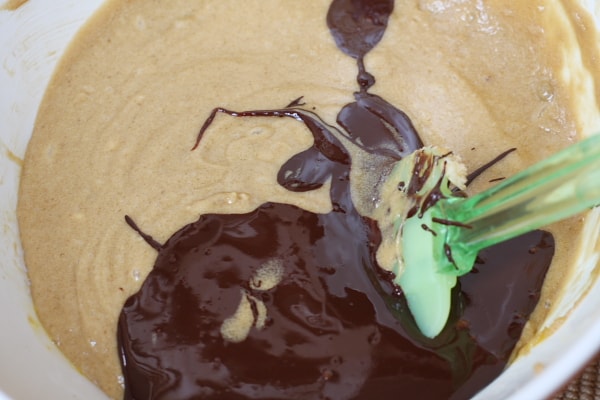 Add melted, unsweetened chocolate and stir to combine.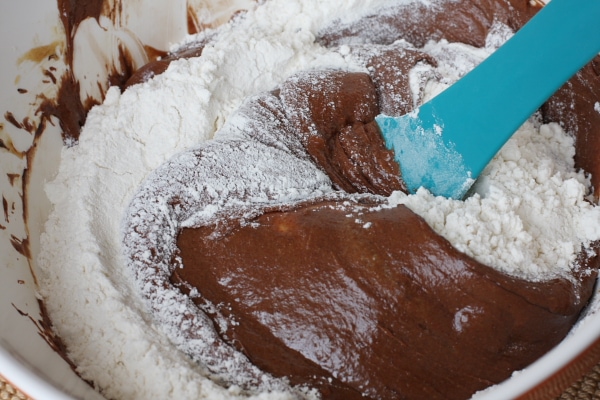 Add flour- just a cup.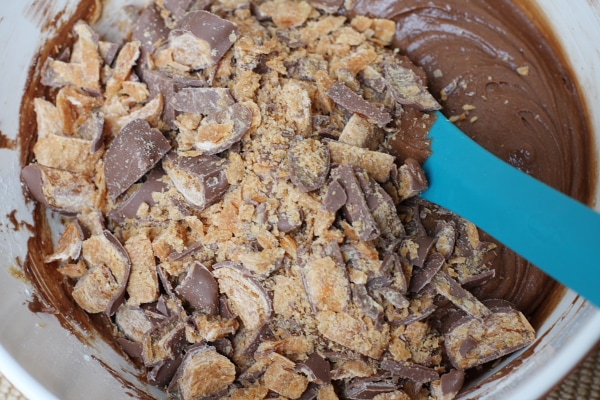 Stir in a bunch of chopped Butterfinger candy bars. Oh yeah.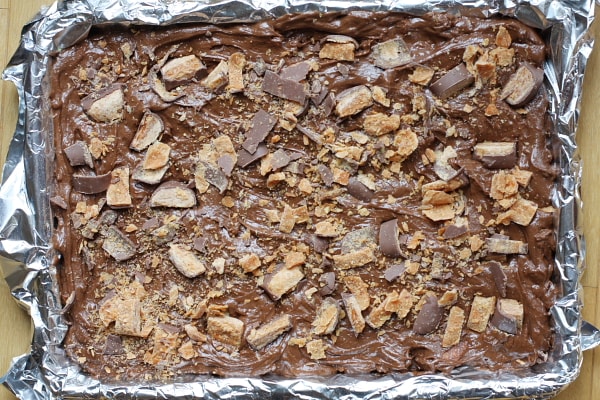 Spread in a prepared pan and top with more Butterfinger chunks. I like to bake them in greased foil because it's so easy to peel off after they're baked and chilled, and they come out so perfect.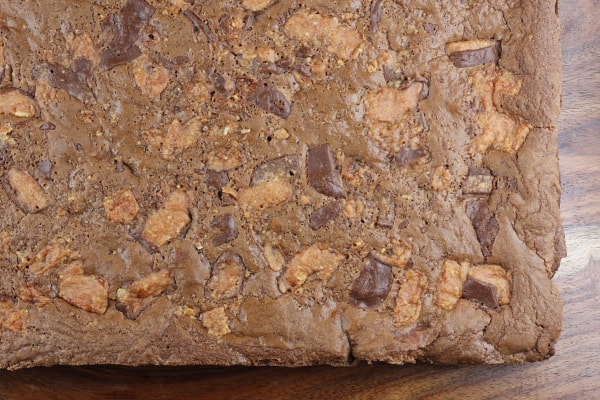 Here's the pan of Butterfinger Brownies all baked up. See those Butterfinger pieces all melted in nicely??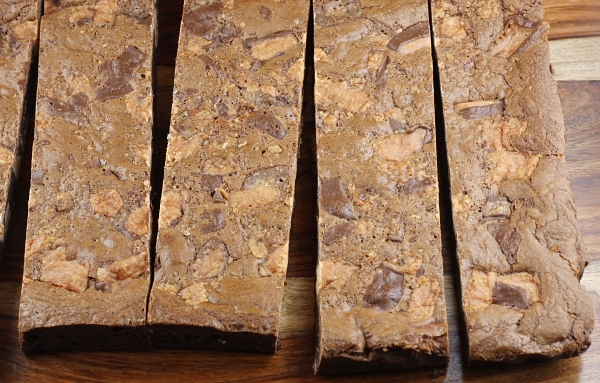 Slice. Taste. Slice. Taste. (and then say to yourself, how am I going to explain the whole "sex" thing to my son. And where is my husband and why isn't he the one doing this??) Then eat some more.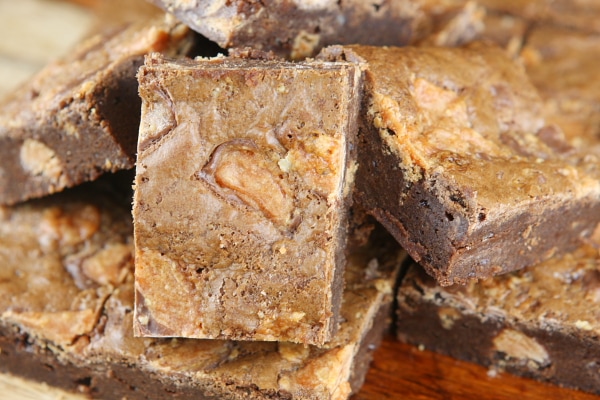 These brownies turn out to be super duper fudgy.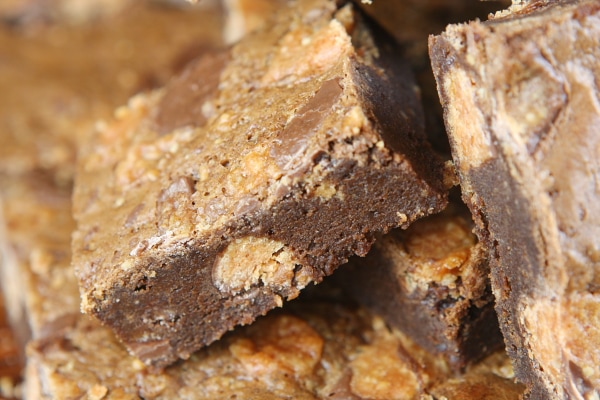 Did I mention fudgy? So fudgy.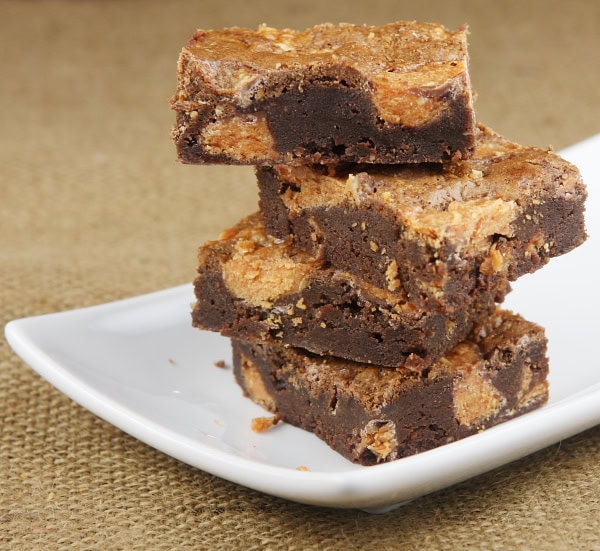 Easy to stack? Yessiree… as long as you chill them very well before cutting. These go on my "favorite cookies and bars" list, which is a list reserved for only the best of the best. That's how much I liked them. And seriously, they can take your mind off of all that stuff you have to talk to your kids about.
How about you? Have you had "the talk" with your kids? How'd it go? What was/is your plan? Clearly, I need advice!
Butterfinger Brownies
Fudgy brownies with bits of Butterfinger candy bars baked inside.
Recipe Details
Ingredients
4

ounces

unsweetened chocolate

1/2

cup (1 stick)

butter,

melted

1/2

cup

creamy peanut butter

2

cups

packed light brown sugar

4

large

eggs

2

teaspoons

vanilla extract

1

cup

all purpose flour

16

.65-ounce (or 10.4-ounces total)

Butterfinger candy bars,

chopped
Instructions
Preheat oven to 325 degrees F. Line a 9x13-inch pan with foil; grease the foil.

Melt chocolate in glass bowl in the microwave- short bursts of 30 seconds; stir after each burst and remove from microwave when melted and smooth. Set aside to cool slightly.

In a large mixing bowl, whisk together the butter, peanut butter and brown sugar. Add the eggs and vanilla extract and whisk those in too. Stir in the melted chocolate. Stir in the flour. Stir in chopped Butterfingers (reserving about 3/4 cup for the top).

Spread batter into prepared pan. Top with reserved Butterfinger chunks.

Bake 25 to 35 minutes. Watch closely and remove from oven when toothpick inserted into the center comes out clean. Let cool completely.

Refrigerate until brownies are well-chilled- if overnight, cover with plastic wrap. When ready to cut, remove from the refrigerator and turn onto a cutting board. Carefully peel off the foil and use another cutting board to flip the brownies back upright. Use a large, sharp knife to cut into squares.
Notes
*Don't use natural peanut butter for this recipe- it just won't turn out very well.
*When you chop the butterfingers, don't try to chop them too finely... they tend to flake apart pretty easily. Opt for larger chunks but add everything into the mix (even the smaller, flaky parts).
*If you happen to have a quarter-sheet pan, that's what I like to use for baking up these brownies.
*To get nice, clean-cut brownies, chill well and use a sharp knife to cut. Wipe knife with paper towels between cuts. Cut off edges before cutting into squares if you'd like to have all edgeless brownies.
Nutrition
Serving:
1
serving
,
Calories:
238
kcal
,
Carbohydrates:
32
g
,
Protein:
4
g
,
Fat:
11
g
,
Saturated Fat:
5
g
,
Cholesterol:
43
mg
,
Sodium:
102
mg
,
Potassium:
138
mg
,
Fiber:
1
g
,
Sugar:
23
g
,
Vitamin A:
160
IU
,
Calcium:
33
mg
,
Iron:
1.5
mg