Milky Way Brownies are the best fudgy brownies with candy bars baked inside.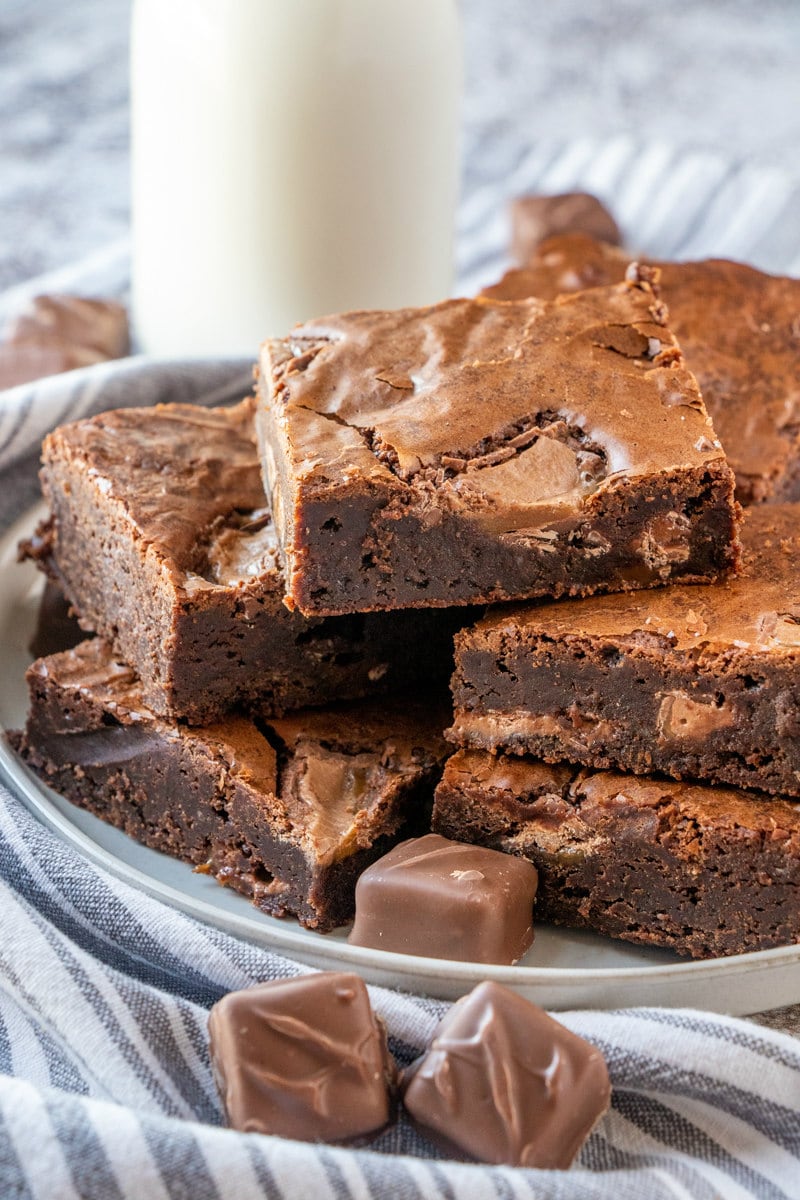 Of all the recipes for brownies on this website, Milky Way brownies rank right there toward the top of the favorites. These brownies turn out so sturdy and perfect. When you bite into them, you'll experience a rich and fudgy brownie with great flavor. And the added Milky Way candy bars make them extra decadent.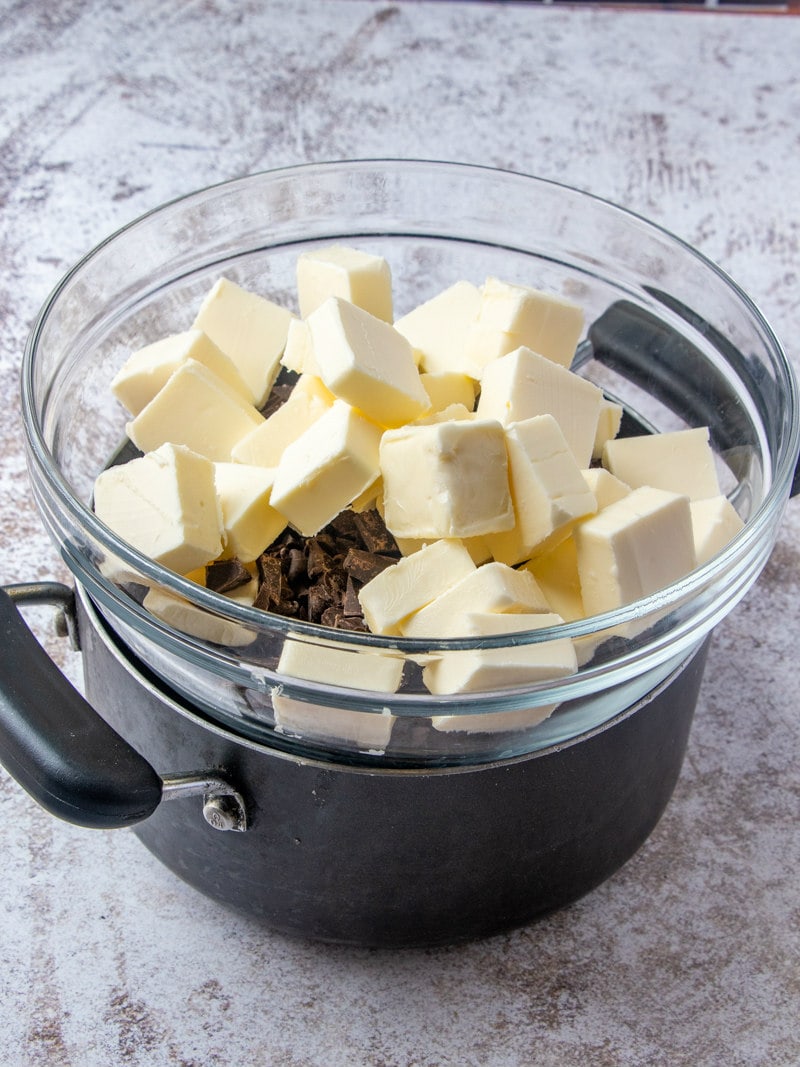 How to make Milky Way Brownies:
You'll begin by melting the butter and chocolate together. If you don't have a double boiler, the easiest way to do this is to place a heatproof bowl over a pot of simmering water. This allows the chocolate and butter to melt together slowly and will create a nice, smooth, melted consistency. Then you'll remove that bowl from the pan and let it cool.
Next you'll combine sugar, eggs, vanilla and espresso powder… and then you will whisk in the cooled chocolate mixture. Flour, baking powder and salt are then stirred in to create the base brownie batter. Chopped Milky Way candy bars are added in, and the batter is then spread into the pan for baking.
Do you have to use Espresso Powder in these brownies?
My standard answer is "no," you don't have to use espresso powder. But I am going to tell you that adding espresso powder greatly intensifies the chocolate and the overall flavor of the brownies. It does not make them taste like coffee. You can locate instant espresso powder in the aisle of your market where you would find coffee. It's sold in a tiny jar. If you can't find it, ask your grocery store manager. They most likely carry it.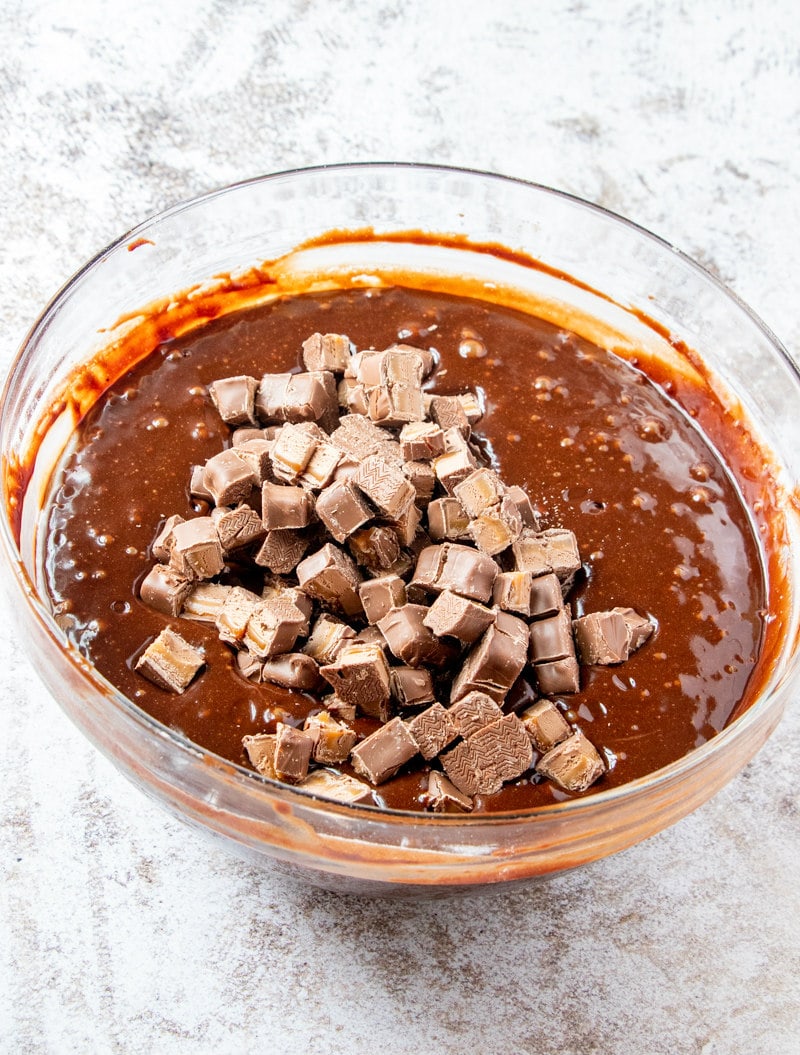 Milky Way Candy Bars:
Milky Way is a candy bar that is sold in the United States. If you don't live in the USA, you can try substituting a chocolate- caramel and nougat type of candy bar instead. I find it easiest to slice the candy bars if they are more firm than soft. Keep them chilled in the refrigerator until it's time to chop them up.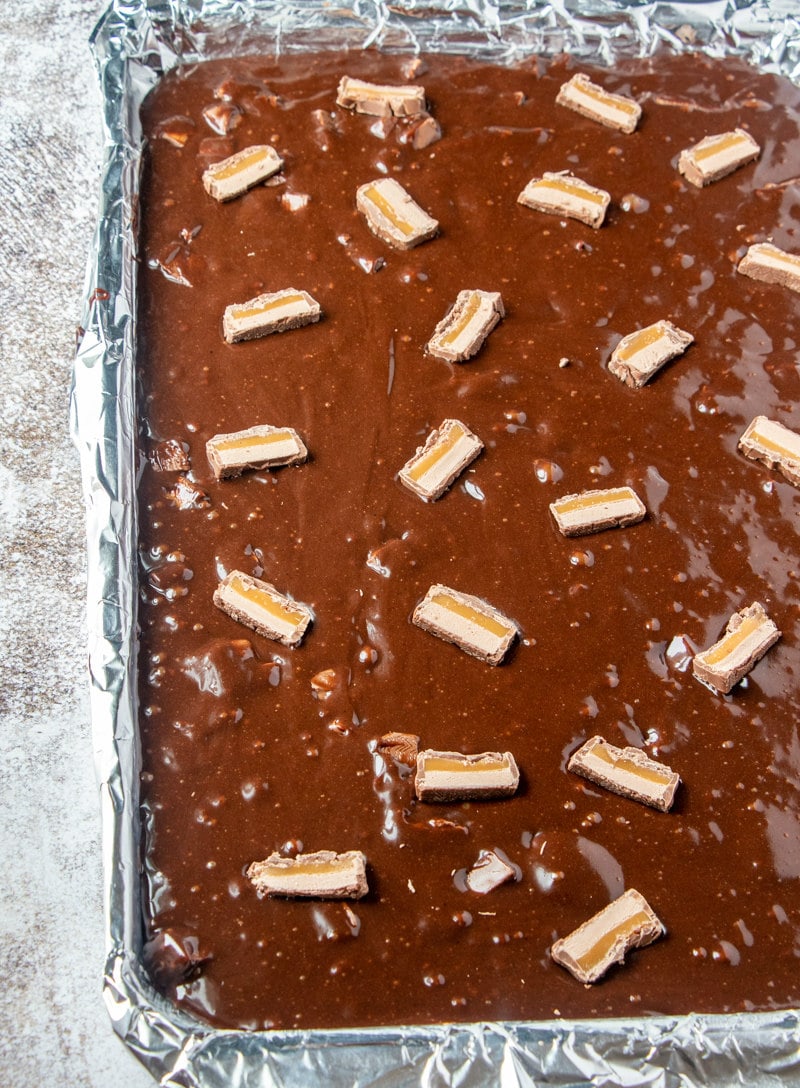 Pan needed for Milky Way Brownies:
The pan needed for these brownies is very important. You will need a half-sheet pan. You can order a half sheet pan on Amazon, or you can buy them at Costco. This size pan will give you brownie with perfect thickness. A 13×9-inch pan will be much too small.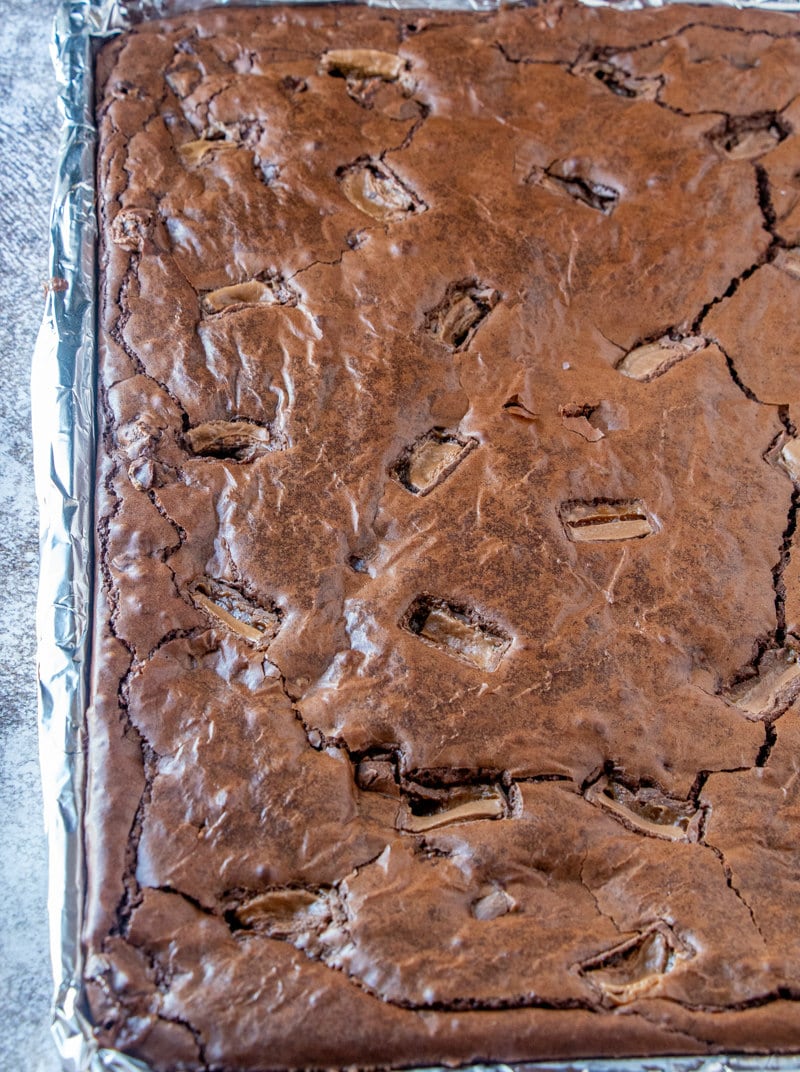 The best way to cut brownies:
Some people say that the best way to cut brownies is with a plastic knife. I've never found this to be true. I like to chill the brownies until they are firm, and then I use a sharp knife to cut them into neat slices. In this recipe, you line the pan with parchment or foil, so it is easy to lift the brownies out of the pan. Then you can peel the parchment or foil away from the brownies and place them on a cutting board.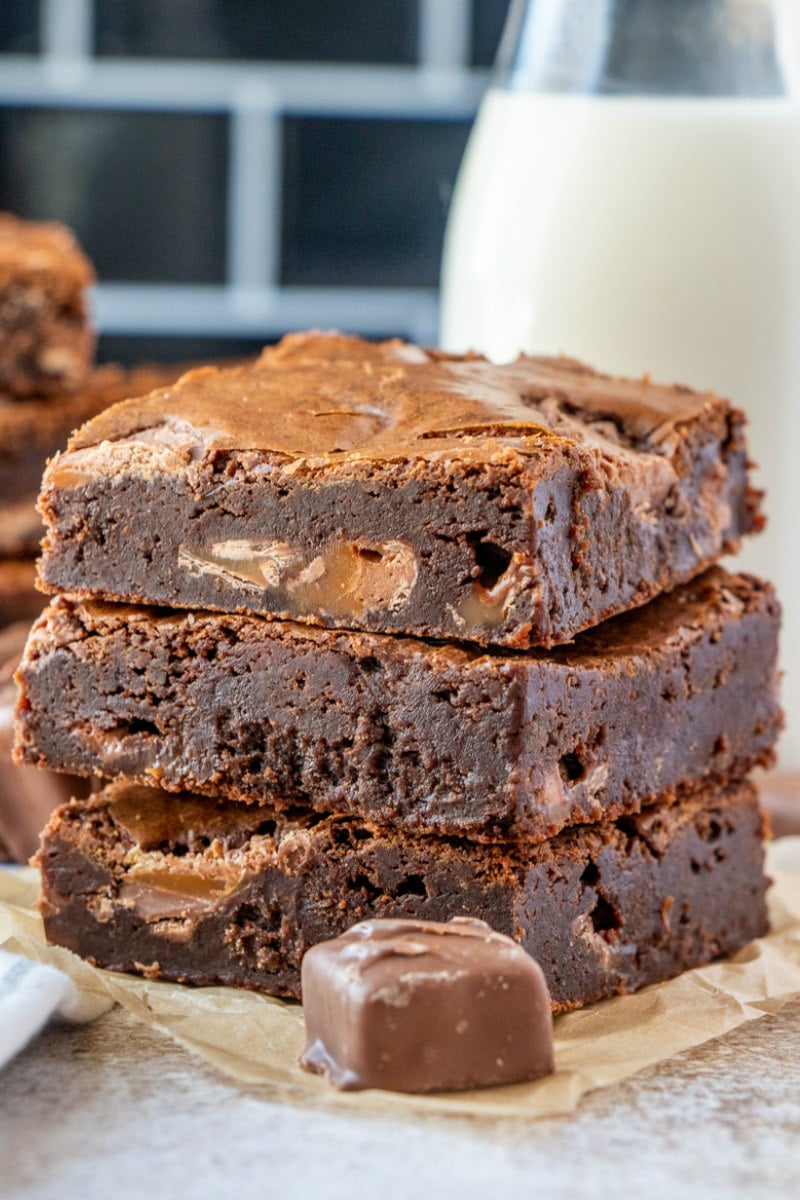 How to store brownies:
Store cut brownies in an airtight container at room temperature. They're best eaten within 1 to 2 days. If you want to freeze your brownies, pack them into a well-sealed container in the freezer. They should be good in the freezer for one to two months. Just take them out as you'd like to enjoy them and let them defrost before eating.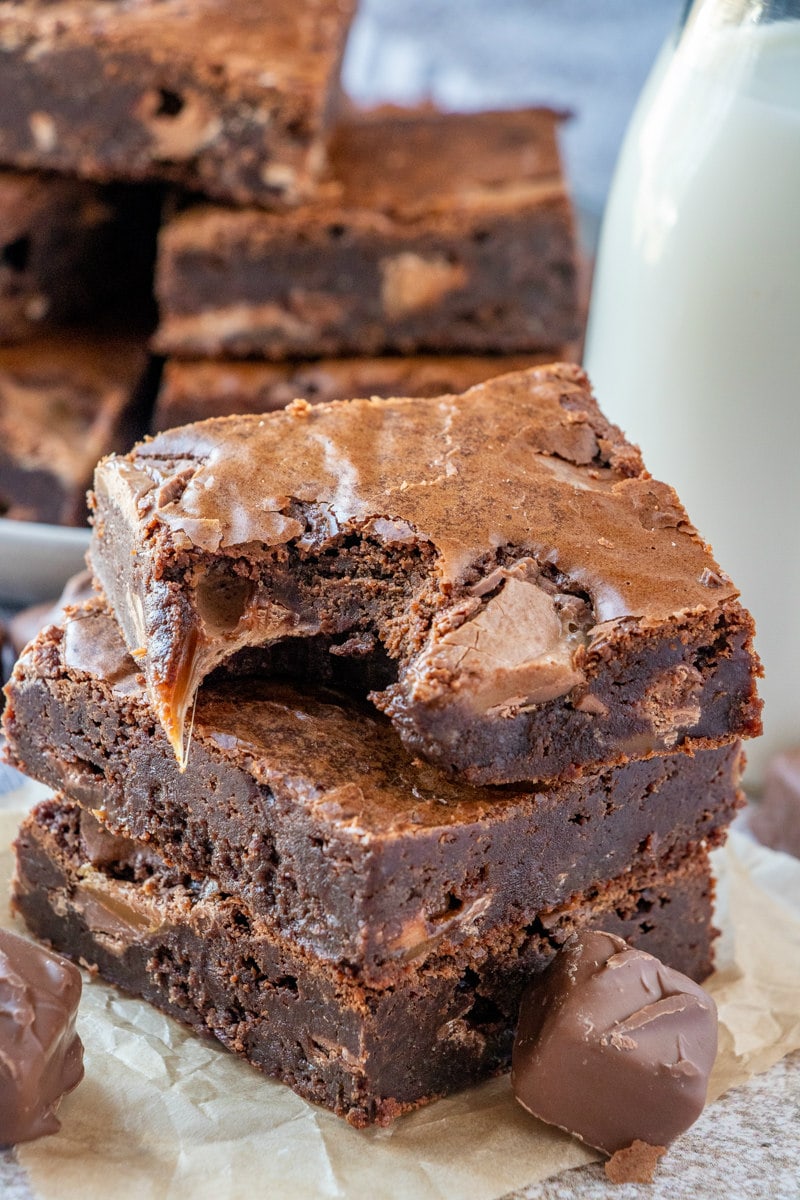 This recipe makes a lot of brownies. That's a good thing because they are so good that everyone will want more than one. If you don't need quite that many brownies, you can always choose to share some of them with friends or neighbors. Or store a few in the freezer to much on at a later date. Enjoy!
Here are a few more brownie recipes you might like to try:
Milky Way Brownies
A fudgy brownie with added candy bars!
Recipe Details
Ingredients
2

cups (4 sticks)

unsalted butter,

cut into pieces

16

ounces

semi-sweet chocolate chips

(or chopped semisweet chocolate)

6

ounces

unsweetened chocolate,

chopped

2¼

cups

granulated white sugar

7

large

eggs

2

tablespoons

vanilla extract

2

tablespoons

instant espresso powder

1¼

cups

all purpose flour

1

tablespoon

baking powder

1

teaspoon

salt

12

ounces

miniature Milky Way Bars,

chopped

One

1.8-ounce

full-size Milky Way Bar,

sliced thinly
Instructions
Preheat the oven to 350°F. Spray a 12x18x1-inch half sheet pan with nonstick spray. Line with foil or parchment that hangs over the sides for ease in getting them out (spray the foil/parchment with nonstick spray).

In a heatproof, medium-bowl set over a saucepan of simmering water, heat the butter, and chocolates until melted and smooth; cool slightly.

In a large bowl, whisk together the sugar, eggs, vanilla and espresso powder. Add the cooled chocolate mixture to the egg mixture and whisk to combine.

In a medium bowl, sift together the flour, baking powder, and salt, then add it to the batter. Stir the chopped mini Milky Way bars into the chocolate mixture. Then pour the batter into the prepared baking pan and smooth the top with a rubber spatula. Place slices of the full-size Milky Way Bar onto the top of the brownie batter.

Bake for 25 to 35 minutes, or until a toothpick inserted into the center comes out clean with a few crumbs attached; do not overbake! Let cool completely, then cover tightly and chill overnight (or for several hours). Chilled brownies are easier to cut.
Notes
*These taste better the second day.

*If it's a warm day inside your house, you might consider chilling the Milky Way bars in the refrigerator before you try to cut them.
Nutrition
Serving:
1
serving
,
Calories:
318
kcal
,
Carbohydrates:
32
g
,
Protein:
4
g
,
Fat:
20
g
,
Saturated Fat:
12
g
,
Cholesterol:
65
mg
,
Sodium:
101
mg
,
Potassium:
190
mg
,
Fiber:
2
g
,
Sugar:
24
g
,
Vitamin A:
386
IU
,
Vitamin C:
1
mg
,
Calcium:
49
mg
,
Iron:
2
mg