This recipe for Deep Dark Brownies is a good one for those who find joy in chocolate.
These Deep Dark Brownies are a combination of espresso powder, cocoa powder and melted chocolate baked within the brownie. Extra chocolate chips are thrown into the batter too and sprinkled on top just before baking to make them extra decadent and worthy of consumption for the above-average chocolate fanatic. They are truly a brownie for Chocolate Lovers!
This recipe comes from the guys at Baked (a bakery in New York City). They wrote a baking cookbook many years ago, and that's where I discovered this delicious brownie recipe!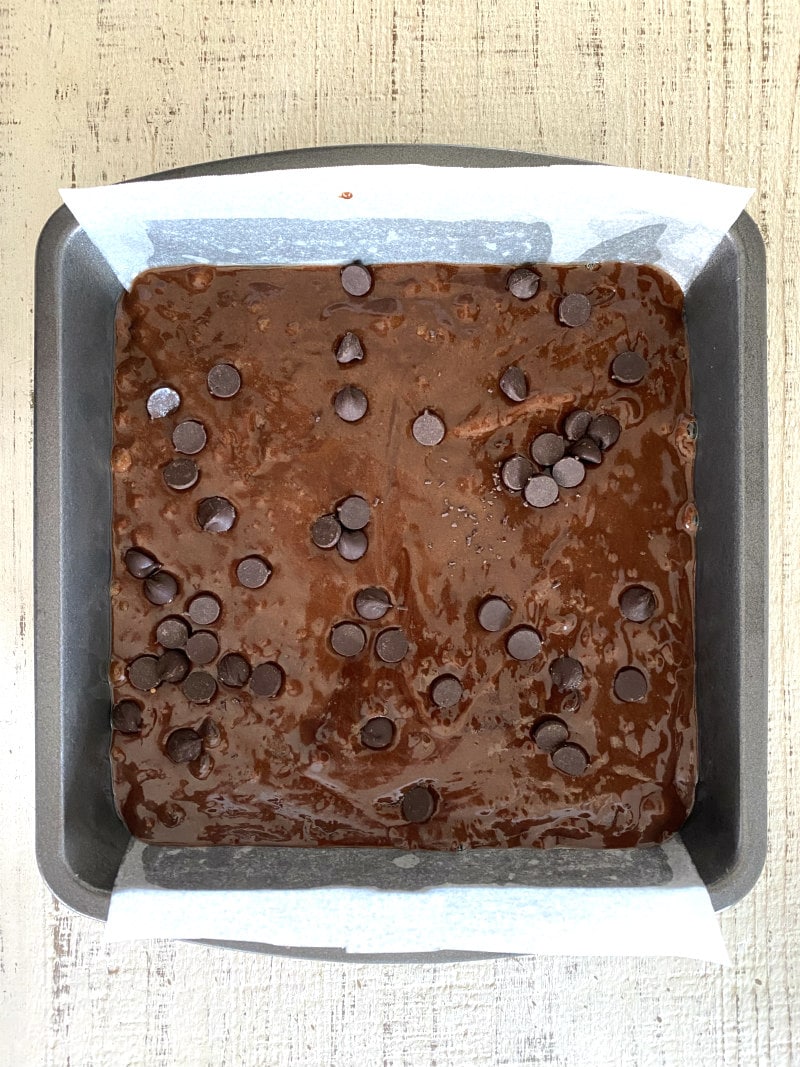 How to make Deep Dark Brownies:
This is a very simple recipe for brownies. The dry ingredients are a mix of flour, baking powder and salt. The chocolate mixture is a melted combination of butter, espresso powder and chopped semisweet chocolate. White sugar, brown sugar, eggs and vanilla are mixed in too. Finally, the dry ingredients and the chocolate mixture are combined, along with some chocolate chips. This makes the batter for these brownies. A few more chocolate chips are sprinkled on top.
Can I leave out the espresso powder?
Yes. I recommend that you add it in because it really intensifies the flavor of the chocolate, but if you can't find it or don't wish to purchase it… it's okay to leave it out. There are a lot of chocolate dessert recipes that call for using espresso, so I think you'd find it useful to have in your collection of baking supplies. You can find instant espresso powder in your market's coffee aisle, or you can order it on Amazon.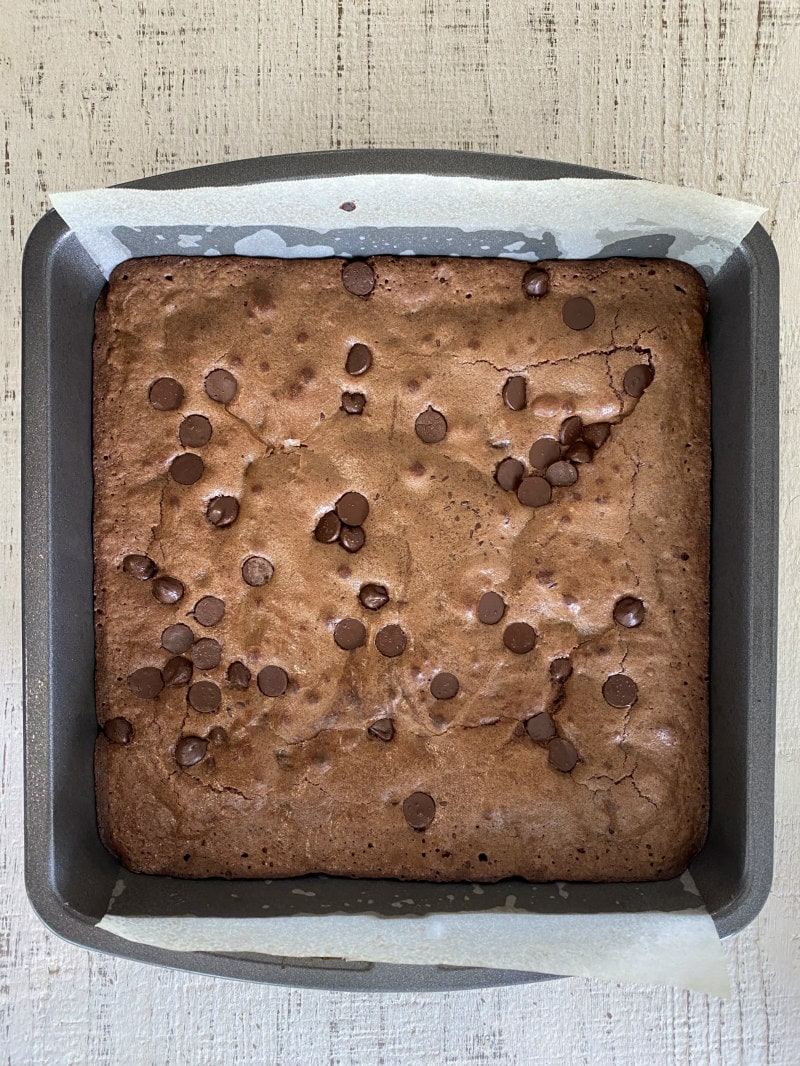 I prefer to bake brownies in a pan lined with parchment paper so that I can literally lift the whole thing out after cooling and remove it to a cutting board.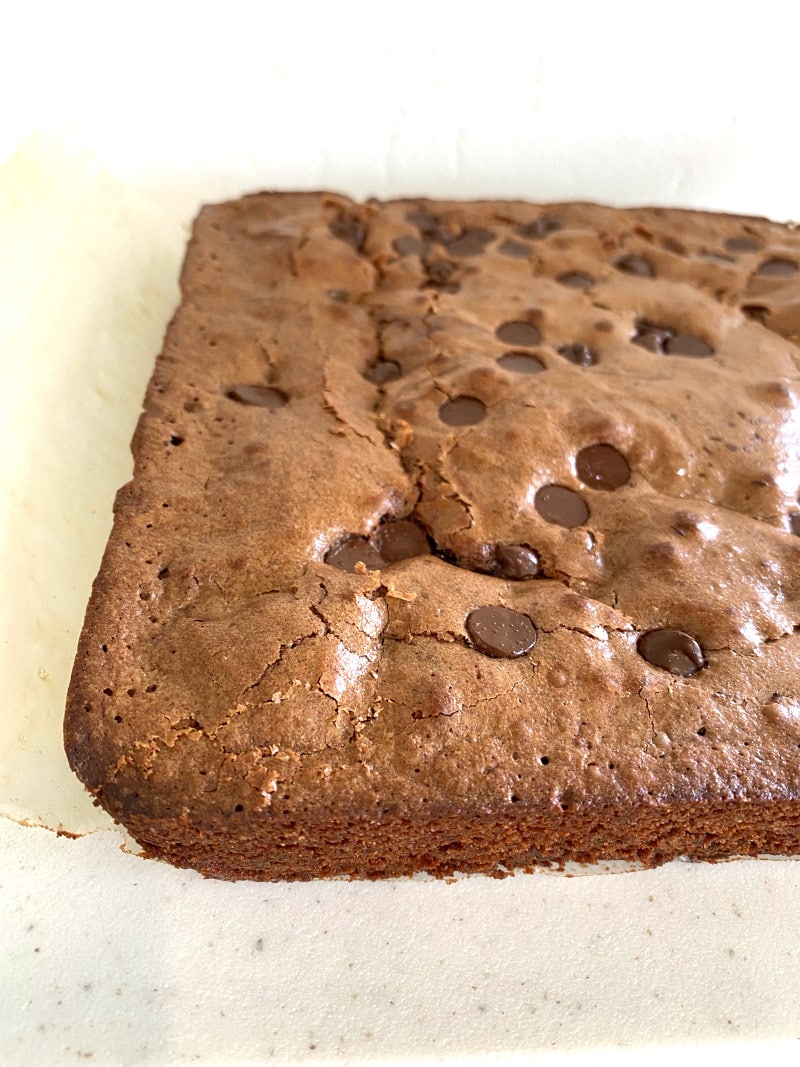 I'm a sucker for making sure I get as clean cuts as possible. And as much as people might like the edges, I usually cut all of those off first. You can cut your brownies any way you'd like. In the original recipe, these are cut into 9 good-sized Deep Dark Brownies. This is an extremely rich brownie recipe, so I cut these brownies into smaller pieces.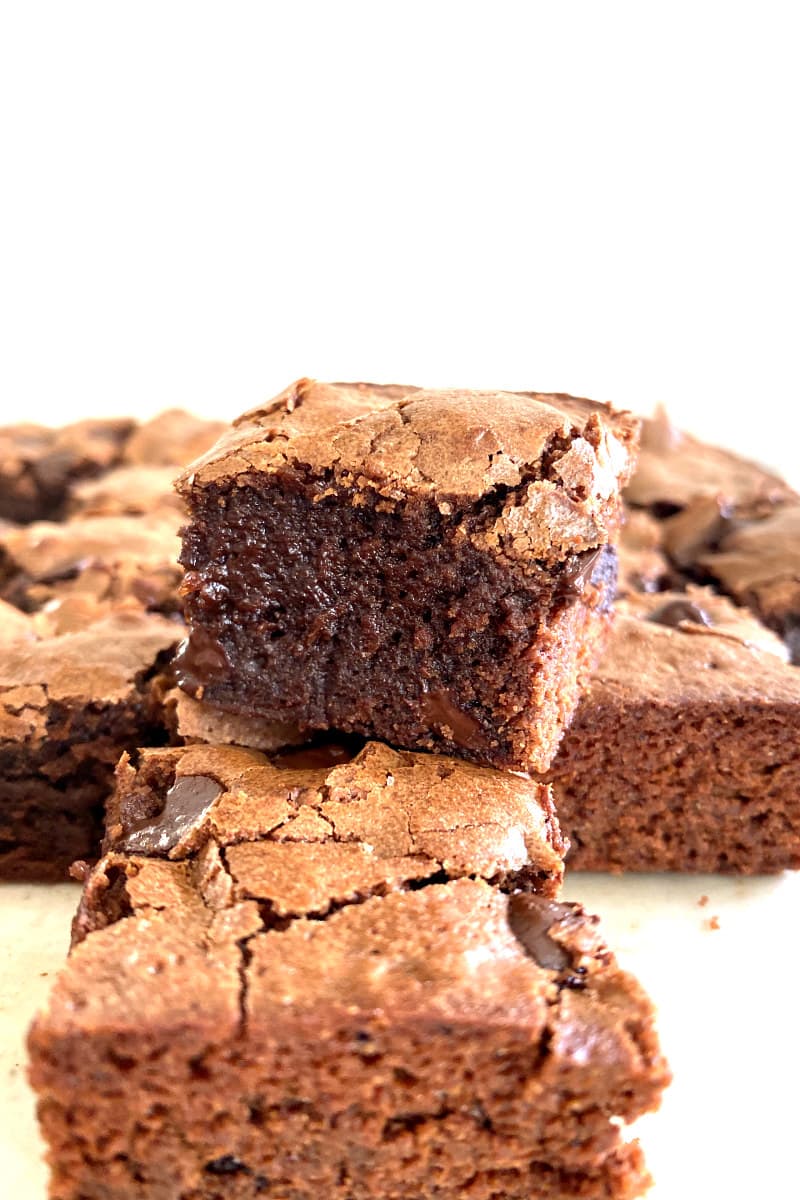 Cutting the brownies:
You should be able to get 25 small brownies out of this recipe. If you want bigger brownies, you can cut them in larger pieces. I like the way the brownies look when they have nice, clean sides all the way around. With this brownie recipe, that's a difficult goal to reach since they have a rather moist texture. I recommend letting them cool completely before cutting. You might even choose to refrigerate them to get them as firm as possible before you make the cuts. Enjoy!
Here are a few more brownie recipes you might enjoy:
Deep Dark Brownies
A decadent chocolate brownies recipe!
Recipe Details
Ingredients
3/4

cup

all purpose flour

1

tablespoon

cocoa powder

1/4

teaspoon

salt

1/2

cup (1 stick)

unsalted butter

3/4

teaspoon

instant espresso powder

5

ounces

chopped semisweet chocolate

3/4

cup

granulated white sugar

1/4

cup

packed light brown sugar

3

large

eggs,

at room temperature

1

teaspoon

vanilla extract

3/4

cup

semisweet chocolate chips,

divided
Instructions
Preheat the oven to 350 degrees F. Spray an 8x8-inch pan with nonstick spray. Line with parchment paper and let it hang over two sides. Spray the parchment too.

In a medium bowl, sift together the flour, cocoa powder, and salt; set aside.

In a large saucepan, combine the butter and espresso powder. Heat on low and stir until the butter has melted. Add the chocolate, and stir constantly until the mixture is smooth. Remove from heat and stir in both sugars until combined. Let cool slightly.

Whisk the eggs and vanilla into the chocolate mixture and keep moving the batter around until combined and no longer grainy-looking. Add the flour mixture to the batter and stir just until combined. Stir in 1/2 cup of the chocolate chips.

Pour the batter into the prepared pan; smooth the top with a greased spatula. The batter will be very gooey. Sprinkle the remaining 1/4 cup of chocolate chips on top. Bake until a toothpick inserted in the center comes out with a just a few moist crumbs attached (28 to 30 minutes). Don't over bake! Let cool completely before cutting.
Nutrition
Serving:
1
brownie
,
Calories:
153
kcal
,
Carbohydrates:
17
g
,
Protein:
2
g
,
Fat:
9
g
,
Saturated Fat:
5
g
,
Cholesterol:
33
mg
,
Sodium:
34
mg
,
Potassium:
81
mg
,
Fiber:
1
g
,
Sugar:
12
g
,
Vitamin A:
156
IU
,
Calcium:
14
mg
,
Iron:
1
mg