These Chewy Gooey Flourless Chocolate Cookies have a little bit of a crispy exterior and a chewy gooey and very chocolatey interior.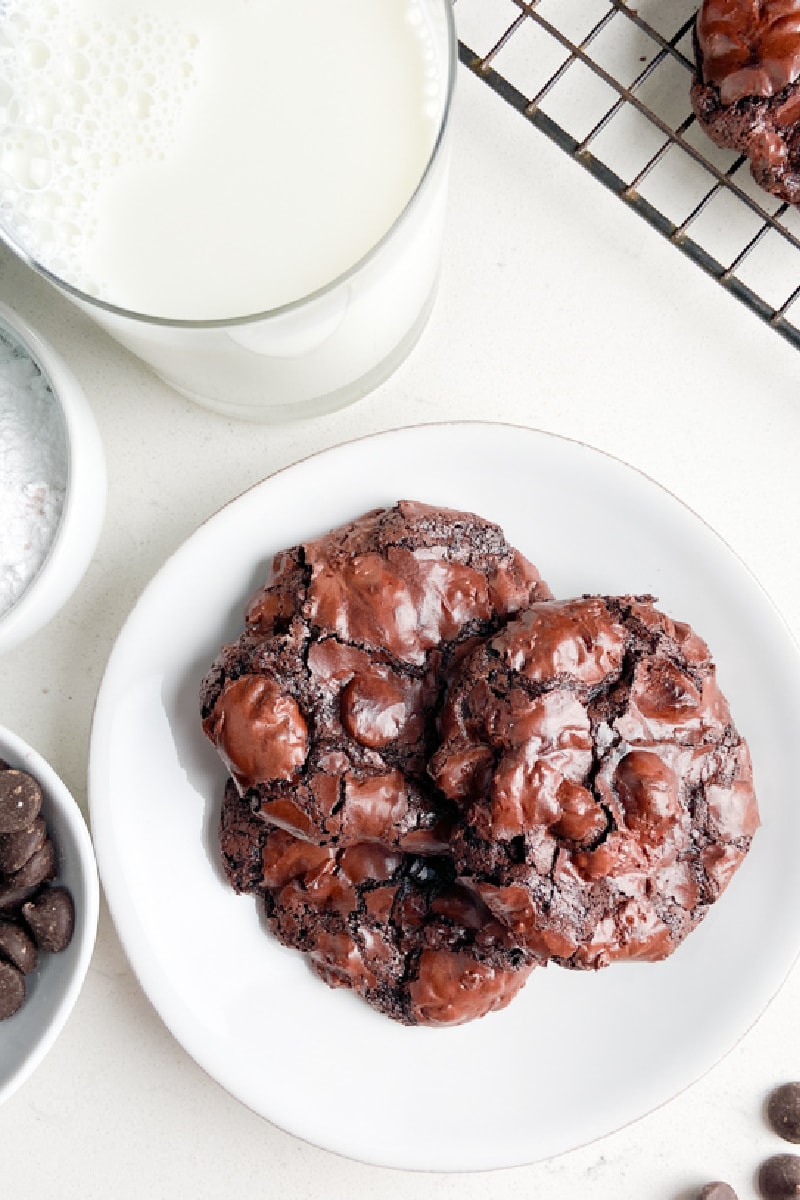 These cookies are hard to resist. They're so ooey, gooey, brownie-like and completely composed of dark chocolate. And they also happen to be flourless chocolate cookies. Several readers have mentioned that they are similar to Whole Food's Market Chocolate Chewies.
These are adapted from Francois Payard, the chocolate expert. They may be flourless, which also makes them gluten free, but if you're at all a fan of chewy brownies… you'll likely enjoy these immensely.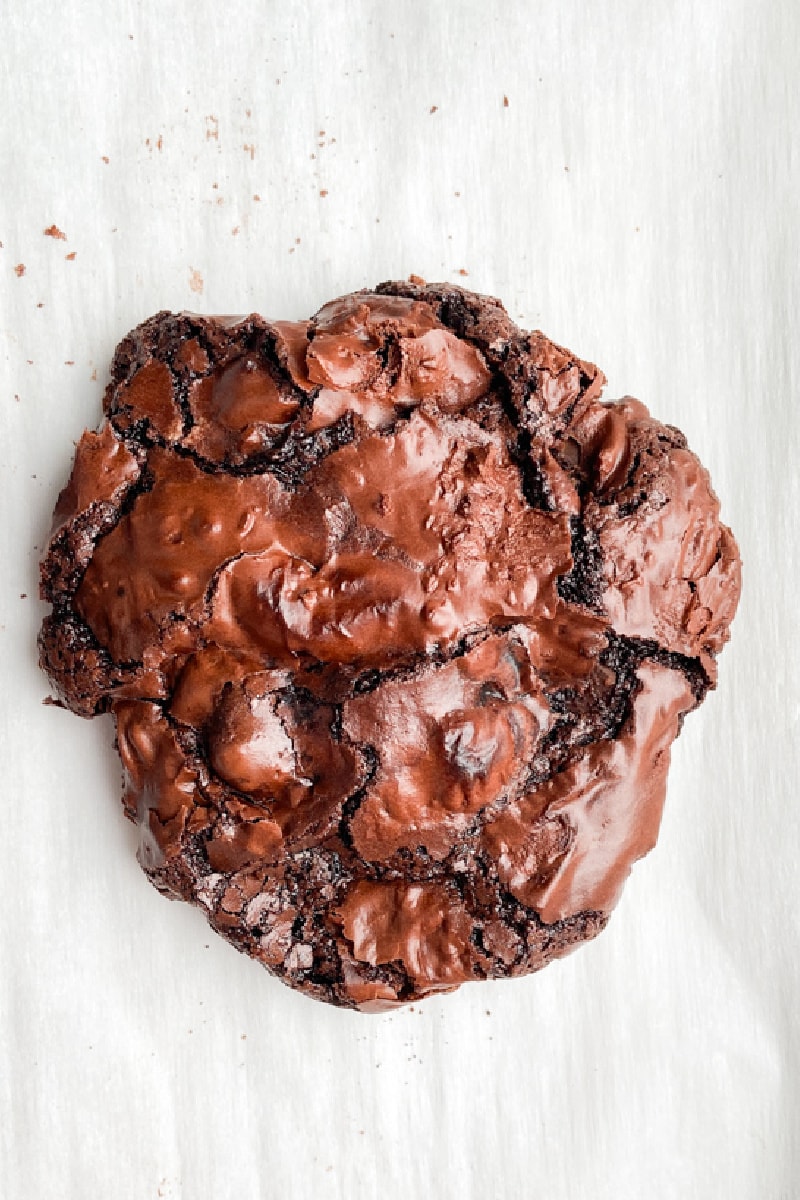 Ingredients needed:
powdered sugar
Dutch process cocoa powder (can be ordered online)
salt
egg whites
vanilla extract
bittersweet chocolate chips
Can you use regular unsweetened cocoa powder instead of Dutch process?
I haven't tried regular cocoa powder myself, but there are several people who mentioned in the comments that they used regular cocoa powder, and it worked out just fine. Here are a couple quotes from the comments (but feel free to scroll down and read more):
These turned out amazing! I took note of other's suggestions. 2 1/2 egg whites worked well for me. I didn't have Dutch pressed cocoa powder so I added 2.5 1/8 teaspoons of baking soda. I also sprinkled powdered sugar on top before baking and only did 9 cookies on a tray. They turned out beautifully – crispy on top and gooey inside. This recipe is a keeper.
Follow the directions and suggestions and you will have yummy ooey gooey cookies. Regular cocoa powder is all I had and it worked just fine. I ended up using three egg whites. Placed dough in fridge for a few minutes along with the pan seemed to be the trick. Definitely will make again!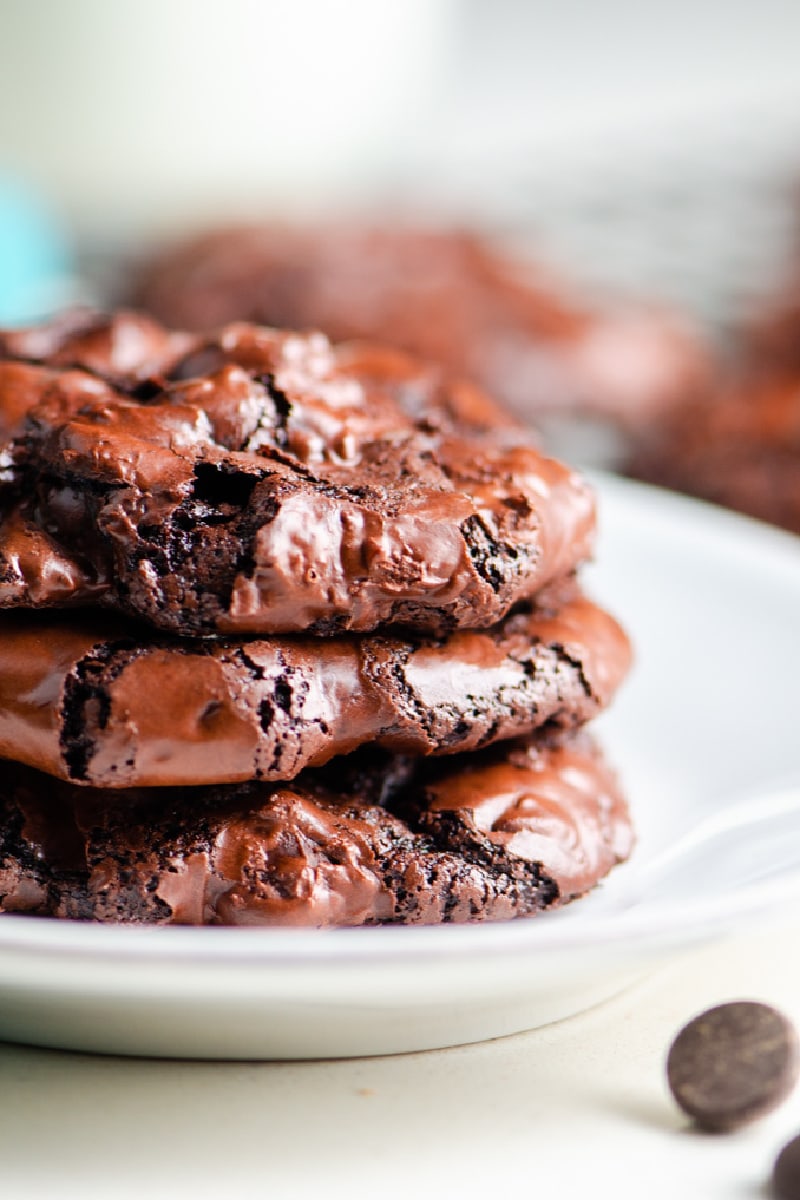 How to make Chewy Gooey Flourless Chocolate Cookies:
Powdered sugar (not the usual granulated sugar) is used in this recipe. Powdered sugar is whisked together with cocoa powder and salt. Egg whites and vanilla extract are mixed in. Start with two egg whites, and check the consistency. You'll likely need 2 1/2 to 3 egg whites to create a brownie-like thick and fudgy batter. Chocolate chips are stirred in last.
It's best to space these out on a baking sheet. You can do 12 on a baking sheet, but you might be happier baking 8 or 9 at a time. They may spread a bit, and you don't want them to bake into each other.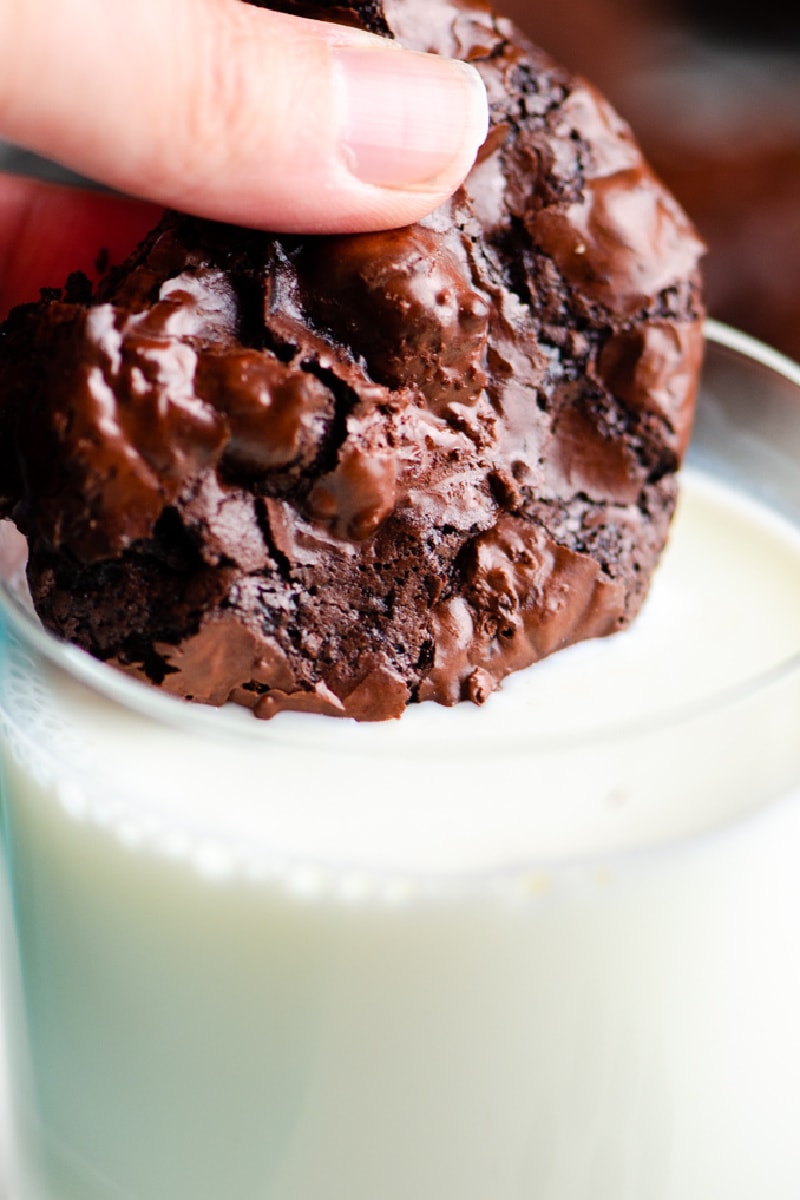 These chewy gooey flourless chocolate cookies are not sturdy cookies. Instead, they're rather light and delicate. But one bite into them and you'll be delightfully surprised at the rich chocolate flavor and the abundance of fudginess.
Note: they are a little tricky to make because you need to judge the egg white addition, but they're well worth the effort. Be sure to follow the instructions to a "T," watch the how-to video, and perhaps read through some of the comments to grab some tips from other bakers.
Here are a few more chocolate cookie recipes you might enjoy:
Chewy Gooey Flourless Chocolate Cookies
These very chocolatey cookies have a slightly crispy exterior and a chewy gooey interior.
Recipe Details
Ingredients
3

cups

powdered sugar

⅔

cup

Dutch Process cocoa powder

¼

teaspoon

salt

2 to 4

large

egg whites,

at room temperature

1

tablespoon

vanilla extract

1½

cups

bittersweet chocolate chips
Instructions
Preheat oven to 350 degrees F. Line two rimmed baking sheets with parchment paper (or silpat mats). If you use parchment paper, give it a light coating of nonstick spray.

In a large bowl, whisk together the powdered sugar with the cocoa powder and salt. Whisk in the egg whites (start w/ just two) and vanilla extract and beat just until the batter is moistened. You're looking for a brownie-like, thick and fudgy batter consistency. If it seems too thick, add another egg white-- then a 4th one if it still seems too thick. Then gently stir in the chocolate chips.

Spoon the batter onto the prepared baking sheets in 12 evenly spaced mounds per cookie sheet. I like to use a spring-release cookie scoop. Bake about 14 minutes, until the tops are glossy and lightly cracked. Slide the parchment paper (with the cookies) onto wire racks. Let cookies cool completely, and store in an airtight container for up to 3 days.
Notes
*If you're baking this as a "gluten-free" recipe, just make sure that the brand of chocolate chips you are using is gluten free.
*Let the cookies cool completely before you attempt to remove them from the mat or the parchment. They're delicate, so gently peeling the paper away from the cookie works best.
Nutrition
Serving:
1
cookie
,
Calories:
128
kcal
,
Carbohydrates:
22
g
,
Protein:
1
g
,
Fat:
3
g
,
Saturated Fat:
3
g
,
Sodium:
46
mg
,
Potassium:
116
mg
,
Fiber:
1
g
,
Sugar:
18
g
,
Vitamin C:
0.1
mg
,
Calcium:
37
mg
,
Iron:
0.5
mg