Pretzel- Toffee Chip Brownies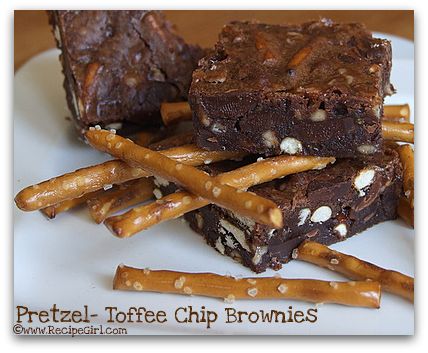 PRETZEL- TOFFEE CHIP BROWNIES
www.RecipeGirl.com
½ cup butter (1 stick)
Two 1oz. squares unsweetened chocolate
1 cup granulated sugar
¾ cup flour
2 large egg, well beaten
8 ounce bag toffee chips
11.5 ounce bag Ghirardelli bittersweet chocolate chips
1 cup broken up stick pretzels
1. Preheat oven to 350°F. Line half-sheet pan (or square pan) with foil. Spray lightly with cooking spray.
2. Melt butter and chocolate in a small saucepan. Transfer to a bowl. Add sugar, flour, and eggs and whisk together. Add chocolate chips, toffee bits, and pretzels.
3. Pour mixture into prepared pan and spread evenly (batter will be thick and chunky). Bake 12 to 15 minutes, until brownies appear firm and done.
Yield: 2 dozen brownies
Recipe Source: Adapted from San Diego County Fair 2007 Cookbook
Cooking Tips
*A half-sheet pan will give you thinner brownies. A square pan will result in a taller brownie.
**These are best when eaten within 24 hours of coming out of the oven.
***Try drizzling caramel over warm brownies… yum!
PRINT THIS RECIPE using your browser's 'print' function. It's automatically formatted to print recipe & picture only.
RATE THIS RECIPE[ratings]
"We enjoyed the salty/sweet aspect of these brownies. We went crazy and served them up with a little ice cream and caramel syrup!"
-San Diego, CA
Comments