This recipe has been featured in a post on The Recipe Girl blog: Cream Cheese Swirl Brownies with Heath Bars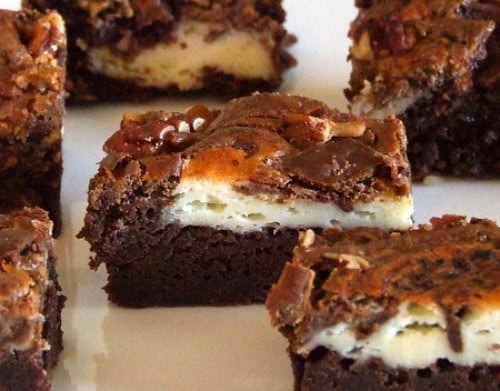 Cream Cheese Swirl Brownies w/ Heath Bars & Pecans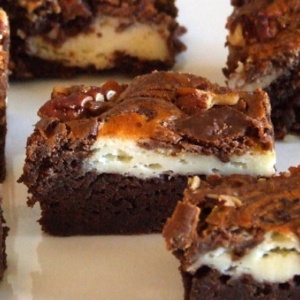 Yield:
24 2-inch brownies
Prep Time:25 min
Cook Time:45 min
Ingredients:
FILLING:
1 (8-ounce) package cream cheese, cold
1/3 cup granulated white sugar
1 large egg, at room temperature
2 Tablespoons all-purpose flour
BROWNIES:
1 1/4 cups all-purpose flour
1 teaspoon baking powder
1/4 teaspoon salt
3/4 cup unsalted butter
4 ounces unsweetened chocolate, chopped
2 cups granulated white sugar
3 large eggs, at room temperature
2 Tablespoons whole milk
1 1/2 teaspoons pure vanilla extract
3/4 cup coarsely chopped toasted pecans
2/3 cup chopped Heath bars
Directions:
1. Preheat oven to 325°F. Grease and lightly flour 13x9-inch baking pan.
2. Prepare filling: In a medium bowl, beat cream cheese with sugar until smooth. Add egg and flour and beat well. Set aside.
3. Prepare brownies: In a small bowl, whisk together flour, baking powder and salt. Set aside.
4. In a medium saucepan over low heat, melt butter with the chocolate, stirring occasionally, until smooth. Remove from heat, transfer to a large bowl, and allow to cool to lukewarm, about 5 minutes. Stir in the sugar. Add eggs, milk, & vanilla and beat well. Add the dry ingredients and mix thoroughly. Stir in half of the pecan and half of the Heath Bars.
5. Reserve 1/2 cup of the brownie batter and set it aside. Spread the rest of the batter evenly in the prepared pan. Drop cream cheese mixture by tablespoonfuls over the batter. Next, drop the reserved brownie batter by teaspoonfuls in between the cream cheese filling. Using a small knife, swirl the two batters together, forming a decorative pattern.
6. Sprinkle the remaining pecans and Heath Bars over the top, and using a spatula, gently press into the batter.
7. Bake 40 to 50 minutes, or until a toothpick inserted in the center comes out with moist crumbs attached. Do not over-bake. Allow to cool overnight before cutting and serving.
Tips:
*To toast pecans, place on a baking sheet in a 350 degree F. oven for 15 minutes, or until lightly browned and fragrant.