This Butterfinger Pie is a creamy and decadent pie recipe with plenty of Butterfinger candy bars swirled in.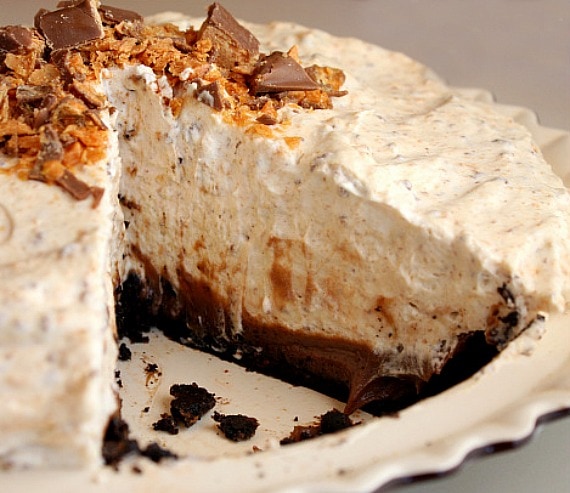 Adding candy bars to desserts is an excellent idea. Everyone loves a good candy bar, so when people find their favorite candy bar in a dessert… that makes them pretty happy.
This is seriously the most creamy and delicious, decadent pie ever. The creamy filling is piled up a mile high. Look at those layers! It's a big time treat.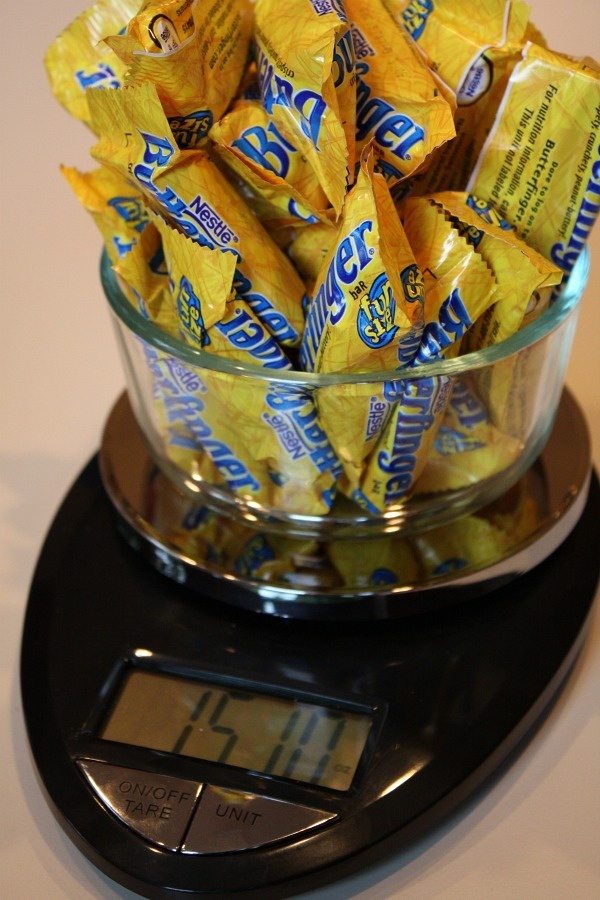 Fun-size Butterfinger bars are perfect for this recipe (if it's around Halloween time, you can snag 23 of them from your kids' trick or treat bags), or just use 15 ounces of Butterfingers. Use a kitchen scale to measure yours out.
Be sure to get extra Butterfingers if you know you're going to graze on them a bit while making this Butterfinger Pie. You'll want ALL of the Butterfingers it calls for to go into the pie.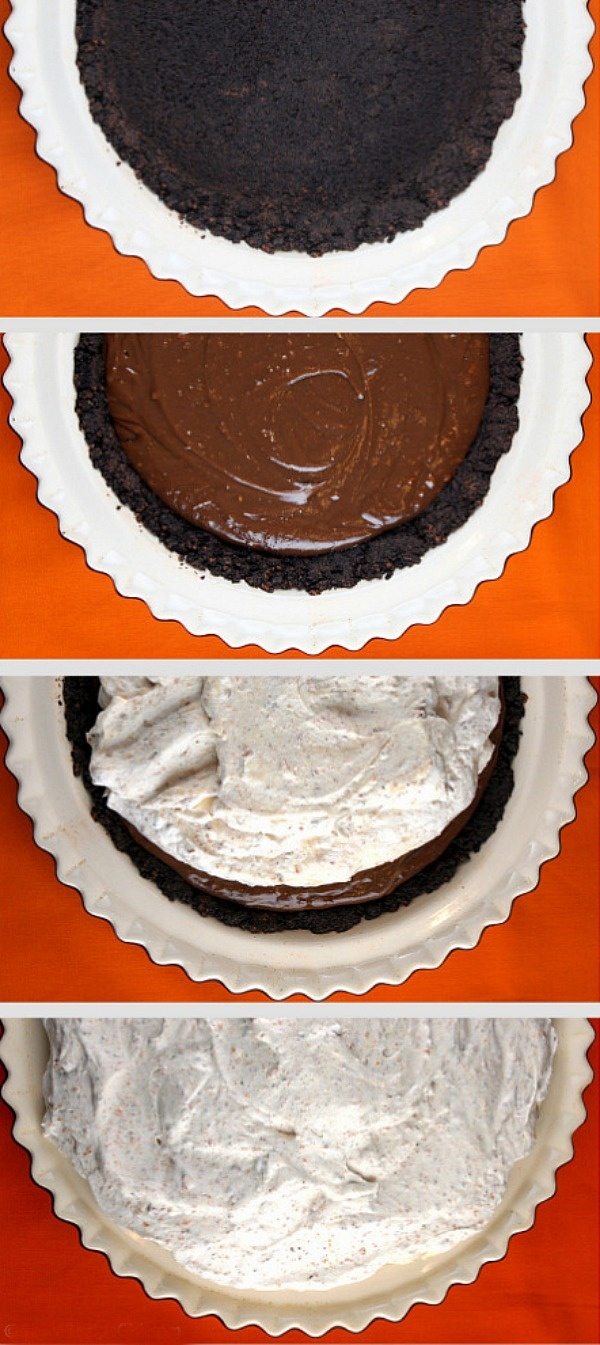 How to Make a Butterfinger Pie:
Start with an Oreo crust.
Add a chocolate layer.
Then add the super creamy peanut butter layer.
Finally, add the whipped cream layer with chopped Butterfingers sprinkled on top.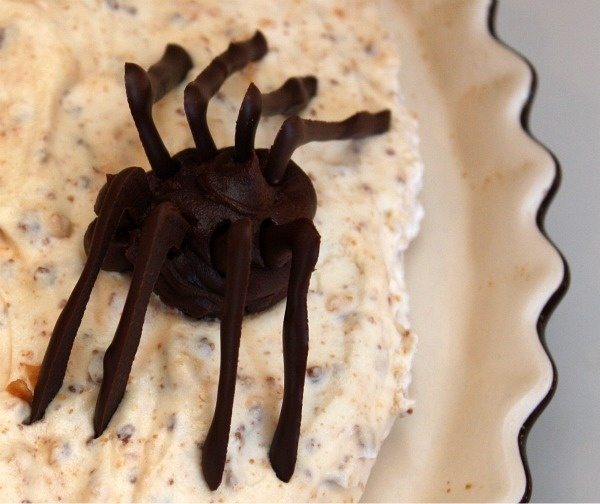 How to Make Chocolate Spiders:
If you happen to be making this pie around Halloween time, these are some optional chocolate spiders that you can make to put on top. You can follow this chocolate spider tutorial. The body is made from a piped-on cooled chocolate ganache, and the legs are made from melted chocolate "7's" that are popped in the freezer until firm.
The legs are stuck into the sides of the spider to make complete spider bodies. I'm sure that some people think chocolate spiders are a little creepy. But they're super fun to add to desserts around Halloween. Keep them in mind!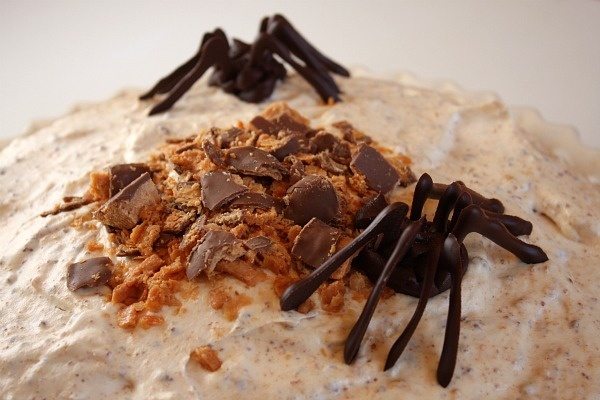 Spooky, right?!
The spiders are, of course, completely optional. But they add a little bit of Halloween fun to Butterfinger Pie!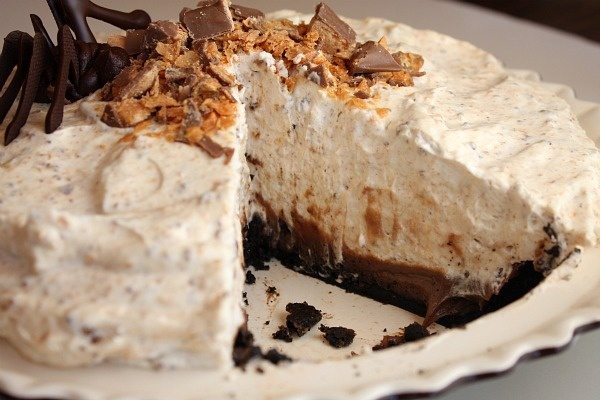 This pie is as decadent as it looks. Go to the gym, get a long workout in, have a small piece of pie and a big glass of milk, and then go back to the gym. No kidding!
It's worth the splurge though. Grab some Butterfingers and make this pie- no baking required except the crust for a few minutes!!
Here are a few more candy dessert recipes you might enjoy: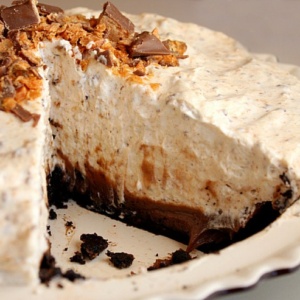 Butterfinger Pie
This Butterfinger Pie is so decadent and creamy and delicious!
Ingredients
Crust:
14

Oreo cookies

4

tablespoons

butter
Filling:
15

ounces

Butterfingers

(23 fun-size), divided

1/2

cup

granulated white sugar

2

tablespoons

cornstarch

2

cups

whole milk

2

large

egg yolks

1/2

cup

creamy peanut butter

1/2

cup

milk chocolate chips

1 1/2

cups

whipping cream
Topping:
2

cups

heavy whipping cream
Instructions
Prepare the crust:
Preheat the oven to 375° F. In a food processor, process the cookies into fine crumbs. Add the melted butter to the crumbs and continue to process until well blended. Transfer the mixture to a 9-inch pie pan and press evenly over the bottom and up the sides of the pan. Bake for 8 minutes. The crust will puff up and shrink slightly. Use the flat bottom of a drinking glass to gently press down on the crust. Cool completely.
Prepare the filling:
In a food processor, process 20 of the fun size Butterfinger bars into fine crumbs. Divide the crumbs into two 1/2 cup portions and one 1 cup portion; set aside.

In a medium saucepan, combine the sugar, cornstarch and milk. Slowly bring to a boil over medium-high heat, stirring constantly. Remove from heat. Beat the egg yolks in a small bowl. Whisk in the hot milk mixture 1 tablespoon at a time until the eggs are tempered (slowly warmed up). Then add the eggs to the remaining milk in the pan, bring to a boil, stirring constantly until the mixture is thick. Remove from heat and whisk in the peanut butter. Scoop out 1 cup of the peanut butter mixture and put it in a medium bowl; cover and set aside. Add the chocolate chips and 1/2 cup of the Butterfinger crumbs to the remaining peanut butter mixture in the saucepan. Stir until the chips are melted. Pour this mixture into the cooled crust. Refrigerate while preparing the next layer.
Prepare the peanut butter layer:
Use an electric mixer to whip 1 1/2 cups of whipping cream until stiff peaks form. Scoop into the bowl with the reserved peanut butter filling and fold together with 1/2 cup of Butterfinger crumbs too. Remove the pie from the refrigerator and mound the peanut butter mixture evenly over the chocolate layer; spread to the edges.
Prepare the topping:
Whip the 2 cups of heavy whipping cream until stiff peaks form. Fold in the remaining 1 cup of Butterfinger crumbs. Spoon over the top of the pie, mounding slightly in the center. Chop the remaining 3 fun-sized candy bars and sprinkle over the top of the pie.

Cover loosely and refrigerate until ready to serve.
Recipe Notes
*If you don't have a food processor, throw cookies in a zip bag and smash it to smithereens. Candy bars too.
*When preparing the filling, if you add the eggs to the pan before they're warmed up properly, you'll end up with scrambled eggs. Warm them up slowly by adding the milk mixture a little at a time until they're quite warm.
Nutrition Facts
Butterfinger Pie
Amount Per Serving (1 slice)
Calories 659
Calories from Fat 423
% Daily Value*
Fat 47g72%
Cholesterol 141mg47%
Sodium 265mg12%
Potassium 280mg8%
Carbohydrates 54g18%
Protein 8g16%
Vitamin A 1260IU25%
Vitamin C 0.4mg0%
Calcium 124mg12%
Iron 1.6mg9%
* Percent Daily Values are based on a 2000 calorie diet.