These Snickerdoodle Cupcakes are the most fantastic cupcake for lovers of Snickerdoodle Cookies.  My obsession with Snickerdoodles continues… with this recipe for Snickerdoodle Cupcakes. They're a cinnamony cupcake with cinnamon-sugar cream cheese icing.
I've included a short video showing you how to make these cupcakes.  Scroll toward the end of this post to watch the video and then print out the complete recipe.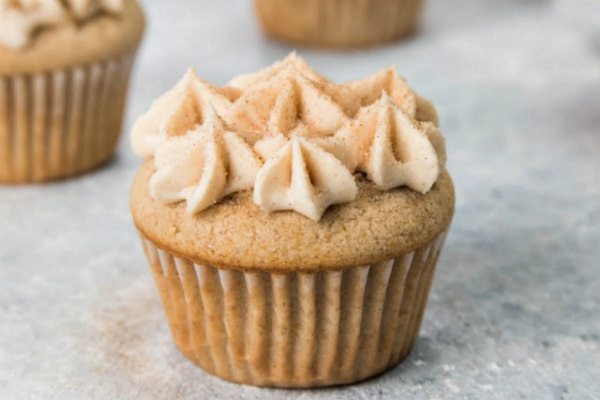 I've always been mad-crazy about snickerdoodle cookies.  They're simply the best cookies ever invented, in my most humble opinion!
These cupcakes are perfectly snickerdoodly.  The cupcake itself is a spiced up cake, and on top is a cinnamon- brown sugar cream cheese frosting.  Perfect!  They're almost as good as real live snickerdoodle cookies!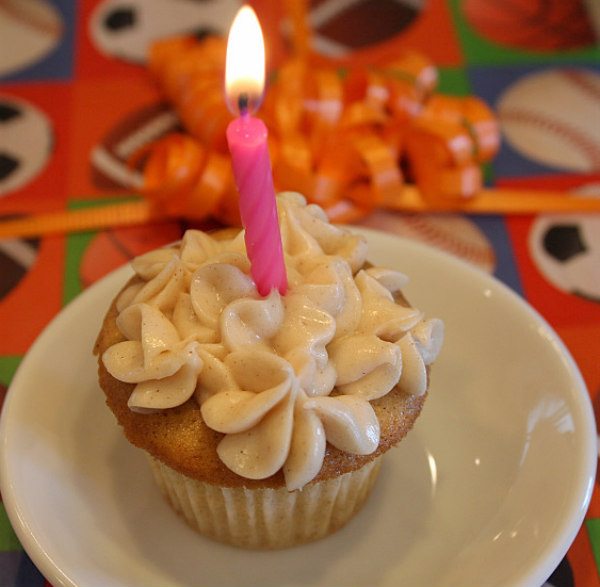 For my son's 9th birthday today, I thought I'd ask him a few questions.  I figured it might be fun to come back and read his answers some time in the future.
How old are you today?
9
What special cake did you request for your birthday?
I requested Snickerdoodle Cupcakes for my classroom birthday treat, and Chocolate Cake with Caramel Buttercream for my birthday party.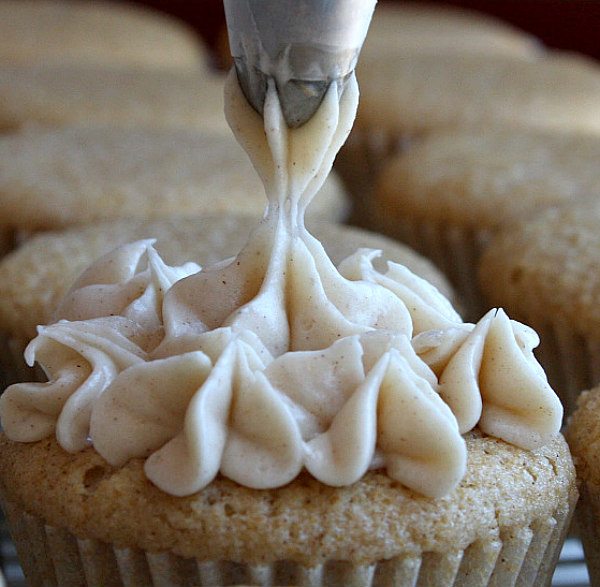 What's the best thing about being 9?
I'm older, and I'm not really young again.
What would you like to be when you grow up?
I'm leaning toward being a scientist (or a pro-sports player).

What's your favorite subject in school?
Math and Reading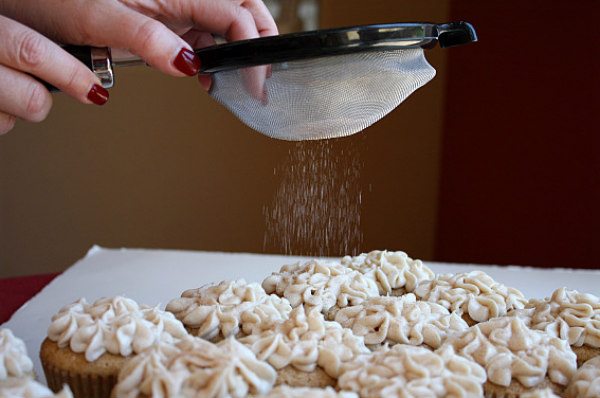 What do you like to do in your free time?
Play the Wii and the Computer

If you were to recommend a book to another 9 year old, what would you recommend?
I'd recommend the Harry Potter series, Where the Red Fern Grows, and Hatchet
Favorite place to vacation?
Boston- South Shore
Favorite singer/band?
Elvis… and Train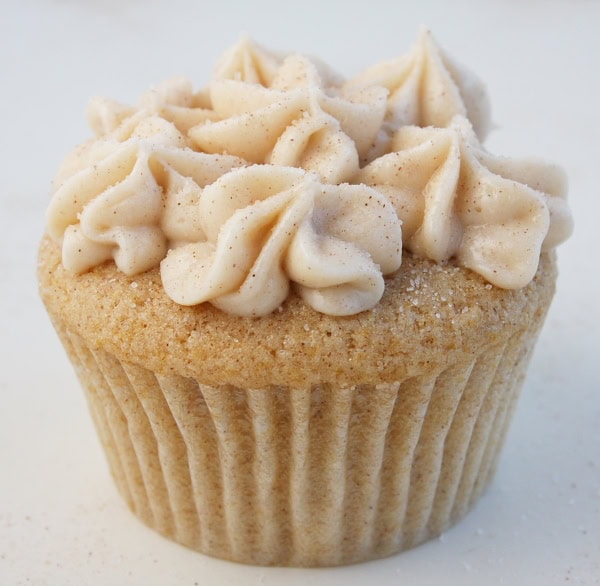 What's your favorite TV show?
1 vs. 100 and American Idol
What's your favorite dinner?
Ravioli

What's the best recipe your Mom has ever made?
Too many to count
Which food bloggers have you met?
Jaden,  Michael and that girl who danced on cruise ships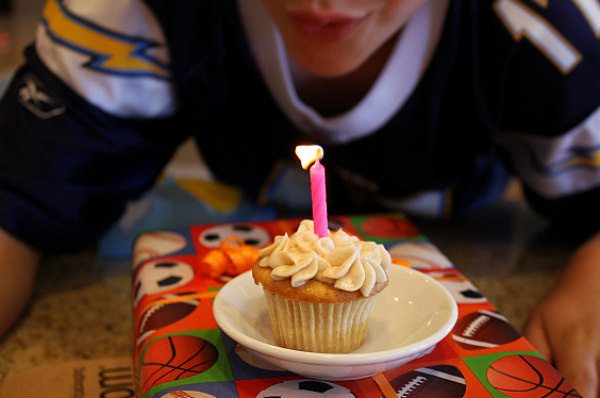 Do you intend to take over RecipeGirl.com someday?
Yes.
That's a good answer, my sweet 9 year old boy 🙂 Hope your birthday wish comes true!
Click below to watch a short video showing you how to make these cupcakes, then scroll to the bottom to print out the complete recipe.
Yield: 28 cupcakes
Prep Time: 25 minutes
Cook Time: 20 minutes
Snickerdoodle Cupcakes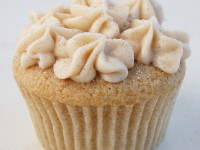 Ingredients:
CAKE:
1 1/2 cups all-purpose flour
1 1/2 cups cake flour
1 tablespoon baking powder
1/2 teaspoon salt
1 tablespoon ground cinnamon
1 cup (2 sticks) unsalted butter, at room temperature
1 3/4 cups granulated white sugar
4 large eggs, at room temperature
2 teaspoons vanilla extract
1 1/4 cups whole milk
FROSTING:
12 ounces (1 1/2 packages) cream cheese, at room temperature
1/2 cup  (1 stick) unsalted butter, at room temperature
16 ounces powdered sugar, sifted
2 tablespoons brown sugar
1/2 tablespoon vanilla extract
1 teaspoon ground cinnamon
TOPPING:
2 tablespoons sugar + 1/2 teaspoon ground cinnamon
Directions:
Preheat the oven to 350 degrees F. Line 28 muffin tins with paper liners.
In a medium bowl, sift together both flours, baking powder, salt and cinnamon.
In a large mixing bowl, use an electric mixer to combine the butter and sugar until pale and fluffy. Add the eggs, one at a time, beating until each is incorporated, scraping down sides of bowl as needed. Beat in the vanilla. Add the flour mixture in three parts, alternating with additions of milk, beating until combined after each addition.
Divide the batter evenly among lined cups, filling each about 3/4 full. Bake about 20 minutes, or until toothpick inserted into the center of one of the cupcakes comes out clean. Remove to a wire rack to cool completely before frosting.
Prepare the frosting: In a medium bowl, use an electric mixer to blend the cream cheese and butter. Add the sugars, vanilla and ground cinnamon. Spread onto cooled cupcakes, or scoop into piping bag and pipe on the frosting decoratively. Place the sugar-cinnamon mixture in a fine sieve and tap it lightly over the cupcakes to give them a light sprinkle.
Tips:
The cake part of the cupcakes can be stored up to 2 days at room temperature, or frozen up to 2 months in an airtight container.
SOURCE:
RecipeGirl.com -cake adapted from
Martha Stewart
(frosting is my recipe)
Here are a few more cupcake recipes you might enjoy:
33 Responses to "Snickerdoodle Cupcakes"
Leave a Comment