Here's an easy recipe for Irish Cream Bundt Cake made with Baileys Irish Cream liqueur.  This is a delicious cake recipe to make for St. Patrick's Day!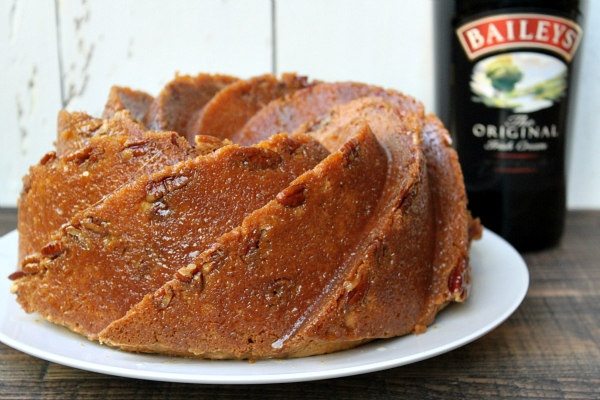 Irish Cream Bundt Cake
This Irish Cream Bundt Cake is my favorite super easy cake to make for St. Patrick's Day, but honestly I enjoy eating it all year long!  It's one of those "jazzed up cake mix" kind of recipes, but don't let that worry you.  It doesn't taste anything at all like a cake mix cake.  It's so much better.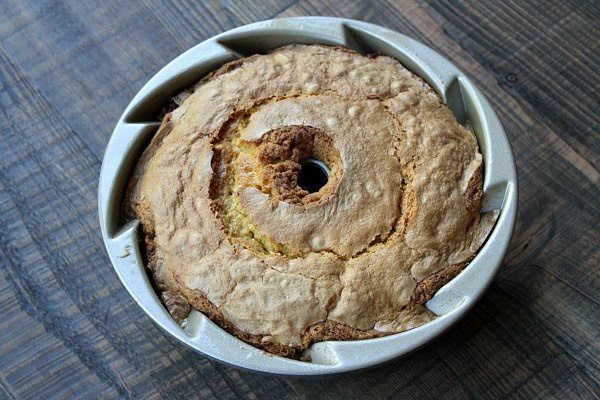 This cake is made in a bundt pan.  I really must recommend this particular bundt pan to you because it's a solid, perfect bundt pan that has very clean lines and it pops out bundt cakes perfectly every single time.  I've never, ever had a problem with any kind of sticking when using this pan to bake bundt cakes.  It's the Nordic Ware Platinum Collection Heritage Bundt Pan (Amazon affiliate link).  You'll be so happy with this pan!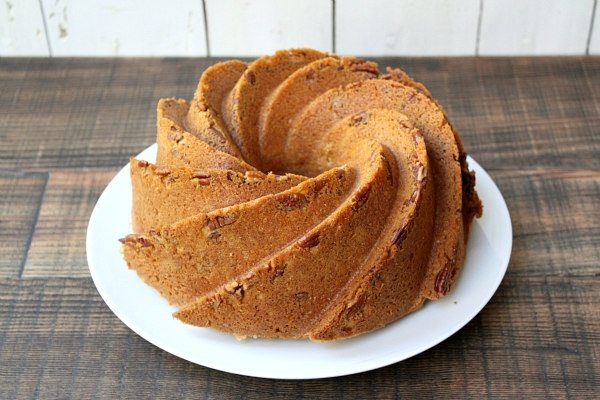 See how beautiful it turns out with such a clean mold?  I love the swirls so much!  Pecans are scattered into the bottom of the pan so they pop up all over the top of the cake after baking.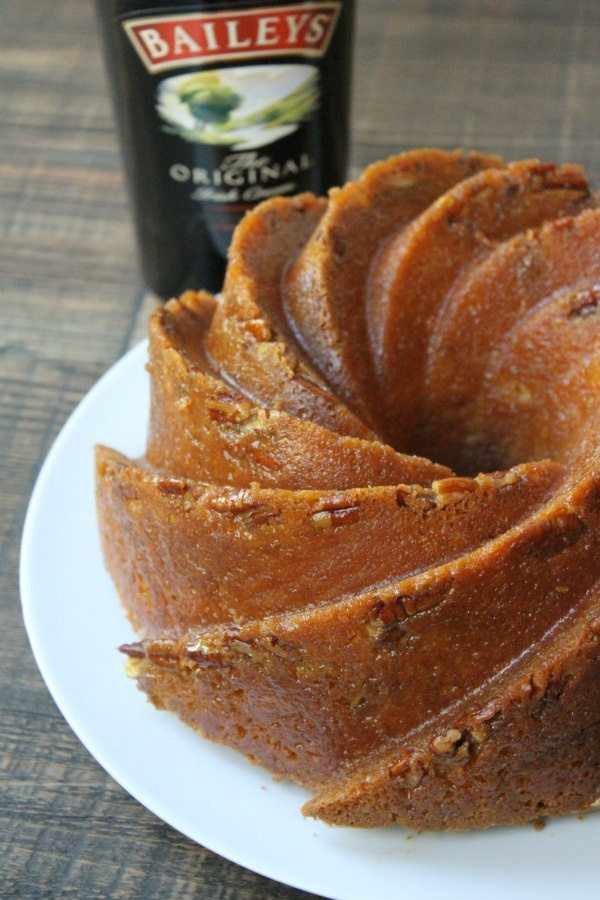 Baileys Irish Cream Bundt Cake
The magic goodie that makes this bundt cake so good is Baileys Irish Cream liqueur.  Baileys is mixed in to the cake batter to give it delicious flavor.  And Baileys is also mixed in with the sweet, buttery glaze to give it a nice, sugary crust.  It looks so pretty with the glaze brushed on.  And if you use this particular pan, it's so easy to brush it on in several layers and you turn the cake around and around.  It just soaks into the cake and travels easily down each of the grooves.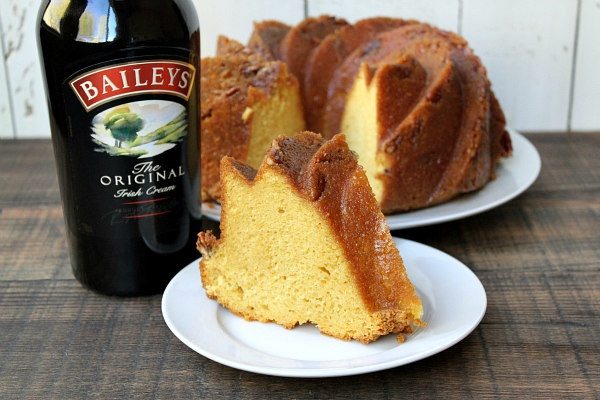 This Baileys Irish Cream Bundt Cake recipe turns out such a moist and tender cake.  It's so easy to make. And everyone loves the flavor too!
Here are a few more Irish recipes you might enjoy:
Click below to watch a short video showing you how to make Irish Cream Bundt Cake, then scroll to the bottom to print out the recipe and make it at home.
Yield: 12 servings
Prep Time: 15 minutes
Cook Time: 1 hour
Irish Cream Bundt Cake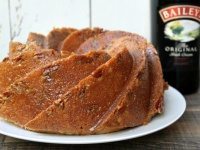 Ingredients:
CAKE:
1 cup chopped pecans
1 package yellow cake mix
One 3.4-ounce package instant vanilla pudding mix
4 large eggs
1/4 cup water
1/2 cup vegetable or canola oil
3/4 cup Irish Cream liqueur
GLAZE:
1/2 cup (1 stick) butter
1/4 cup water
1 cup granulated white sugar
1/4 cup Irish Cream liqueur
Directions:
Preheat oven to 325°F. Grease and flour 10-inch bundt pan. Sprinkle chopped nuts evenly over bottom of pan.
In a large bowl, combine cake and pudding mixes. Add eggs, water, oil and liqueur. Beat for 5 minutes at high speed. Pour batter over nuts in pan.
Bake 60 minutes, or until a toothpick inserted in center of cake comes out clean. Cool for 10 minutes in the pan.
Prepare glaze while cake is cooling in pan. Combine butter, water and sugar in small saucepan. Bring to a boil, then reduce heat to simmer and stir until sugar is dissolved. Remove from heat and stir in the Irish Cream.
Invert cake onto serving dish. Prick top and sides of cake. Spoon glaze over top and brush onto sides of cake. Allow to absorb glaze; repeat until all glaze is used.
SOURCE: Recipegirl.com
Disclosure:  There is an Amazon affiliate link included within this post.
Comments