I baked a boatload of cupcakes for my son's basketball team party the other day. To be quite honest with you, I made a couple of boxed mix cupcakes – Devil's Food and Funfetti- because 1. KIDS DON'T CARE and 2. BOYS WILL EAT ANYTHING. When I'm looking to make something a little more special, I avoid the boxes. They tend to have that "boxed mix" flavor, which I think is so very noticeable. For this party, I made a special cupcake just for the adults: Bailey's Irish Cream Cupcakes.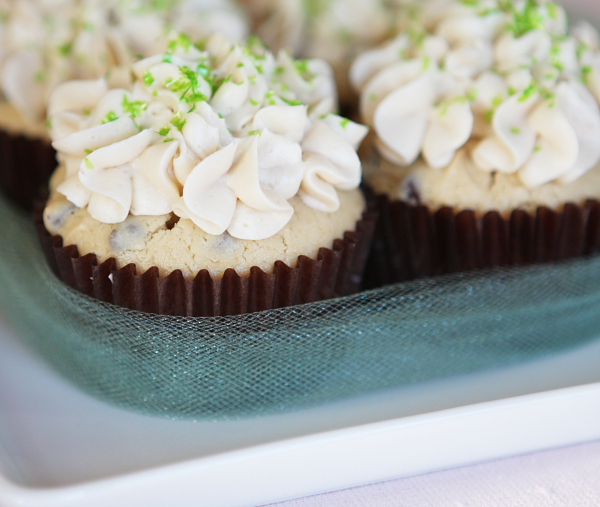 The batter has quite a lot of Bailey's mixed into it, along with some miniature chocolate chips.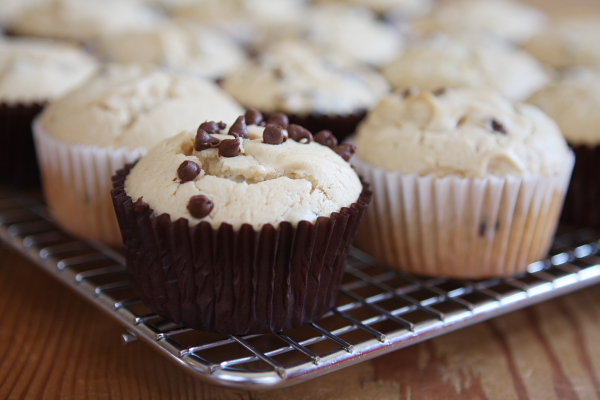 All baked up and ready for some Bailey's Buttercream Frosting!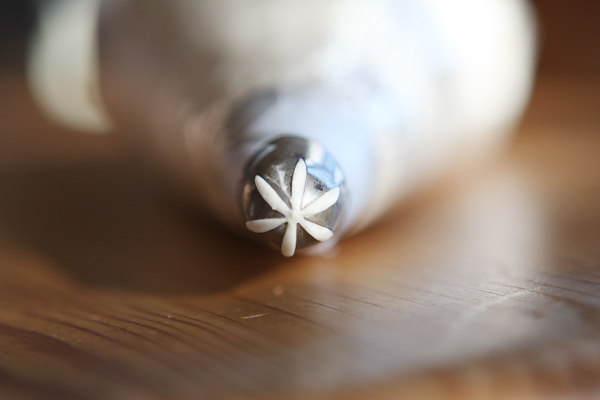 Here's the tip I used: a Wilton 2D. And here's the process I used for frosting these: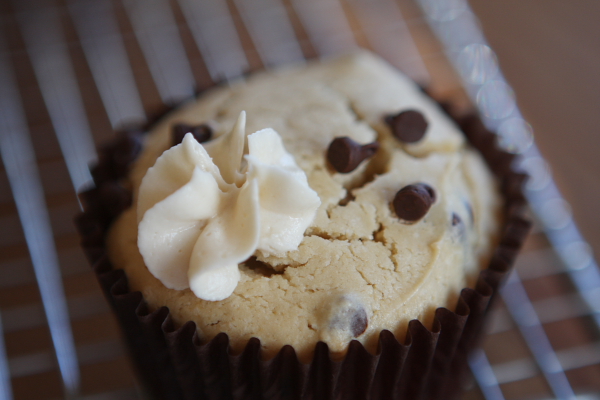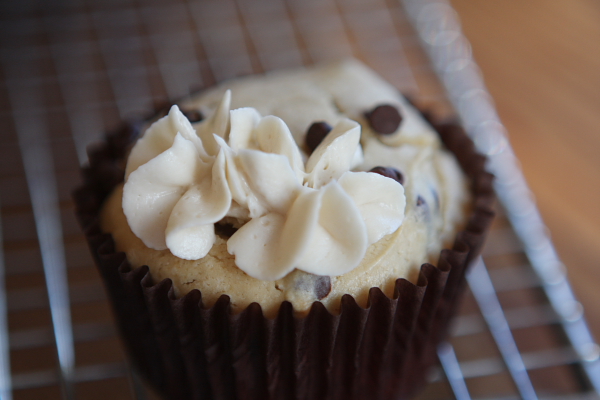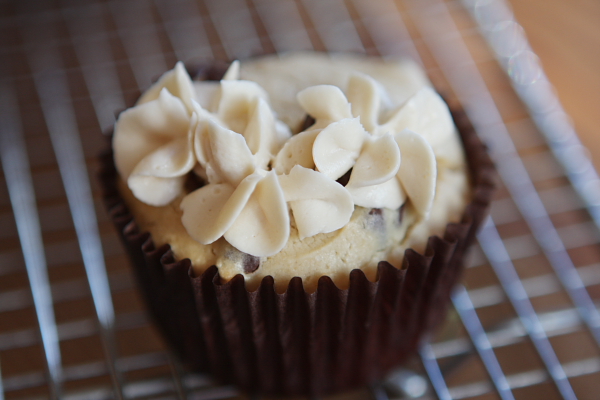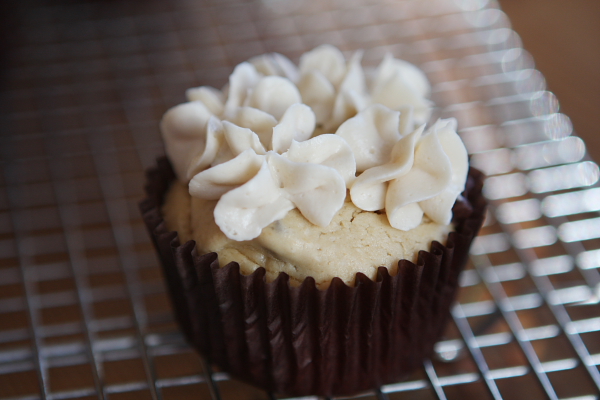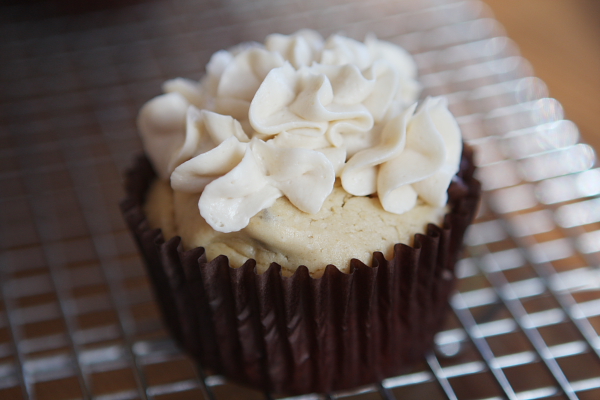 I squeezed on one petal at a time… all the way around the edges of the cupcake and then one petal squeezed into the middle to finish it off.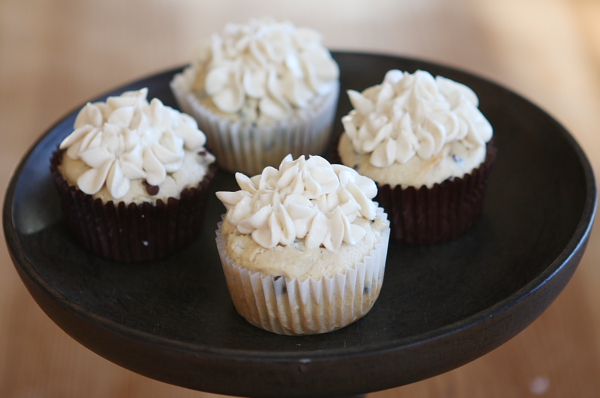 And there they are… simple little Irish Cream Cupcakes without an overwhelming amount of frosting.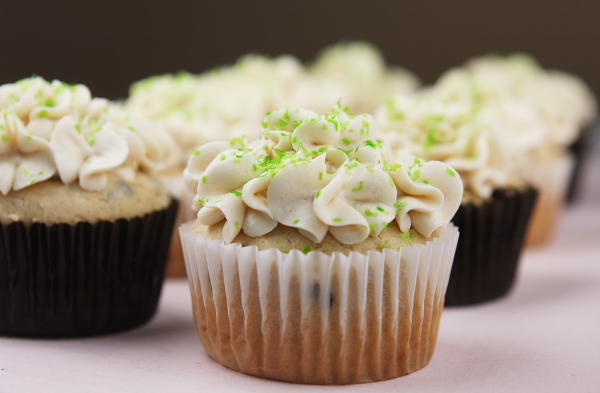 Add some green glitter if you wish- for a festive St. Patrick's Day vibe.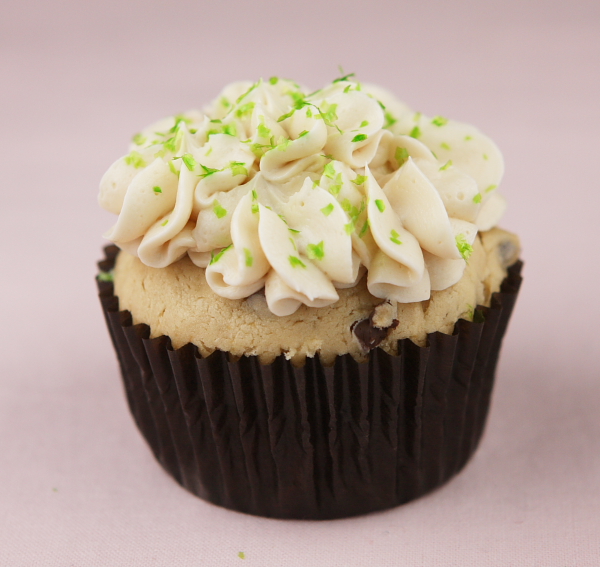 And keep these liqueur- infused cupcakes away from the kids. Unless you're looking to get them sleepy. Not that I advocate that sort of thing, but… stick with Funfetti for the team parties. Can't go wrong there!
Chocolate Chip- Irish Cream Cupcakes w/ Bailey's Buttercream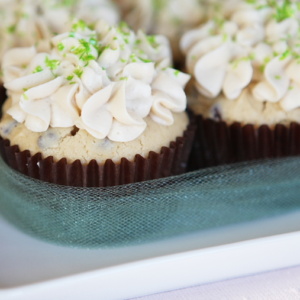 This Bailey's-infused cupcake is especially for the cupcake-loving adults out there...
Yield:
24 cupcakes
Prep Time: 45 min
Cook Time: 20 min
Ingredients:
CUPCAKES:
3/4 cup miniature chocolate chips
1/2 Tablespoon cake flour
2 3/4 cups cake flour
1 teaspoon baking powder
1/2 teaspoon salt
3/4 cup cream cheese, at room temperature
10 Tablespoons butter, at room temperature
1 cup granulated white sugar
1 cup light brown sugar, packed
1 teaspoon vanilla extract
3 large eggs
3/4 cup Irish Cream Liqueur (Bailey's)
BUTTERCREAM:
1 cup butter (2 sticks), at room temperature
3 cups powdered sugar
4 Tablespoons Bailey's Irish Cream
2 teaspoons vanilla extract
Directions:
1. Preheat oven to 350 degrees F. Line cupcake tins with 24 cupcake liners.
2. In a small bowl, toss together chocolate chips and 1/2 Tablespoon flour.
3. Sift together dry ingredients- flour, baking powder and salt; set aside.
4. In a large bowl, use electric mixer to combine cream cheese and butter. Add sugars and vanilla; beat until blended. Add eggs and beat until incorporated. With mixer on low, add flour mixture and liqueur alternately to the wet mixture, beginning and ending with the flour mixture. Gently stir in chocolate chips.
5. Spoon batter into cupcake liners, filling them almost to the top (they shouldn't rise much). I like to use an ice cream scoop to get the batter neatly into the liners. Bake cupcakes 18 to 22 minutes, or until centers of cupcakes are set.
6. To make buttercream: Place all ingredients in a large bowl. Use electric mixer to blend together; mix until smooth and creamy.
Cupcake Source: RecipeGirl.com (Adapted from this Irish Cream Cake by Anna Ginsberg).
Buttercream Source: www.RecipeGirl.com (Adapted from Food.com)