Here's a delicious, summery cake for you > Raspberry- Lemonade Bundt Cake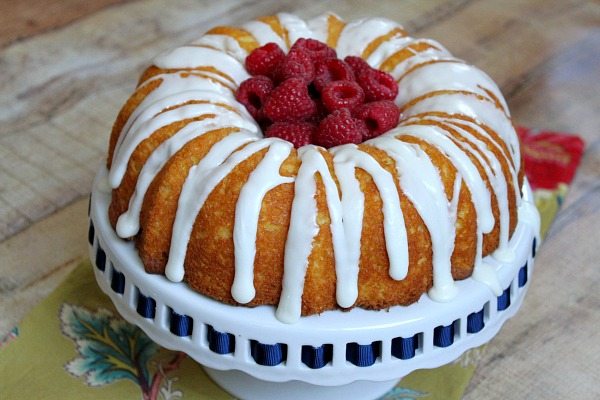 I've always been a fan of the bundt cake… something about its perfect round shape with a drizzle of frosting down the sides just makes it seem so simplistic and approachable.  It's a great cake concept in general- all of the batter is poured into a well-greased, rounded pan, then baked, popped out of the pan, and that's about it.  The shape and imprint of the bundt pan provides decoration all on its own.  Bundts are the bomb.  Or… as my 13 year old often says:  thebombDOTcom.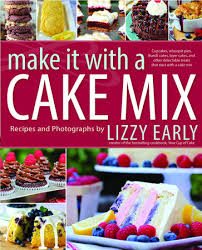 This recipe comes from Your Cup of Cake blogger Lizzy Early's new book > Make It With a Cake Mix.  This is a cookbook that is devoted to taking a boxed cake mix to the next level… and combining it with a bunch of other ingredients to make a dessert that is much better than the plain boxed mix.  I'll give you an idea of what you might find in this book >>
Cupcakes (S'Mores Cupcakes, Strawberry- Red Velvet Cupcakes, Double Chocolate- Peanut Butter Cupcakes)
Bundt Cakes (Chocolate- Zucchini Bundt Cake, Cinnamon Swirl Bundt Cake, Orange- Cranberry Bundt Cake)
Layered Cakes (Cookie Dough Cake, Chocolate Malt Cake, Andes Mint Cake)
Cookies (Cookies and Cream Cookies, Chocolate Crinkles Cookies, Banana Split Cookies)
Whoopie Pies (Brownie Cream Whoopie Pies, Carrot Cake Whoopie Pies, Pumpkin- Chocolate Chip Whoopie Pies)
More (Cake Batter Brownies, Chocolate Waffles, Devil's Food Rice Krispie Treats)
It's a good one to have on your cookbook shelf if you enjoy baking… and especially if you enjoy short-cuts 🙂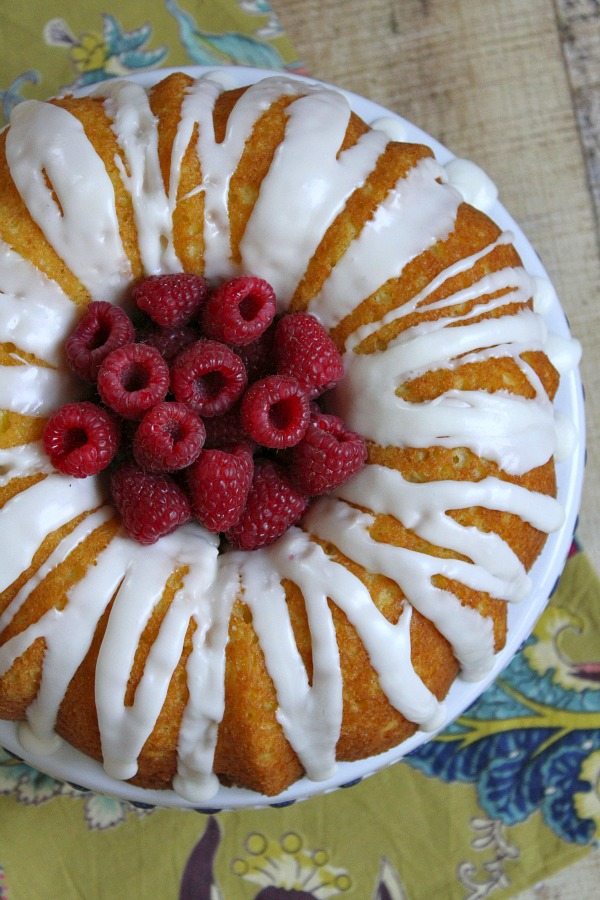 This cake turns out tender and delicious- so summery with the "lemonade" theme and a touch of raspberry.  No one in my family thought it tasted anything like a boxed cake mix, yet the mix was an easy base for the rest of the recipe.  I think the addition of pudding mix helped make this cake extra soft and melt-in-your-mouth yummy.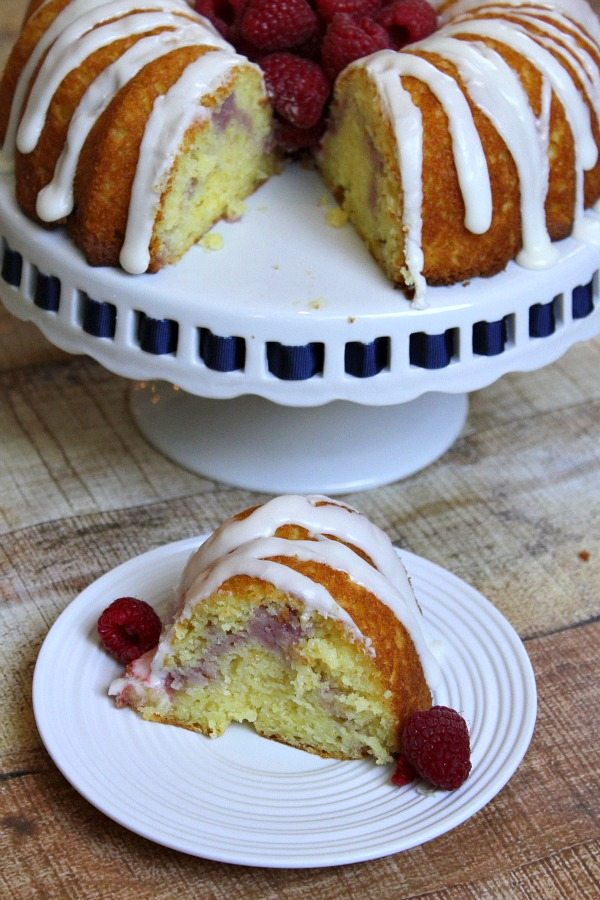 A very simple, lemony glaze tops it off.  And a sprinkle of raspberries for serving keeps things fresh.  See how pretty bundt cakes turn out?  They're so easy to cut too.  This one is an especially good dessert to make if you're in a hurry and you need an easy-but-elegant sort of treat to share with friends.  Believe me, no one will ever know that it all began with a cake mix!
Raspberry- Lemonade Bundt Cake
Yield:
1 bundt cake (maybe 10 slices)
Prep Time: 25 min
Cook Time: 45min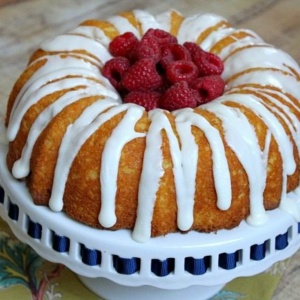 Ingredients:

CAKE:
One box white cake mix
One 3.4 to 3.9-ounce package instant lemon pudding mix
4 large eggs
2/3 cup vegetable or canola oil
2/3 cup milk
zest of one lemon
1/4 cup freshly squeezed lemon juice
2/3 cup plain yogurt (I used Greek)

RASPBERRY SWIRL:
1 cup fresh raspberries
3 tablespoons granulated white sugar
3 tablespoons cake batter

LEMON GLAZE:
2 tablespoons melted butter
2 tablespoons freshly squeezed lemon juice
1 1/3 cups powdered sugar

fresh raspberries for decoration

Instructions:

1. Preheat the oven to 350 degrees F., and spray a bundt pan with nonstick spray or nonstick baking spray with flour.

2. Sift the cake mix into a small bowl to remove any lumps. Add the pudding mix and whisk together.

3. In a large bowl, combine the eggs, oil, milk, zest, juice and yogurt. Add the dry mixture and stir well.

4. To make the raspberry swirl > In a blender, puree the raspberries and sugar. Press through a sieve to remove the seeds and discard. Mix 3 tablespoons of the cake batter with the raspberry juice.

5. Pour 1/2 of the cake batter into the prepared pan and spread evenly. Pour raspberry swirl over the cake batter and spread around evenly. Spoon the remaining batter over the raspberry layer and spread to cover evenly.

6. Bake 40 to 55 minutes, or until a knife inserted near the center come out clean. Let the cake cool in the pan, then turn out on a cooling rack to cool completely.

7. To make the lemon glaze > In a medium bowl, whisk together the butter, lemon juice and powdered sugar until smooth. Add more powdered sugar to make the glaze thicker or more lemon juice to make it thinner. Pour the glaze decoratively over the cake. Serve with fresh raspberries.

Source:  RecipeGirl.com (adapted slightly and shared with permission from Make It With a Cake Mix by Lizzy Early, Covenant Communications, Inc. - Copyright 2014
Disclosure:  There are Amazon affiliate links included within this post.