My little guy got his full-mouth braces on November 1st, so he very responsibly gave his buddies most of his Halloween candy.  He actually listened to his orthodontist, who brainwashed him into thinking that he'll have a mouthful of cavities if he eats candy while wearing braces.  Ha!  I mean… thank goodness! 🙂  In any case, he saved the good candy for Mom and Dad, which means we have all of our favorites at hand for some time to come.  I parceled out the plain milk chocolate bars to make these:  Pumpkin- Oatmeal Candy Bar Cookies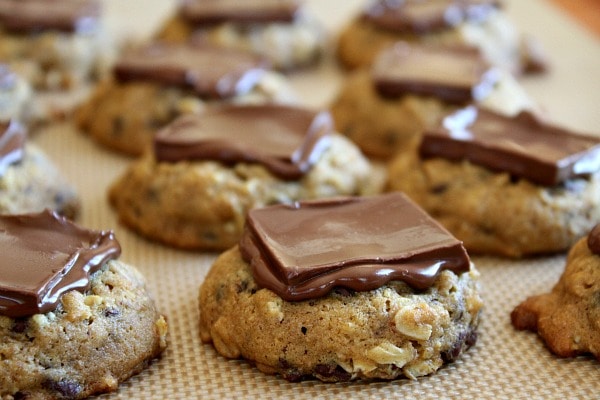 These are a softer, pumpkin-flavored sort of oatmeal cookie, topped with a chocolate bar to act as immediate frosting.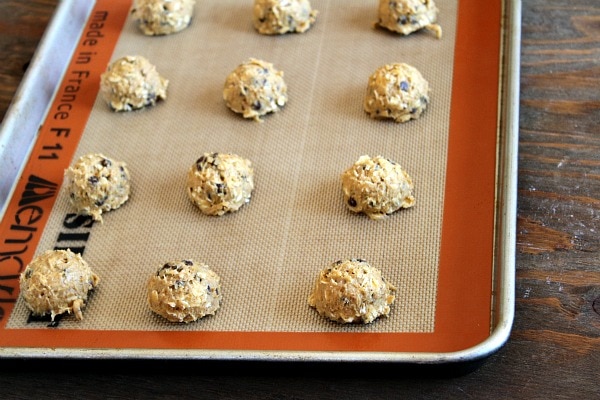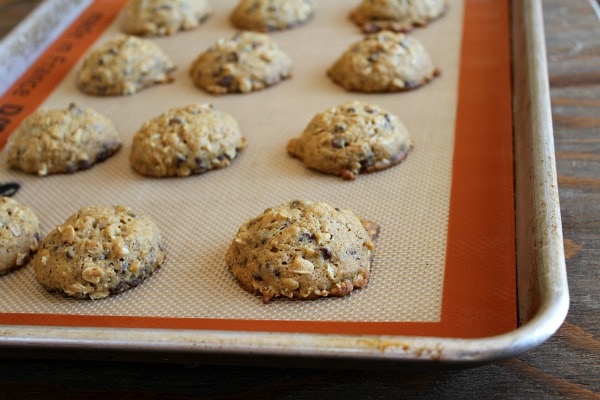 As soon as these babies come out of the oven, they are topped with with a chocolate bar.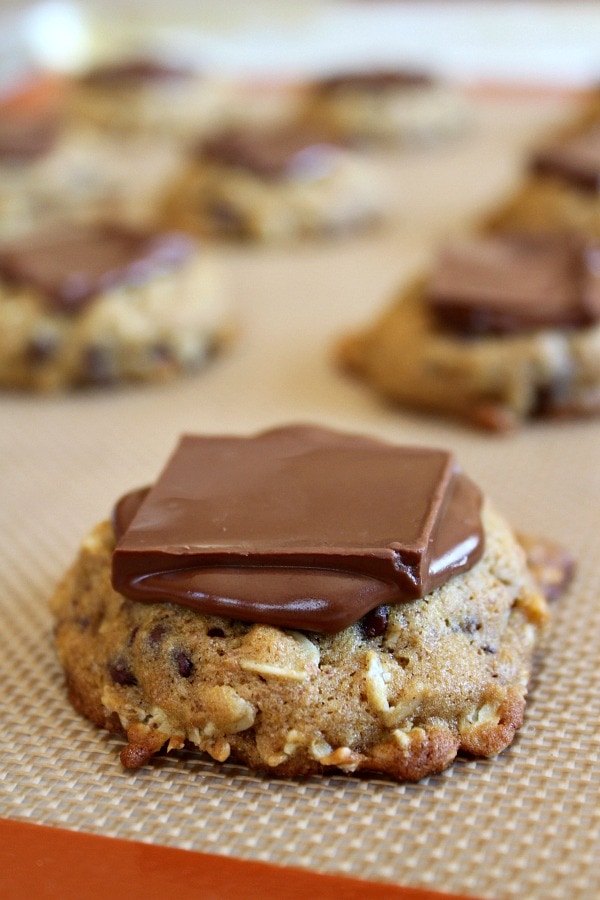 Those chocolate bars will immediately take on the heat of the cookies and begin to melt into wonderful chocolate puddles.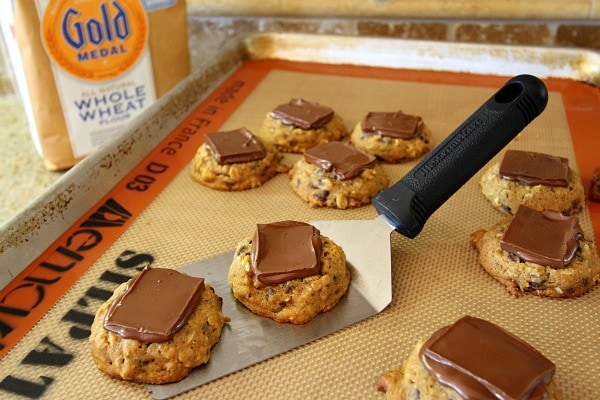 Slide them onto a cooling rack to cool completely.  Can I call them healthy since I incorporated some Gold Medal Whole Wheat Flour into the recipe?  I think so.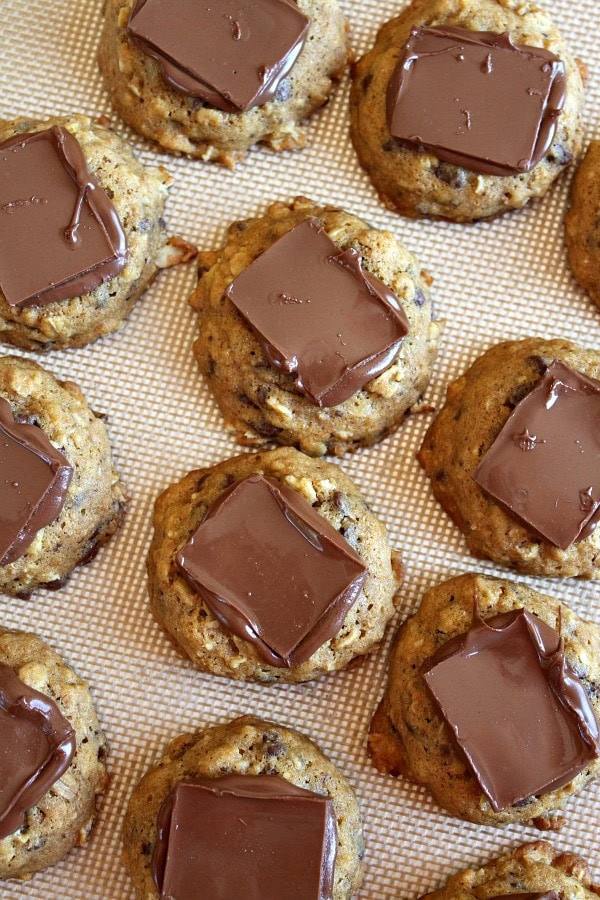 The chocolate forms a frosting-like layer on top of the cookie, especially while they're warm.  Picture yourself eating a warm cookie with a melted mass of chocolate on top.  That's a very pretty picture, isn't it?  Once cooled, you've got a built-in chocolate bar on top of your cookie, creating the advantage of eating a cookie and a chocolate bar all in one dessert.
Pumpkin- Oatmeal Candy Bar Cookies
Yield:
3 dozen cookies
Prep Time: 30 min
Cook Time: 10 min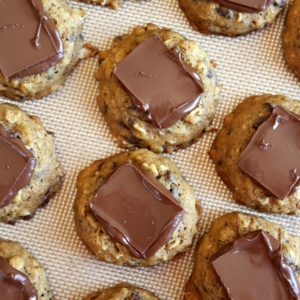 Ingredients:

3/4 cup Gold Medal® All-Purpose Flour
3/4 cup Gold Medal® Whole Wheat Flour
1 teaspoon kosher salt
1/2 teaspoon baking soda
1 teaspoon pumpkin pie spice
3/4 cup (1 1/2 sticks) unsalted butter, at room temperature
1/2 cup granulated white sugar
1/2 cup packed dark brown sugar
1 large egg
1 1/2 teaspoons vanilla extract
1/2 cup unsweetened pumpkin puree
1 cup old fashioned rolled oats
3/4 cup mini chocolate chips
30 small chocolate bars (or larger bars broken into pieces)

Instructions:

1. Preheat the oven to 375 degrees F. Line baking sheets with parchment paper or silpat mats.

2. In a medium bowl, whisk together the flours, salt, baking soda and spice.

3. In a large bowl, use an electric mixer to combine the butter and sugar. Mix on medium speed until light and fluffy. Reduce the speed to low and add the egg and vanilla. Mix in the pumpkin puree. Add the flour mixture and mix until it is incorporated. Set aside the mixer and stir in the oats and chocolate chips.

4. Use a cookie scoop (or drop by heaping tablespoonfuls) to scoop onto the prepared baking sheets. Space the cookies about 2 inches apart (12 on a sheet should work perfectly). Bake 9 to 11 minutes, or until the cookies are set and golden brown. Remove the baking sheets from the oven and immediately place a candy bar on top of each cookie. Let them cool for about 10 minutes on the baking sheets, then remove them to a wire rack to cool completely. The cookies are especially good warm... with all of that melted chocolate swimming around on top, but if you need to store them, let the chocolate set on the cookies before storing in a covered container.

Tips:

*Fun twist: Make them Pumpkin- Oatmeal S'Mores Cookies by adding a few marshmallows after the chocolate has had a chance to melt (or a sprinkle of some of those super miniature marshmallows that they sell these days).
Disclosure:  I'm working with Gold Medal Flour to create seasonal recipes for the next few months.  This is one of those goodies.  All opinions shared are my own.