This recipe has been featured in a post on The Recipe Girl blog: Pumpkin Snickerdoodles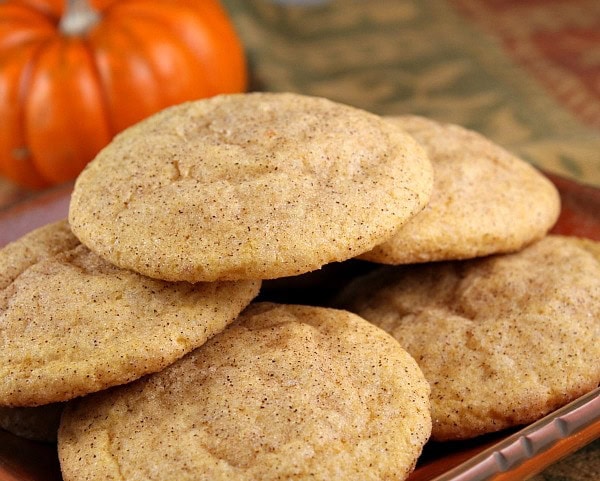 Pumpkin Snickerdoodles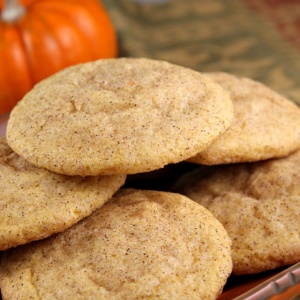 Yield:
3 dozen cookies
Prep Time: 25 min (plus chill time)
Cook Time: 10 min
Ingredients:
COOKIES:
1 cup (2 sticks) salted butter, at room temperature
1 cup granulated white sugar
1/2 cup light brown sugar
3/4 cup pure unsweetened pumpkin puree
1 large egg
2 teaspoons vanilla extract
3 3/4 cups all-purpose flour
1 1/2 teaspoons baking powder
1/2 teaspoon salt
1/2 teaspoon ground cinnamon
ROLLING SUGAR:
1/2 cup granulated white sugar
1 teaspoon ground cinnamon
1/2 teaspoon ground ginger
1/2 teaspoon allspice
Directions:
1. In a large bowl, use an electric mixer to cream the butter until fluffy. Add sugars and pumpkin puree and beat well. Mix in egg and vanilla, scraping down sides of the bowl to incorporate all of the ingredients.
2. In a medium bowl, whisk together flour, baking powder, salt and ground cinnamon. Beat flour mixture into liquid mixture a little at a time just until incorporated.
3. Cover dough with plastic and chill at least an hour, or until dough becomes slightly firm.
4. When ready to bake, preheat oven to 350°F. Line baking sheets with parchment paper (or spray with nonstick spray). Mix rolling sugar ingredients in a small bowl.
5. Remove cookie dough from refrigerator. Use a medium cookie scoop (1 1/2 Tablespoons) or a large spoon to scoop out dough and roll into balls. Use your hands to roll the balls in the cinnamon sugar and make sure they're coated really well. Place 2 inches apart on the prepared baking sheets. Use a glass with a nice, flat bottom to dip in sugar and flatten the balls.
6. Bake at 350°F. for 10 to 14 minutes, or until they are slightly firm to the touch. Let cool on baking sheets for 5 minutes or so, then remove them to a wire rack to cool completely.
Tips:
*Store in an airtight container. These cookies freeze well too. Place them in freezer zip bag and remove from freezer when the craving hits.
Source: RecipeGirl.com (Adapted from dlynz.com)