Pumpkin Snickerdoodles are the cookie recipe you must make every year during pumpkin season!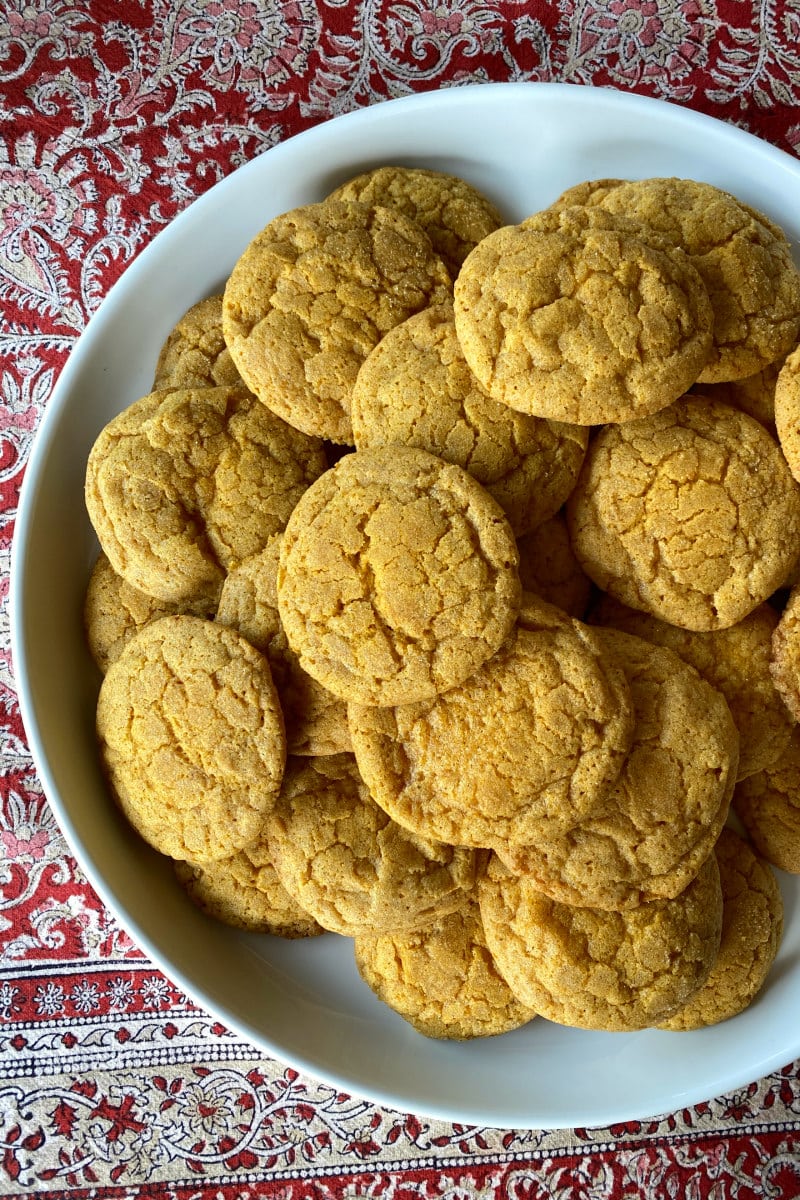 This is an update on an older Pumpkin Snickerdoodles recipe from 2007. It's a brand new version of the same cookie. And it's a 100% improvement. So if you happened to try the old cookie recipe and weren't too impressed by it, you must give it a go again with this one. My husband taste-tested it and I asked for honest feedback. He struggled to give me any because he said it was "perfect." We had guests for dinner last night, and they raved about these cookies and reached for more. This is definitely a cookie that I will bake often!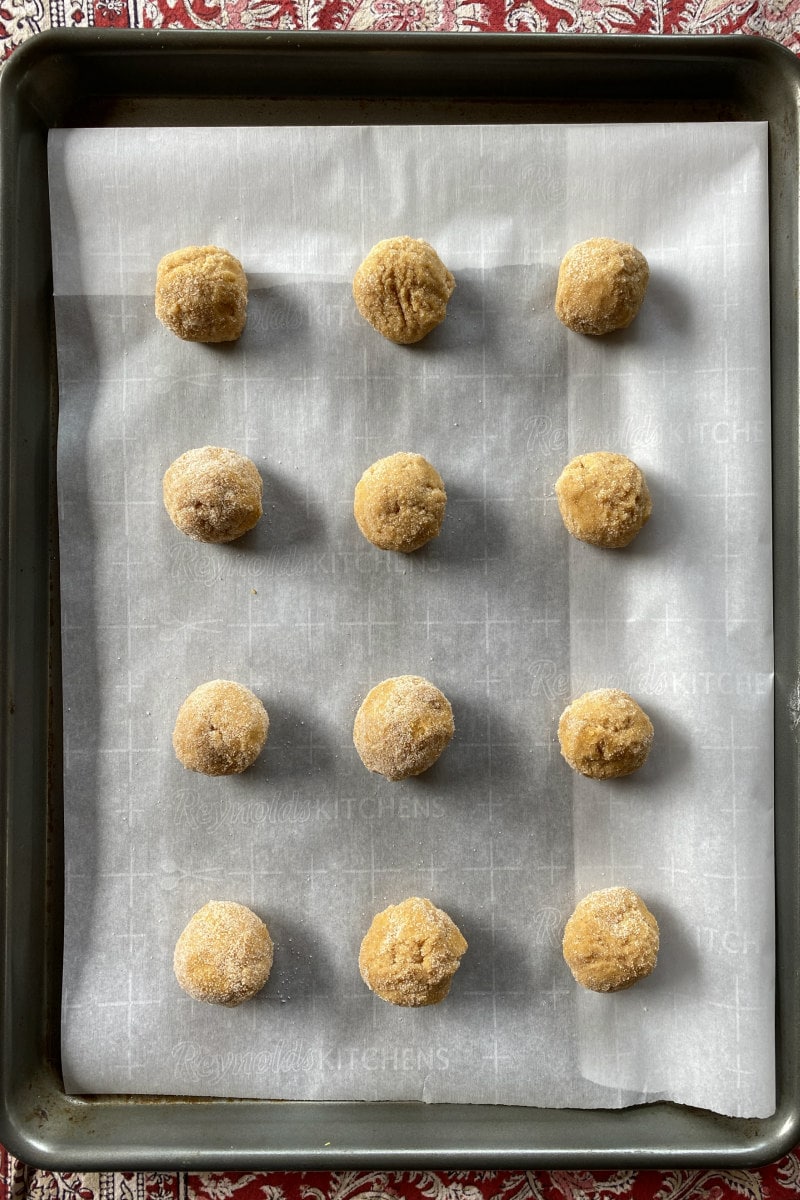 How to make Pumpkin Snickerdoodles:
Wet ingredients are combined first: butter, white sugar, brown sugar, pumpkin puree, egg and vanilla extract. Dry ingredients (flour, cream of tartar, baking soda, salt, ginger, nutmeg and allspice) are combined in another bowl. The dry ingredients are added to the wet ingredients and mixed until incorporated. The resulting Pumpkin Snickerdoodle cookie dough will be soft and a little sticky. At this point, you'll put some plastic wrap on the top of the bowl and refrigerate the dough until it's a little bit more firm (about 2 hours).
Ingredient note: Cream of Tartar has been difficult to find lately. I'm told it's because crafters have been buying it up to use in homemade play dough recipes! I was able to find it at Walmart. So go there first, if you need some. Otherwise you can order Cream of Tartar on Amazon.
Use a cookie scoop to scoop out the chilled dough. Because the dough will still be pretty sticky, drop it in your rolling sugar mixture (sugar, cinnamon, ginger and allspice), and let it pick up some of the sugar. Then it will be easier to roll in your hands. Place the cookie dough balls on a parchment paper-lined baking sheet.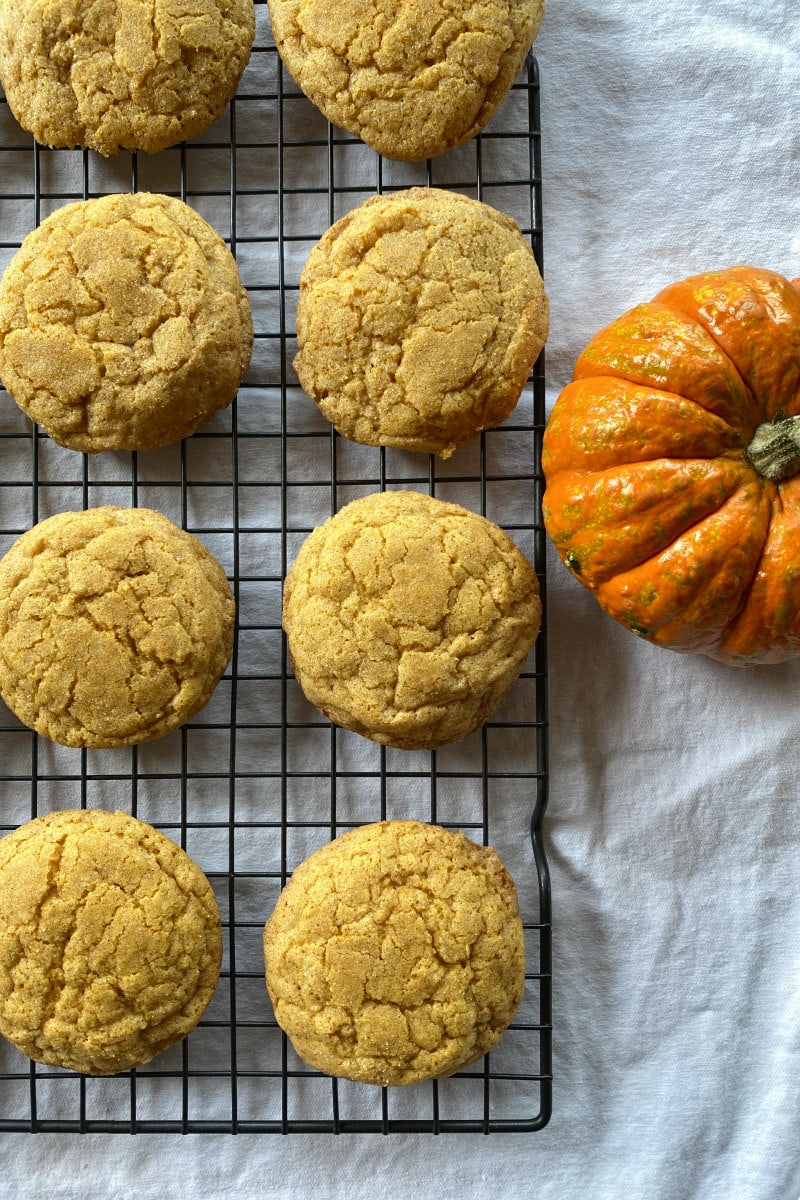 What makes this the best Pumpkin Snickerdoodles recipe?
The flavor is excellent. There is a generous amount of sugar and spice in these cookies, and you can actually taste the pumpkin too. The texture is perfect. They are lightly crisp on the outside and slightly tender on the inside. I wouldn't call them "cakey" at all.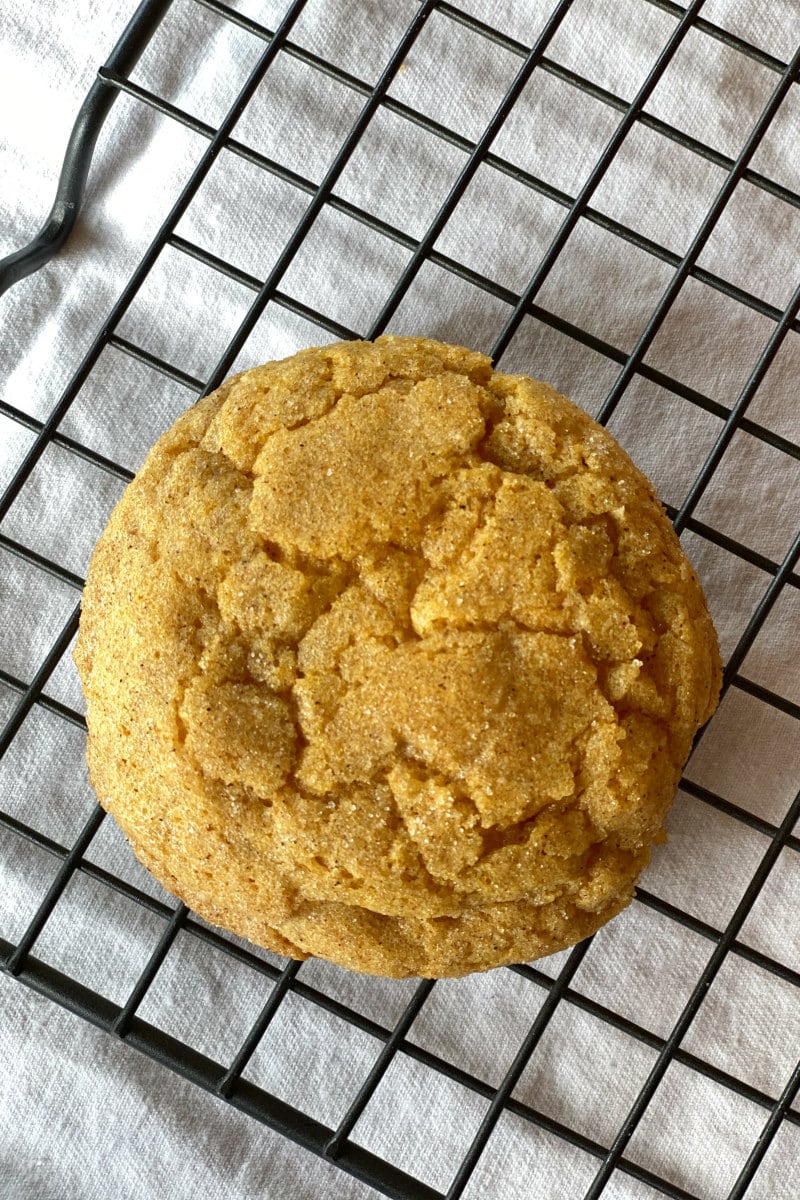 The backstory on this recipe:
The old recipe was okay. But it wasn't even close to being the best recipe for pumpkin snickerdoodles. The old recipe had a lot of flour in it and not enough sugar. The flavor of those cookies was a little dull. And although they were reminiscent of a spiced sugar cookie, they lacked the addition of cream of tartar (a snickerdoodle staple) and the pumpkin taste wasn't very prevalent.
The brand new recipe shared here today has all the right changes to make these this the best recipe for pumpkin snickerdoodles!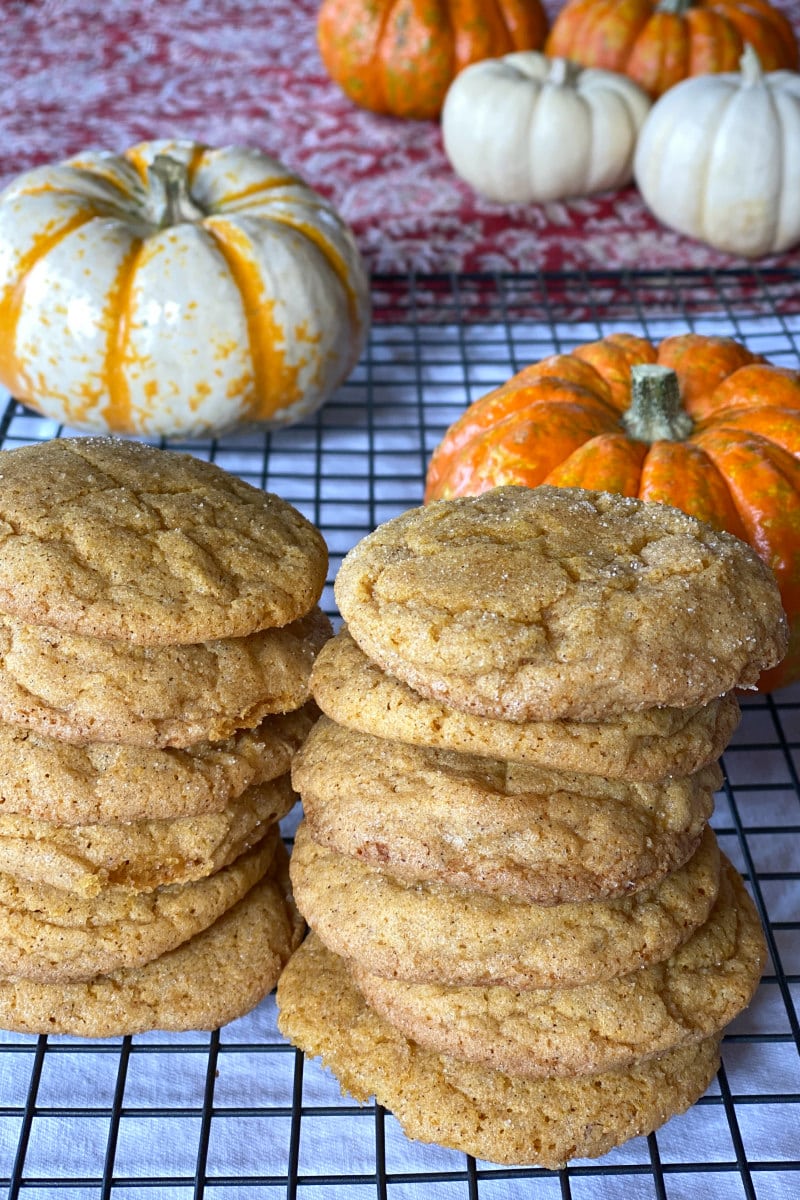 How to store Pumpkin Snickerdooodles:
These cookies can be stored at room temperature in a covered container for a few days. If you prefer to freeze them, store them in a covered container or a large freezer ziploc in your freezer for up to three months. Take them out of the freezer as you'd like to eat them- just let them defrost at room temperature.
An alternate serving suggestion:
Soften some vanilla ice cream and spread it between two cookies. Place it on a baking sheet and put it back into the freezer. Then you'll have a Pumpkin Snickerdoodle ice cream sandwich!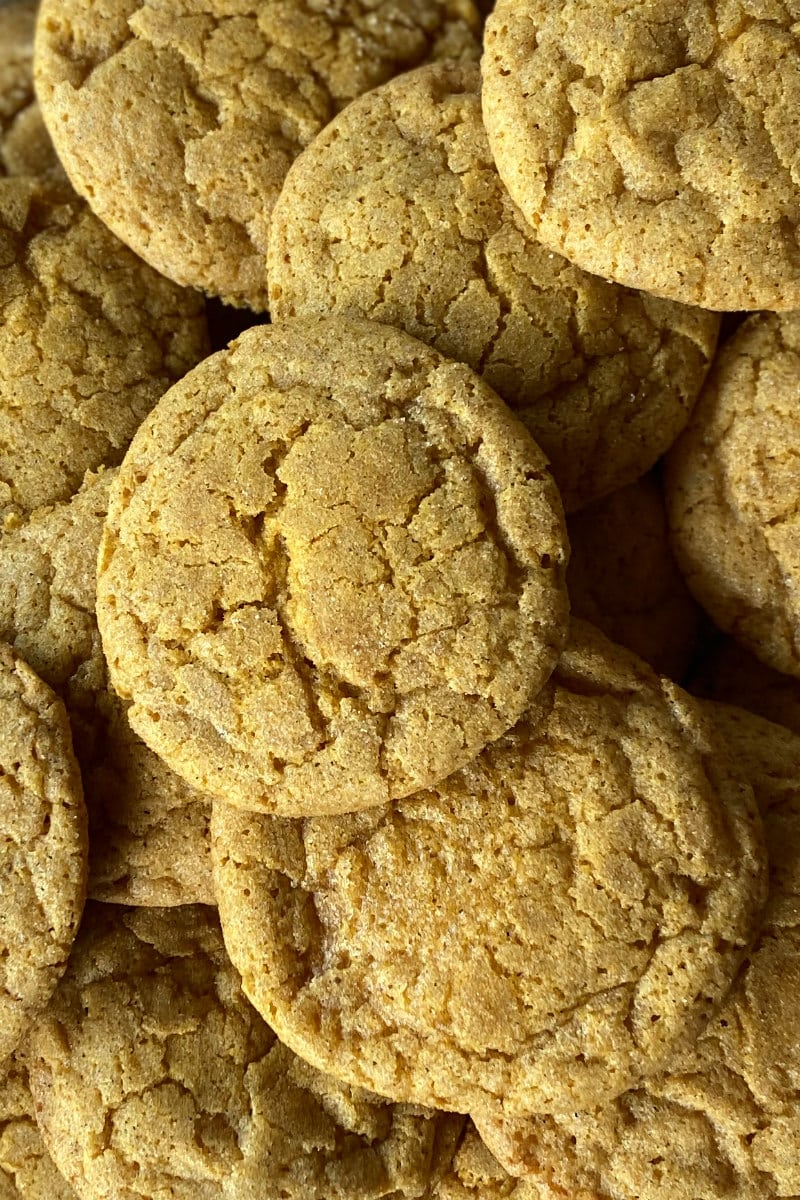 If there is any cookie recipe that I would try to convince you to make this fall, this one is it. These are the best cookies I've baked in a long time. They're a must-try. Enjoy!
Here are a few more fall cookie recipes you might like to try:
Pumpkin Snickerdoodles
Absolutely the best pumpkin cookies!
Recipe Details
Ingredients
COOKIE DOUGH:
1

cup (2 sticks)

unsalted butter,

at room temperature

1

cup

granulated white sugar

1

cup

packed light brown sugar

1

cup

unsweetened pumpkin puree

1

large

egg

2

teaspoons

vanilla extract

2¾

cups

all purpose flour

2

teaspoons

cream of tartar

1

teaspoon

ground cinnamon

1

teaspoon

baking soda

1

teaspoon

salt

½

teaspoon

ground ginger

½

teaspoon

nutmeg

¼

teaspoon

allspice
ROLLING SUGAR:
½

cup

granulated white sugar

1

teaspoon

ground cinnamon

½

teaspoon

ground ginger

½

teaspoon

allspice
Instructions
MAKE THE COOKIE DOUGH:
In a large bowl, use an electric mixer to combine the butter with the white and brown sugars; mix until well combined. Add the pumpkin puree, egg and vanilla and mix until incorporated.

In a medium bowl, whisk together the flour, cream of tartar, cinnamon, baking soda, salt, ginger, nutmeg and allspice. Add the dry ingredients to the wet mixture, and mix just until incorporated.

Cover the bowl with plastic wrap and refrigerate until slightly firm (about 2 hours).

When ready to bake, preheat the oven to 350 degrees F. and line baking sheets with parchment paper. Combine the rolling sugar ingredients in a bowl.

Remove the dough from the refrigerator. Use a medium cookie scoop (1½ tablespoons) or large spoon to scoop out the dough. It will be sticky. It's easiest to drop the dough into the rolling sugar, let it pick up some of the sugar, and then put it into your hands to roll into a ball. Roll it again in the sugar, and then place cookie dough balls on the prepared baking sheet. Repeat with remaining cookie dough, placing the cookie dough balls about 2 inches apart on the baking sheet.

Bake for 13 to 15 minutes, or until the cookies are slightly firm to the touch on top. Let them cool on baking sheets for 5 minutes, and then transfer them to a rack to cool completely.
Notes
Store these cookies in an airtight container. They freeze well too.
Nutrition
Serving:
1
cookie
,
Calories:
106
kcal
,
Carbohydrates:
17
g
,
Protein:
1
g
,
Fat:
4
g
,
Saturated Fat:
2
g
,
Cholesterol:
14
mg
,
Sodium:
75
mg
,
Potassium:
47
mg
,
Fiber:
1
g
,
Sugar:
11
g
,
Vitamin A:
918
IU
,
Vitamin C:
1
mg
,
Calcium:
9
mg
,
Iron:
1
mg