This recipe has been featured in a How-To post on The Recipe Girl blog: Candy Corn Cookies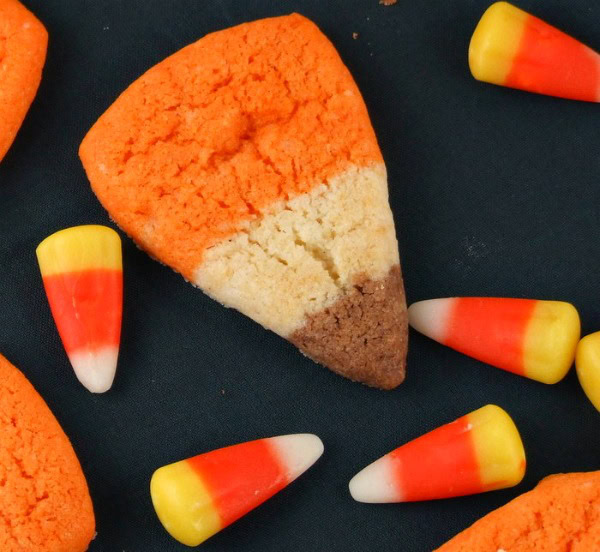 Yield: About 8 dozen (3-inch) cookies
Prep Time: 35 min
Cook Time: 8 min
Candy Corn Cookies
Fun Halloween cookie. Really easy to do. Would be great for the kid's school fall carnival bake sales.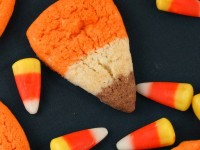 Ingredients:
2 pouches (1 pound, 1.5-ounce bags) Betty Crocker sugar cookie mix (see *Tips below)
2/3 cup salted butter, melted
2 large eggs
orange paste food color (or yellow/red food coloring mixed together)
3 ounces semi-sweet chocolate chips, melted and cooled slightly
Directions:
1. Line an 8x4-inch loaf pan with waxed paper, extending paper over sides of pan. In medium bowl, stir cookie mixes, butter and eggs until soft dough forms.
2. On work surface, place 1 1/2 cups of dough. Knead desired amount of orange coloring into dough until color is uniform. Press dough evenly in bottom of pan.
3. Divide remaining dough in half. Gently press one half of remaining dough into pan on top of orange dough. On work surface, knead chocolate into remaining dough until color is uniform. Press over plain dough in pan, pressing gently to edge of pan. Refrigerate 1 1/2 to 2 hours or until firm.
4. Preheat oven to 375°F. Remove dough from pan. Cut crosswise into 1/4-inch-thick slices. If needed, trim slightly to make perfect rectangles. Cut each rectangle into 6 or 7 triangular wedges. On ungreased cookie sheet, place wedges 1-inch apart.
5. Bake 7 to 9 minutes or until cookies are set and edges are very light golden brown. Cool 1 minute; remove from cookie sheet. Cool completely. Store in tightly covered container.
Tips:
*You may CERTAINLY sub your favorite homemade sugar cookie recipe for the Betty Crocker mixes!
*Watch time when cookies are baking. If they bake too long, the white layer will turn a shade of light brown and the cookies will be too crispy. You want it to stay a nice, light color.
6 Responses to "Candy Corn Cookies"
Leave a Comment