I promise I'm not going to overload you on pumpkin-themed recipes this fall season, but this one was so darn cute and delicious that I had to share it immediately: Pumpkin Pie Pop Tarts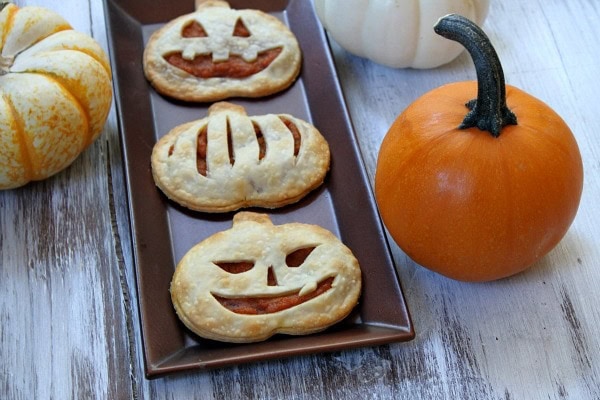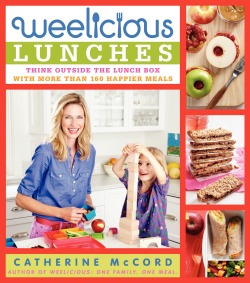 The recipe comes from my friend Catherine McCord's new cookbook- Weelicious Lunches. The book has you "thinking outside the lunchbox" with more than 160 ideas for happier meals. Catherine is a total expert at coming up with healthy recipe ideas that kids want to eat. Her book is a must-have for parents of young children. My kiddo is 12, and he has bookmarked a ton of pages for things he would like to try. On his list: Chicken Soup with Rice, Cinnamon Roll Sushi, Pancake Sandwiches, Pizza Muffins, Beany Cheese Burritos and Avocado Hummus. Be on the lookout for giveaways on RecipeGirl.com and RecipeBoy.com for this fabulous cookbook later this week! It's an awesome book!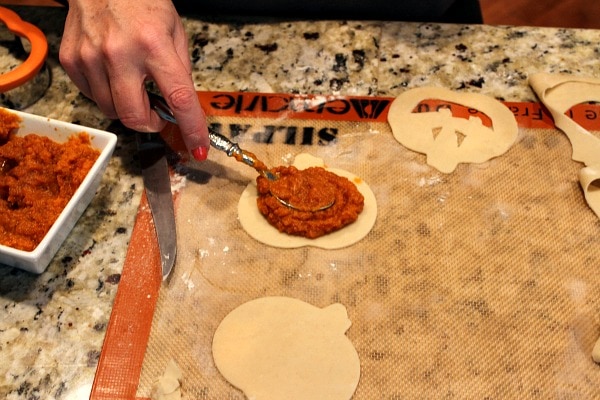 These delicious little treats are made with a short list of ingredients:  pie crust (store bought or homemade- see TIPS below), pumpkin puree, brown sugar and pumpkin pie spice.  That's it!  Grab a pumpkin cookie cutter and cut out shapes.  Pumpkin filling is spooned in the middle.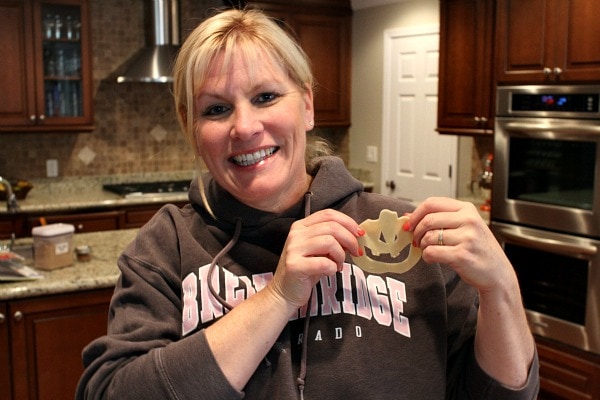 Cut out some cute pumpkin faces on half of the pumpkin cut-outs.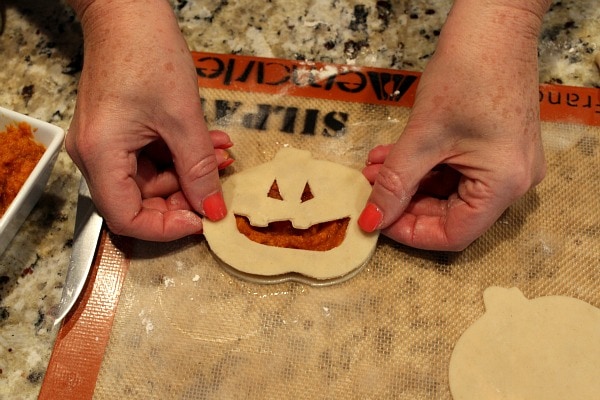 Rub the edge of the filled pumpkin shape with a little bit of water, then place the cut-out pumpkin on top and press to seal the edges together.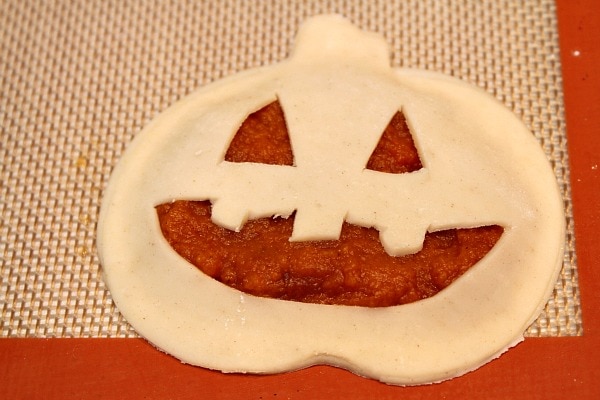 Here's a jolly jack-o-lantern guy ready for baking!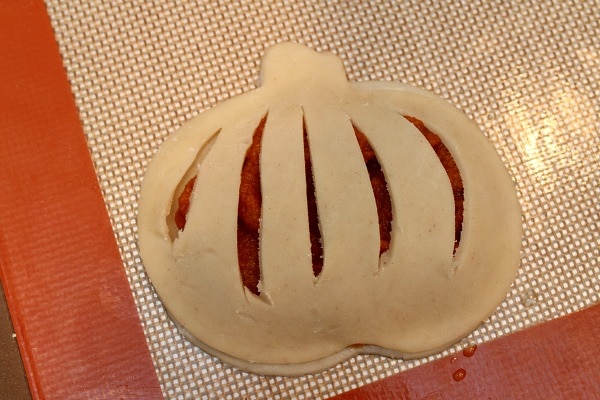 And here's a pumpkin tart that's just a pumpkin… with the wrinkled ridges cut out.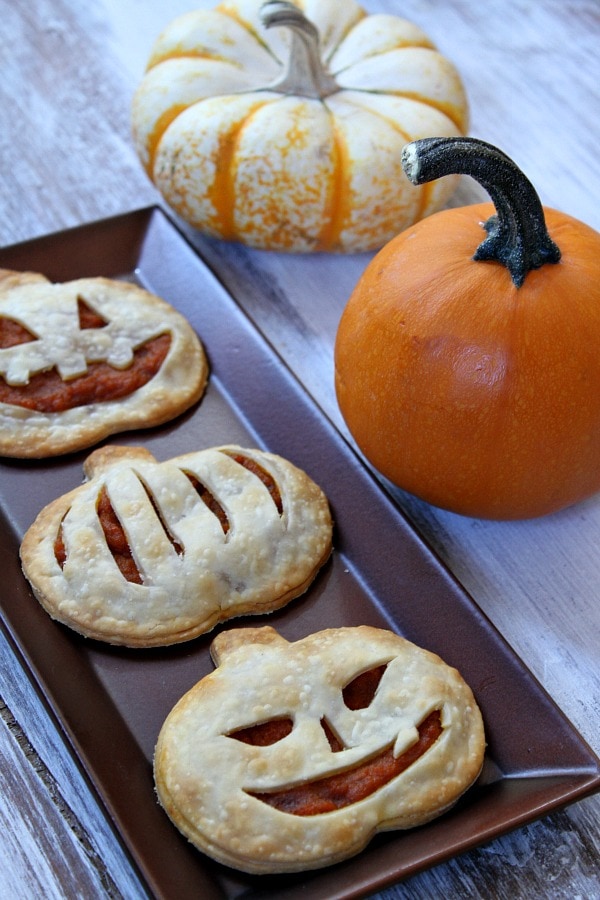 The tarts are baked until they're golden brown.  After letting them cool for a while, they're ready for munching.  We had them in my house as after-school snacks, but you can tuck them into lunch boxes too.  They also freeze well (see TIPS below).  They'd be a cute treat to serve at a Halloween party!   Everyone in my family enjoyed these little pumpkin pie pop tarts, and they were super simple to make.
See TIPS below for variations on making them with whole wheat crust or gluten-free crust.
Pumpkin Pie Pop Tarts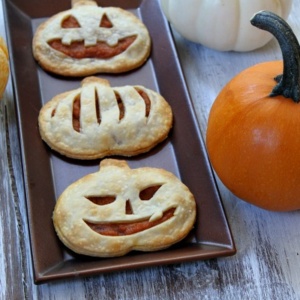 Yield:
10 or so tarts (depending on size of your pumpkin cutter)
Prep Time: 30 min
Cook Time: 18 min
Ingredients:
1/2 cup unsweetened pumpkin puree
2 tablespoons packed brown sugar
1/4 teaspoon pumpkin pie spice
flour, for rolling out the dough
one recipe for pie crust (or 1 package pre-made pie crust)
Directions:
1. Preheat the oven to 400 degrees F. Line a large baking sheet with parchment paper or a silpat mat.
2. In a small bowl, combine the pumpkin puree, sugar and spice.
3. On a lightly floured surface, roll out the pie dough to 1/4-inch. Use a pumpkin cookie cutter to cut out about 20 pumpkin shapes. Use a paring knife to cut-out pumpkin faces (or pumpkin wrinkles) in half of the pumpkin shapes.
4. Place one pumpkin (without any cut-outs) on your floured surface and place a heaping teaspoon of filling in the center. Use a spoon to spread the filling almost to the edges. Lightly dip your finger into water and rub the edge of the pumpkin dough shape with the water. Top with a cut-out pumpkin and lightly press the edges together to seal. Repeat with the remaining shapes and filling.
5. Place the tarts on your prepared baking sheet. Bake for 18 minutes, or until golden brown. Set the tarts aside to cool.
Tips:
*Make these healthier by using a whole wheat pie crust recipe.
**Make your own pumpkin pie spice!
*Make these gluten-free by using your favorite gluten-free pie crust recipe.
*To freeze, place filled, uncooked tarts on a baking sheet and freeze for 1 hour. Then place the tarts in a zip bag and freeze for up to 3 months. To bake, place them (frozen) on a baking sheet, and bake for 20 minutes.
Disclosure: There are Amazon affiliate links included within this post.