I've mentioned before that my family made a big move recently… from sunny San Diego to the mountains near Lake Tahoe.  We are absolutely loving our new life here.  There are towering pine trees surrounding our house, squirrels and chipmunks are in abundance, there are occasional deer walking through, and the fresh-air smell of the mountains is everywhere.  It's relaxing, to say the least… a totally different vibe than southern California.  Being in my kitchen is a pleasure because my view out the window is totally forest.  The fall- like weather we've been having in the mountains encouraged me to make these No-Yeast Apple Cinnamon Rolls with Maple Icing.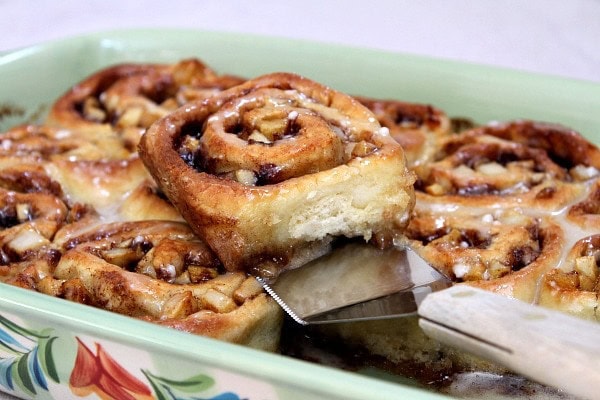 I love cinnamon rolls as much as the next person, but they're hard to manage when trying to serve for a weekend breakfast.  If I'm making yeast rolls, I can't promise they'll be done any sooner than lunchtime with all of that rising involved.  That's where these no-yeast, no-rising needed cinnamon rolls come in handy.  That's right- NO YEAST, I TELL YOU!!  They'll definitely be done in time to be served as breakfast.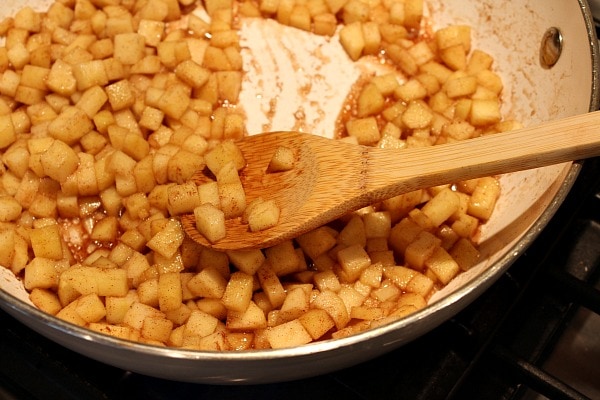 First:  Saute your apples and get them cinnamon-sugared and slightly softened.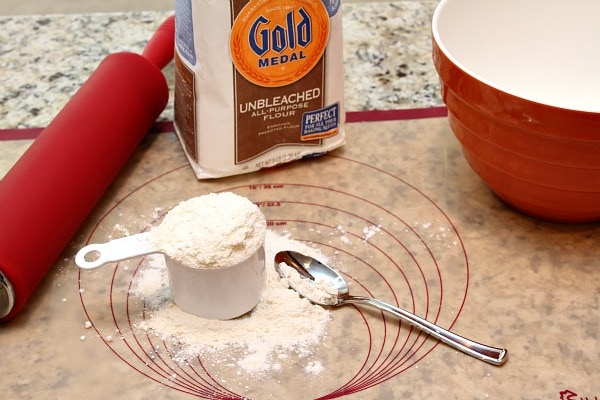 Here's my secret when making baked goods that you have to roll out on a mat:  I measure my Gold Medal flour (the brand I use in my kitchen) on the mat so that the excess just gets pushed onto the mat and can be used to flour the mat for rolling.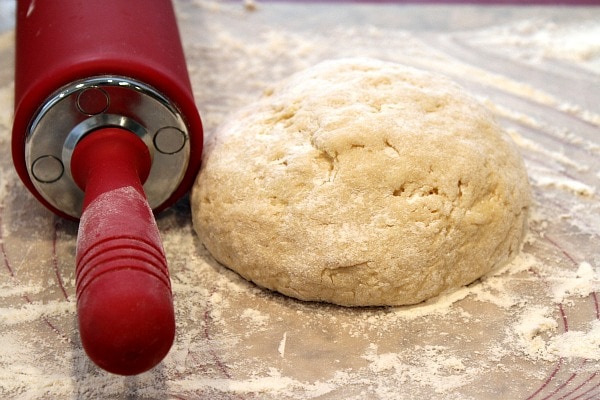 The dough just gets mixed together and is ready to roll out (no rising needed!)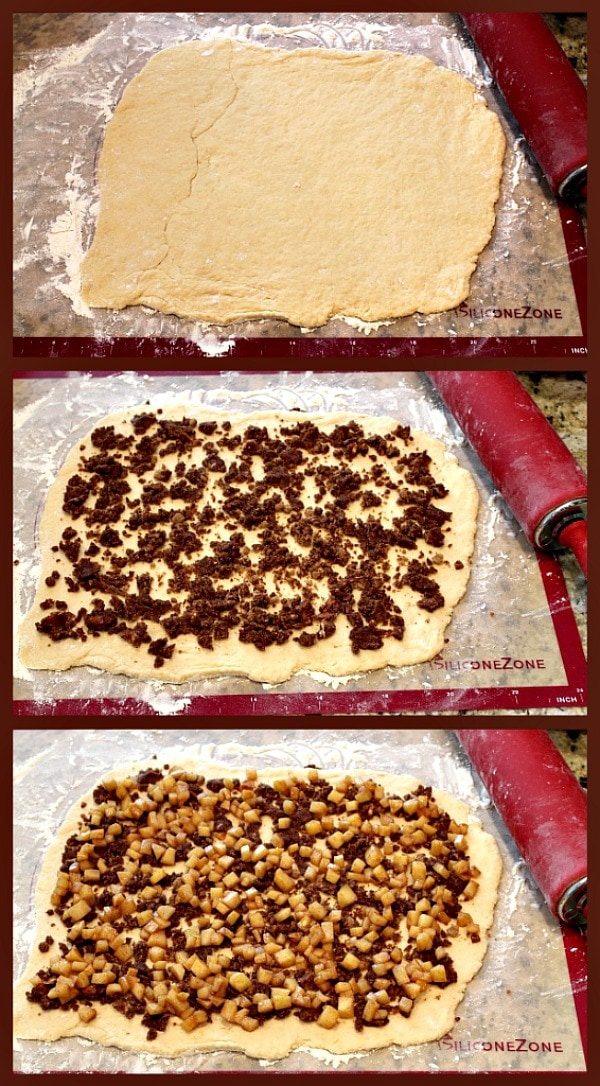 Next:  Roll, sprinkle cinnamon-sugar, then sprinkle the sauteed apples.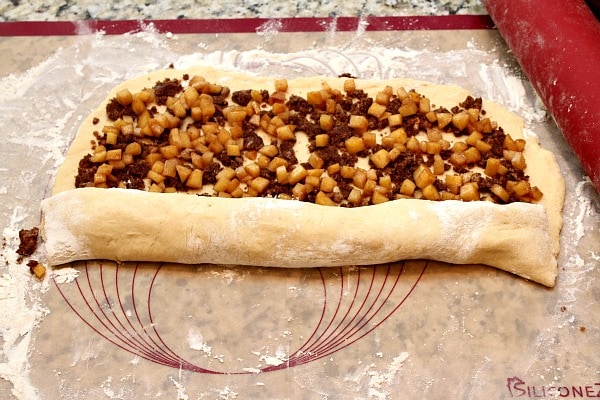 Roll it up log-style.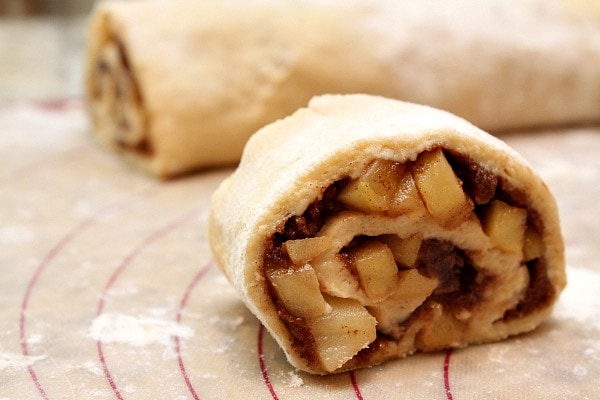 Slice one-inch slices.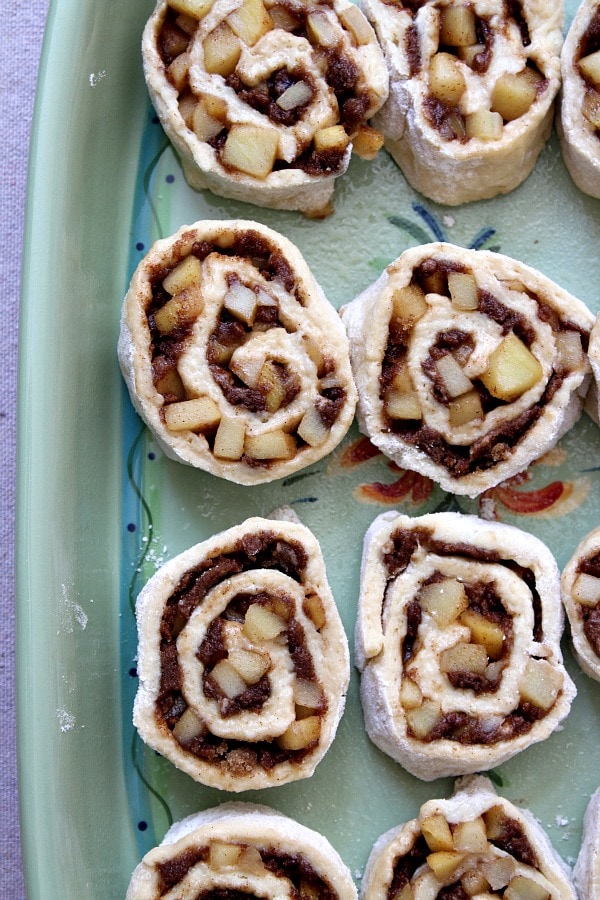 Place those slices into a greased 9×13-inch pan.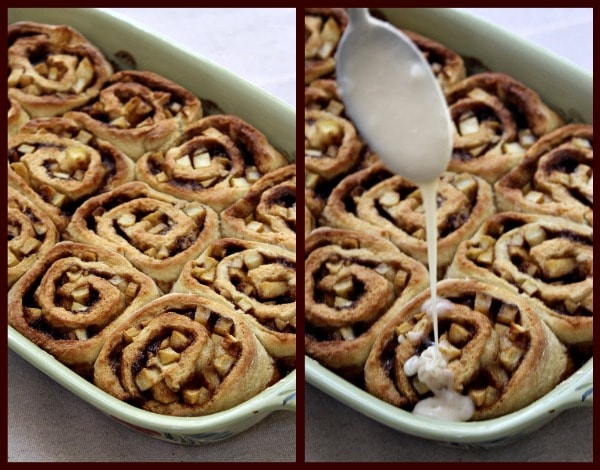 Bake for a short time- you'll see that the rolls expand and connect.  Drizzle on the maple icing while the rolls are still warm.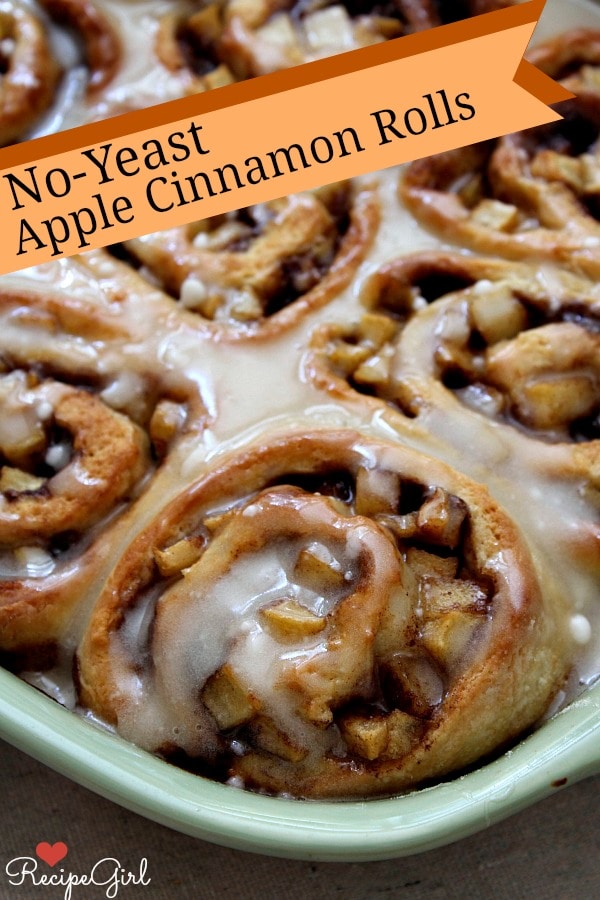 Sit and stare and drool…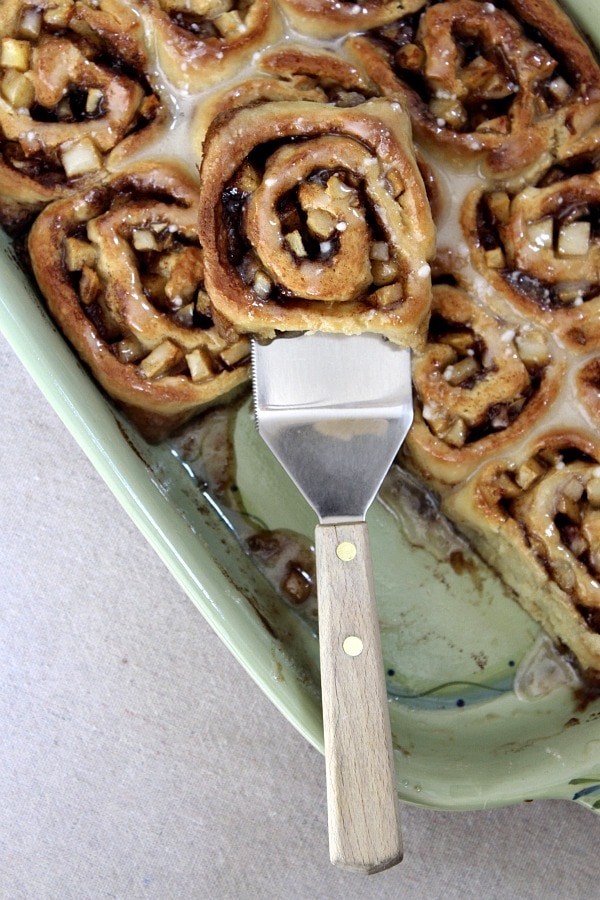 …and then scoop one of them out and eat it immediately.  Don't think about it, just eat it.  It's warm and it's gooey and it's a very good replica of a yeasted cinnamon roll.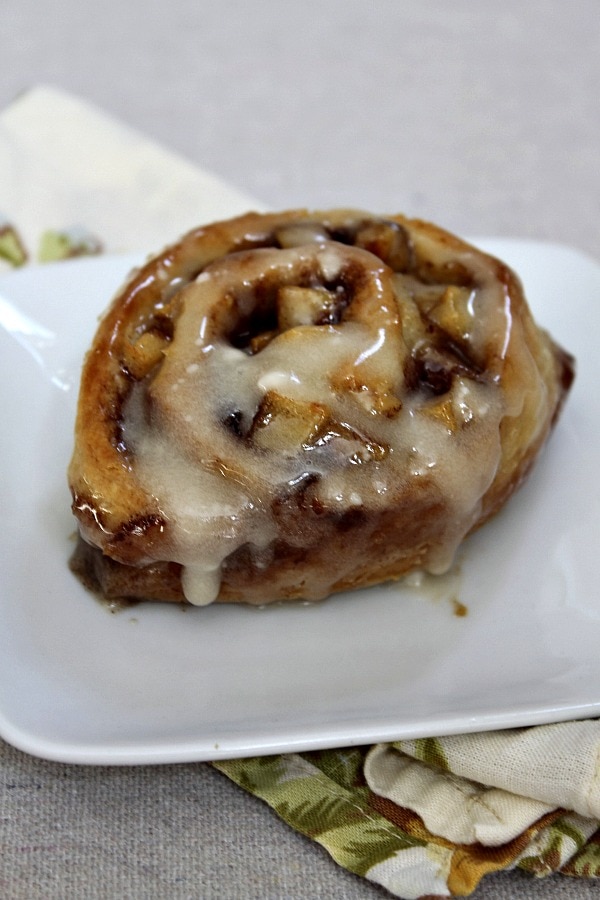 Funny story… a squirrel comes to visit me every morning.  He scampers onto the deck and comes right up to our glass door and peeks inside.  I swear it's the same squirrel.  And I'm certain he's detecting good scents coming from my kitchen.  On the day that I made these rolls, I really wanted to leave my squirrel friend a sneaky taste (only there are bears in the neighborhood too, so I decided against it).
The icing poured over the warm rolls soaks into every nook and cranny and makes the rolls soft and sweet and moist.  Fall arrives this weekend, and I'd say these apple cinnamon rolls would be a good way to celebrate.
No Yeast- Apple Cinnamon Rolls with Maple Icing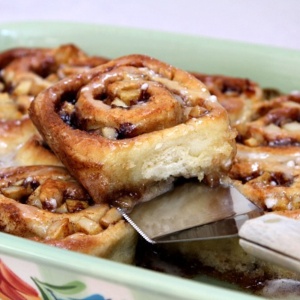 Yield:
12 cinnamon rolls
Prep Time:35min
Cook Time:25 min
Ingredients:
APPLE FILLING:
2 medium apples, peeled and diced
1 tablespoon unsalted butter
1 tablespoon granulated white sugar
1 tablespoon brown sugar
CINNAMON-SUGAR FILLING:
4 tablespoons unsalted butter, very soft
1 cup brown sugar
3 teaspoons ground cinnamon
CINNAMON ROLL DOUGH:
2 cups Gold Medal® All-Purpose Flour
2 tablespoons granulated white sugar
3 teaspoons baking powder
1 teaspoon salt
3 tablespoons unsalted butter, melted
1/2 cup unsweetened applesauce
1/4 cup milk
1 large egg
ICING:
3 tablespoons butter, melted
3 tablespoons maple syrup
2 teaspoons milk (additional, as needed)
1 cup powdered sugar (lightly sifted to remove lumps)
Directions:
1. Preheat the oven to 400 degrees F. Spray a 9x13-inch baking pan with nonstick spray.
2. Prepare the apple filling: Melt butter in a medium skillet. Add apples and sugars. Saute until apples are slightly softened, about 5 minutes. Set aside to cool.
3. Prepare the cinnamon-sugar filling: Mix ingredients in a medium bowl until mixture is combined and lumpy.
4. Prepare the cinnamon roll dough: Mix flour, sugar, baking powder and salt in a medium bowl. In a separate bowl, use a whisk to combine the butter, applesauce, milk and egg. Add the wet mixture to the dry ingredients and use a wooden spoon to combine until well mixed. Remove the dough to a well-floured surface, sprinkling in more flour as needed to make sure the dough isn't sticky. Roll the dough out into a (roughly) 12x8-inch rectangle. Sprinkle the dough with the cinnamon-sugar mixture, then the cooled apples. Roll up the dough log-style. Cut 1-inch slices and carefully place them in the prepared dish, leaving a little bit of space between each roll. Bake 20 to 25 minutes, or until the rolls are a nice golden brown.
5. Prepare the icing: In a medium bowl, mix the icing ingredients until smooth. Spoon icing over the warm rolls. Serve warm. Leftovers may be stored in a covered container and enjoyed later.
Disclosure:  This recipe was created in partnership with Gold Medal Flour, an ingredient that I use every day in my kitchen.