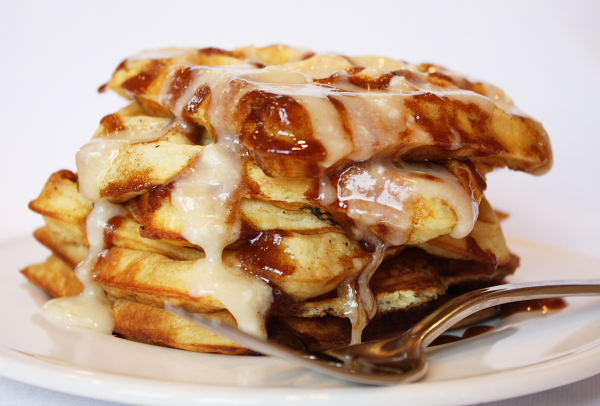 I've had a tough time forgetting about those Cinnamon Roll Pancakes that I posted a few weeks ago. So much so that I started wondering what else I could do to replicate the Cinnamon Roll. "Why not waffles, too?" I thought. I experimented… but it was a flop. I tried to create them just as I did with the pancakes- pouring in batter first and then swirling the cinnamon-sugar filling inside. The waffle iron didn't like that very much. It turned out to be a big mess, and then it turned out to be a big, burned mess. I cleaned it all up and then decided to go a different route.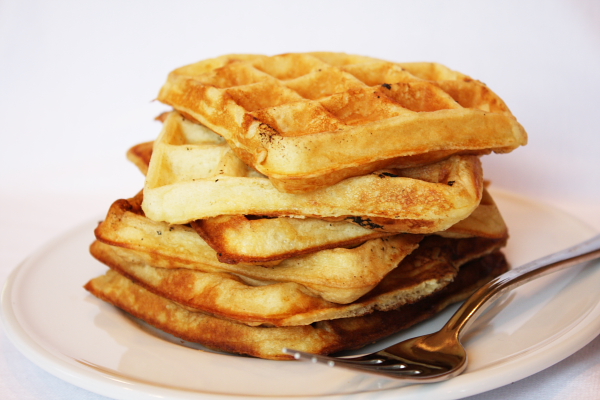 I went with a buttermilk waffle… plain, with no cinnamon filling added.  So boring and blah- but not for long.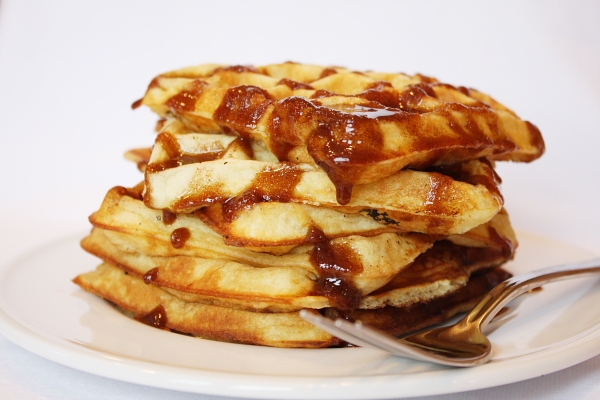 I drizzled the cinnamon-sugar filling on top.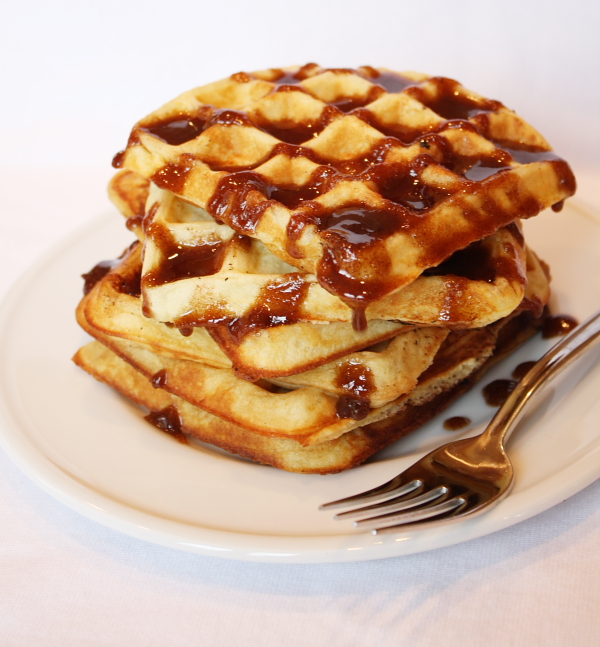 I figured… why not? Did it really matter if the filling was inside the waffle or outside the waffle? Nope.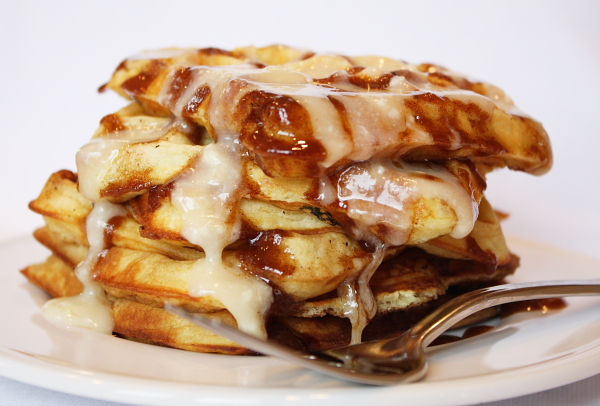 My ideal cinnamon roll always has cream cheese icing, so a cream cheese icing drizzle was in order too.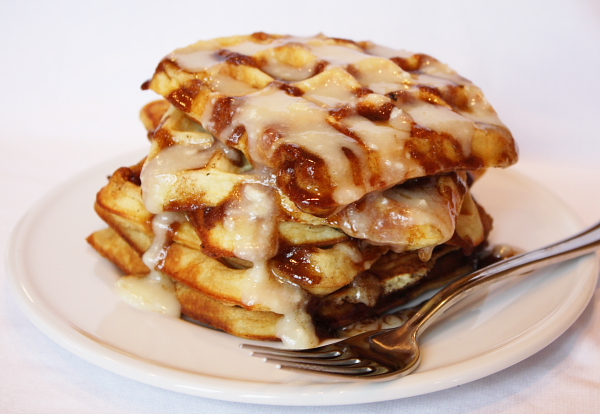 Lots of cream cheese icing, please. No syrup on these waffles, no sirree!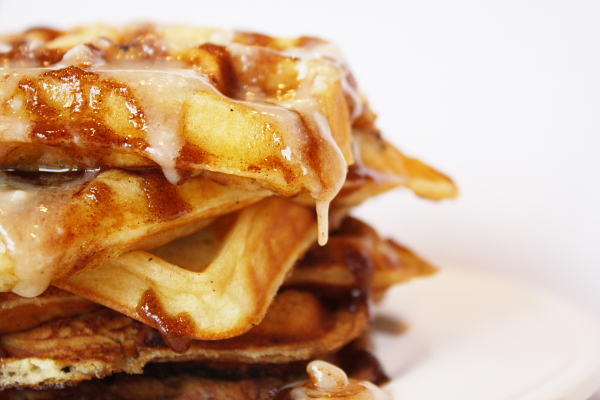 I could hardly wait to take a bite… to see if this whole Cinnamon Roll Waffle thing worked out.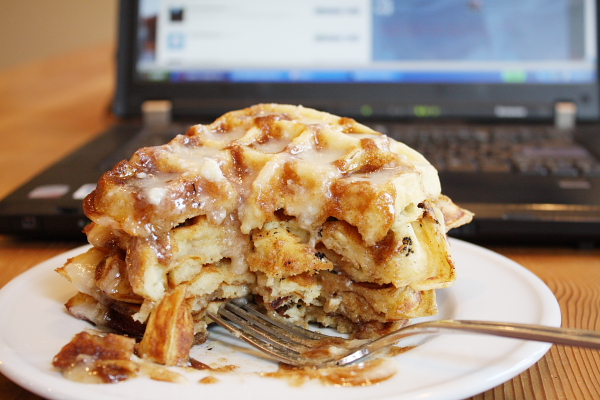 That's about all I could eat. Not because it wasn't good. It was good. REALLY good. All the flavors of a cinnamon roll drizzled onto a stack of waffles. Perfect. So I tasted, then passed it along to the rest of my family, then planned my daily trip to the gym. It's quite a decadent breakfast/brunch treat, but nothing worse than a cinnamon roll, really. And those are perfectly okay to have once in a while, right?   And- yes- I'm guilty of eating and tweeting 🙂
Cinnamon Roll Waffles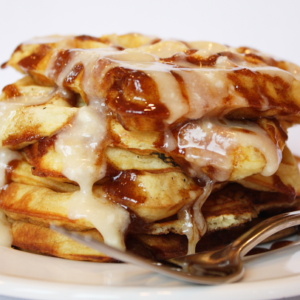 Completely decadent breakfast treat- like a deconstructed cinnamon roll, turned into a waffle.
Yield:
About 12 (4-inch) waffles
Prep Time:30 min
Cook Time:20 min
Ingredients:
WAFFLES:
1 3/4 cups all-purpose flour
2 Tablespoons granulated white sugar
1 teaspoon baking powder
1/2 teaspoon baking soda
1/4 teaspoon salt
2 large eggs
2 cups buttermilk
1/4 cup canola oil
1 teaspoon vanilla extract
CINNAMON TOPPING:
1/2 cup butter, melted
3/4 cup brown sugar, packed
1 Tablespoon grond cinnamon
CREAM CHEESE TOPPING:
4 Tablespoons butter
2 ounces cream cheese
3/4 cup powdered sugar
1/2 teaspoon vanilla extract
Directions:
1. Prepare waffles: In a medium bowl, whisk together flour, sugar, baking powder, baking soda and salt. Make a well in the center of the mixture; set aside.
2. In a separate bowl, whisk together eggs, buttermilk, oil and vanilla. Pour into the bowl with the dry ingredients. Stir just until moistened; batter will be slightly lumpy.
3. Preheat a waffle iron and spray with nonstick spray. Pour batter into waffle iron grid and close the lid. Bake until waffles are completely done- follow your waffle iron's instructions. Use a fork to remove finished waffles. Repeat with remaining batter. Keep waffles warm until ready to serve (a 200 degree oven is perfect).
4. Prepare cinnamon topping: In a medium bowl, mix butter, brown sugar and cinnamon. Scoop the filling into a small zip baggie and set aside.
5. Prepare cream cheese topping: In a medium, microwave-safe bowl- heat butter and cream cheese for 30 to 60 seconds; just until melted. Stir together until smooth; whisk in powdered sugar and vanilla extract.
6. When ready to serve, place waffle on plate, drizzle cinnamon topping, then drizzle cream cheese topping. Use as much or as little as you'd like. Serve immediately.
Other recipes you may enjoy:
Cinnamon Roll Pancakes by RecipeGirl
Cinnamon Bun Cookies by RecipeGirl
Triple Cinnamon Scones by King Arthur Flour
Easy Cinnamon Roll Muffins by Joy the Baker
Grandma Billie's Cinnamon Rolls by RecipeGirl