What I have to share with you today is- undeniably- the best breakfast treat I've ever made… eaten… or shared with my readers. It's even better than the original- those Cinnamon Roll Pancakes that have been adored by many.  Or the Gingerbread- Cinnamon Roll Pancakes. This is Cinnamon Roll Pancakes taken up a notch, a big notch.  These are PUMPKIN Cinnamon Roll Pancakes.  And I'm happy to share them with you.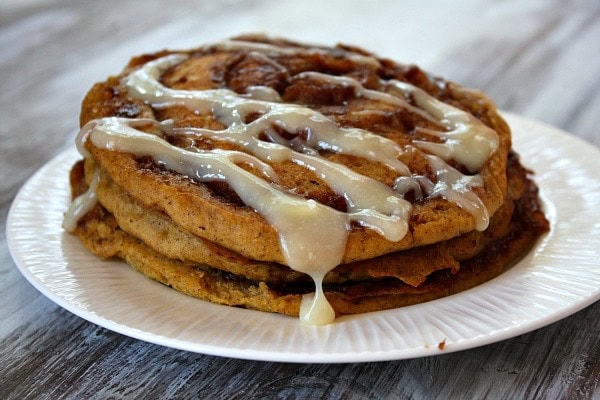 They're the best pancakes ever.  I kid you not.  If you like cinnamon rolls, that is.  And pumpkin.  And things topped with cream cheese icing.  And evil breakfast dishes.  Is that you?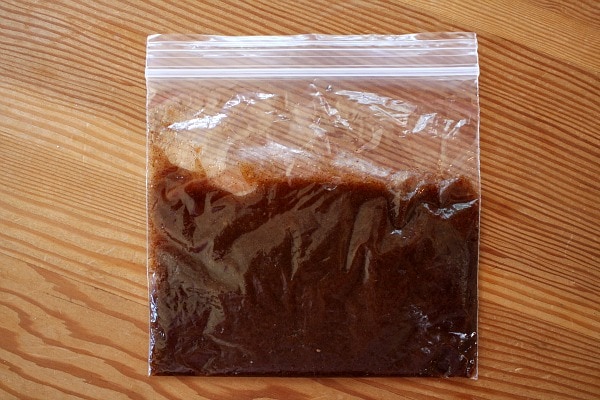 The key to making this recipe a success is the cinnamon filling.  If you can get the cinnamon filling right, you'll get these pancakes right.  Very detailed instructions are in the recipe below.  Check it out, and follow them.  Your pancakes will rule the world if you do. I also wrote a more in-depth description and included more photos of how to get the cinnamon filling just right in my Gingerbread Cinnamon Roll Pancakes post. Check that out too.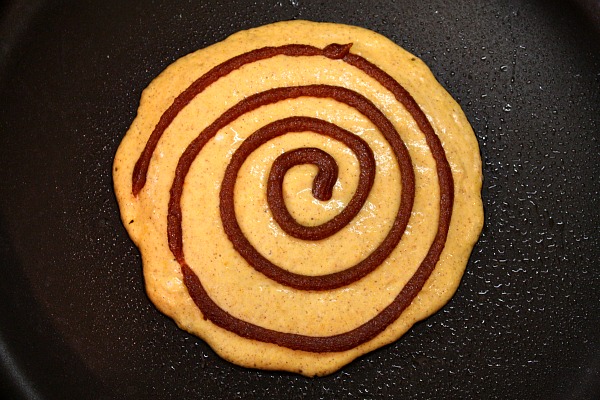 That cinnamon filling is swirled into a spiced-up pumpkin pancake batter on a hot and sizzling skillet.  When the pancake begins to bubble and pop on top, you will gently flip it over and let the cinnamon swirl side cook.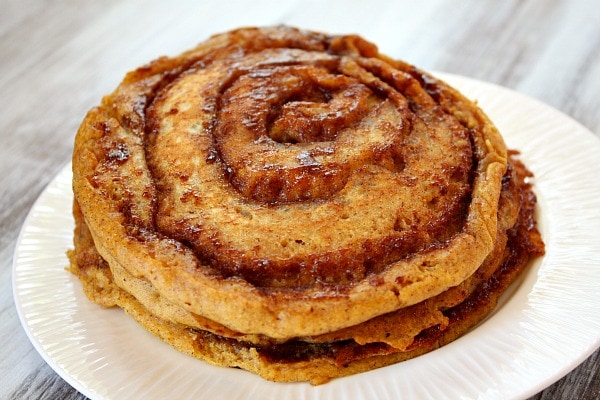 It comes out looking like this, cinnamon crater swirls and all.  Wowza.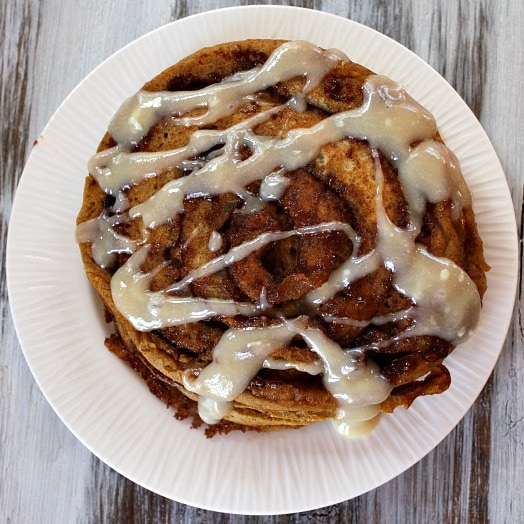 Time for drizzling the cream cheese icing.  Drizzle as little or as much as you want.  I recommend much.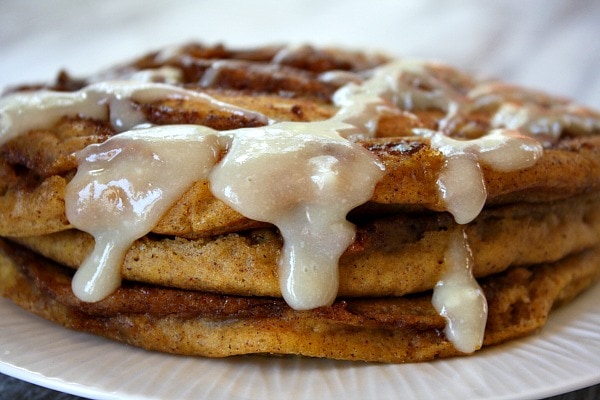 Sexy close-up to show you how spicy those spiced-up pumpkin pancakes are.  D.e.l.i.c.i.o.u.s.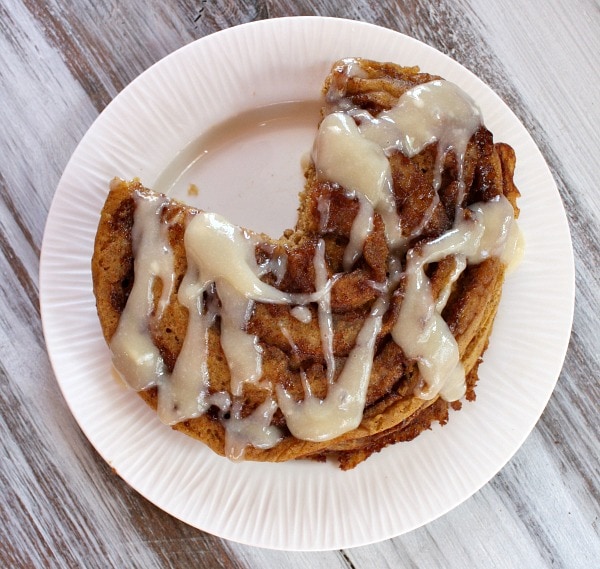 I had to cut off a piece for testing.  I do it for you, you know?  I sacrifice the possibility that this just might be disgusting, all so I can create the best things to share with my readers.  Lucky for me, this one was far from disgusting.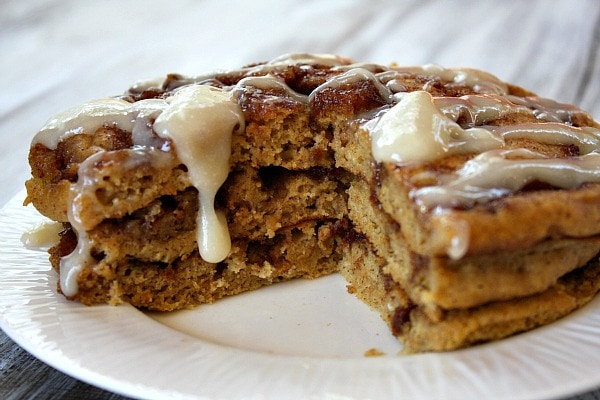 Have you seen that show, "The Best Thing I Ever Ate?"  My family loves that show, and we're constantly taking notes in case we ever happen to visit New Orleans or Salt Lake City or Austin or Timbucktoo.  If my house were a restaurant, these pancakes might have a shot at being featured on that show.  At least, that's what we think.  Welcome to Fall 2011.
P.S. This recipe is all thanks to a reader, who happened to suggest that my cinnamon roll pancakes might be good with a pumpkin version.  Thank you, dear reader.  You were right.  Oh so right!
Pumpkin Cinnamon Roll Pancakes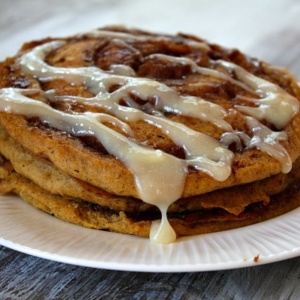 This is just about the craziest, most decadent fall breakfast I've ever made. My family and I loved it immensely!
Yield:
8 pancakes
Prep Time: 20 min
Cook Time: 8 min
Ingredients:
CINNAMON FILLING:
1/2 cup (1 stick) salted butter, melted
3/4 cup brown sugar
1 tablespoon ground cinnamon
CREAM CHEESE ICING:
4 tablespoons (1/2 stick) salted butter
2 ounces cream cheese
3/4 cup powdered sugar, sifted
1/2 teaspoon vanilla extract
PANCAKES:
1 1/2 cups whole milk
1 cup pure unsweetened pumpkin puree
2 large eggs
2 tablespoon canola or vegetable oil
2 tablespoons apple cider vinegar
2 cups all-purpose flour
1 tablespoon baking powder
1/2 teaspoon baking soda
2 tablespoons pumpkin pie spice (see Tips below)
1/2/ teaspoon salt
1 tablespoon packed light brown sugar
Directions:
1. Prepare the cinnamon filling: In a small bowl- mix butter, brown sugar and cinnamon. Whisk the filling ingredients together and then pour it into a sandwich-sized zip baggie. Zip up the baggie and lay it on the counter while you prepare the pancake batter.
2. Prepare the Icing: In a medium microwave-safe bowl, heat butter and cream cheese 30 to 60 seconds, just until butter has melted and cream cheese has softened. Whisk in powdered sugar and vanilla and combine until smooth. Set the icing aside.
3. Prepare the pancake batter: In a large bowl, whisk together milk, pumpkin, eggs, oil, and vinegar. In a separate bowl, whisk together flour, baking powder, baking soda, pumpkin pie spice, salt and brown sugar. Add the dry ingredients to the pumpkin mixture and stir just until all is moistened.
4. Check on your cinnamon filling: Open up the baggie again and give it a good stir to re-incorporate any butter that may have separated. You want the mixture to thicken a bit- it's best when it's similar to the squeezing texture of toothpaste (which will eventually happen if you leave it on the counter long enough, but refrigerate for a few minutes if you need to). Don't try to use the filling for the pancake swirl unless it has thickened as it will be too runny! Snip off a small piece of the corner of the baggie.
5. Cook the pancakes: Preheat a large skillet or griddle to medium, and spray it with nonstick spray. Use an ice cream scoop (or ladle) to add the batter to the pan. Use the bottom of the scoop or ladle to spread out the batter into a nice, even circle. Reduce the heat to medium-low. Pick up your cinnamon filling baggie and squeeze the filling into the corner. Starting at the center of the pancake squeeze the cinnamon filling on top of the pancake batter in a swirl (just as you see in a cinnamon roll). Cook the pancakes 3 to 4 minutes, or until bubbles begin popping on top of the pancake and it is golden brown on the bottom. Slide a thin spatula underneath the pancake and gently but quickly flip it over. Cook an additional 2 to 3 minutes, until the other side is golden as well. When you flip the pancake onto a plate, you will see that the cinnamon filling has created a crater-swirl of cinnamon. Wipe out the pan with a paper towel, and repeat with the remaining pancake batter and cinnamon filling. Serve pancakes topped with a drizzle of cream cheese icing.
Tips:
*If you do not have pumpkin pie spice, use this combo of spices instead: 1 teaspoon allspice, 1 teaspoon ground cinnamon, 1 teaspoon ground ginger, 1/2 teaspoon ground cloves, 1/2 teaspoon ground nutmeg
*Check out my Gingerbread Cinnamon Roll Pancakes post for some more tips on how to get the cinnamon filling *just right* (it's critical to the success of these pancakes!)