Easy Apple Cinnamon Muffins
Here's a simple breakfast recipe for fall mornings:  Easy Apple Cinnamon Muffins
Head toward the bottom of this post to watch a quick video showing you how to make this recipe, then print out the complete recipe at the end.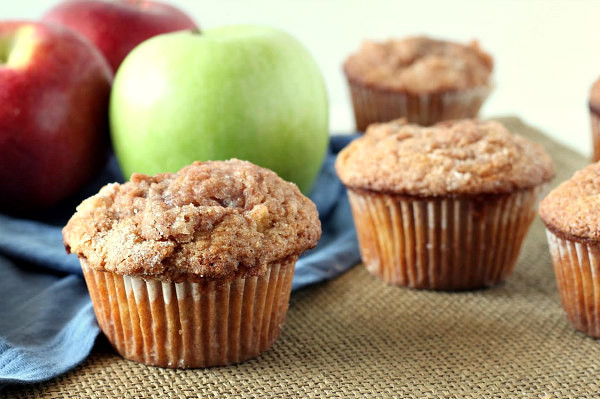 When my now 6 foot 4 giant child was a wee one, we used to pack the car with a picnic and head to the local San Diego mountains on fall weekends.  Those weekends are full of great memories such as going to the pumpkin patch and running through the corn maze, standing on tippy toes near the fences to pat the horses and dig into sheep fur, and sipping hot apple cider when there was a good chill in the air.
We often took our family photo at the pumpkin patch– standing in the remains of a long-ago picked corn field.  Those were the days.  And they were days I likely won't be able to get back since 16 year olds aren't so hip on hanging out with their parents at pumpkin patches any more!
The best part of those fall weekends was our time at the apple-picking orchards.  If you've never been apple picking, it's one of those things you must do.  It's not even like the apples are the best apples you've ever eaten, but the experience of walking around with a bucket and picking apples directly from the trees is super fun.  And it's really a nice thing for the kids to experience too.
The best part of the whole apple picking experience is coming home with loads of apples and deciding what you're going to make.  I always made a good batch of applesauce with my apples.  And baking cakes, apple bread and these muffins was most often on the agenda too!
Here are a few baking recipes to try if you have a bucket-full of apples!
These muffins are wonderful because they have a delicious layer of crumb on the tops.  If you're anything like me, I like to eat the crumbly top before I devour the rest of the muffin!  There are tips in the recipe below for flour substitutions and how to cut down on fat.
Click below to watch a short video showing you how to make these muffins, then scroll to the bottom to print out the complete recipe.
Yield: 12 muffins
Prep Time: 15 minutes
Cook Time: 20 minutes
Easy Apple Cinnamon Muffins
Just like it says... easy... and full of yummy apple chunks.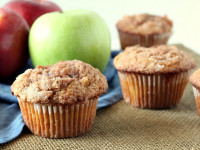 Ingredients:
MUFFINS:
1 cup all-purpose flour
1/2 cup whole wheat flour
1/2 cup granulated white sugar
1/2 cup brown sugar, packed
1/2 teaspoon salt
2 teaspoons baking powder
2 teaspoons ground cinnamon
1/3 cup vegetable or canola oil
1 large egg
1/3 cup milk
2 medium apples, peeled, cored and chopped
TOPPING:
1/4 cup granulated white sugar
2 tablespoons all-purpose flour
2 tablespoons butter, softened
1 teaspoon ground cinnamon
Directions:
Preheat oven to 400°F. Grease a 12-cup muffin tin or line with paper muffin liners.
In a medium bowl whisk together dry ingredients. Add oil, egg and milk and stir just until combined. Fold in apples. Divide batter between the 12 muffin cups.
In a small bowl, mix topping ingredients, blending together with a pastry cutter or fork. Sprinkle over unbaked muffins.
Bake 15 to 20 minutes, or until a toothpick inserted in center of muffin comes out clean.
Tips:
To lighten up the recipe a bit, fill the 1/3 cup measuring cup with 1/2 applesauce and 1/2 oil. The muffins will turn out just as moist.
This recipe may also be made with white whole wheat flour in place of traditional whole wheat flour.
SOURCE: RecipeGirl.com
Comments