This recipe has been featured in a post on The Recipe Girl blog: Maple Apple Tartlets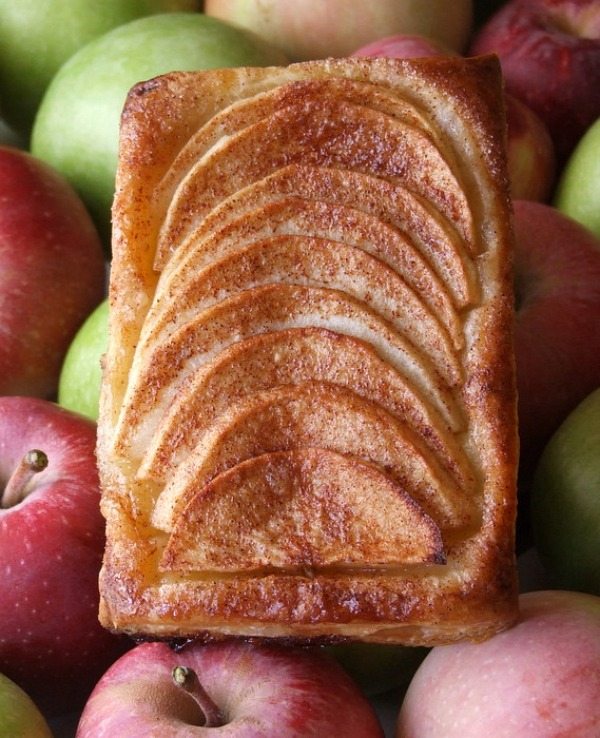 Yield: 6 tartlets
Prep Time: 30 min
Cook Time: 25 min
Maple- Apple Tartlets
Such an easy, easy dessert to put together, and so yummy too. I'd be perfectly happy serving these at a dinner party for dessert with a little scoop of vanilla ice cream or some sweetened whipped cream.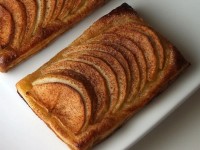 Ingredients:
1 sheet puff pastry, thawed
1/2 teaspoon ground cinnamon
2 Tablespoons granulated white sugar
3 medium Granny Smith apples
2 Tablespoons unsalted butter, melted
2 Tablespoons maple syrup
Directions:
1. Preheat oven to 400°F. Line baking sheet with parchment paper.
2. In a small bowl, mix cinnamon and sugar. In another small bowl, melt butter in microwave. Set both aside.
3. Peel, core and cut apples in half. Place one half, cut-side-down, on a cutting board. With a small, sharp knife, thinly slice the apple half into about 12 thin slices. Repeat with the remaining 5 halves.
4. Place puff pastry on a cold surface (like a stone cutting board). Cut into 6 rectangles and place on the baking sheet about 1 inch or so apart. Layer apple slices across the top of the puff pastry (see photo) until they nearly fill the length of the pastry rectangle. Leave a border of 1/4-inch all the way around. Repeat with remaining rectangles of puff pastry and apple halves.
5. Sprinkle each tartlet with the cinnamon/sugar mixture. Drizzle with melted butter.
6. Bake 25 minutes, until the pastry is golden around the edges and the apples are softened. Drizzle each with 1 teaspoon maple syrup. Serve warm or at room temperature.
Tips:
*These are best when they are eaten the day they are made.
Source: RecipeGirl.com (Adapted from Eat Feed Autumn Winter)
Leave a Comment