Caramel Apple Monkey Bread is the perfect fall treat to start the weekend mornings with. Gather the family round the table to pick at this yummy gooey goodness together.
I love fall for all the pumpkin treats but sometimes you need a break and just need to enjoy a delicious apple treat like this Caramel Apple Monkey Bread. There are so many awesome apple recipes! Sure apples are a great snack just plain but they're even better baked, paired with a soft pastry, and enjoyed hot and fresh from the oven.
Classic Monkey Bread is delicious. Eggnog Monkey Bread is even more amazing. And now, here's Caramel Apple Monkey Bread to compete with those!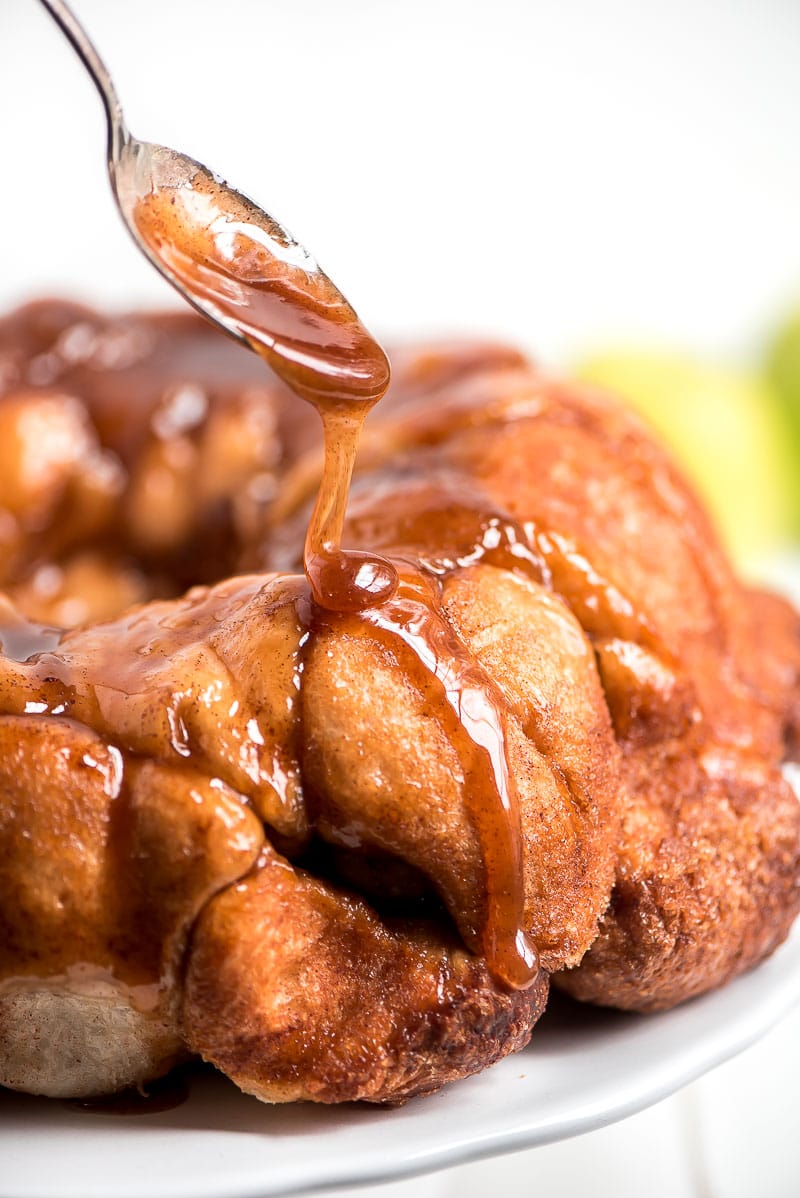 What is Monkey Bread?
Monkey bread did not get its name for its ingredients. It's called monkey bread because of how you eat it. This breakfast treat is a bunch of rolled up balls of dough rolled in butter and cinnamon and sugar and thrown together in a bundt pan. After it bakes, \you dig in like a monkey, ripping off gooey sweet balls of bread.
This caramel apple variation has diced apples stuffed in the middle of each ball of sugary bread. What's awesome is that the caramel forms right in the pan. After the bread bakes and you flip the cake out onto a platter, all that gooey sweet caramel ends up on top.
How to make Caramel Apple Monkey Bread:
You can make your own dough but using pre-made dough is so much easier and faster. I like to use frozen Rhodes Rolls. Just thaw out the dough in the refrigerator the night before, and then cut each ball of dough in half.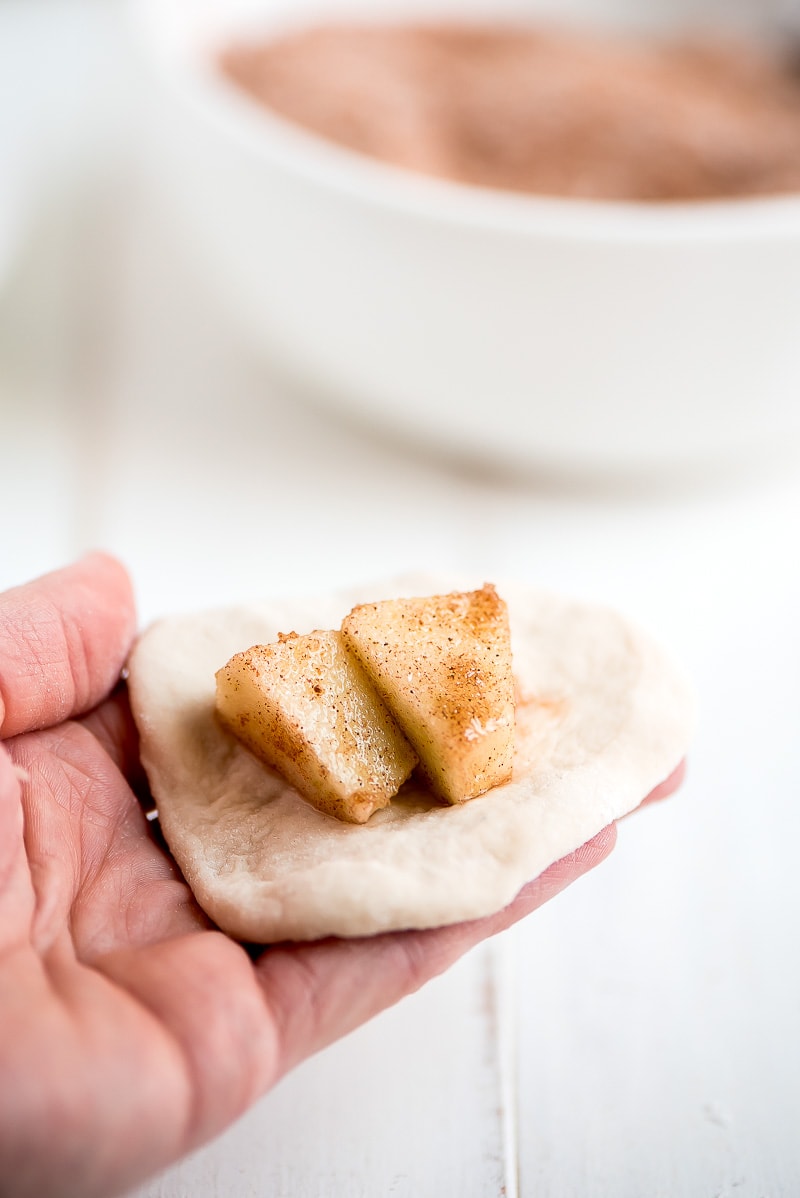 Peel and cut apples, and then toss with a little bit of lemon juice and a sugar/cinnamon mixture.
With a little bit of flour on your hands, flatten each piece of dough and place a few apple pieces in the middle. Wrap up the dough to surround the apples and pinch to seal.
Next, roll each ball of dough in melted butter and then in cinnamon/sugar. Toss each ball of dough into a greased bundt pan and then cover the top with plastic wrap and let it rise for about an hour.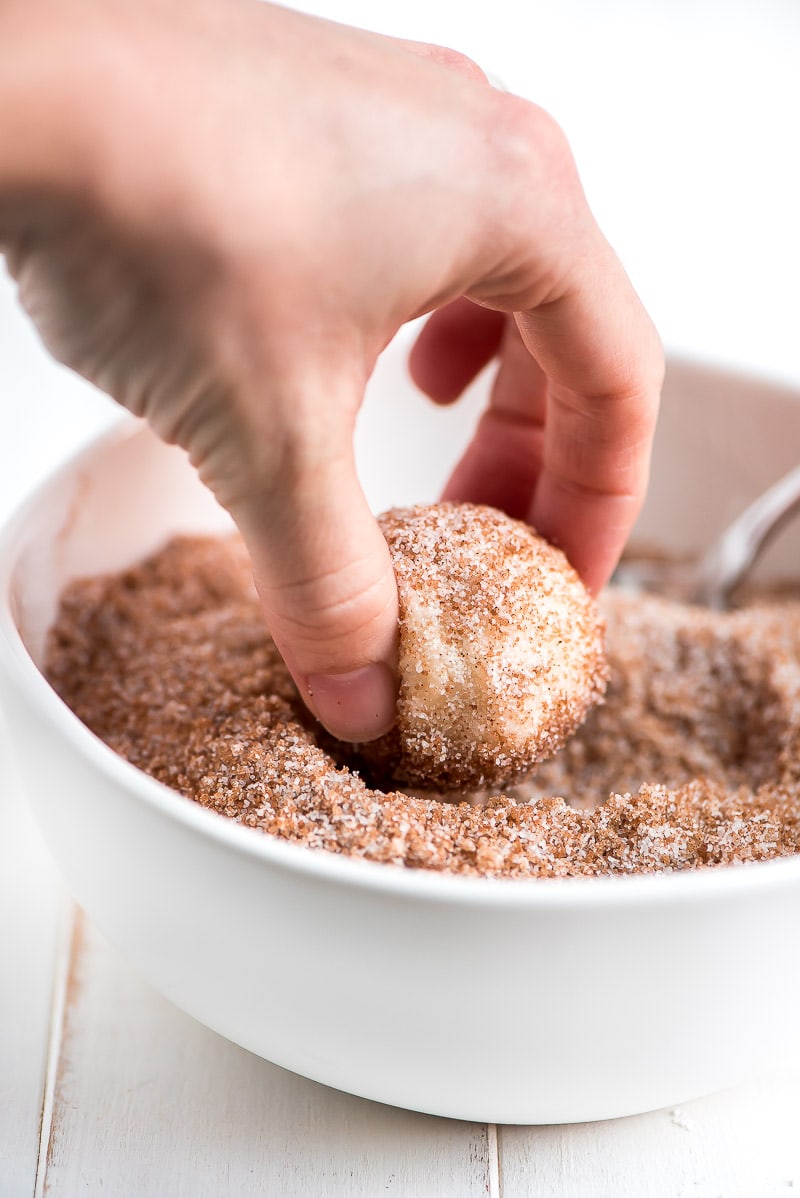 The monkey bread then needs to bake for about 30 minutes. The dough will bake up fluffy, golden, and the sugar and butter will form that amazing gooey caramel sauce.
Let the bread cool in the pan for 5 to 10 minutes before flipping it over onto a platter, and then dig in! Don't worry about getting your fingers sticky, that's half the fun!
Can you make Caramel Apple Monkey Bread Muffins out of this recipe?
yes! Cut the rolls into fourths and make smaller pieces to flatten. Add one apple chunk in the middle of each, and continue with the recipe as directed. Drop them into muffin tins instead of a bundt pan. Let rise, as directed, and bake until puffed and done.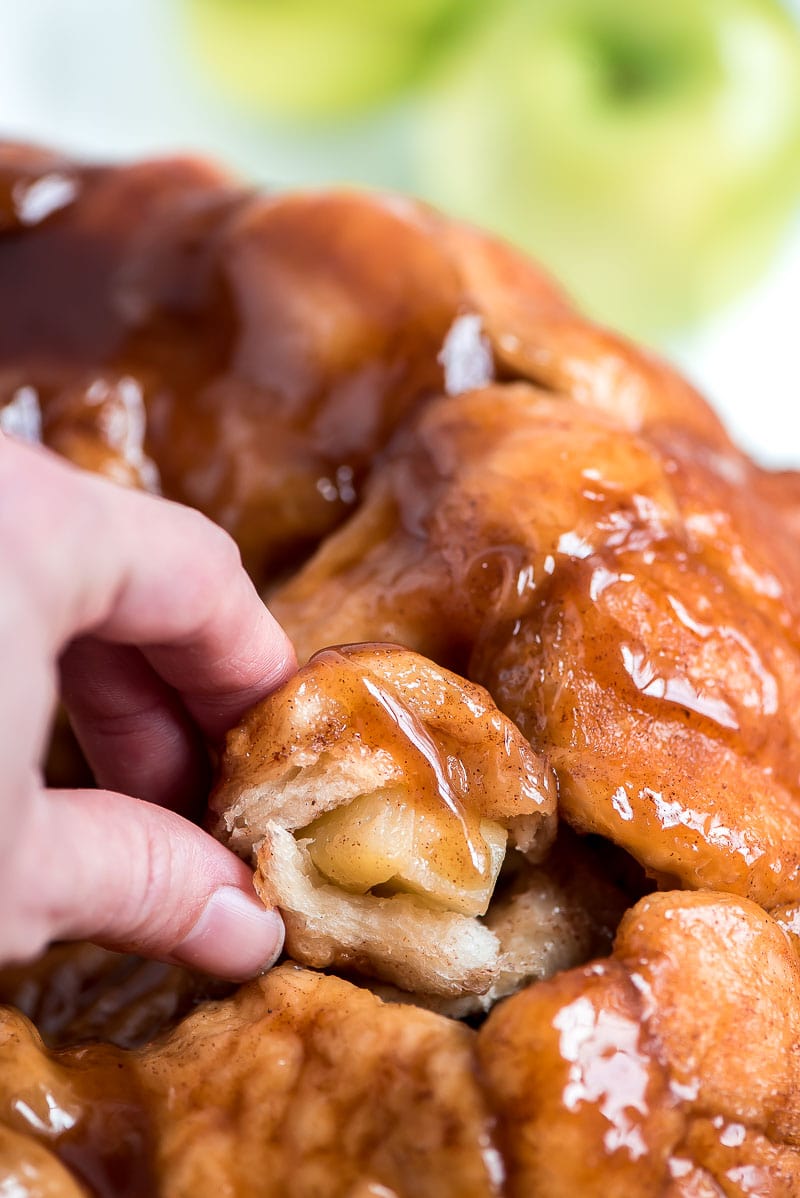 What would be the best occasion for serving Caramel Apple Monkey Bread?
This recipe is so easy to make that it does not warrant a special occasion for serving. Using the frozen rolls for the dough makes the recipe approachable, especially for people who might be wary of making their own homemade dough. We like to make it once in a while on the weekends for a special treat. It's a fun, family pull-apart bread. Think of it as a giant, gooey cinnamon roll that everyone can share.
Caramel Apple Monkey Bread is also delicious to serve on a holiday morning. For Thanksgiving, I like to make it early in the morning and set it aside to rise. Then I gather the family to go for a hike. I pop it in the oven when we get home (while everyone is showering), and then it's ready to go. At Christmas, it's a good one for letting rise while opening gifts in the morning.
I have a couple of favorite breakfast casseroles I like to serve with this Caramel Apple Monkey Bread (since my family likes to have a little protein in the morning!) My Farmer's Casserole has always been a family favorite. It's a combination of shredded hash browns, ham, cheeses and egg. And if we don't want any extra carbs at all, I go with my Very Vegetable Frittata— which is perfect for sharing with a family of 3 or 4. Sometimes I just make a bunch of hard boiled eggs to go with our sweet treat. And a bowl of fresh fruit completes the meal.
If you're looking for more recipes using apples, you might like to try these:
Caramel Apple Monkey Bread
Caramel Apple Monkey Bread is the perfect weekend morning sweet treat!
Recipe Details
Ingredients
3/4

cup

granulated white sugar

3/4

cup

packed brown sugar

2 1/2

tablespoons

ground cinnamon

1/2

teaspoon

ground nutmeg

1 1/2

cups

peeled, cored and diced apple

1

tablespoon

freshly squeezed lemon juice

10

tablespoons

butter,

melted (divided)

1 1/2

pounds

frozen dinner rolls, thawed

(I like to use Rhodes Rolls)
Instructions
Grease a bundt pan with butter or non-stick cooking spray.

In a medium bowl, combine the sugars, cinnamon, and nutmeg. Set aside.

Place the diced apples in a bowl and toss with the lemon juice and 1 tablespoon of the sugar mixture. Set aside.

Place the melted butter in a bowl. Set aside.

Cut each dough ball in two and then flatten. (Use flour if needed to prevent sticking to your hands.) Place 2 to 3 diced apple pieces in the center and then fold up the sides and pinch closed.

Dip the apple filled ball of dough in the butter and then roll in the cinnamon and sugar. Place in the bottom of the prepared bundt pan. Continue with remaining dough, piling up the buttered and sugared dough balls evenly around the bundt pan.

Combine the remaining butter and sugars together and pour over the dough in the pan. Cover and let rise for 1 hour. Bake at 350 degrees F for 30 to 35 minutes, or until golden. Let cool in the pan for 5 to 10 minutes, and then turn the pan over onto a plate or cake platter. Spoon out the leftover caramel in the pan, and drizzle over the top of the monkey bread. It's ready to pull apart and eat!
Nutrition
Serving:
1
serving
,
Calories:
422
kcal
,
Carbohydrates:
66
g
,
Protein:
6
g
,
Fat:
15
g
,
Saturated Fat:
8
g
,
Cholesterol:
30
mg
,
Sodium:
461
mg
,
Potassium:
128
mg
,
Fiber:
4
g
,
Sugar:
34
g
,
Vitamin A:
365
IU
,
Vitamin C:
1.4
mg
,
Calcium:
158
mg
,
Iron:
2.7
mg