Here's a fabulous breakfast recipe that is packed with veggies:  Very Vegetable Frittata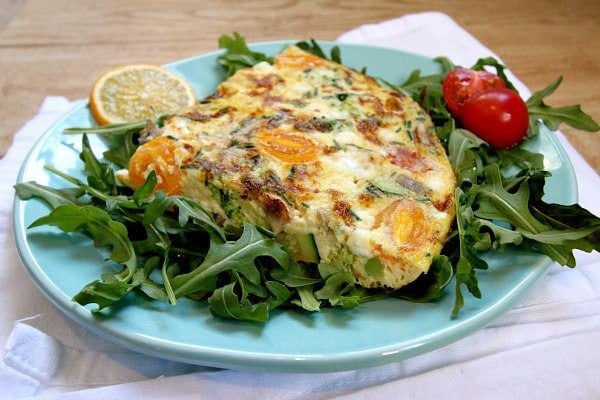 The most horrible thing about eating healthy is trying to figure out something enjoyable to have for breakfast each day.  Cereal is out of the question- too many useless carbs to start the day in a bad way.  I'll occasionally eat oatmeal, but since I don't like it without a boatload of sugar… it's not such a great choice either.  Eggs are the obvious, favorite choice… but I have to get creative with the way that I make them.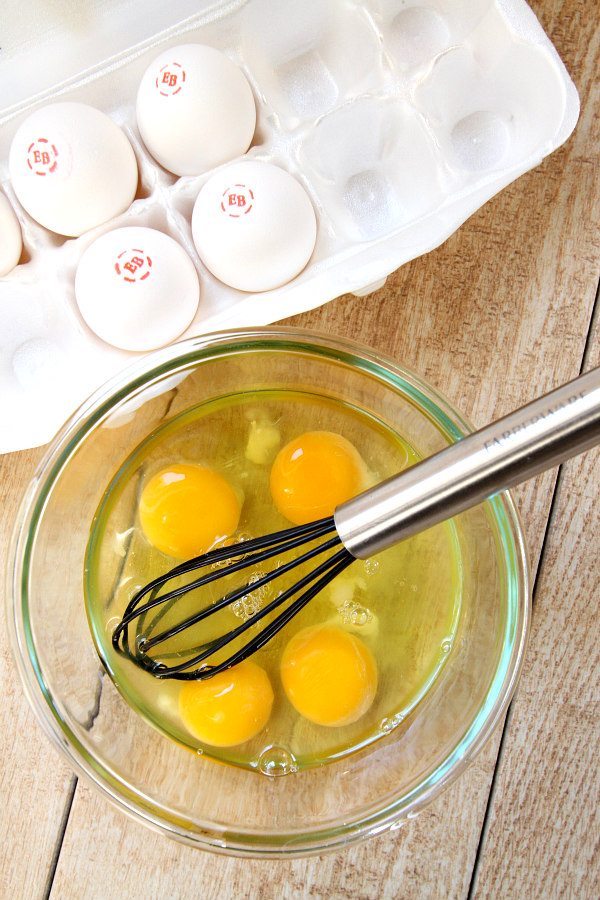 I have been buying Eggland's Best Eggs for years now, and this year I have the privilege of partnering with Eggland's Best to share recipes with my readers.  Compared to ordinary eggs, each Eggland's Best egg contains 25% less saturated fat, 4 times more vitamin D, double the heart-healthy Omega-3s, 3 times more vitamin B12, 38% more lutein and 10 times more vitamin E.  Their hens are fed an all-vegetarian diet with no added hormones, antibiotics or steroids.  For more information, you can visit EgglandsBest.com.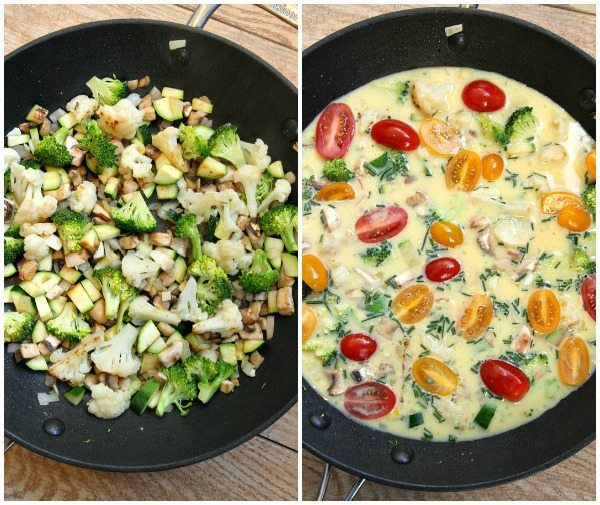 If I can somehow incorporate a bunch of veggies into my breakfast, my body feels like it has gotten a great start to the day.  A frittata is the best way to add as many vegetables to breakfast as possible!  This frittata has FIVE CUPS of veggies in it, a small amount of cheese, 4 whole Eggland's Best eggs and three Eggland's Best egg whites.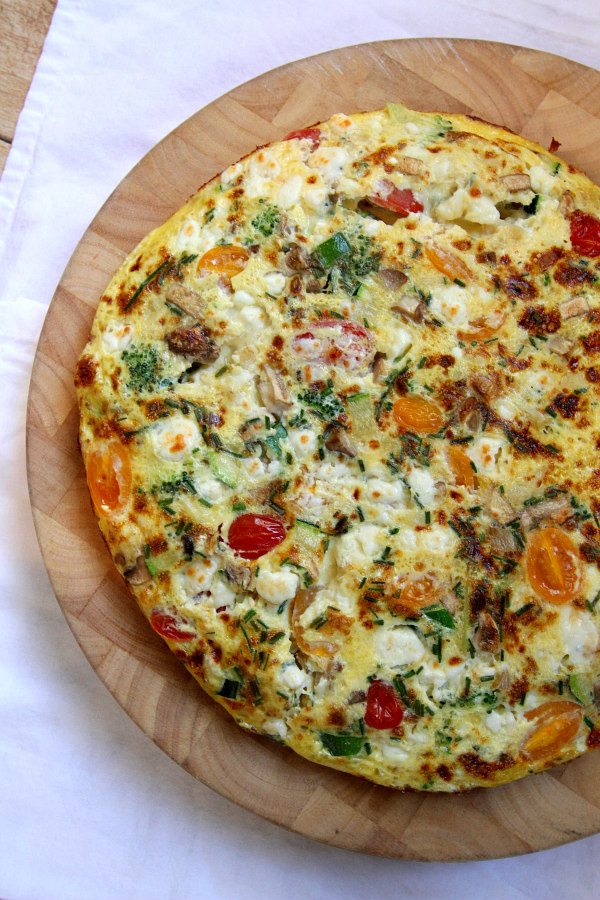 A frittata is a four-serving meal.  My husband and I love to eat a frittata for breakfast, and we save the second two servings to eat for lunch the following day.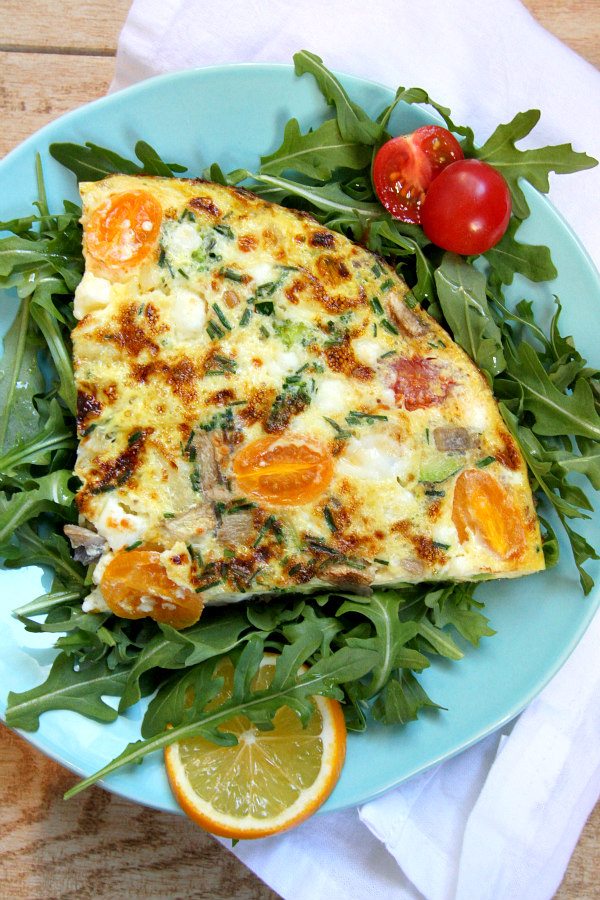 There are a couple of ways to eat my vegetable frittata… you might love it served over a bed of arugula that has been tossed with olive oil and meyer lemon juice (my favorite)… and it's equally good with a couple of spoonfuls of mango salsa on top.  Eggs are a healthy way to start the day- they're low in cholesterol, saturated fat and calories… and they contain a good amount of protein to help you feel full.  Follow Eggland's Best on Facebook, Instagram, Pinterest and Twitter.
Very Vegetable Frittata
Yield:
4 servings
Prep Time: 25 minutes
Cook Time: 18 minutes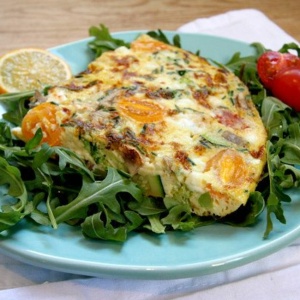 Ingredients:

4 large Eggland's Best Eggs
3 large Eggland's Best Egg Whites
1 cup nonfat milk
1 tablespoon chopped chives
1 teaspoon Dijon mustard
1/3 cup finely chopped onion
1 cup chopped mushrooms
1 cup chopped broccoli
1 cup chopped cauliflower
1 cup chopped zucchini
1 cup halved cherry or pear tomatoes
1/3 cup crumbled feta cheese
salt and pepper, to taste
arugula, for serving (completely optional)

Instructions:

In a medium bowl, whisk together the eggs, egg whites, milk and Dijon mustard; set aside.
In a 10 to 12-inch ovenproof nonstick skillet, spray with cooking spray and heat to medium-high.  Saute onion until softened- about 2 minutes.  Add the mushroom, broccoli, cauliflower and zucchini to the skillet.  Saute until slightly softened- another 3 to 4 minutes.  Whisk the egg mixture again, then pour over the vegetables.  Sprinkle tomatoes and feta cheese on top.  Place a lid on the skillet, reduce heat to medium and cook until the bottom and sides of the frittata are firm- 8 to 10 minutes.  Preheat the oven broiler.
Place the skillet under the broiler and broil until the frittata is cooked through (no longer jiggly) and slightly browned on top- about 5 minutes (watch closely).  Cut into 4 wedges and serve immediately- serve over a handful of arugula, if desired.

Nutrition:

Nutritional information per serving (1/4 of the frittata):  Calories: 165.6, Fat: 7.1g, Saturated fat: 2.9g, Cholesterol: 187.3mg, Sodium: 320.1mg, Potassium: 582.6mg, Carbohydrates: 11.8g, Fiber: 2.9g, Sugar: 4.4g, Protein: 15.1g
Weight Watchers POINTS:  Freestyle SmartPoints 2, Original SmartPoints: 5, PointsPlus: 4, Old Program: 3
SOURCE:  RecipeGirl.com
Here are a few more frittata recipes you might enjoy:
Disclosure:  This recipe was created in partnership with Eggland's Best.  I only write about products that I already use in my kitchen- and this is one of them!  RecipeGirl.com maintains full editorial control of the content published on this site. As always, all thoughts, opinions, and enthusiasm for products are entirely my own.