A delicious, pull-apart Monkey Bread recipe: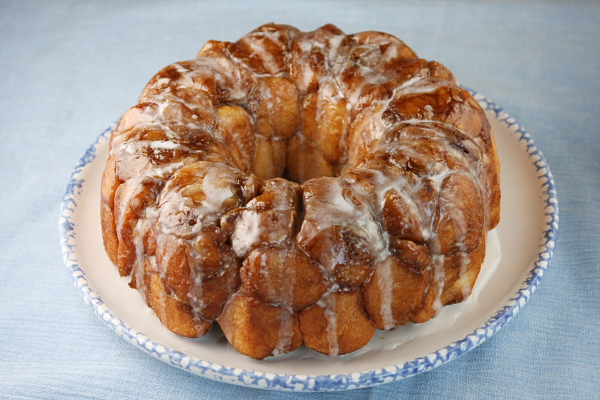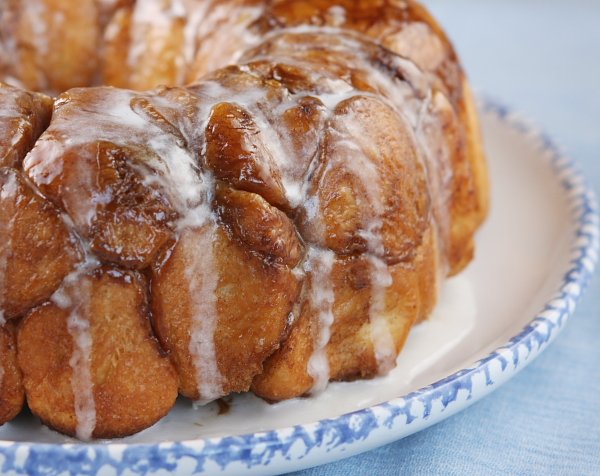 And then you pull it apart!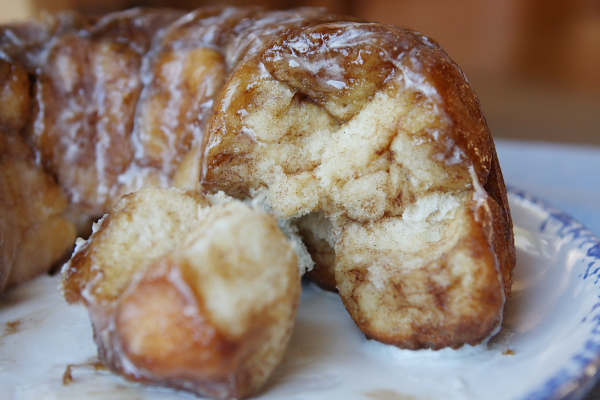 Monkey Bread
Try to eat one bite. Just try.
Yield:
Serves 6 to 8
Prep Time: 50 min + rising time
Cook Time: 30 min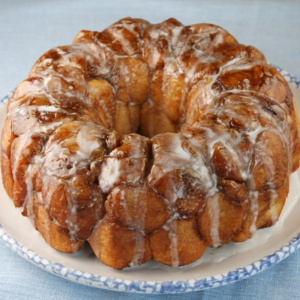 Ingredients:

DOUGH:
1 cup warm milk (about 110 degrees)
1/3 cup warm water (about 110 degrees)
2 Tablespoons unsalted butter, melted
1/4 cup granulated sugar
1 package instant (rapid rise) yeast
3 1/4 cups all-purpose flour, plus extra for surface work
2 teaspoons salt

OOEY GOOEY COATING:
1 1/4 cups light brown sugar, packed
2 teaspoons ground cinnamon
1 3/4 cups unsalted butter, melted

DRIZZLE GLAZE (optional):
1 cup powdered sugar
2 Tablespoons milk

Instructions:

1. Place rack in middle-low position of your oven, making sure that there are no racks placed above it. Spray bundt pan generously with nonstick spray.

2. Prepare dough: In a microwave-safe bowl, mix milk, water, melted butter, sugar and yeast. Place flour and salt in the bowl of a stand mixer. Use the dough hook attachment to mix them together. With machine on low, slowly add the milk mixture. When the dough begins to come together, increase speed to medium and continue to mix until the dough is shiny and smooth. If the dough is too wet and isn't coming together, add 2 to 4 additional Tablespoons of flour (stop the machine once to scrape sides if you need to); this should take 6 to 7 minutes. Turn the dough onto a lightly floured surface and work with your hands a little bit to form a smooth, round ball. Coat a large bowl with nonstick spray. Place dough in the bowl and spray the top lightly with nonstick spray as well. Cover the bowl with a clean dish towel. Turn your oven on 400 degrees and let it warm up for 1 minute. Turn it OFF. Turn ON the oven light. Place your covered bowl of dough into the warmed oven until the dough doubles in size- 50 to 60 minutes.

3. When dough is almost done rising, prepare the ooey gooey coating. In a medium bowl, whisk together brown sugar and cinnamon. In a separate bowl, melt the butter. Set aside.

4. Form the bread balls: Remove dough from the bowl onto a lightly floured surface and gently pat into an 8-inch square. Using a sharp knife or bench scraper, cut the dough into 64 pieces (cut the square into 4 pieces and then cut each piece into 16 pieces). Roll each piece into a ball. Dip a ball in the melted butter, then roll in brown sugar mixture; place into the bundt pan. Continue with remaining 63 balls of dough, layering the balls as they accumulate in the bundt pan. If you have any melted butter left over, drizzle a couple of Tablespoons over the layered dough balls. Cover the bundt pan with a clean dish towel, and place back into the warmed oven to let the dough balls rise for another 50 to 60 minutes (they should get puffy and rise almost to the top of the pan.)

5. Ready to bake: Remove the pan from the oven and preheat oven to 350 degrees F. Remove the dishtowel. Bake about 30 minutes, until the top has browned and ooey gooey caramel is bubbling around the edges. Cool in the pan for 2 to 3 minutes, then flip the bundt pan upside down onto a platter to remove the contents of the pan. Let sit on the platter for a few minutes to cool slightly before glazing.

6. Prepare glaze: In the bowl of your stand mixer, use the whisk attachment to mix powdered sugar and milk. Continue to mix until lumps are gone (scrape sides of the mixing bowl, if needed). Spoon glaze over the top and sides of the monkey bread.

7. Serve warm, allowing eaters to pull apart pieces of the bread and eat with their hands.

Tips:

*This Monkey Bread is absolutely still great when warmed up the next day!