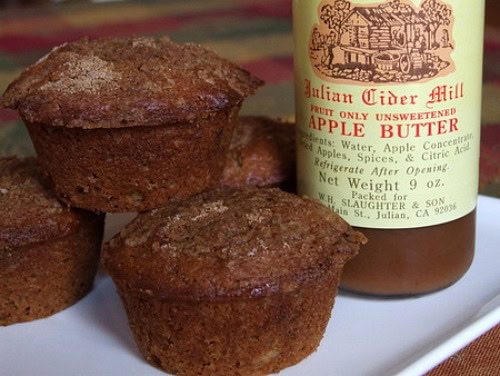 Apple Butter Muffins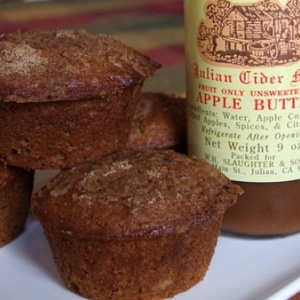 Delicious fall morning muffin recipe...
Yield:
12 muffins
Prep Time:10 min
Cook Time:20 min
Ingredients:
MUFFINS:
1 1/2 cups all-purpose flour
3/4 cup packed brown sugar
1 1/2 teaspoons baking powder
1 teaspoon ground allspice
1/2 teaspoon baking soda
1/4 teaspoon salt
2 large eggs, lightly beaten
1 cup apple butter
3/4 cup butter, melted
1 teaspoon vanilla extract
TOPPING:
2 Tablespoons granulated white sugar
1/8 teaspoon ground allspice
Directions:
1. Preheat oven to 400°F. Spray 12 cup muffin tin with nonstick spray or line with paper bake cups.
2. In a medium bowl, whisk together the dry ingredients (through salt).
3. In a large bowl, beat together eggs, apple butter, melted butter and vanilla. Add dry ingredients to wet mixture all at once. Stir just until moistened (the batter will not be smooth). Spoon batter into prepared muffin tin, filling each almost full.
4. Mix topping- sugar and allspice. Sprinkle topping onto each muffin.
5. Bake 18 - 20 minutes, or until toothpick inserted in center comes out clean. Cool in muffin tin on wire rack for 5 minutes. Remove from muffin cups and serve warm.