Here's a recipe for Apple Streusel Muffins that is made a little healthier with the addition of whole wheat flour and a lesser amount of sugar.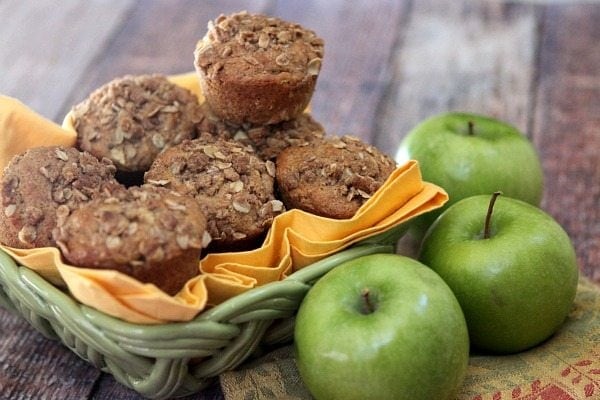 For as many years as I can remember, I've always gone apple-picking… but this year I didn't make it to any orchards.  It's a bummer because it's truly a great family-activity, and there is usually fresh apple pie involved somewhere along the way. So instead, I've been testing the waters on apple varieties lately that I've spotted at the store.  I find them hard to resist when they all look so darn good in the produce aisle right now!  The Gala's and the Jonagold's are sweet and crisp.  The Honeycrisp's are absolutely perfect in every way.  I'm not fond of the Red Delicious variety for some strange reason- they just don't do anything for me (though I do like them sliced up in a good green salad).  And the Granny Smith's are my go-to for baking most things.  I used Granny Smith's for these healthy little Apple Streusel Muffins.  The streusel on top helps make them interesting.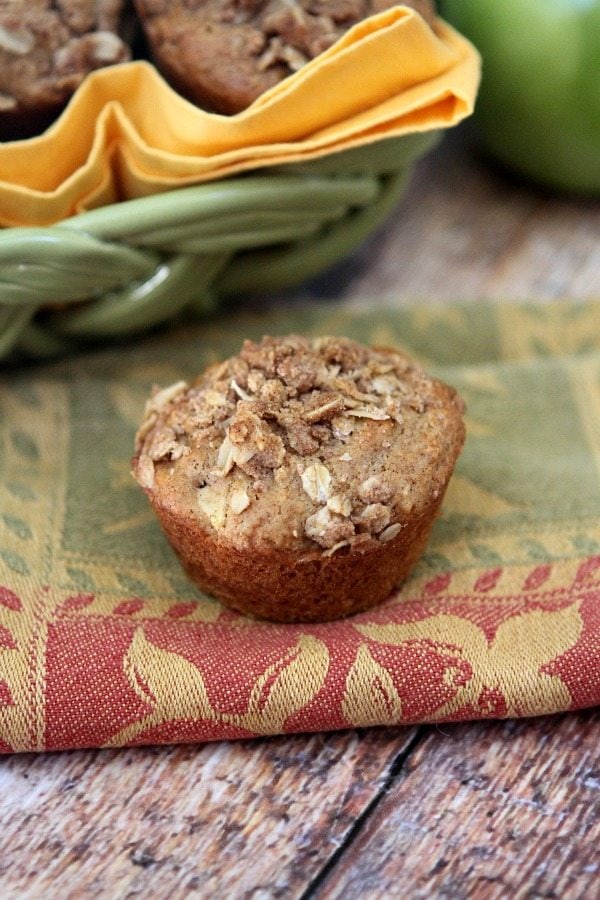 They're just a simple breakfast muffin- a little whole wheat flour thrown in to give them a healthy vibe, plenty of cinnamon and chunks of apple.  The streusel on top adds more texture and a little more sweet and spice.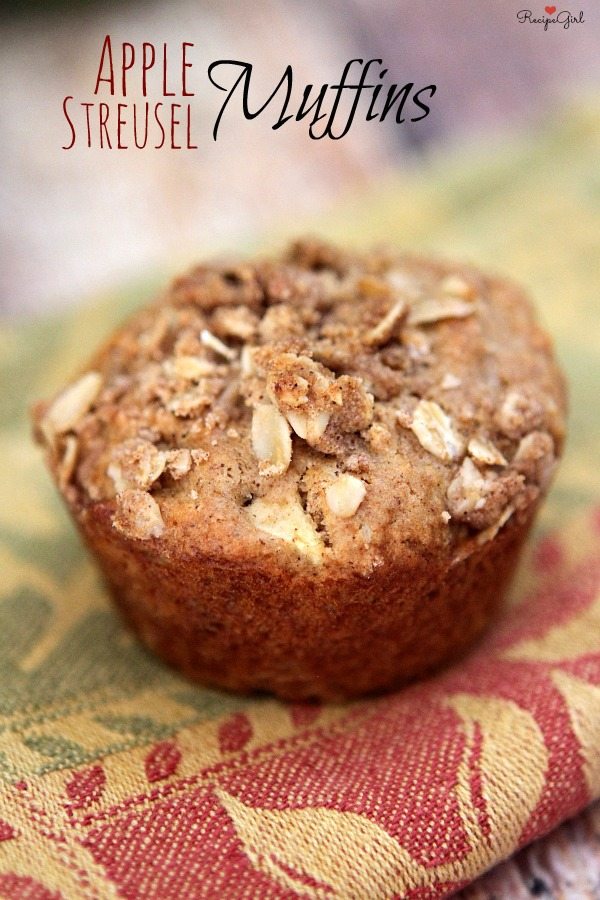 These didn't last long in my house.  I have a husband and a 6'1″ 13-year old who plow through most things I bake, so a dozen of these did not last more than a couple of days.  My hungry men gave them their voice of approval (which is a double-thumbs-up).  They're a great muffin recipe to make for a chilly fall morning!
Apple Streusel Muffins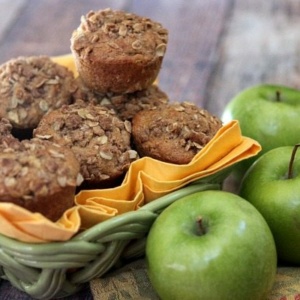 Yield:
12 muffins
Prep Time: 20 min
Cook Time: 16 min
Ingredients:
STREUSEL:
2 tablespoons old-fashioned rolled oats
2 tablespoons all-purpose flour
1 tablespoon packed brown sugar
1 tablespoon unsalted butter, melted
1/2 teaspoon ground cinnamon
MUFFINS:
1 cup all-purpose flour
1/2 cup whole wheat flour
2 teaspoons ground cinnamon
1 1/2 teaspoons baking powder
1/2 teaspoon baking soda
1/4 teaspoon kosher salt
3/4 cup low fat buttermilk
1/2 cup packed brown sugar
2 tablespoons canola oil
1 tablespoon unsalted butter, melted
1 large egg, lightly beaten
1 medium Granny Smith apple, peeled and diced (about 1 1/4 cups)
Directions:
1. Preheat oven to 400 degrees F. Spray a 12-cup muffin tin with nonstick spray.
2. Prepare the streusel: Combine the streusel ingredients in a bowl. Set aside.
3. Prepare the muffins: In a medium bowl, whisk together the flours, cinnamon, baking powder, baking soda and salt. In a separate medium bowl, whisk together the buttermilk, sugar, oil, butter and egg. Add the wet ingredients to the dry ingredients and stir just until combined. Stir in the apple. Divide the batter evenly among the 12 muffin cups. Spoon streusel mixture on top.
4. Bake for 16 minutes, or until a wooden pick inserted into the center comes out fairly clean (with maybe a few crumbs sticking to it). Cool for a few minutes before removing the muffins from the pan.
Nutrition:
Nutritional Information per serving:
Serving size: 1 muffin
Calories per serving: 161
Fat per serving: 5.1g
Saturated Fat per serving: 1.6g
Sugar per serving: 16.1g
Sodium per serving: 189mg
Fiber per serving: 1.6g
Protein per serving: 3.1g
Cholesterol per serving: 21.3mg
Carbohydrates per serving: 30.3g
WW POINTS per serving:
Points Plus Program: 5 Old Points Program: 3
More apple muffin recipes you might enjoy:
Apple Crisp Muffins by Iowa Girl Eats
Apple Cider Donut Muffins by Baked by Rachel
Apple Fritter Muffins by RecipeGirl
Apple Paleo Muffins by Cook Eat Paleo
Whole Grain Apple Nut Muffins by Skinnytaste