Here's a delicious muffin recipe that will get you back into baking while the kids are back in school: Apple Walnut Cheesecake Muffins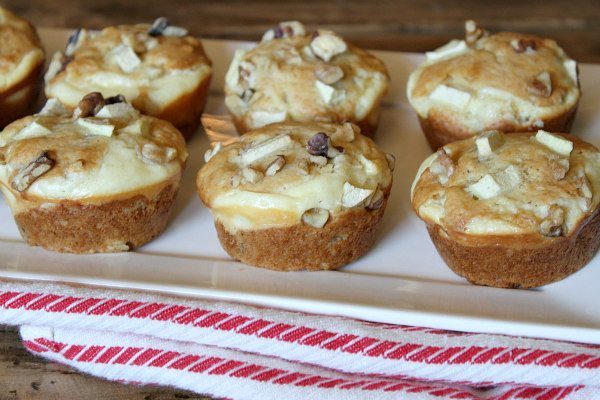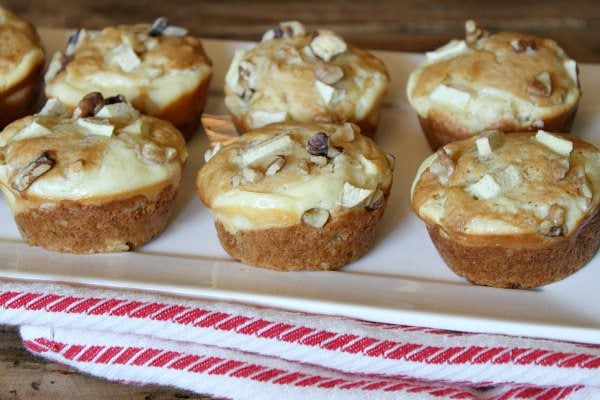 If your kids are anything like my son, they probably march through the front door around 3pm, go straight to the kitchen, and grab whatever they can find to eat as quickly as they can. Kids are starving after school! These muffins are perfect for after-school munching, and they're equally as good as a grab-and-go breakfast too.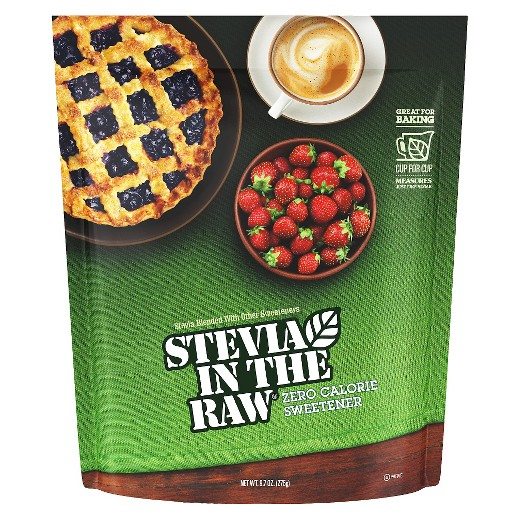 I'm partnering with Stevia In The Raw® this fall to share a few recipes that show you how to use this zero-calorie sweetener in your baking. When you are baking with the Stevia In The Raw® Bakers Bag, it's recommended that you only sub about half of the sugar in order to achieve the proper browning, rising and caramelizing that only sugar can provide. 1 cup of Stevia In The Raw® Bakers Bag has the same sweetness as 1 cup of sugar, so it can be substituted cup for cup in any baking recipes (and you'll save up to 700 calories for every cup of sugar that is swapped out!)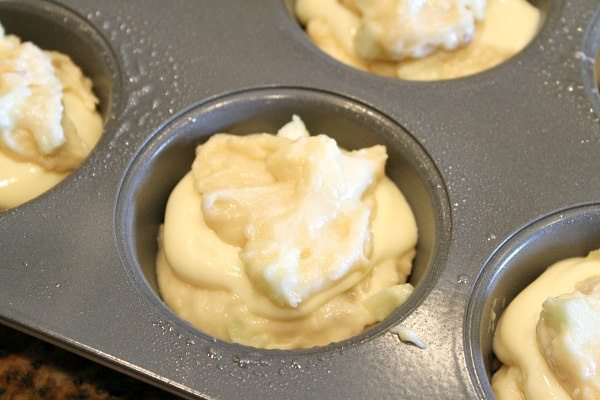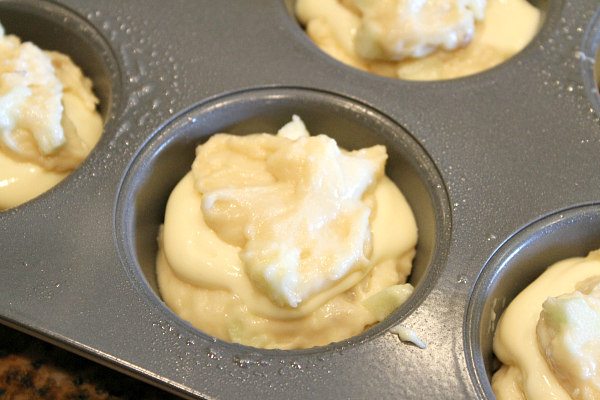 In this recipe, you'll make the muffin batter and the cheesecake batter separately. In the muffin tin, you'll add muffin batter, cheesecake batter and a little more muffin batter on top.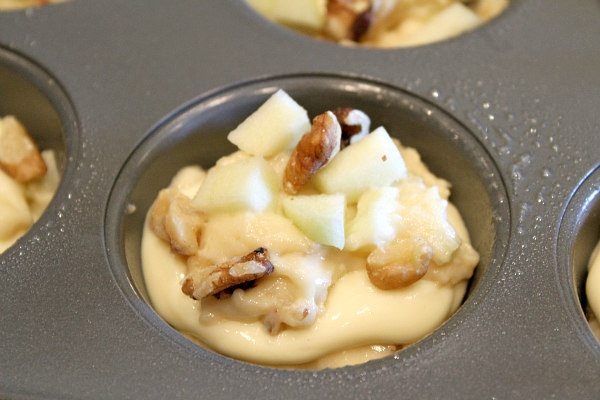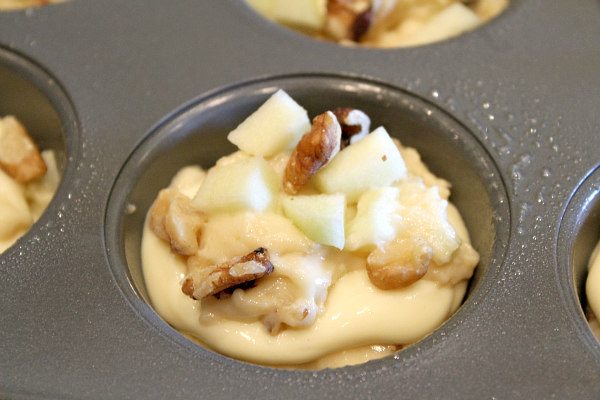 A few additional apple chunks and walnut pieces adorn the muffin tops.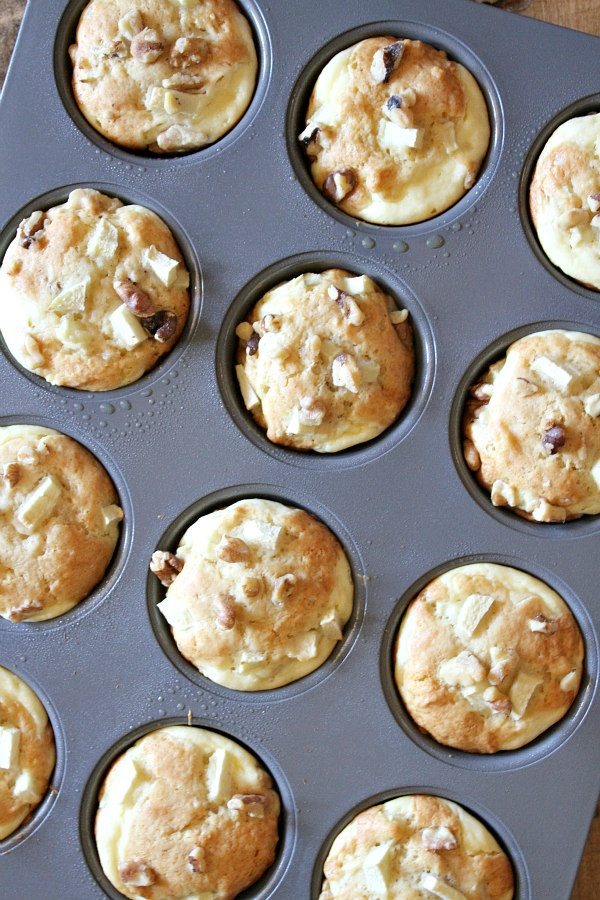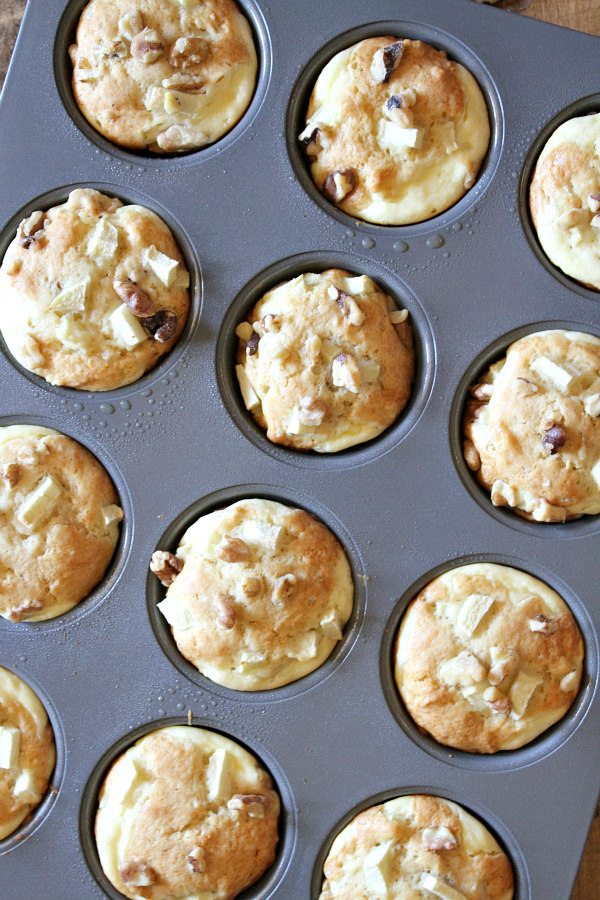 This recipe makes 18 muffins, and they freeze perfectly so you can enjoy them longer if you'd like.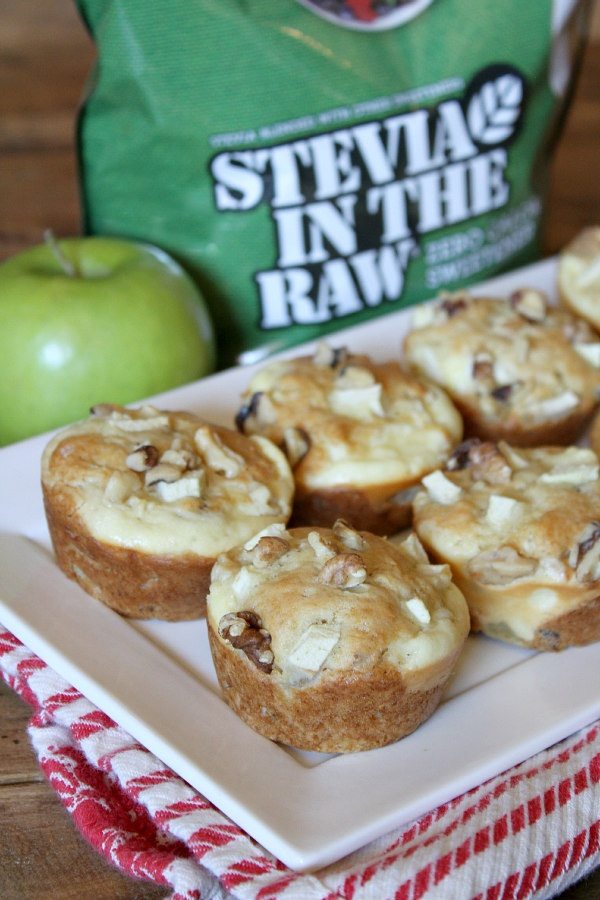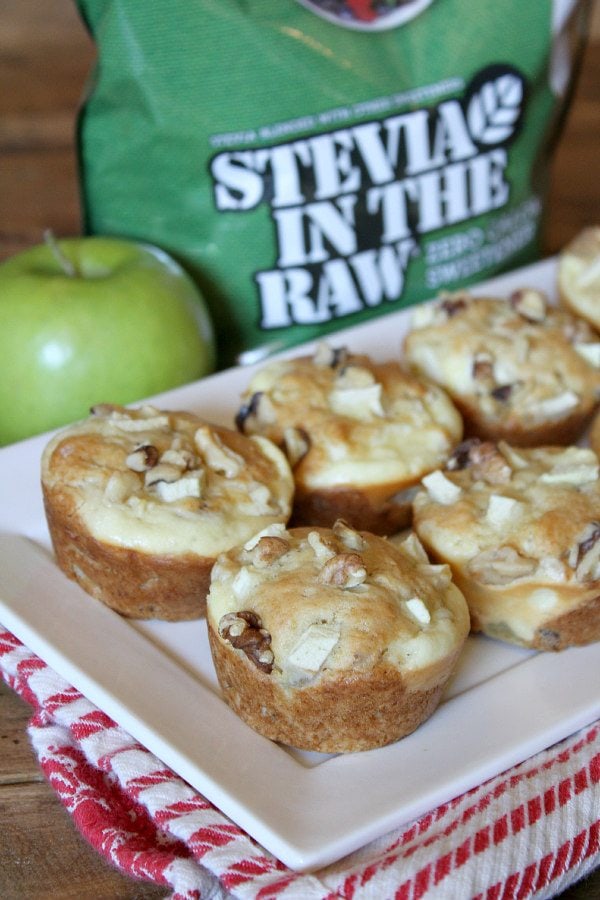 Can you spot the cheesecake layer near the muffin tops? It's delicious to have it all mixed in.
These muffins have a reduced-sugar content because I've substituted a good amount of Stevia In The Raw® for some of the sugar. Stevia In The Raw® contains extracts from the sweet leaves of the stevia plant, so that's where it gets the sweetness to replace sugar.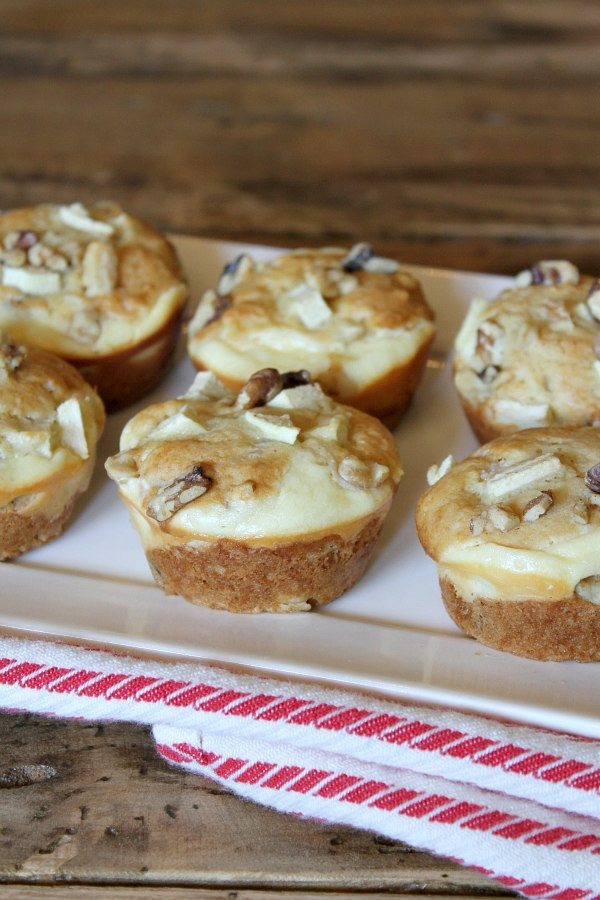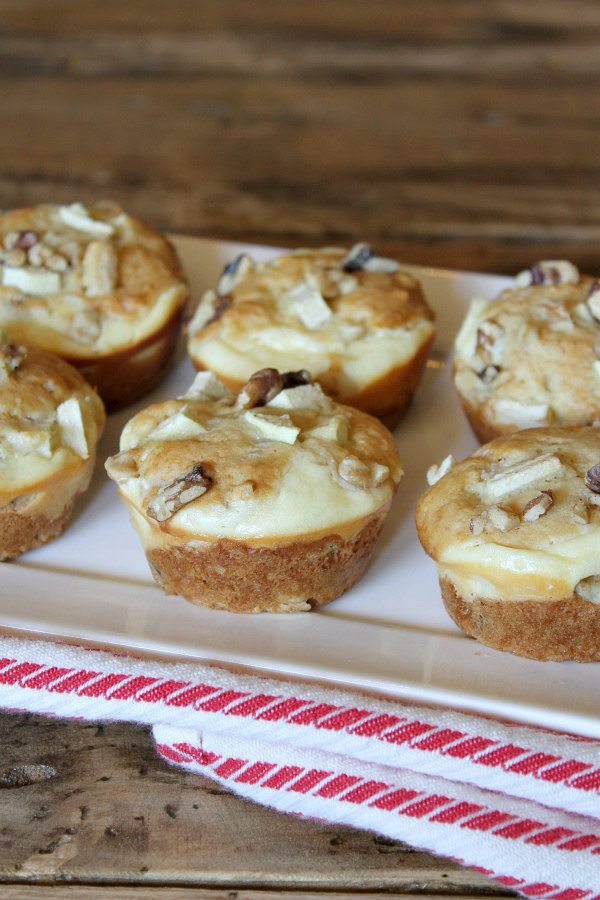 My son happily gobbled these up, but he did tell me that I should leave out the nuts next time (he's not a nut guy). You can certainly leave out the nuts if your kids are not into them… or if they're allergic. They will be just as delicious!
Apple Walnut Cheesecake Muffins
Yield:
18 muffins
Prep Time: 25 minutes
Cook Time: 20 minutes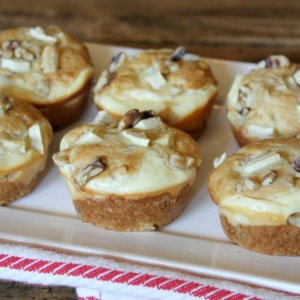 Ingredients:

Muffins:

2 cups all-purpose flour
2 teaspoons baking powder
1/2 teaspoon baking soda
1/2 teaspoon salt
4 tablespoons (1/2 stick) butter, at room temperature
1/2 cup granulated white sugar
1/2 cup Stevia In The Raw® Bakers Bag
1 large egg
3/4 cup apple juice
1 1/4 cups finely chopped apple (I use Granny Smith)
1/2 cup chopped walnuts
plus a few extra chopped apples and walnuts

Cheesecake Layer:

6 ounces cream cheese
3 tablespoons granulated white sugar
3 tablespoons Stevia In The Raw® Bakers Bag
1 large egg
1 teaspoon vanilla extract

Instructions:

Preheat the oven to 350 degrees F.  Spray two 12-cup muffin tins with nonstick spray.
In a medium bowl, sift together the flour, baking powder, baking soda and salt.
In a separate bowl, use an electric mixer to combine the butter, sugar, Stevia and egg.  Mix until well combined.  Add the dry ingredients to the butter mixture alternately with the apple juice.  Stir in the apple and walnuts.
Prepare the cheesecake layer: In a medium bowl, use an electric mixer to combine the cream cheese, sugar and Stevia.  Then mix in the egg and vanilla.
Spoon a small amount of muffin batter into 18 muffin tins (about 1/2 of the tin).  Spoon about a tablespoon of the cheesecake batter on top of each tin of muffin batter.  You may be able to spoon a little more than that if you find that you have more batter to use.  Top each cheesecake layer with another small spoonful of muffin batter.  Top each with a few apple and walnut pieces.
Bake for about 18 to 20 minutes, or until the muffins are cooked through.
SOURCE:  RecipeGirl.com
Here are a few more apple muffin recipes you might enjoy:
Disclosure: This recipe was made in partnership with Stevia In The Raw®. This is a product that I know and use in my kitchen. All opinions shared are my own.