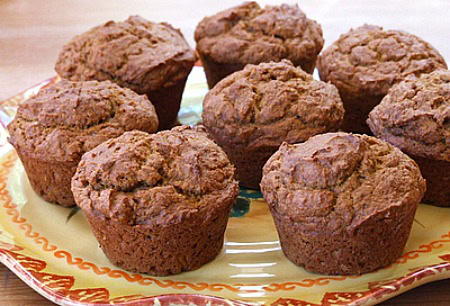 Pumpkin Spice Muffins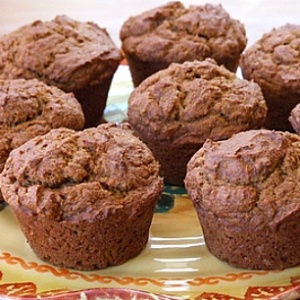 No one will be able to tell that there is whole wheat flour mixed in, and it's nice to be serving up a lower fat muffin too.
Yield:
12 muffins
Prep Time: 15 min
Cook Time: 30 min
Ingredients:
1 cup all-purpose flour
1 cup whole wheat flour
1 teaspoon baking soda
1/2 teaspoon salt
1 1/2 teaspoons ground cinnamon
3/4 teaspoon ground ginger
3/4 teaspoon ground cloves
1/4 cup salted butter, softened
1/2 cup granulated white sugar
1/2 cup packed brown sugar
1/4 cup plain nonfat yogurt
1/4 cup nonfat milk
1 2/3 cups canned pure pumpkin
1 large egg
1 teaspoon vanilla extract
Directions:
1. Preheat oven to 350°F. Spray 12 cup muffin tin with nonstick spray.
2. In a medium bowl, whisk together dry ingredients (flour through cloves). Set aside.
3. In a large bowl, cream together butter and sugars with an electric mixer. Add remaining ingredients and beat well. Stir in dry ingredients and mix just until combined.
4. Pour batter into prepared muffin pan. Bake 30 to 35 minutes, or until a toothpick inserted into the center of a muffin comes out clean.
Nutrition:
Nutritional Information per serving:
Serving size: 1 muffin
Calories per serving: 198
Fat per serving: 4.76g
Saturated Fat per serving: 2.72g
Sugar per serving: 18.69g
Fiber per serving: 2.71g
Protein per serving: 3.85g
Cholesterol per serving: 28.21mg
Carbohydrates per serving: 36.3g
WW POINTS per serving:
Points Plus Program: 5 Old Points Program: 4