This recipe has been featured in a post on The Recipe Girl blog: Whole Wheat Pumpkin Spice Muffins with Cinnamon Cream Cheese Glaze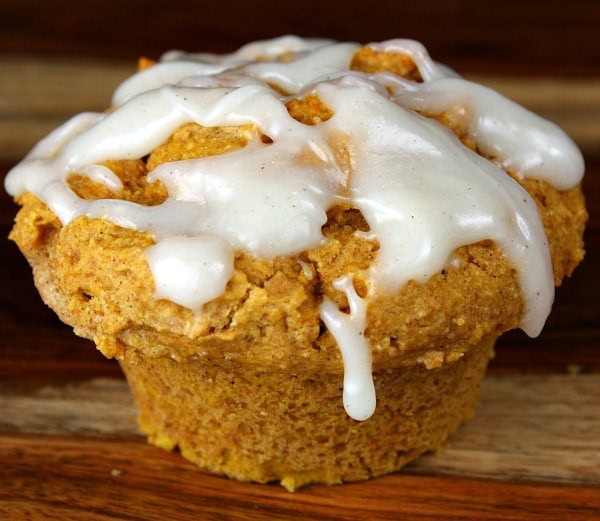 Whole Wheat Pumpkin- Spice Muffins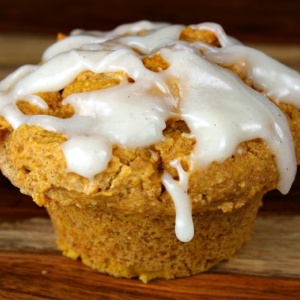 Yield:
12 muffins
Prep Time: 20 min
Cook Time: 25 min
Ingredients:
MUFFINS:
1 1/2 cups whole wheat flour
1 1/2 cups all-purpose flour
1 1/2 Tablespoons baking powder
1/2 teaspoon salt
1/2 teaspoon pumpkin pie spice
1 teaspoon ground cinnamon
1/2 cup salted butter, melted
1/2 cup granulated white sugar
1/2 cup packed brown sugar
2 large eggs
1 teaspoon vanilla extract
1/4 cup milk
1/4 cup heavy cream
1 cup pumpkin puree (unsweetened)
GLAZE:
1 cup powdered sugar
1/4 cup (2 ounces) softened cream cheese
dash of ground cinnamon
dash of milk (to thin out)
Directions:
1. Preheat oven to 350 degrees F. Spray muffin tin with nonstick spray- be sure to spray the top of the pan too since the muffins will bake over the side of each tin.
2. Prepare the muffins: In a medium bowl, whisk together flour, baking powder, salt, pumpkin pie spice and cinnamon. In another larger bowl, use electric mixer to cream butter and sugar together. Mix in eggs and vanilla. Alternate adding dry ingredients and milk/cream. Add pumpkin puree last and mix just until incorporated (don't over mix).
3. Divide batter between 12 muffin tins. They'll be quite full with batter- that's okay. Bake 25 to 30 minutes, or until toothpick inserted in center of muffin comes out clean. Let cool in the muffin tin for about 15 minutes, then gently move muffins to a wire rack to cool completely.
4. Prepare the glaze: In a small bowl, mix glaze ingredients. Drizzle glaze over muffins. The easiest way to do this is to place waxed paper (or foil) underneath the cooling rack and let the glaze drip off the tops of the muffins.