A really delicious muffin recipe: Whole Wheat Banana Blueberry Muffins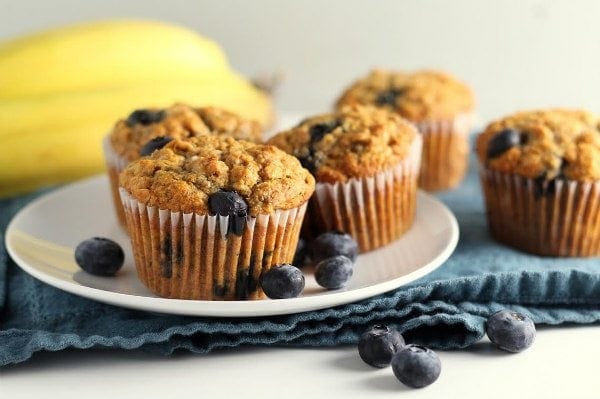 I first made these one summer while vacationing in Massachusetts.  Toward the end of July, the blueberries there are some of the best you'll taste… plump and juicy.  They're perfect for baking.  This remains to be one of my favorite muffin recipes.  The whole wheat flour adds a bit of healthy to the mix, and they're substantially filling and satisfying.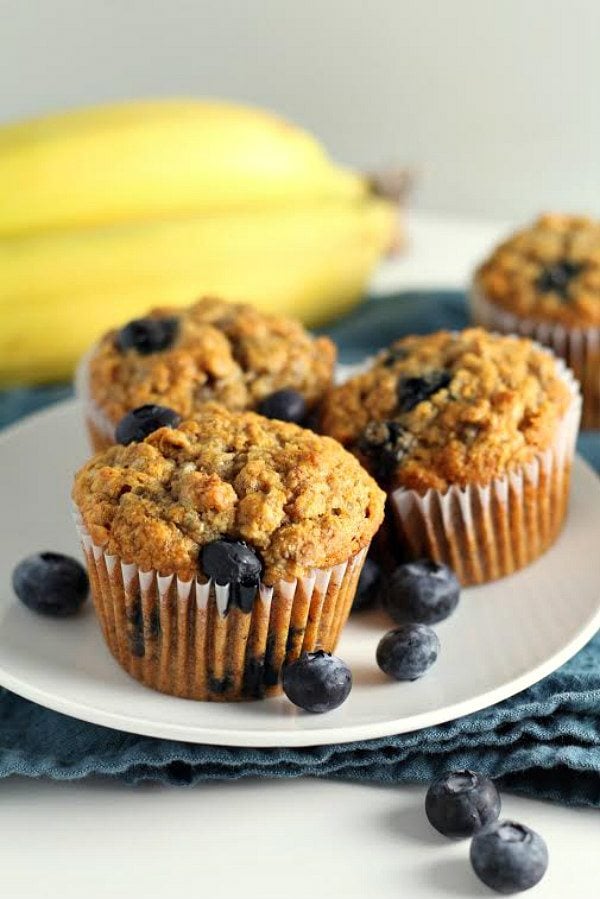 These are best with beautiful, ripe, fresh summer blueberries!
Whole Wheat Banana Blueberry Muffins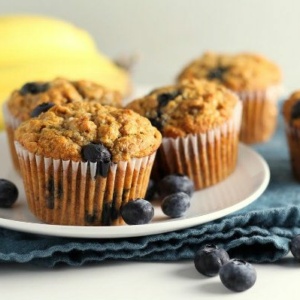 Yield:
16 to 20 muffins
Prep Time:20 minutes
Cook Time:35 minutes
Ingredients:
2 1/2 cups whole wheat flour
1 1/2 cups rolled oats
2 teaspoons baking soda
1/8 teaspoon salt
1/4 teaspoon ground mace or nutmeg
1 cup honey
1 cup canola or vegetable oil
6 medium mashed ripe bananas (about 2 cups)
1 tablespoon vanilla extract
2 cups fresh blueberries
Directions:
Preheat oven to 350 degrees F. Spray two muffin tins with nonstick spray (or use cupcake wrappers).
Whisk together the dry ingredients in a large bowl.
In a separate bowl, whisk together the honey, oil, bananas and vanilla.
Stir the wet ingredients into the dry ingredients -mixing only until ingredients are combined. A good muffin batter should be lumpy.
Gently fold the blueberries into the batter. Fill each muffin cup at least 3/4 full. These muffins do not rise very much.
Bake for 30 to 35 minutes. Test with a knife by poking into the middle of a muffin. The point should come out clean when the muffins are ready.
SOURCE: RecipeGirl.com (via The Black Dog Summer on the Vineyard Cookbook)