I really love this version of the classic:  Whole Wheat Healthy Banana Bread.
Dried figs, dates, prunes… they aren't my favorites. You wouldn't catch me snacking on them, and I've rarely used them in recipes. In my quest to cook more healthfully and revise recipes to fit into my new lifestyle, I've reluctantly begun to let these ugly little dried fruits make their debut as a sweetener in some of my baking experiments.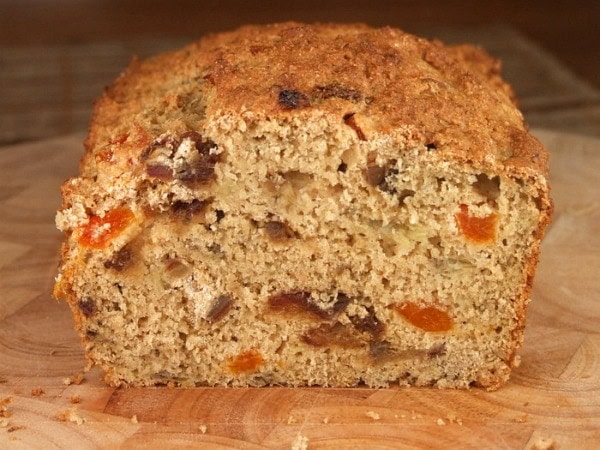 Don't let the 'healthy' reference in the title scare you. It doesn't taste like the dry and flavorless bread that you might imagine a healthier banana bread to be. This one is made with whole wheat pastry flour and only 3 tablespoons of brown sugar.
Besides this small amount of sugar, additional sweetness comes from dried dates, dried apricots and bananas. It's important to buy the right apricots… the Turkish sort don't have as much flavor as the California apricots. I always buy the CA kind. And you'll be happy to find in this recipe that you don't really taste the dates- they're chopped up and added in for sweetness.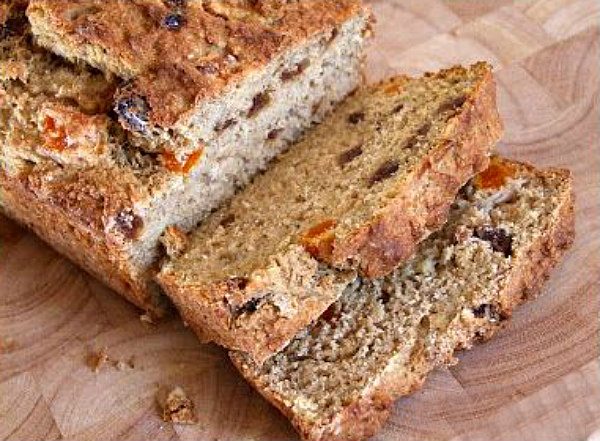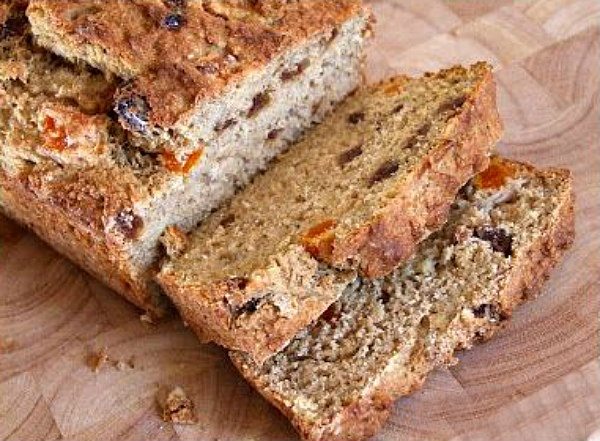 If you cut the loaf into 12 slices, you can package them in zips individually and throw them in the freezer. Each slice is 120 calories (or 4 Weight Watchers Freestyle SmartPoints).
This turns out to be a great, healthy version of banana bread. No white flour, very little sugar, and ZERO added fat makes it pretty much guilt-free. Amazingly enough, it's moist. I'm very careful about not over-baking breads because there is nothing worse than dry banana bread. My family gives this one the 'make it again Mom' label, and I am always happy to do so!
Whole Wheat Healthy Banana Bread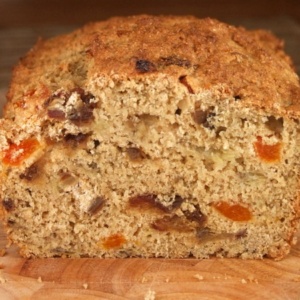 Wonderful, moist and guilt-free banana bread. I hated dates as a kid, but you really don't detect them. They seem to just add the needed sweetness along with the apricots.
Yield:
12 servings (12 slices)
Prep Time: 20 minutes
Cook Time: 40 to 50 minutes
Ingredients:
1 3/4 cups whole-wheat pastry flour
3 tablespoons (packed) light brown sugar
2 1/4 teaspoons baking powder
1/2 teaspoon salt
1/2 teaspoon ground cinnamon
8 dried dates, chopped
6 dried California apricot halves, chopped
1 large egg
2 medium very ripe bananas
1 teaspoon pure vanilla extract
1/4 cup skim milk
Directions:
Preheat oven to 350°F. Spray 8x4-inch loaf pan with nonstick spray.
In a medium bowl, combine flour, brown sugar, baking powder, salt and cinnamon. Stir in chopped dates and apricots.
In a separate bowl, mash bananas; add egg, vanilla and milk & stir well. Pour onto flour mixture and stir gently

just until blended

(don't over-mix or it might turn out a tough bread).
Scrape dough into prepared pan. Bake until a toothpick inserted into the center comes out clean- 40 to 50 minutes. Cool completely before slicing.
Nutrition:
Nutrition Facts- Amount Per Serving (1/12th of the bread): Calories 119, Calories From Fat (6%) 7.5, Total Fat 1g, Sat Fat 0.22g, Cholesterol 17.73mg, Sodium 199.05mg, Potassium 224.54mg, Carbohydrates 26.5g, Dietary Fiber 3.27g, Sugar 10.56g, Net Carbs 23.16g, Protein 3.5g
Weight Watchers POINTS per serving:  Freestyle SmartPoints: 4, Points Plus Program: 3, Old Points Program: 3
SOURCE: RecipeGirl.com
Here are a few more healthier banana bread recipes you might enjoy: