You'll want to know How to Make a Pumpkin Spiced Latte, so you can make these at home and save so much money during the fall months! Watch the video showing you how to make a pumpkin spice latte, then scroll to the bottom of this post and print out the recipe so you can make it at home.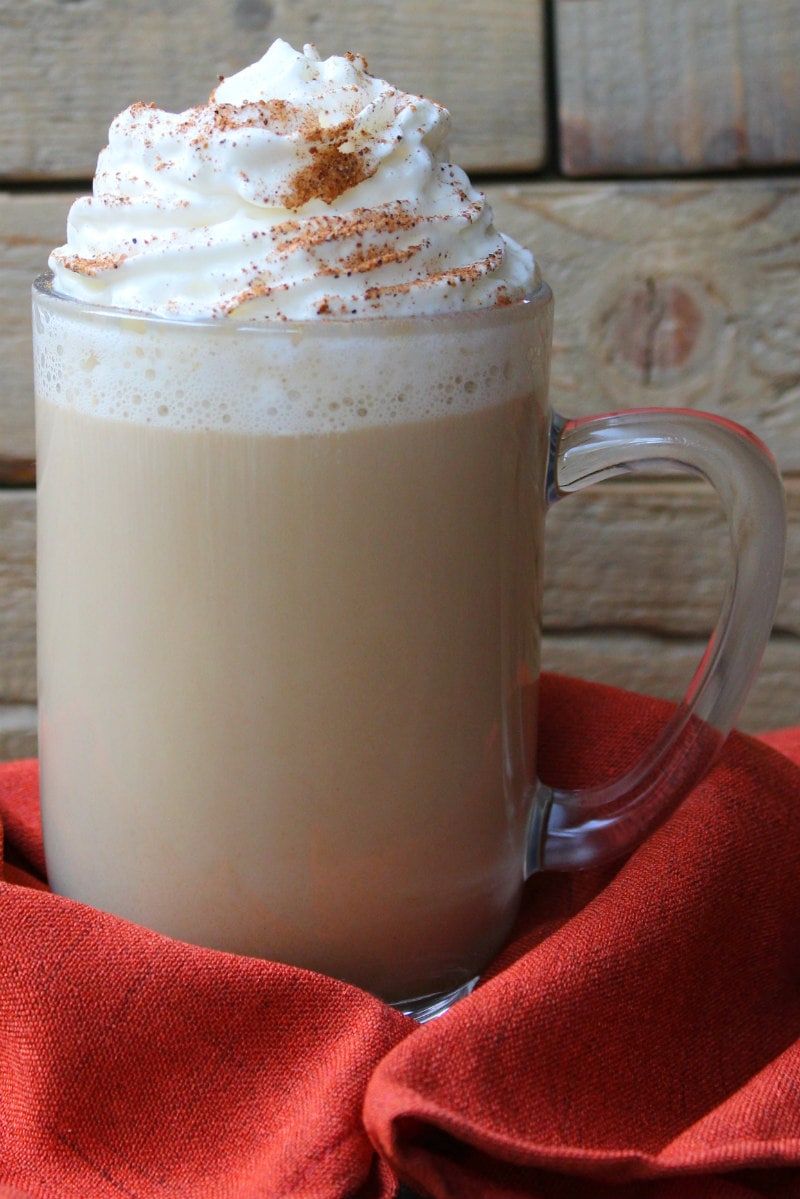 I'm so excited about this recipe. That doesn't really tell you all that much since I'm excited about new recipes every week… but this week I'm particularly excited. Why is that, you ask? Well, I loved this week's recipe. My husband loved this week's recipe. My son loved this week's recipe. And when you learn how to make a pumpkin spice latte at home, I hope you'll love it too!
Today I'm going to show you How to Make a Pumpkin Spice Latte, in the comfort of your own home… without waiting in long lines or shelling out a gazillion pennies. We're going to make a "tall" latte, as they say in the coffee world. If you're totally into coffee, be sure to also check out my posts on How to Make Iced Coffee and How to Make Cold Brew Coffee.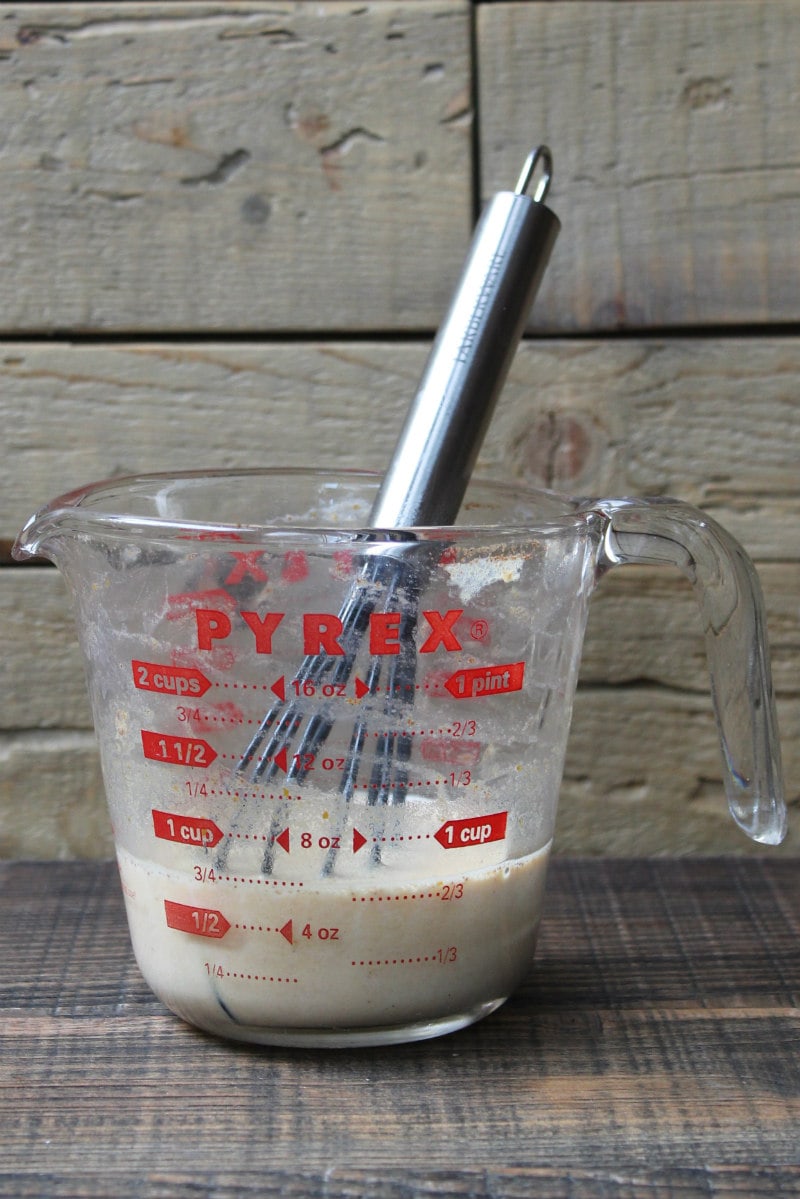 How to Make a Pumpkin Spice Latte:
The first thing you'll do is make the spiced pumpkin milk.
Start with the milk. You can use any sort of milk you'd like. I usually use nonfat milk because I'm always trying to lighten things up. Honestly, it's the best tasting with whole milk because it's so rich and creamy. Try alternative milk like soy milk, almond milk or coconut milk too. It's completely up to you.
Add 2 tablespoons of pumpkin puree to one half cup of milk. Make sure you use plain, unsweetened pumpkin puree since you'll be adding sugar to the recipe. Add a little brown sugar, vanilla and pumpkin pie spice. Whisk it all together and put it in the microwave until it's hot and steamy. If you don't like to use the microwave, you can do this on the stove instead.
Did you know you can make your own pumpkin pie spice? See my Recipe Notes in the How to Make a Pumpkin Spice Latte recipe at the end of this post.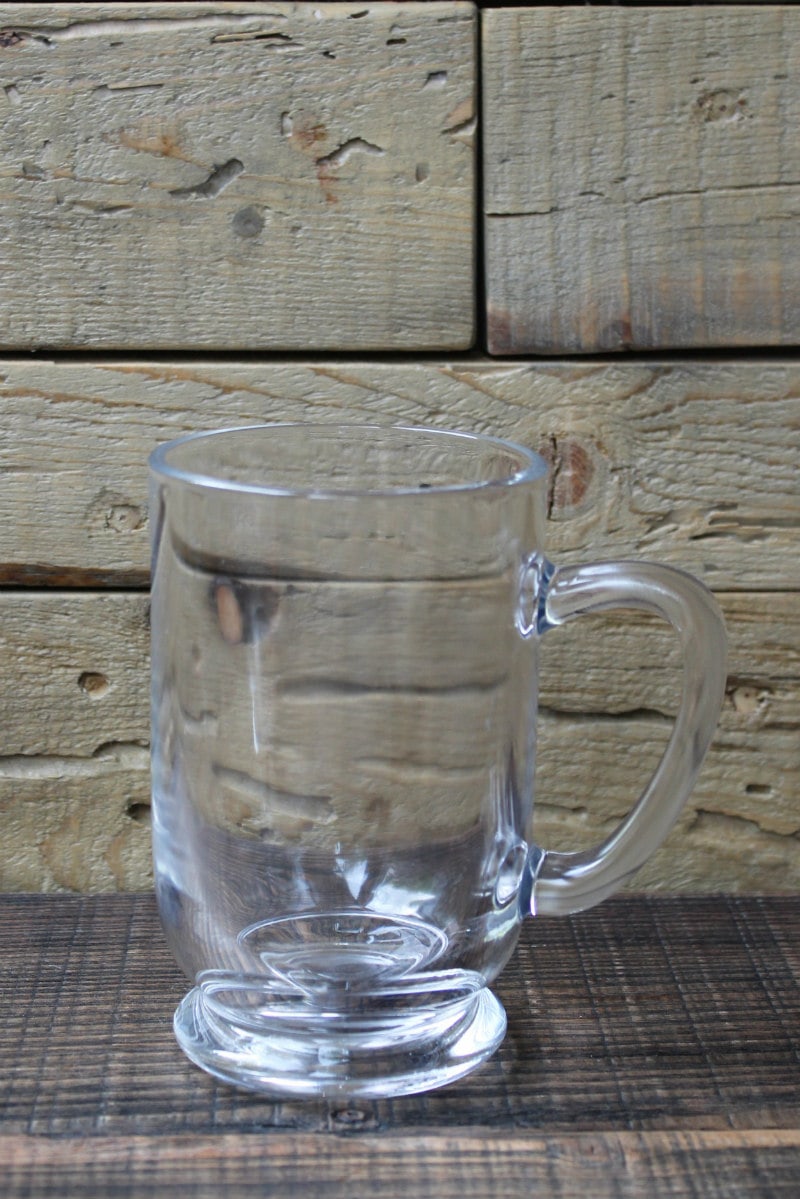 Best glasses for tall coffee drinks:
I searched high and low for the best glasses for making tall coffee drinks. I thought maybe I'd like an acrylic type, but I'm so glad I found these made of glass and with a handle. They are the perfect size for a tall, fancy coffee drink! You can find them here: Arc International Luminarc Bolero Mug, 16-Ounce, Set of 4. When I bought them on Amazon, they were around $18.00.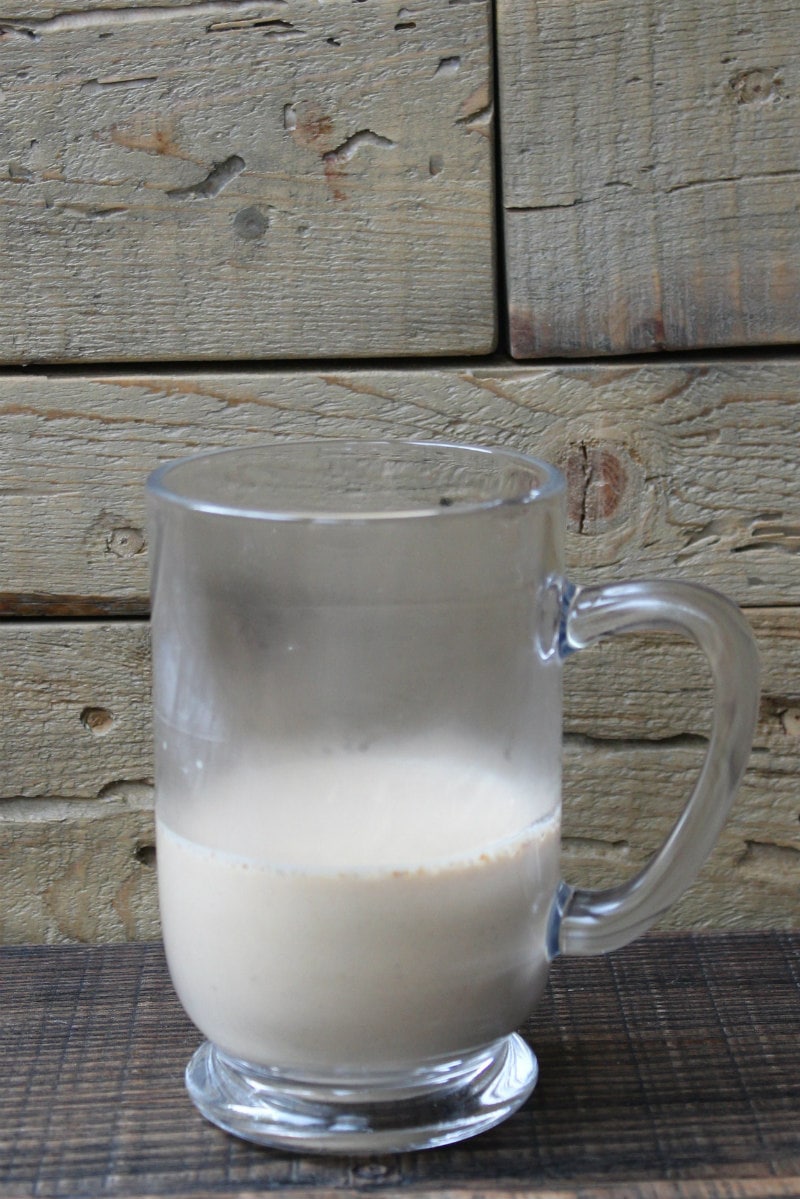 Pour your hot and frothy pumpkin milk into a tall mug.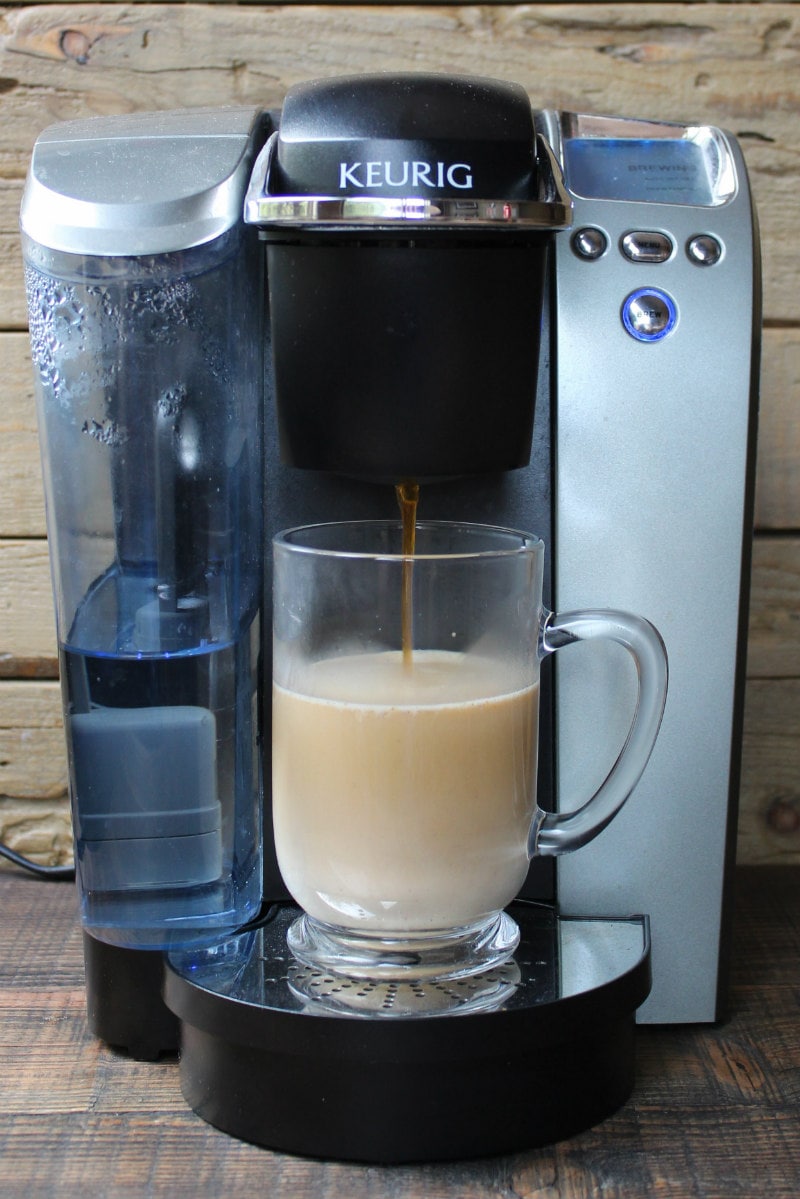 Do you use coffee or espresso for a Pumpkin Spice Latte?
You can use either. I have a coffee maker at home, and I have an espresso machine. Whatever you'd like to use, go ahead and brew it right into your pumpkin milk. For this post, I used coffee. If you don't have one of these pod-type coffee makers, just brew your coffee and add it to the glass (about 1 cup of coffee).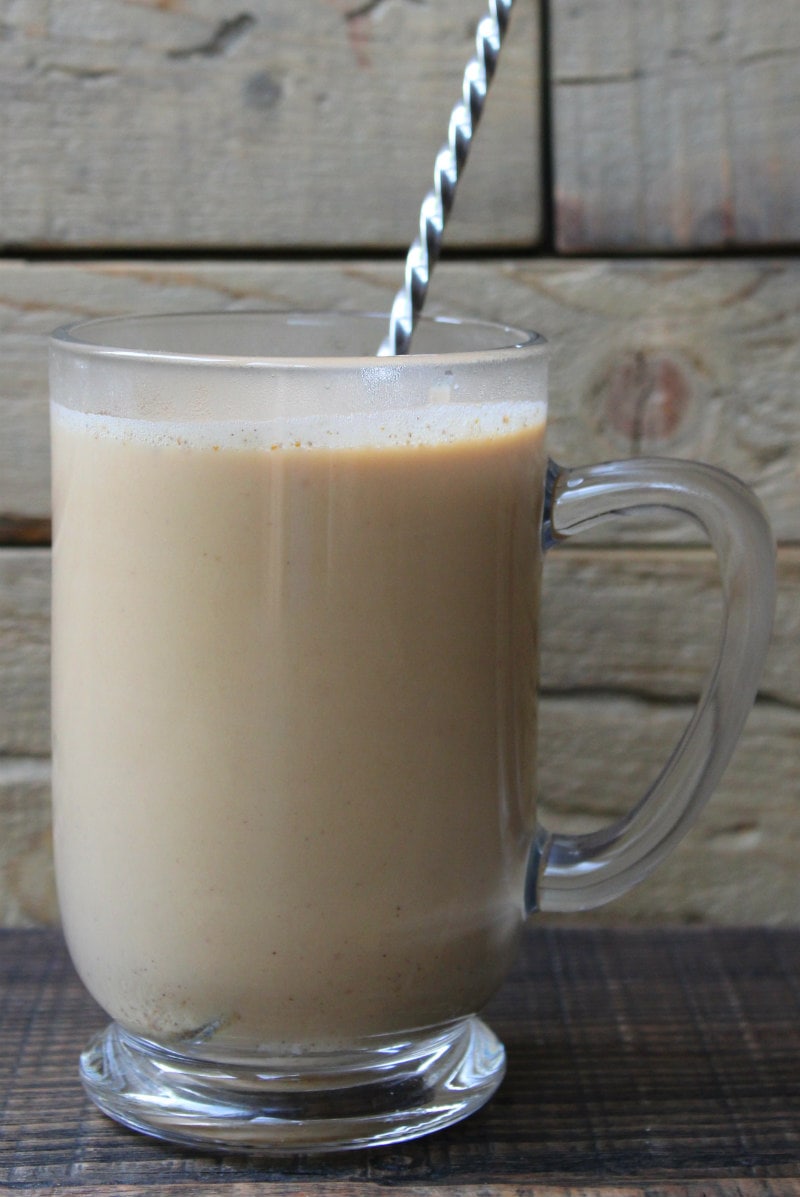 Finish off your pumpkin spice latte with a couple of splashes of cream (I use half & half), and a teaspoon or two of sugar. Stir to combine.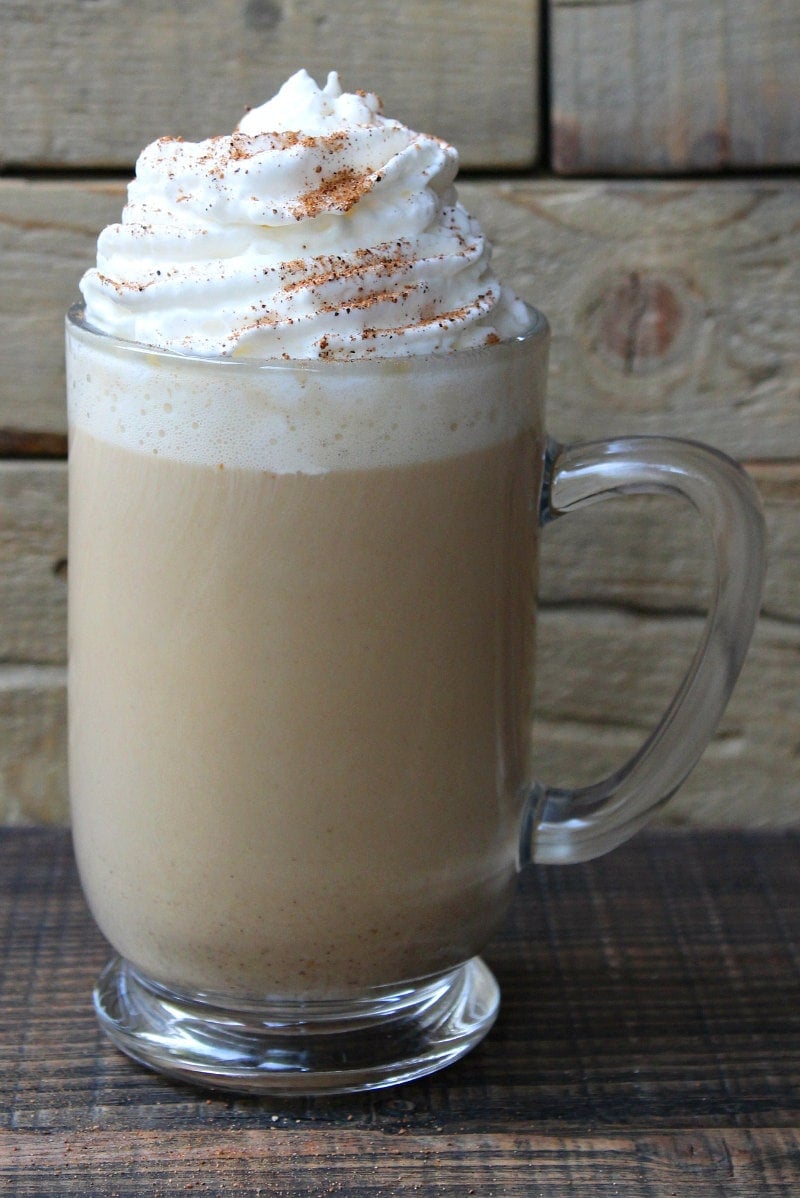 Now you know how to make a pumpkin spice latte! You can drink it like this, or you can add a little bit of whipped cream (optional, but not really). And be sure to sprinkle some nutmeg on top.
I did a little research and found that if you buy this at Starbucks, the calorie count for a nonfat Pumpkin Spice Latte is 260. My recipe computes to 152 calories. So you get to save money AND calories! And, if you happen to be following the Weight Watchers WW plan, you'll find a link to the WW Points on the recipe card at the end of this post.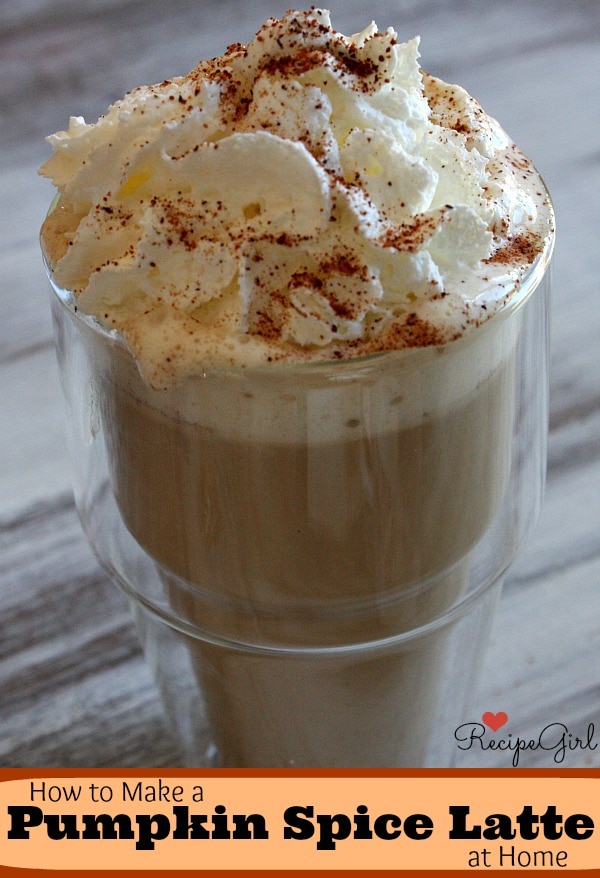 And there you go! No lines, no weird syrups, and perfectly delicious for a chilly fall morning. See why I was so excited? Love.
If you're looking for things to eat with your pumpkin spice latte, you might enjoy these Pumpkin Gingerbread Muffins or my copycat Starbucks Pumpkin Scones. Cinnamon Sour Cream Coffee Cake, Pumpkin Doughnut Drops and Coffee Scones are also delicious to eat with coffee!
How to Make a Pumpkin Spice Latte
A do-it-yourself version of the coffee shop's famous fall coffee drink!
Recipe Details
Ingredients
½

cup

milk

(nonfat, whole, almond, soy, etc.)

2

tablespoons

unsweetened pumpkin puree

1

teaspoon

brown sugar

1

teaspoon

vanilla extract

¼

teaspoon

pumpkin pie spice

1

cup

brewed coffee or espresso

2

tablespoons

half and half cream

2

teaspoons

granulated white sugar

whipped cream and nutmeg

(optional)
Instructions
In a glass measuring cup or microwave-safe bowl, whisk together the milk, pumpkin, brown sugar, vanilla and spice. Microwave for 1 to 2 minutes- watch closely and remove it from the microwave when the milk is hot and frothy. (alternately, you can heat it on the stove)

Pour the pumpkin milk into a tall mug or glass. Add hot coffee. Add the cream. Add a teaspoon of sugar. Stir, and taste. Add another teaspoon of sugar, if desired. Stir!

Optional, but oh so good... add whipped cream on top and a sprinkle of nutmeg. Serve immediately!
Notes
Nutritional information was figured using nonfat milk and NO whipped cream.
If counting WW points, use nonfat milk, 1 teaspoon brown sugar, 2 teaspoons white sugar and 2 tablespoons regular half & half. Lighten it up more by using substitutes!
If you don't have pumpkin pie spice in your collection of spices, make your own! Mix equal parts of cinnamon, ginger, allspice and nutmeg. Measure from there.
Nutrition
Serving:
1
drink
,
Calories:
152
kcal
,
Carbohydrates:
22
g
,
Protein:
5
g
,
Fat:
3
g
,
Saturated Fat:
2
g
,
Cholesterol:
13
mg
,
Sodium:
71
mg
,
Potassium:
408
mg
,
Sugar:
19
g
,
Vitamin A:
5025
IU
,
Vitamin C:
1.2
mg
,
Calcium:
181
mg
,
Iron:
0.4
mg