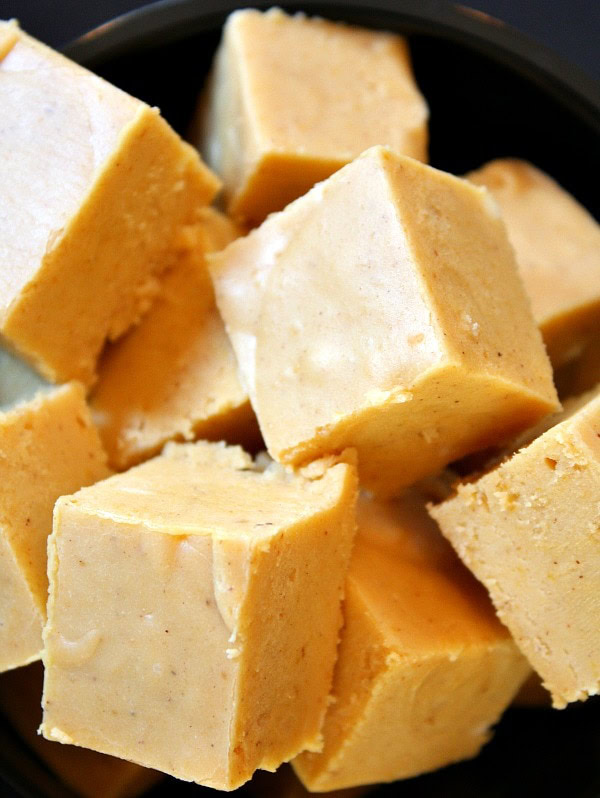 Pumpkin Fudge
Yield:
3 pounds of fudge
Prep Time: 20 min
Cook Time: 12 min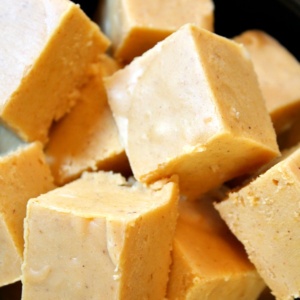 Ingredients:

3 cups granulated white sugar
3/4 cup melted salted butter
2/3 cup evaporated milk
½ cup canned pure (unsweetened) pumpkin
2 Tablespoons light corn syrup
1 teaspoon pumpkin pie spice
One 12-ounce package white chocolate morsels (chips)
One (7-ounce) jar marshmallow crème
1 cup chopped pecans, toasted (optional)
1 teaspoon vanilla extract

Instructions:

1. Line a 9-inch square pan with aluminum foil. Spray with nonstick spray.

2. Stir together first 6 ingredients in a 3 1/2- quart saucepan over medium-high heat, and cook, stirring constantly, until a candy thermometer registers 234° (soft ball stage) or for about 12 minutes.

3. Once mixture reaches 234°, remove from heat and quickly stir in the white chocolate, marshmallow creme, pecans (if using) and vanilla until well blended.

4. Pour into the prepared pan. Let stand 2 hours or until completely cool; cut fudge into squares.