Chocolate Chip Cookie Dough Truffles
I love, love, love these little treats: Chocolate Chip Cookie Dough Truffles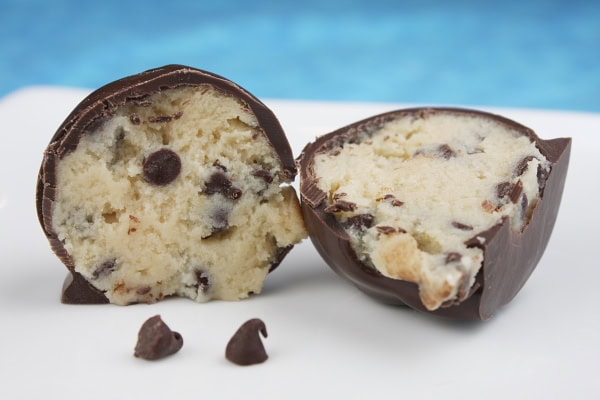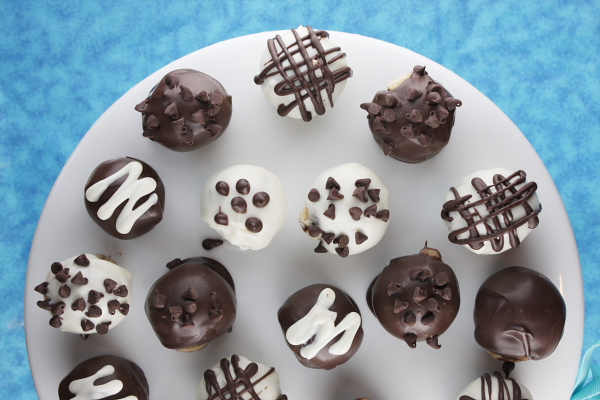 I've never liked chocolate chip cookies. Go ahead and throw tomatoes at me if you'd like, but I don't like 'em. They're just a plain old cookie, after all, with a few studs of chocolate chips in them. They're nothing special to me, unless you get some cookie dough-action before it meets its fate in the oven. Now you're talkin'. I'd much rather drown my sorrows in a bowl of cookie dough than nibble a dozen "cookies" dipped in milk. Yep, the cookie dough is definitely where it's at.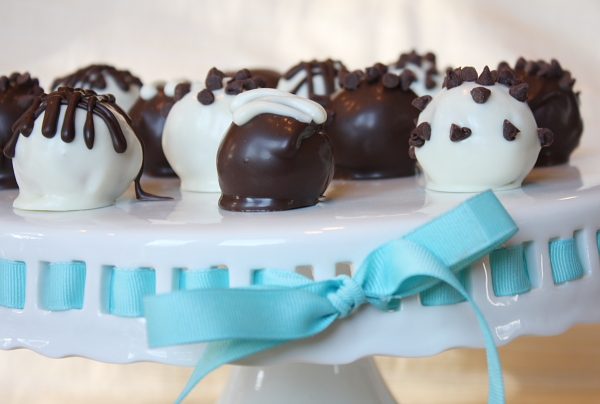 I know there are plenty of cookie-dough-nay-sayers out there… you know, the salmonella scare and all . Well, I grew up licking cookie dough beaters and cake batter-covered rubber spatulas. I guess I've been lucky. In any case, these Chocolate Chip Cookie Dough Truffles do not contain any egg, so no worries there. Here's the how-to: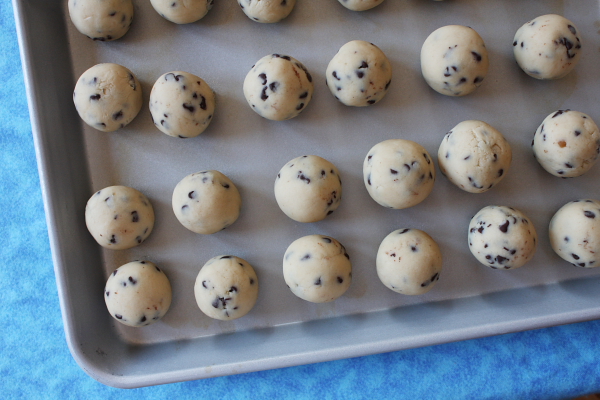 Chilled dough is rolled into 1-inch balls. You'll get 3 to 4 dozen of them out of this recipe.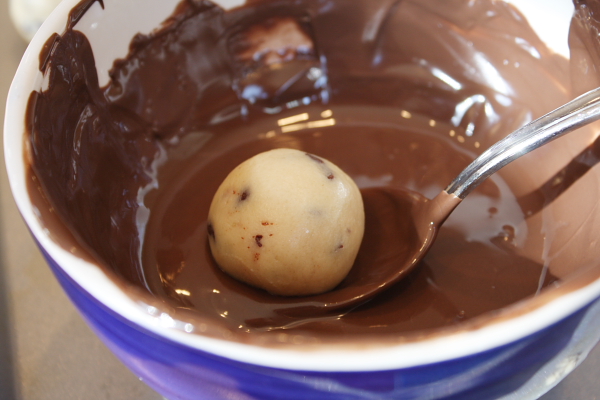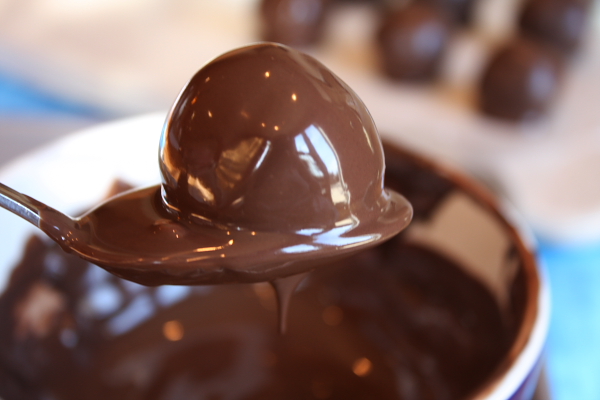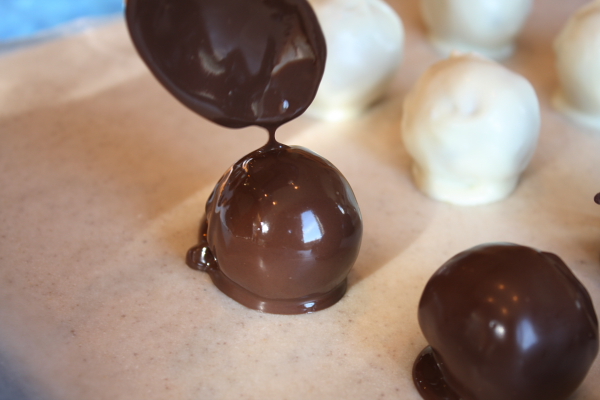 Those chilled dough balls are dipped in chocolate and then placed onto waxed paper to set. Add any special decor you'd like to the tops. Refrigerate them again if you'd like them to set quickly.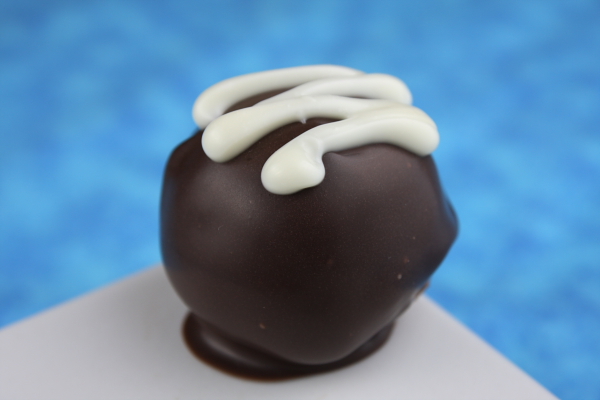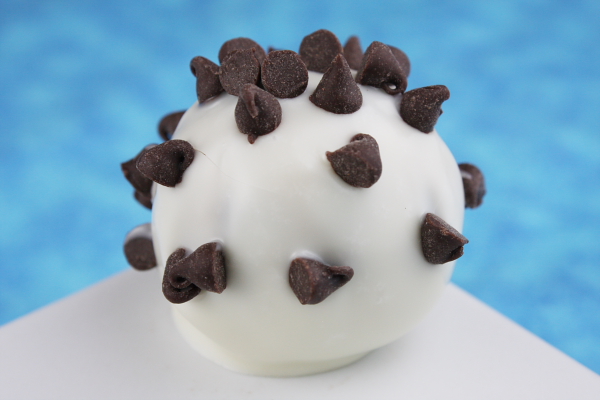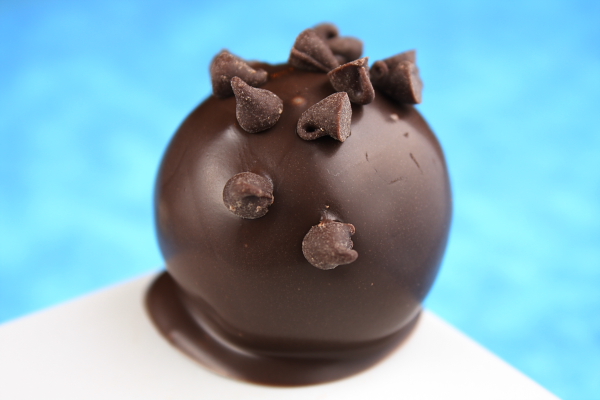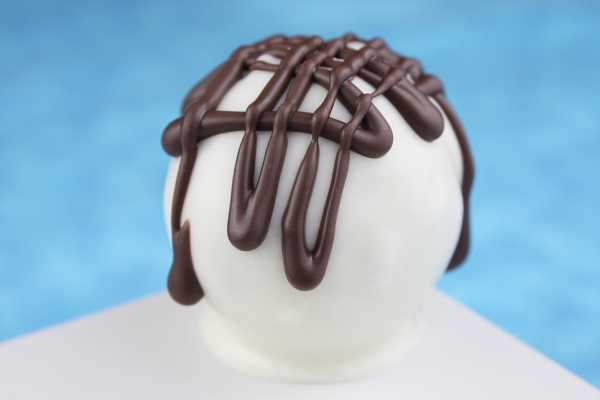 I dipped a few in Ghirardelli White Chocolate Bark and a few in the Chocolate version too. Little drizzles of alternative colors and sprinkles of chips fancy them up a bit.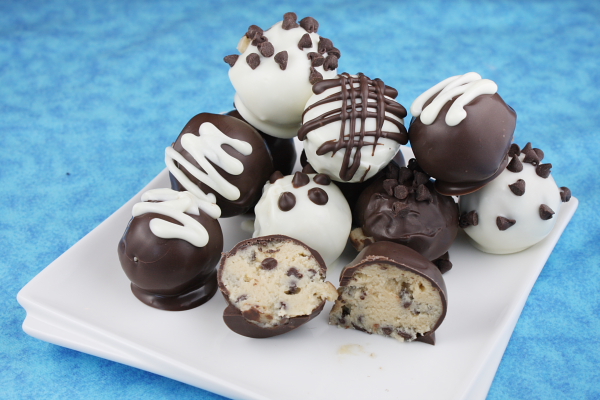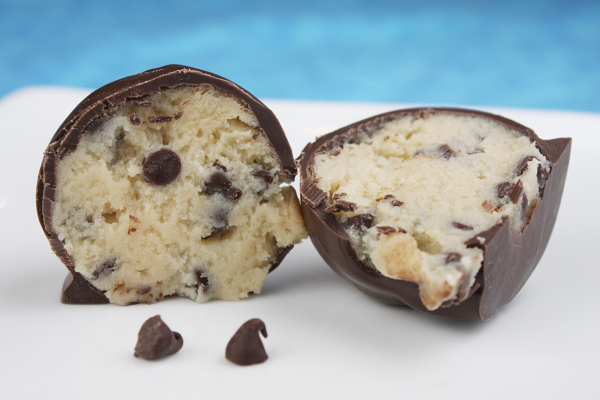 Oh yeah! There's that cookie dough inside. These are for cookie dough lovers. If you love cookie dough as much as I do… you'll love these little treats. No egg inside… just tender dough and chocolate chips as you bite into that chocolate exterior. Love these 🙂
Yield: 3 to 4 dozen truffles
Prep Time: 45 minutes + chilling time
Chocolate Chip Cookie Dough Truffles
Best served cold, these treats are for cookie-dough lovers.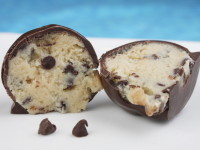 Ingredients:
1/2 cup

salted butter, at room temperature

3/4 cup

light brown sugar

, packed

1 teaspoon

vanilla extract

2 cups

all-purpose flour

1 (14 ounce) can

sweetened condensed milk

1 cup

miniature semi-sweet chocolate chips

chocolate bark, to melt for dipping
additional chocolate chips, sprinkles, etc., optional for topping the truffles
Directions:
In a large bowl, use electric mixer to cream together butter and brown sugar. Add vanilla. Beat in flour, 1 cup at a time, until it is incorporated and you no longer see chunks of brown sugar (if you spot any, just squish them). Beat in sweetened condensed milk and mix until well-combined. Stir in 1 cup of chocolate chips.
Cover bowl and refrigerate until dough is firm (at least 1 hour- maybe more... you want the dough to be quite firm). Use a small cookie scoop to scoop out heaping Tablespoonfuls, roll into balls and place on a waxed paper-lined cookie sheet. Place all of the rolled balls back into the refrigerator until you are ready to dip them in chocolate.
Melt chocolate bark in a glass bowl- easiest to do in the microwave in 30 second bursts, stirring after each heating time, until smooth. Use a spoon to help you dip the chilled dough ball into the chocolate and roll it around to cover all sides. Place it on a waxed paper-lined platter. Sprinkle with any desired toppings. Repeat with the rest of the dough balls. They'll begin to set pretty quickly. Keep them refrigerated until ready to serve.
Tips:
I used the Ghirardelli Candy Making Dipping Bar- both Double Chocolate and White flavors. It's available at Sam's Club- they may have it at Costco too.
You may wish to speed up the chilling process and place the balls into the freezer, but it's not such a good idea. The dough freezes up and then when it begins to warm up again- it expands and may cause the chocolate coating to crack.
Have your own favorite cookie dough recipe? Leave out the eggs, add a little milk to compensate for any dryness in the dough, and try making truffles with your own recipe!
175 Responses to "Chocolate Chip Cookie Dough Truffles"
Leave a Comment