Cute, trendy coffee shops seem to be popping up all over the place… yet I am always drawn to the old standby- Starbucks. Maybe it's the sheer number of SBux that have infested the planet. Maybe it's their iced coffee or their Pumpkin Spice Lattes. Or maybe it's their scones. Continuing my obsession with all-thing-Starbucks, I decided to feature the recipe for Starbuck's Pumpkin Scones.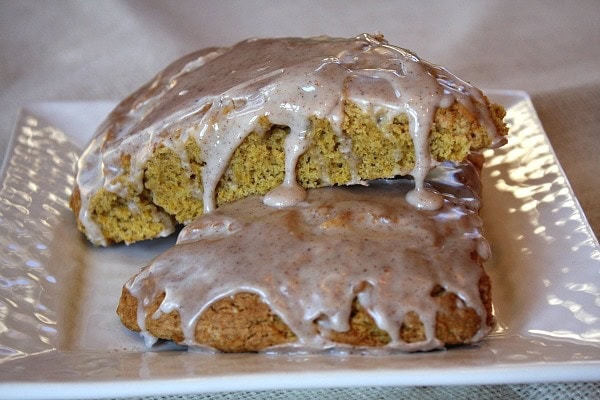 These taste just like the real deal, yet you'll find that they're much more tender and delicious than those you buy at the coffee shop. Here's how you make them: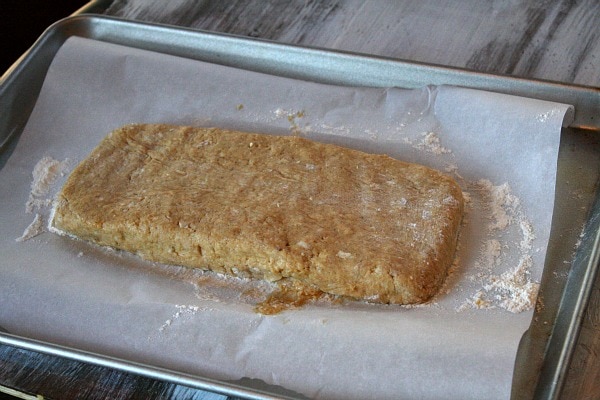 Dry ingredients are mixed with wet and then formed into a flattened rectangle on a greased and floured, parchment-lined cookie sheet. The dough will be wet. That's okay. Just keep sprinkling flour on it until it is a little easier to handle. Your hands will get messy.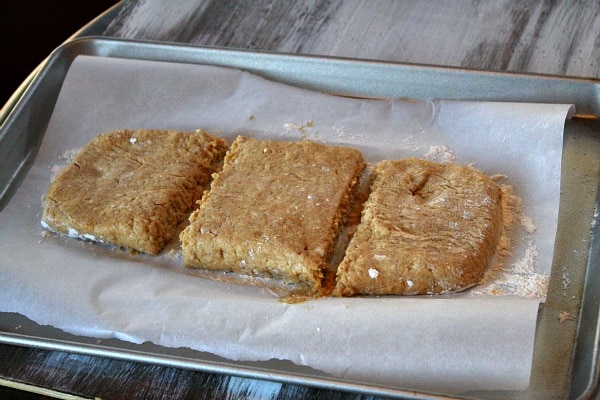 Cut the rectangle into thirds. Three equal pieces. It's easiest to use a greased pizza cutter for this, but if you don't own one then just use a greased, sharp knife instead.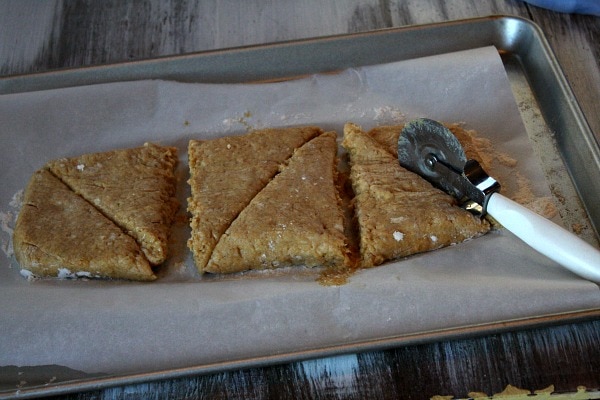 Use your cutter to cut each square in half, on the diagonal. You'll end up with 6 triangles.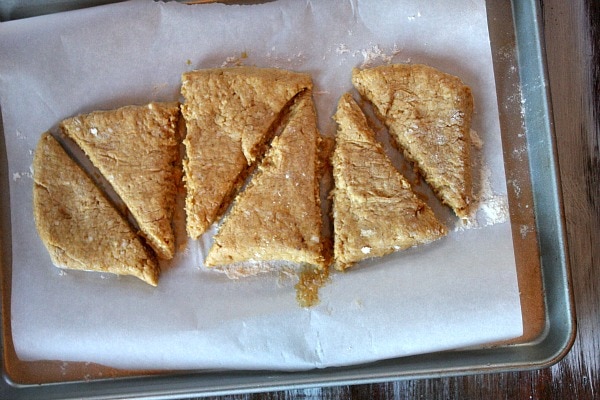 Oh so carefully pull the scones apart so that there is a little bit of space between them. Again, the dough is sticky and your hands will get messy. If you mess up the shape while you're doing this, just form it back together again. It's going to bake and spread, so no big deal if it looks sloppy.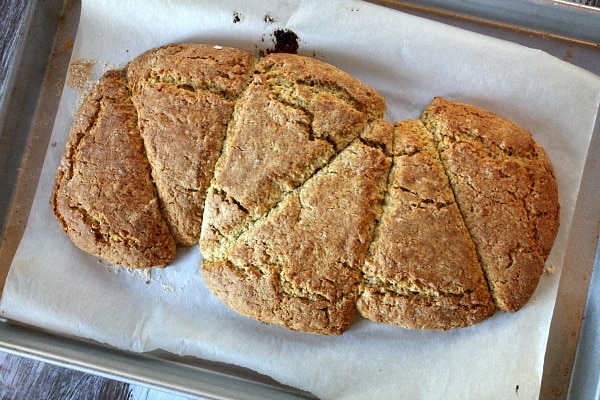 When they bake, they puff up and crash into each other. That's okay, because…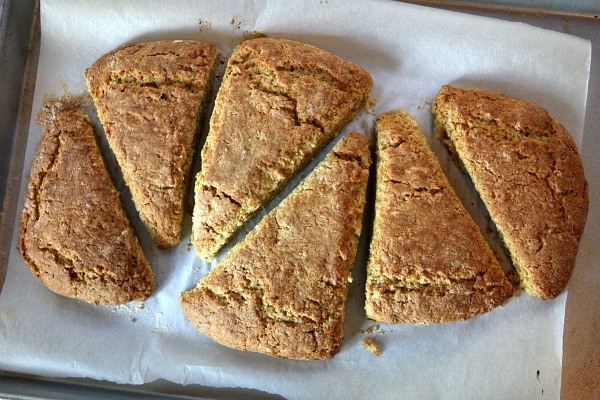 …you'll gently cut them and pull them apart again.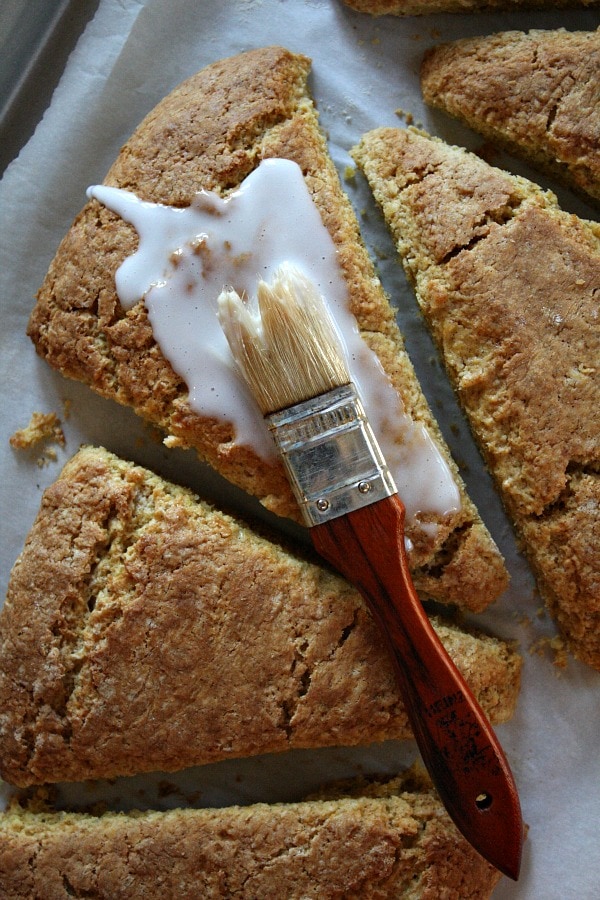 Here where things get crazy.  You're going to put two layers of glaze on these scones.  The first layer is a base layer of plain glaze.  It's going to act as a barrier between the spiced glaze and the scone, giving the spiced glaze something to stick to.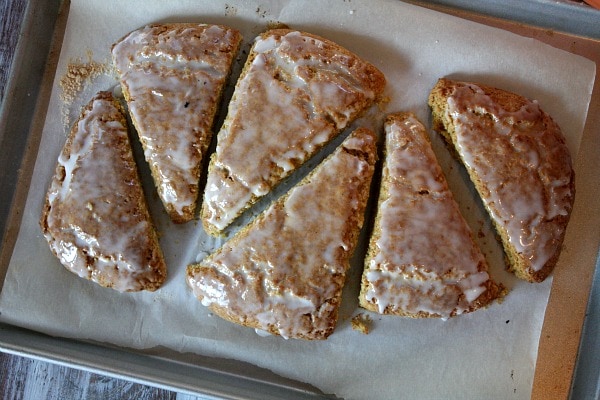 Just give them all a once-over with the plain glaze, and then give it a few minutes to set.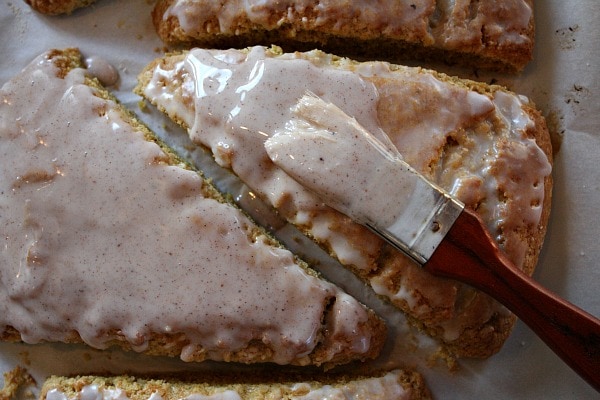 Then you'll brush on the spiced glaze.  The good stuff.  You can brush it on like I did, or you can get all fancy and drizzle it on in a squiggly back & forth motion.  I didn't have anyone to impress on my scone-making day, so I brushed.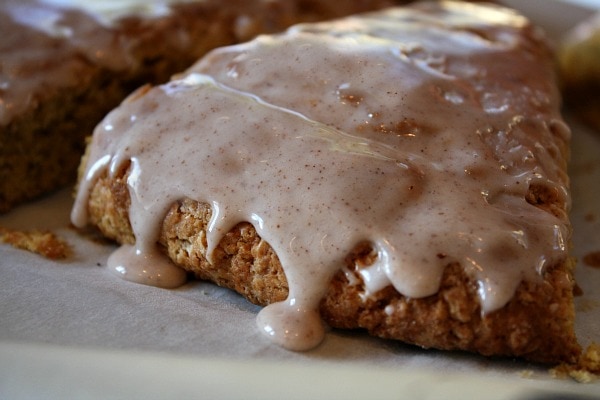 And I was generous with my brushing.  I let it drizzle down the sides, attempting to cover all available nooks and crannies.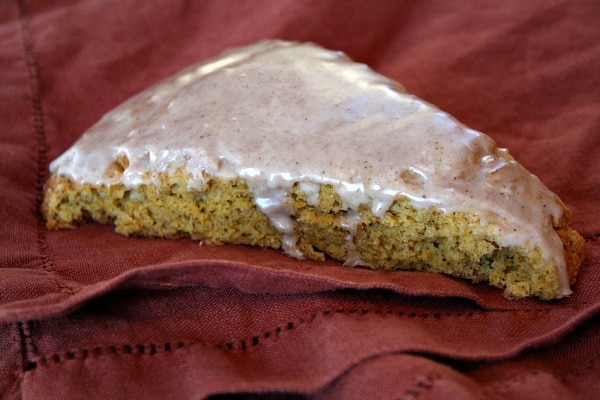 And there it is.  Ready for scones with your coffee.  Or coffee with your scones.  Or mid-day snack with milk.  Or breakfast for dinner.  They are tender and delicious, which is what a coffee shop scone usually isn't.  And I might mention that they freeze well too.  Wrap each individually in foil and just pop them into your freezer.  They defrost quickly in the microwave.
So I've shown you how to make a Pumpkin Spice Latte… and an Iced Coffee… and a Pumpkin Scone.
Now you're all set to "coffee shop it" at home!
Starbuck's Pumpkin Scones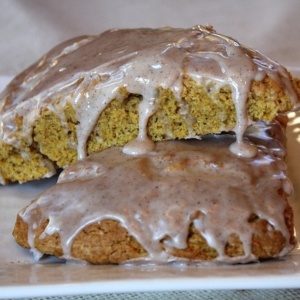 More tender and delicious than the original...
Yield:
6 scones
Prep Time: 30 min
Cook Time: 15 min
Ingredients:
SCONES:
2 cups all-purpose flour (and more, as needed)
3/4 cup granulated white sugar
1 tablespoon baking powder
1/2 teaspoon salt
1/2 teaspoon ground cinnamon
1/2 teaspoon ground nutmeg
1/4 teaspoon ground cloves
1/4 teaspoon ground ginger
1/2 cup canned pure (unsweetened) pumpkin
3 tablespoons half and half cream
1 large egg
6 tablespoons cold butter, cut into cubes
PLAIN GLAZE:
1/2 cup powdered sugar (sifted)
1 tablespoon milk (any kind)
SPICED ICING:
3/4 cup powdered sugar (sifted)
1 to 2 tablespoons milk (any kind)
1/4 teaspoon ground cinnamon
1/8 teaspoon ground nutmeg
pinch of ground ginger
pinch of ground cloves
Directions:
1. Preheat oven to 425°F. Spray baking sheet with cooking spray or line with parchment paper. Give it a light dusting of flour on top of that.
2. In a large bowl, whisk together dry ingredients (through ginger).
3. In a separate bowl, whisk together pumpkin, half and half and egg.
4. Use a pastry cutter or two knives to cut butter into the dry ingredients. Continue cutting until the mixture resembles fine crumbs. (You may also use a food processor for this step. Pulse until the mixture resembles fine crumbs).
5. Fold wet ingredients into dry ingredients, then form the dough into a ball. The dough will be wet, but if it seems super sticky... just go ahead and sprinkle a little more flour into the dough until it's easier to handle (you'll be working in 1/4 to 1/2 cup additional flour to get the right consistency). Remember, you want it to be somewhat sticky, and that's okay- but you also don't want it to stick to the baking sheet. Pat out dough onto the lightly floured baking sheet and form it into a 1-inch thick rectangle that is about 9-inches long and 3-inches wide. Use a large knife or a pizza cutter to slice the dough twice through the width, making three equal squares. Cut through the three squares diagonally so that you have 6 triangular slices of dough. Gently pull the triangles apart, leaving about 1/2-inch space between each one.
6. Bake 14 to 16 minutes on prepared baking sheet. Scones should begin to turn light brown.
7. While scones are cooling, prepare plain glaze by whisking ingredients in a medium bowl. Mix until smooth.
8. When scones are cool, use a knife to cut them apart and then pull them apart so that they are ready for glazing. Use a brush to paint a coating of the glaze over the top of each scone.
9. As the white glaze firms up, prepare spiced icing by whisking the ingredients in another medium bowl until smooth. Drizzle this thicker icing over each scone (or brush it on) and allow the icing to dry before serving.
Source: RecipeGirl.com (Adapted from Top Secret Recipes)