OH, Happy Day today! I love spice cake and pumpkin cake. And I'm a cheesecake fanatic. So Happy Birthday to Me! No, seriously… it's my birthday. And since these are my favorite things, I made us a Pumpkin Cheesecake Cake with Pumpkin Cream Cheese Frosting and Candied Pecans.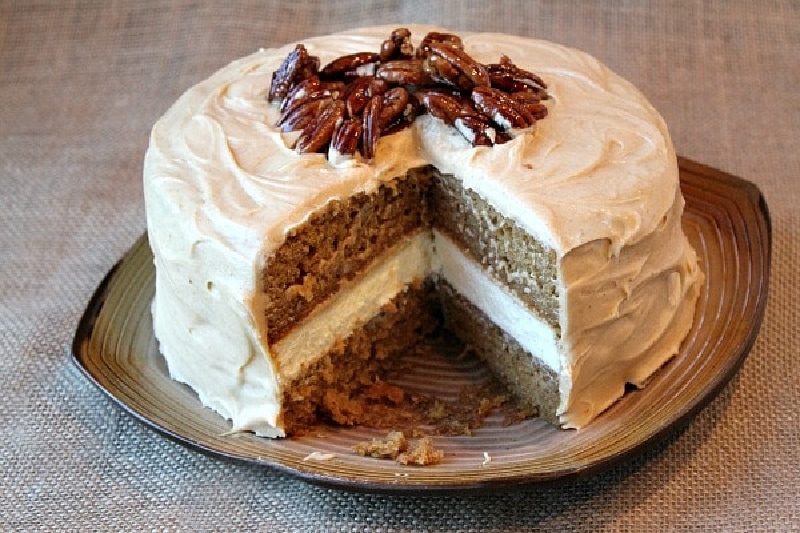 I have someone to thank for this idea: my friend Joe. My friend Joe (now a caterer in San Francisco) is from way, way back… high school, in fact. We found each other on Facebook, and now he follows my blog. Fun, huh? I love how facebook reconnects us to old friends who would otherwise probably be lost forever. Anyway- back in August when I made that last cheesecake cake of the strawberry variety, Joey commented and told me that he thought I should make a pumpkin spice themed one for the fall season with candied pecans. I listened real good to that advice, and I haven't been able to shake it out of my head.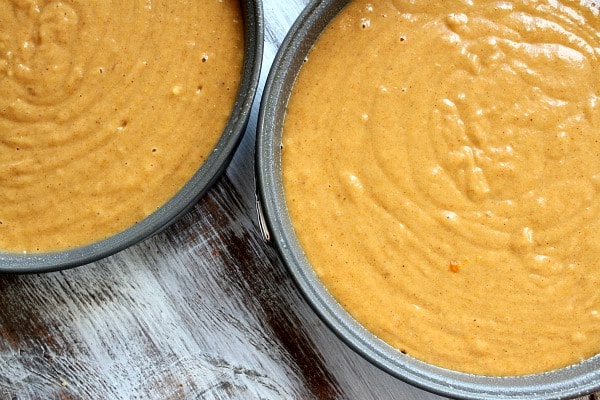 How to make Pumpkin Cheesecake Cake:
Mix together pretty, pretty pumpkin cake batter. Divide it between two round cake pans.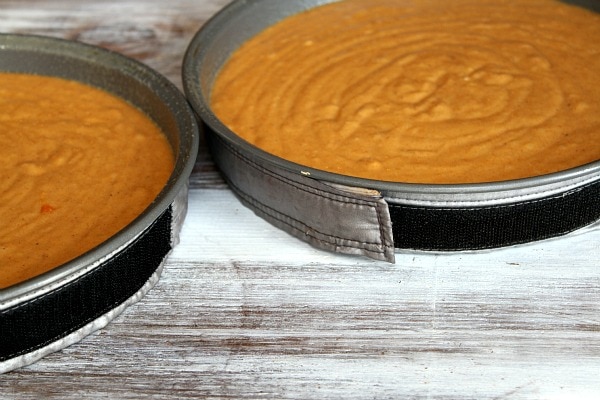 Here are those magical cake strips that you absolute MUST have if you ever bake cakes. Soak them briefly in water, then wrap them around your cake pans and bake. Your cake layers will not rise up in the middle, and you will end up with two perfectly nice and even cake layers (which makes for much prettier and easier frosting).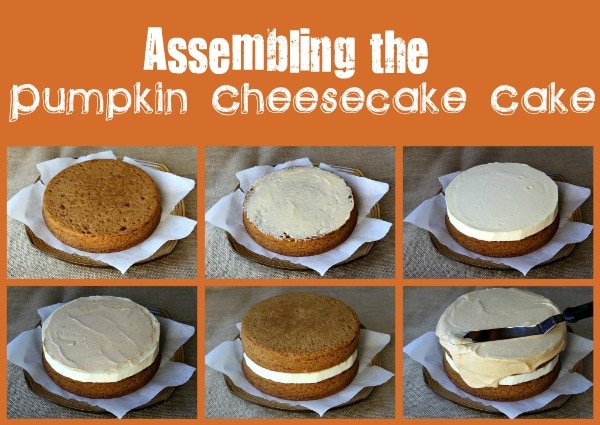 Assemble as shown:
Place one cake layer on a platter (little strips of waxed paper placed underneath the edges to protect the platter from frosting).
Then spread a light layer of frosting on the 1st layer.
The cheesecake comes next. It will be frozen, so you'll need to hold it in your hands and shave off the edges a bit with a sharp knife until you have a size that matches your cake layers (both are baked in 9-inch pans, but the cheesecake seems to come out slightly larger). Place it on the frosted first layer.
Then frost the cheesecake layer lightly too.
Place the 2nd cake layer on top of the cheesecake.
Then frost the rest of the cake!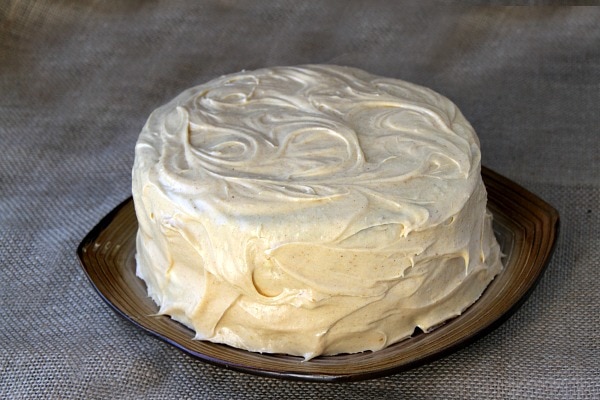 I'm not much of a fancy cake decorator, but slather the whole thing in frosting however you see fit. Keep it refrigerated until you're ready to slice and serve.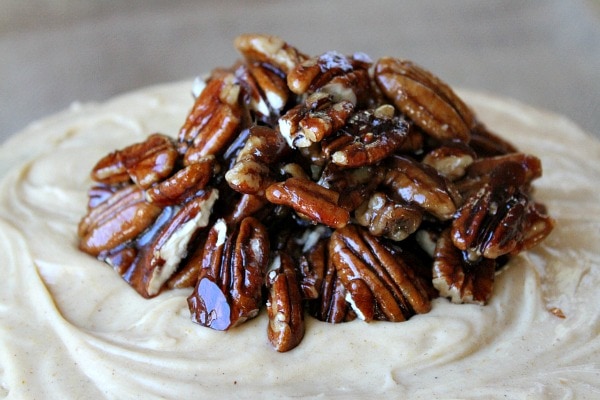 I whipped up some candied pecans a-la-Joey's suggestion and sprinkled them on top of my cake. SUCH a good addition.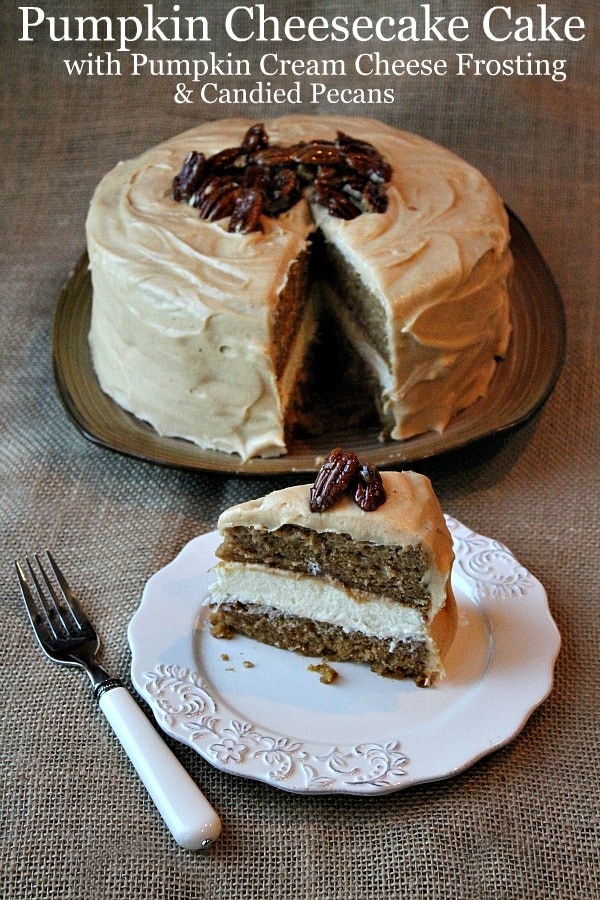 And there it is… my birthday cake slice. I ate that already and maybe two or five slices more over the span of a few days' time. When it's your birthday, you can have your cake AND eat it (guilt-free) too 🙂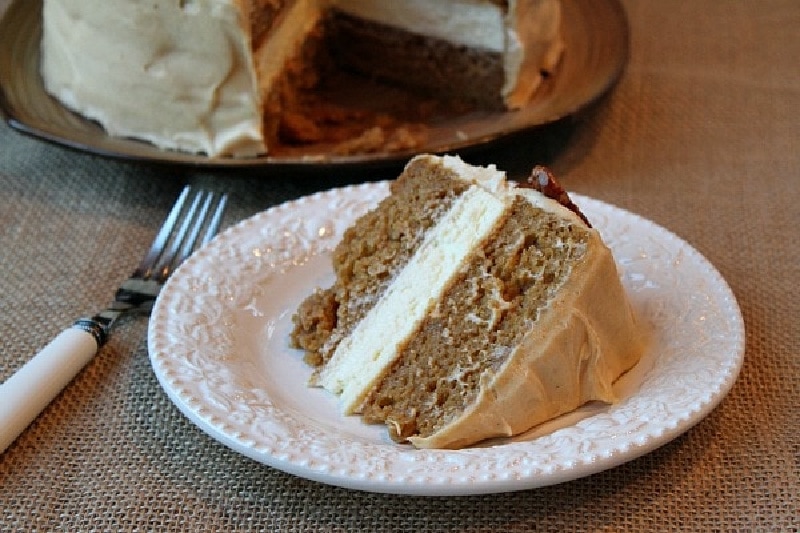 This cake has two layers of pumpkin spice cake with a thick layer of cheesecake tucked inside, a delicious pumpkin cream cheese frosting and crunchy, candied pecans. It's a delicious cake! Thanks, HS friend Joey for suggesting the combo! I suggest serving it with some pumpkin cheesecake ice cream for complete indulgence. Enjoy!
Pumpkin Cheesecake Cake
Complete indulgence in one dessert!
Recipe Details
Ingredients
CHEESECAKE:
Two

8-ounce packages

cream cheese,

at room temperature

⅔

cup

granulated white sugar

=

pinch

of salt

2

large

eggs

⅓

cup

sour cream

⅓

cup

heavy whipping cream

1

teaspoon

vanilla extract
PUMPKIN SPICE 2-LAYER CAKE:
¾

cup

vegetable or canola oil

1¾

cups

granulated white sugar

¼

cup

packed brown sugar

3

large

eggs

One

15-ounce can

unsweetened pumpkin puree

2½

cups

all purpose flour

1

tablespoon

pumpkin pie spice

1½

teaspoons

baking soda

1

teaspoon

baking powder

1

teaspoon

ground cinnamon

1

teaspoon

salt

¼

teaspoon

ground nutmeg

1

cup

buttermilk
PUMPKIN CREAM CHEESE FROSTING:
One

8-ounce package

cream cheese,

at room temperature

⅓

cup

canned unsweetened pumpkin puree

1

teaspoon

ground cinnamon

1

teaspoon

pumpkin pie spice

½

teaspoon

vanilla extract

4 to 5

cups

powdered sugar,

sifted
Instructions
PREPARE THE CHEESECAKE LAYER:
Preheat the oven to 325 degrees F. Place a large roasting pan on the lower third rack of the oven. Place a kettle of water on the stove to boil. Spray a 9-inch springform pan with nonstick spray. Wrap a double layer of heavy duty foil around the bottom and up the sides of the pan (you want to seal it so the water from the water bath doesn't seep into the pan).

In a large bowl, use an electric mixer to blend the cream cheese until it is smooth and creamy, 1 to 2 minutes. Mix in the sugar and salt and blend for 2 minutes, scraping down the sides of the bowl to make sure all is mixed in. Add the eggs, one at a time, blending after each addition. Finally, mix in the sour cream, whipping cream and vanilla (and food color, if using). Mix until smooth. Pour the batter into the prepared pan. Set the pan into the roasting pan in the pre-heated oven. Carefully pour the hot water from your kettle into the roasting pan. Pour enough water so that there is about an inch of water coming up the foil along the sides of the cheesecake pan.

Bake the cheesecake for 45 minutes. It should be set to the touch and not jiggly. Remove the cheesecake from the roasting pan and let it cool on a wire rack for at least an hour. When it has cooled, place the pan into the freezer and let the cheesecake freeze completely (4 to 5 hours or overnight).
PREPARE THE CAKE:
Preheat the oven to 350 degrees F. Spray two 9-inch round cake pans with nonstick spray, then line each with a round of parchment paper.

In a large bowl, use an electric mixer to combine the oil and sugars. Mix until well-combined. Add in eggs, one at a time, beating after each addition. Mix in the pumpkin.

In a separate bowl, whisk together the flour and remaining dry ingredients (through nutmeg). Add the dry ingredients to the wet ingredients alternately with the buttermilk, beating well after each addition. Divide the batter between the two pans. Bake 30 to 35 minutes, or until the cake tests done with a toothpick inserted in the center coming out clean. Cool the cake in the pans for about 20 minutes, then carefully turn them out to a rack to cool completely (remove the parchment paper and discard).
PREPARE THE FROSTING:
In a large bowl, use an electric mixer to combine the cream cheese, pumpkin, spices and vanilla. Add 2 cups of powdered sugar and mix until combined. Add 2 additional cups of sugar and continue to mix. Add additional powdered sugar by the spoonful, as needed, and mix until you have your desired spreading consistency.
ASSEMBLE THE CAKE:
Place one cake layer into the center of a cake plate or platter. Spread a small amount of frosting on the first cake layer. Remove the cheesecake from the freezer, take off the sides of the pan, and slide a knife under the cheesecake to remove it from the pan. Measure your cheesecake layer against the cake layers. If the cheesecake layer turns out to be a slightly larger round than your cake, move it to a cutting board and gently shave off some of the exterior of the cheesecake to get it to the same size as your cake layers. Place the cheesecake layer on top of the first cake layer. Spread a small amount of frosting on the cheesecake layer. Place the 2nd cake layer on top of the cheesecake. Use the rest of the frosting to frost the entire cake.

Keep the cake refrigerated (no need to cover) until ready to slice and serve. It will slice best when it has had a chance to chill for at least a couple of hours (or overnight).
Nutrition
Serving:
1
slice
,
Calories:
718
kcal
,
Carbohydrates:
97
g
,
Protein:
9
g
,
Fat:
34
g
,
Saturated Fat:
13
g
,
Polyunsaturated Fat:
5
g
,
Monounsaturated Fat:
14
g
,
Trans Fat:
1
g
,
Cholesterol:
132
mg
,
Sodium:
494
mg
,
Potassium:
267
mg
,
Fiber:
2
g
,
Sugar:
76
g
,
Vitamin A:
6532
IU
,
Vitamin C:
2
mg
,
Calcium:
123
mg
,
Iron:
2
mg