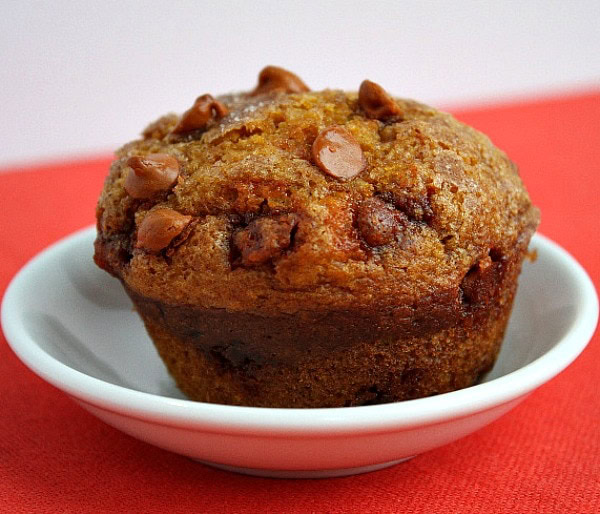 Pumpkin- Cinnamon Chip Muffins
If you've never had cinnamon chips, it's about time you try them. You'll find them in your market's chocolate chip aisle, and if your market doesn't carry them... talk to the manager! They're made by Hersheys.
Yield:
18 muffins
Prep Time: 10 min
Cook Time: 18 min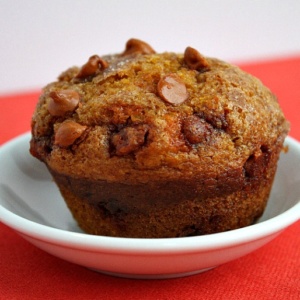 Ingredients:

2 1/4 cups all-purpose flour
1 1/2 teaspoons baking soda
1 1/2 teaspoons baking powder
1/2 teaspoon salt
1 cup granulated white sugar
1 1/2 teaspoons pumpkin pie spice
2 large eggs
1 1/2 cups canned unsweetened pumpkin puree
1 cup unsweetened applesauce
2 tablespoons canola or vegetable oil
1 1/2 teaspoons vanilla extract
1 cup cinnamon chips
2 tablespoons granulated white sugar + 1/2 teaspoon ground cinnamon

Instructions:

1. Preheat oven to 350°F. Lightly spray 18 muffin tin cups with nonstick spray.

2. In a medium bowl, whisk together dry ingredients (through pie spice).

3. In a large bowl, whisk together eggs, pumpkin, applesauce, oil and vanilla until well blended. Stir in dry ingredients and mix only until combined (do not over mix). Gently fold in cinnamon chips.

4. Scoop into muffin pans, sprinkle with cinnamon/sugar mixture and bake 18 to 20 minutes. Turn onto rack and cool.

Tips:

*Use an ice cream scoop with a spring handle to scoop the batter into the muffin tins- it's so easy and no mess.