Enjoy the warm and comforting flavors of fall with these Pumpkin Coffee Cake Muffins!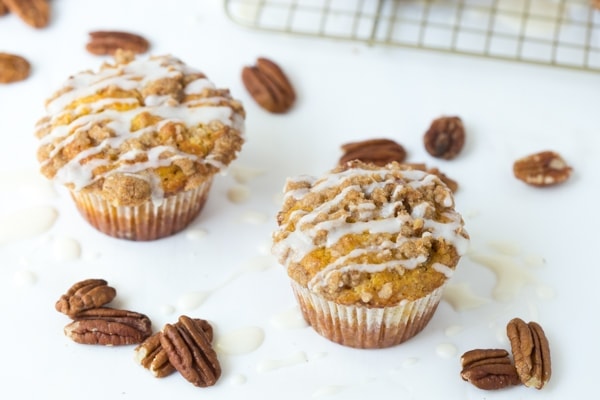 Pumpkin season is here. Do you love pumpkin? Is your favorite pumpkin recipe sweet or savory? I love that pumpkin is versatile and works well in everything from sweet desserts to savory main dishes. In fact, you can enjoy pumpkin at every meal throughout the day if you want. Today, I am sharing one of my favorite sweet pumpkin recipes featuring a pecan crumble topping.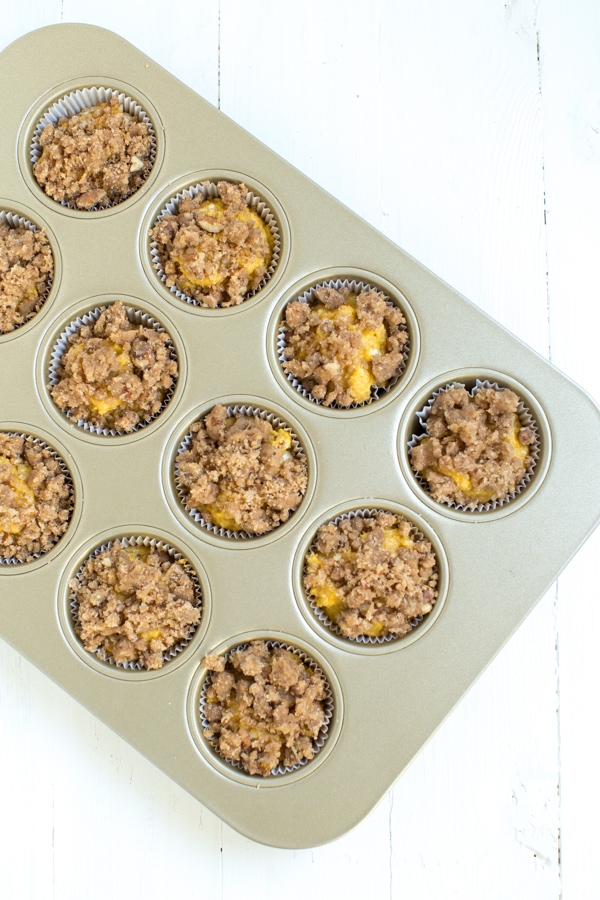 Coffee cake muffins are one of my favorite things to make for a grab-and-go breakfast. They are a great option to bring to a friend or to make for entertaining guests. The muffins are easy yet impressive. The pumpkin adds a fresh fall flavor and the pecan crumble topping adds texture and extra flavor. Bake a batch of these muffins in your oven and your kitchen will smell like fall. The pecan topping complements the pumpkin muffin to create a sweet treat that you won't be able to resist.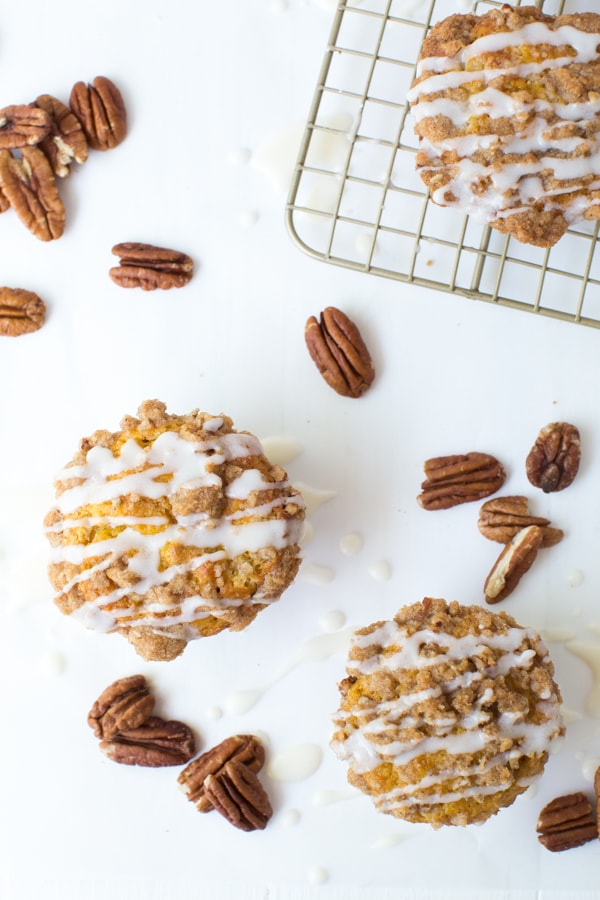 To make the muffins, first prepare a pecan streusel. A portion of the streusel is then mixed into the muffin batter and the remaining is used to top the muffins. The streusel creates a delicious crumb coffee cake topping. Drizzle with the glaze to create a bakery style muffin that everyone will love.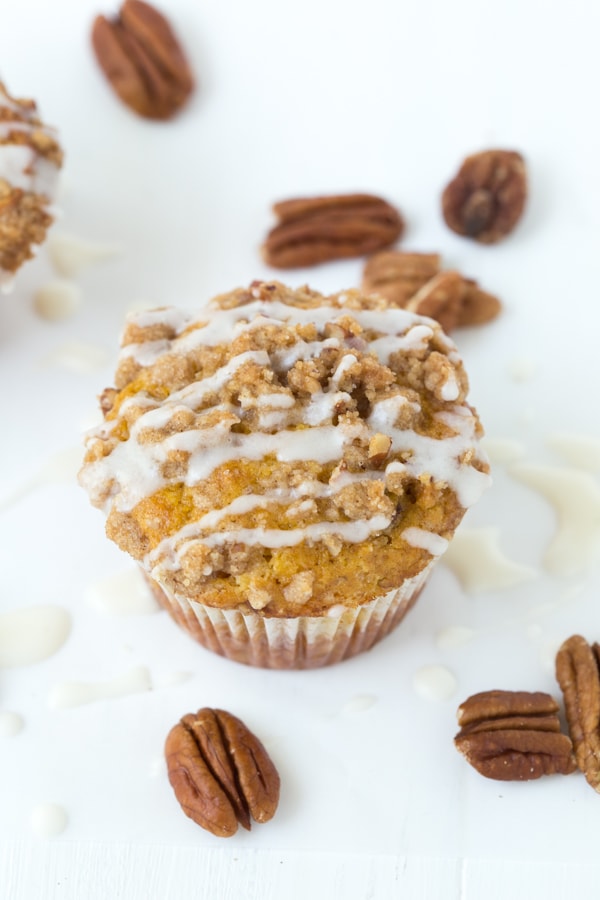 Kids and adults will love these muffins. Go ahead, make a batch of muffins to share with your friends and family!
Pumpkin Coffee Cake Muffins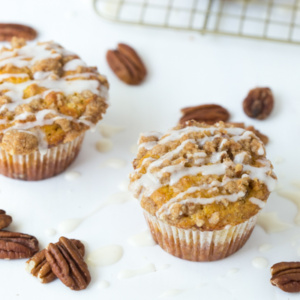 Yield:
about 12 standard sized muffins
Prep Time:15 minutes
Cook Time:24 minutes
Ingredients:
For the streusel:
2/3 cup all-purpose flour
1/2 cup finely chopped pecans
1/3 cup granulated white sugar
1/4 cup packed dark brown sugar
1 teaspoon ground cinnamon
4 tablespoons (1/2 stick) unsalted butter, divided
For the muffins:
1 1/3 cup all-purpose flour
2/3 cup granulated white sugar
1 teaspoon salt
6 tablespoons (3/4 stick) unsalted butter, softened
1 1/2 teaspoons baking powder
1/4 teaspoon baking soda
1/4 teaspoon ground nutmeg
1/2 cup sour cream
1 egg
1 teaspoon vanilla extract
3/4 cup unsweetened pumpkin puree (not pumpkin pie filling)
For the glaze:
1 cup powdered sugar
3 tablespoons milk
1/2 teaspoon vanilla extract
Directions:
Preheat the oven to 350 degrees F. Line a 12-cup muffin tin with paper liners.
Make the streusel:  In a medium bowl combine the flour, pecans, sugars, and cinnamon. Cut 2 tablespoons butter into small pieces- add to the mixture and use a pastry blender to cut the butter into the mixture until the mixture comes together in crumbles.  Set aside.
Make the muffins:   In a large bowl, combine the flour, sugar and salt. Cut the butter into ½ inch pieces and sprinkle evenly over flour mixture. Using a pastry blender, cut the butter into the flour mixture until the mixture is crumbly. Add the baking powder, baking soda and nutmeg and stir to combine.
In a liquid measuring cup, whisk together the sour cream, egg and vanilla. Add the liquids and pumpkin to the flour mixture and stir just until combined. Add 3/4 cup of the streusel mixture to the flour mixture and stir until the streusel is just distributed throughout batter.
Melt the remaining butter for the streusel and stir into the remaining streusel mixture- until the streusel resembles a crumble.
Divide batter among 12 muffin cups and sprinkle generously with the streusel topping, crumbling with your hands to make some big chunks. Bake 22 to 24 minutes, or until a toothpick inserted into the center of the muffins comes out clean. Allow to cool in the pan for 10 minutes, then transfer to a wire rack to cool completely.
To make the glaze, whisk the powdered sugar, milk and vanilla extract together. Drizzle over muffins. Store in a sealed container for up to 2 days.
SOURCE: RecipeGirl.com
Here are a few more pumpkin recipes you might enjoy: