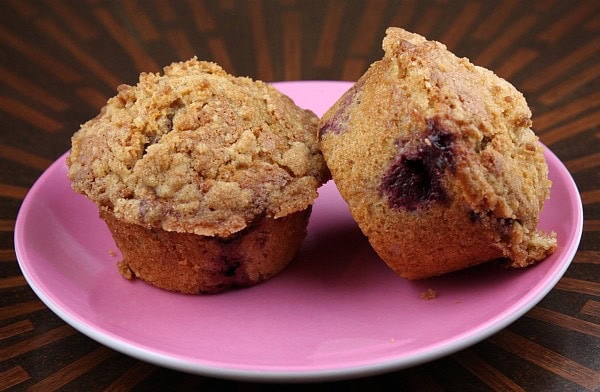 Raspberry Muffins
Yield:
12 muffins
Prep Time: 15 min
Cook Time: 15 min
Ingredients:

MUFFINS:
1 cup all-purpose flour
1/2 cup whole wheat flour
1/4 cup granulated white sugar
1/4 cup light brown sugar, packed
2 teaspoons baking powder
1/4 teaspoon salt
1 teaspoon cinnamon
1/2 cup milk
1/2 cup butter, melted
1 large egg, beaten
1 cup fresh or frozen raspberries (drain well)

STREUSEL TOPPING:
2 Tablespoons butter, slightly softened
2 Tablespoons flour
1/2 teaspoon ground cinnamon
1/4 cup brown sugar, packed

Instructions:

1. Preheat oven to 400 degrees F. Prepare muffin tin with paper liners, or spray with nonstick spray

2. In a large bowl, whisk together dry ingredients. Add remaining ingredients up to and including the egg. Carefully stir in raspberries. Scoop batter into muffin tins.

3. To prepare streusel topping: Combine remaining ingredients in small bowl. Use a fork to mix butter into the dry ingredients and create crumbles. Top each muffin cup full of batter with a spoonful of streusel topping.

4. Bake 15-20 minutes until toothpick inserted in center comes out clean.

Tips:

*Try using mini-muffin tins too.