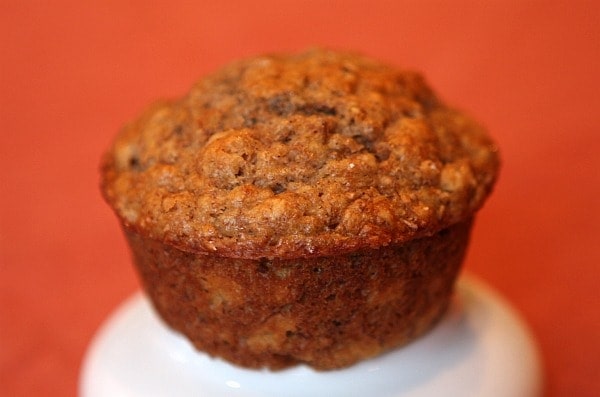 Banana- Bran Muffins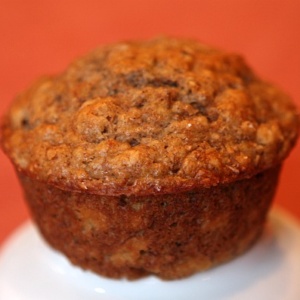 Bake up these healthy muffins for your family for a weekend morning breakfast...
Yield:
12 Muffins
Prep Time:15 min
Cook Time:20 min
Ingredients:
1/4 cup applesauce
1/4 cup butter, softened
1/2 cup brown sugar
3 medium (ripe) bananas, mashed
1/4 cup nonfat milk
1 teaspoon vanilla extract
2 large eggs
1 1/2 cups all-purpose flour
1/2 cup wheat bran
1 teaspoon baking powder
1 teaspoon baking soda
1/4 teaspoon salt
1 teaspoon pumpkin pie spice
Directions:
1. Preheat oven to 375°F. Grease a muffin pan or line with paper muffin liners.
2. In a large mixing bowl, cream applesauce, butter and brown sugar together until fluffy. Add bananas, milk, vanilla and eggs; mix well. In a separate bowl, blend together dry ingredients. Stir into wet mixture just until moistened. Pour batter into prepared muffin cups.
3. Bake for 15- 20 minutes, or until a toothpick inserted into the center of a muffin comes out clean. Cool in the cups for 5 minutes, then remove muffins and place on a wire rack to cool completely.
Nutrition:
Nutritional Information per serving:
Serving size: 1 muffin
Calories per serving: 175
Fat per serving: 5g
Saturated Fat per serving: 2.78g
Fiber per serving: 2.31g
Protein per serving: 3.59g
Cholesterol per serving: 45.52mg
Carbohydrates per serving: 30.28g

WW POINTS per muffin:
Points Plus Program: 5 Old Points Program: 3.5