This recipe has been featured in a post on The Recipe Girl blog: Pumpkin Cake Pops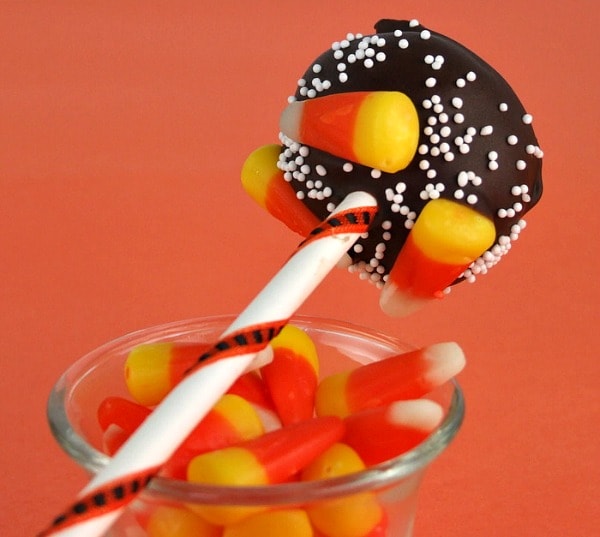 Yield: 50 pops
Prep Time: 1 hr
Cook Time: 40 min
Pumpkin Cake Pops
They're impressive and delicious!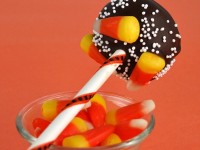 Ingredients:
CAKE:
3 cups all-purpose flour
2 teaspoons baking powder
1 teaspoon baking soda
1 Tablespoon ground cinnamon
2 teaspoons ground ginger
1 3/4 teaspoons ground allspice
1 teaspoon salt
1/2 teaspoon ground nutmeg
1 1/2 cups granulated white sugar
1 cup light brown sugar (packed)
1 cup canola or vegetable oil
4 large eggs
One 15-ounce can pure (unsweetened) pumpkin
1 Tablespoon vanilla extract
1 Tablespoon grated orange zest (or less if you don't want much orange flavor)
2 tubs prepared frosting
OTHER INGREDS:
8-inch long lollipop sticks (or 6-inch), sturdy, thicker ones rather than the skinny type
melting chocolate (chocolate disks from baking shops or regular chocolate chips)
decor sprinkles, etc.
ribbon for sticks (optional)
Directions:
1. Prepare cake: Preheat oven to 350°F. Butter two 9-inch-diameter cake pans and dust with flour.
2. Sift flour and next 7 ingredients into a medium bowl.
3. Using electric mixer, beat both sugars and oil in large bowl until combined (mixture will look grainy). Add eggs, 1 at a time, beating until well blended after each addition. Add pumpkin, vanilla, and orange zest; beat until well blended. Add flour mixture; beat just until incorporated. Divide batter between prepared pans.
4. Bake cakes until tester comes out clean- about 35-40 minutes. Cool cakes on rack.
5. Forming the cake balls: Line baking sheet (one that fits in your freezer) with parchment or waxed paper. Remove cakes in pieces and place them in your food processor. Process to crumbs; dump crumbs into a large bowl. Add one tub of frosting to the crumb mixture. Mix with the back of a large spoon (or your hands). Add additional frosting, as needed, until the mixture sticks easily together. Form quarter- sized balls with your hands and place onto prepared baking sheet. Place balls into the refrigerator and chill until firm (a shorter stay in the freezer would be okay too).
6. Melting the chocolate: Melt chocolate in a small glass bowl in microwave in 30 second intervals. Keep checking and stirring. If you cook it too long, it will harden. It should take about a minute and a half for about a cup of chocolate. When using chocolate chips, I add about a half teaspoon of crisco to assist with smoothing it out. (fyi- white chocolate chips don't melt well- for this project, I used white chocolate disks found at a specialty baking shop).
7. Dipping the cake pops: You'll need to work quickly, so make sure that you have all of your decorator supplies out. A paper plate is handy to use as a 'catcher' for errant sprinkles. Take out your tray of chilled cake balls and set it near your workplace. Place a stick about a half inch into the melted chocolate and then gently push into one of the frozen balls. Hold the ball with your other hand to make sure that it goes in nicely and doesn't cause it to crack. Gently dip the ball into the melted chocolate and turn quickly to coat. Work over your paper plate to quickly sprinkle decor items onto the melted chocolate. The chocolate dries pretty fast so you need to do the decor right away. Place the decorated pop back onto your baking sheet and let set. Repeat with remaining balls, and melt more chocolate as you go along.
8. Pops should be stored in the refrigerator until ready to serve. These are ok to make 24 hours in advance.
Tips:
*If you'd like to use ribbon for decorating, you can glue strips of ribbon and wrap them around your sticks before using. You can also use ribbon to tie bows on the sticks after decorating.
*You can make this recipe a LOT easier, by using a boxed cake mix. Simply bake up the cake as directed, process into crumbs, and mix with 1 tub of frosting.
Comments