Since the oven isn't all that welcome in the summer, this dessert is the best plan:  No Bake Pumpkin Shortbread Bars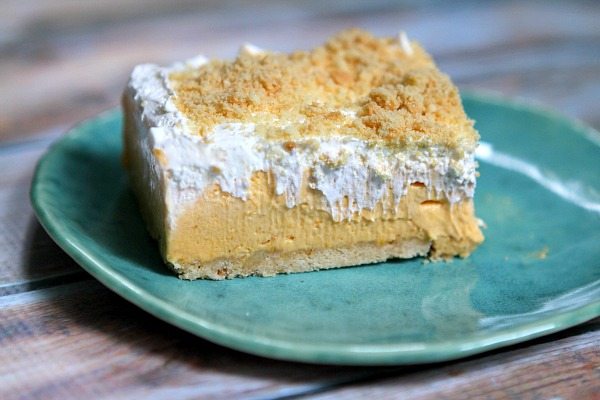 I've raved before about pumpkin, but I'm going to do it again here.  You can use pumpkin all year long in both desserts and savory recipes too.  It's not just all about the pumpkin pie, you know?  I have a good stash of LIBBY'S Pumpkin in my pantry at all times.  My family loves my famous Pumpkin Bread recipe, and I'm kind of partial to my Pumpkin Chili and Pumpkin Cornbread!  Today I'm showing you how to make a dessert that won't let you stop at just one piece (or if you do then you'll go to bed dreaming about it and will immediately want a piece in the morning for breakfast!) These No Bake Pumpkin Shortbread Bars are a must-try dessert for the hot days of summer.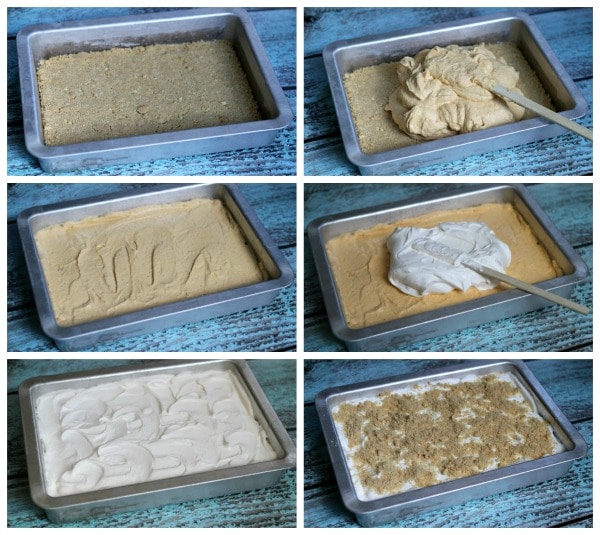 Here's a handy how-to visual for you:
The crust is made up simply of shortbread cookie crumbs, sugar and butter.  It's pressed into your pan and then chilled until firm.  No baking needed!
Next there's a majorly delicious creamy pumpkin mixture spread on top.
Then the whipped topping is added… and more shortbread cookie crumbs!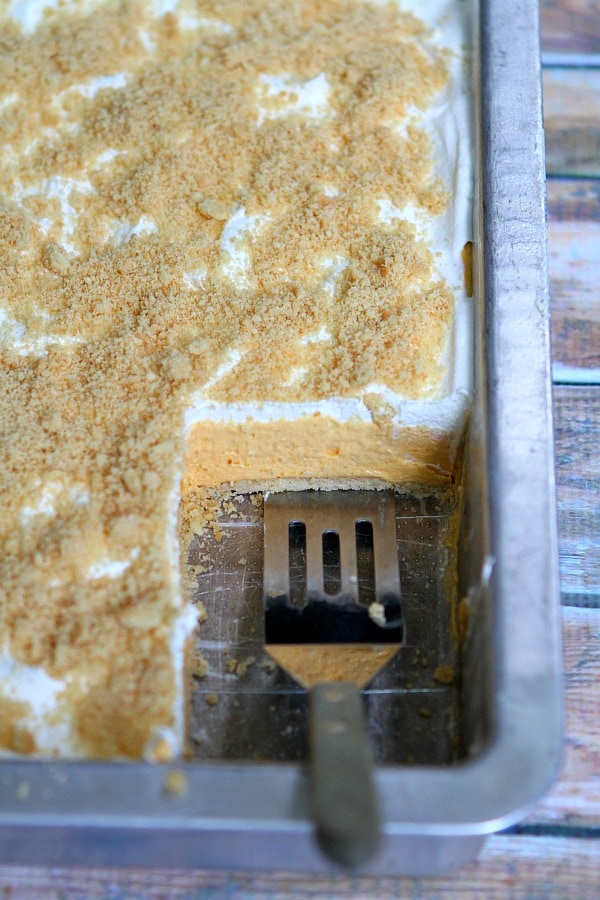 After you've given this dessert a chance to set up in the refrigerator for a couple of hours, it's ready for cutting and serving.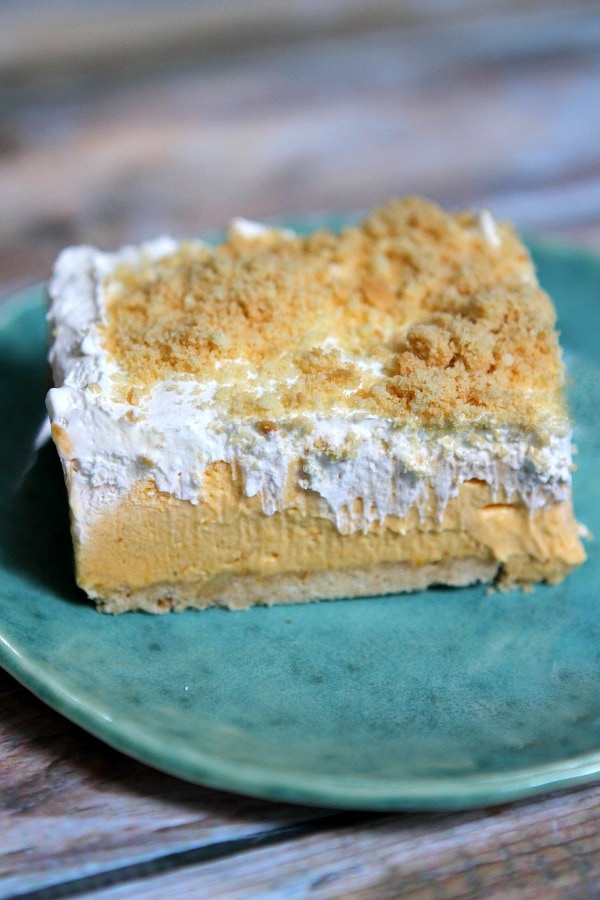 Behold the creamy goodness!  See how delicious pumpkin can be in the middle of the year?  I have you craving pumpkin now, don't I?  Since I have your attention now, I'll go ahead and share these…
COOL PUMPKIN FACTS:
All LIBBY'S® pumpkins are grown in Illinois and grow from seed to harvest in just six months.
You can store your LIBBY'S® 100% Pure Pumpkin in a re-sealable container in the fridge for up to one week- it's great to keep on hand for daily smoothies!  And it will keep in a freezer-safe container for up to 3 months in your freezer.
You can replace half the butter or margarine in your baking recipes with LIBBY'S® 100% Pure Pumpkin to cut the fat.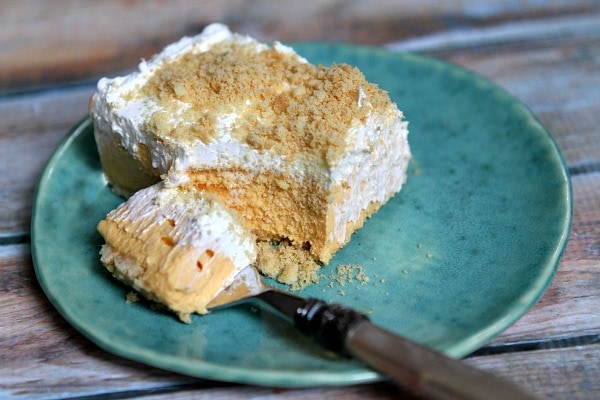 So take a bite of this no-bake dessert, then take another… and then use all the willpower in the world to wait until the next day to have a second piece.   Enjoy no-baking and eating pumpkin things all summer long!
Visit pumpkincan.com for dozens of pumpkin recipes, facts and uses!  Be sure to share your favorite pumpkin ideas via Twitter, Pinterest and Facebook using the #PumpkinCan hashtag.
No Bake Pumpkin Shortbread Bars
Yield:
18 to 20 pieces, depending on how large
Prep Time: 25 minutes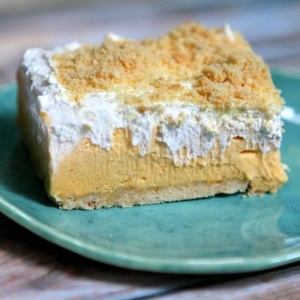 Ingredients:

2 cups shortbread cookie crumbs, divided
3 tablespoons butter, melted
2 tablespoons sugar
Two 8-ounce packages cream cheese, at room temperature
3/4 cup granulated white sugar
One 15-ounc can LIBBY'S® 100% Pure Pumpkin (or 1 3/4 cups)
3/4 cup sour cream
3/4 cup milk
One 3.5-ounce package instant vanilla pudding mix
3 cups whipped topping, thawed

Instructions:

In a medium bowl, combine 1 1/2 cups cookie crumbs, butter and sugar.  Press the crumb mixture into the bottom of an 8 1/2 x 11-inch pan.  Place the pan into the freezer while you prepare the rest of the dessert.  You want the crust to firm up.
In a large bowl, use an electric mixer to soften up the cream cheese and mix until creamy.  Mix in the sugar, then the pumpkin and sour cream until well-combined.  Add in the milk and the dry pudding mix, and beat for 1 minute.
Remove the pan from the freezer and spread the pumpkin mixture evenly on top.  Spread the whipped topping on next.  Then sprinkle the remaining cookie crumbs on top.
Refrigerate the dessert for at least a couple of hours before cutting and serving.

Nutrition:
*To make shortbread cookie crumbs, just place the cookies into a food processor and give it a few whirls... or put the cookies in a large zip baggie and smash to bits!
SOURCE:  RecipeGirl.com
Here are some more no bake pumpkin recipes you might enjoy:
Disclosure:  I've partnered with LIBBY'S Pumpkin to share ideas about how you can use pumpkin in your recipes all year long.  I only partner with brands that I use already in the Recipe Girl kitchen.  This is a product that I know and love and use in my kitchen quite often!