This recipe has been featured in a post on The Recipe Girl blog- Cinco de Mayo Dinner Party. This dish is gluten-free adaptable– please see notes below the recipe.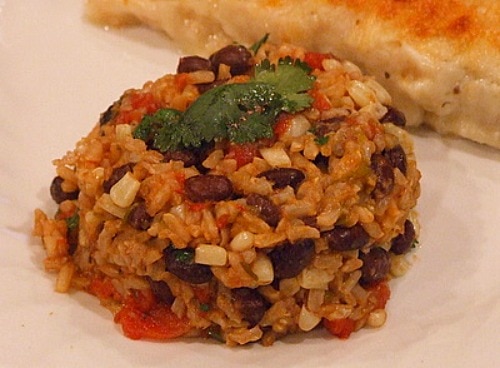 Yield: 8 servings
Prep Time: 25 min
Cook Time: 60 min
Fiesta Rice
Lots of flavor packed into one rice dish. Love that this is low fat!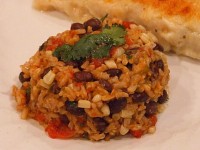 Ingredients:
2 teaspoons olive oil
1 (10 ounce) package frozen whole kernel corn, thawed
1 Tablespoon butter
1 cup chopped green onions
1 1/2 cups uncooked brown rice
1 teaspoon ground cumin
1 teaspoon minced garlic
2 cups fat-free, less-sodium chicken broth
1/8 teaspoon freshly ground black pepper
dash of salt
1 (14.5 ounce) can diced tomatoes with chiles, undrained
1 (15 ounce) can black beans, rinsed and drained
1/2 cup freshly chopped cilantro
1 Tablespoon fresh lime juice
Directions:
1. Heat oil in a medium saucepan over medium-high heat. Add corn to pan; cook 10 minutes or until corn starts to brown, stirring occasionally. Remove from pan; set aside.
2. Melt butter in pan. Add onions; sauté 5 minutes or until tender. Stir in rice, cumin and garlic; cook 1 minute. Add chicken broth, pepper, salt, and diced tomatoes to pan; bring to a boil. Cover, reduce heat, and simmer for 45 minutes, stirring occasionally. Remove from heat; stir in reserved corn and beans. Cover and let stand 10 minutes. Stir in cilantro and juice.
Tips:
*If preparing this recipe as GLUTEN-FREE, just make sure you use a brand of chicken broth that is designated as being GF.
Nutritional Information per serving:
Serving size: 1/8th of the recipe
Calories per serving: 244
Fat per serving: 4g
Saturated Fat per serving: 1g
Sugar per serving: 2g
Fiber per serving: 6g
Protein per serving: 8g
Cholesterol per serving: 4mg
Carbohydrates per serving: 46g
WW POINTS per serving:
Points Plus Program: 6 Old Points Program: 6
Leave a Comment