The image below was taken by my good friend Kristen of Dine and Dish. She loved these fish tacos 🙂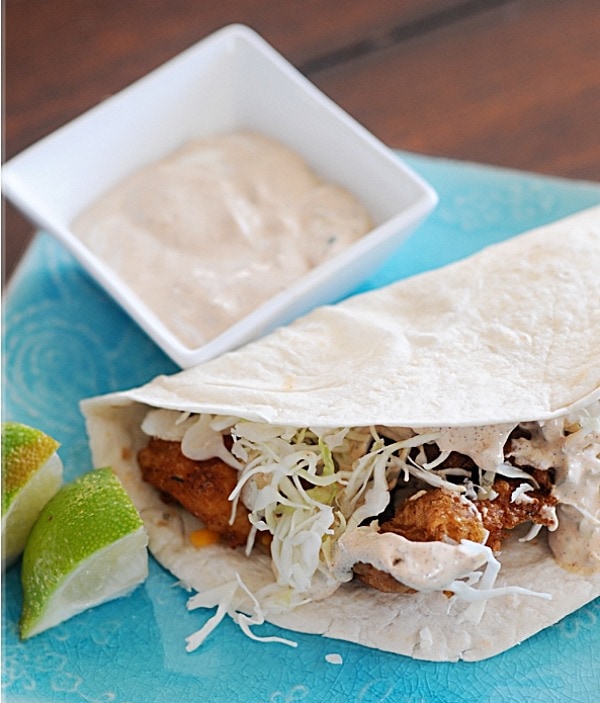 Beer Battered Fish Tacos w/ Baja Sauce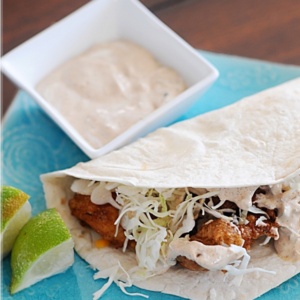 We're a SoCal family and we love our fish tacos. This version is the classic Southern California fish taco. If you haven't tried them, you simply must.
Yield:
6 servings
Prep Time:40 min + marinating time
Cook Time:15 min
Ingredients:
BAJA SAUCE:
1/2 cup sour cream
1/2 cup mayonnaise
2 teaspoons Mexican seasoning
1 small jalapeño pepper, seeded & diced
1/4 cup fresh lime juice
1/2 cup chopped fresh cilantro
TACOS:
1 pound firm white fish fillet, cut into 1 1/2-inch pieces
1 (12 ounce) bottle Mexican beer
1 Tablespoon Mexican seasoning
vegetable oil
1 cup flour
1 teaspoon salt
1 teaspoon granulated sugar
1/2 teaspoon baking powder
1 cup Mexican beer
1/2 teaspoon hot sauce
12 fresh corn tortillas, warmed
1 medium lime, cut into wedges
3/4 cup shredded queso blanco or Monterey Jack cheese
3 cups shredded green cabbage
1/2 red onion, cut into strips
Directions:
1. Prepare Baja Sauce: Combine all ingredients; stir well. Refrigerate until ready for use.
2. Place fish in a heavy-duty large plastic ziploc bag. Combine bottle of beer and Mexican seasoning in a bowl. Pour into ziploc with fish; seal and chill 2 to 3 hours.
3. Pour oil to depth of 1 1/2-inches in a deep skillet or Dutch oven. Heat oil to 360° F.
4. In a medium bowl, combine flour, salt, sugar and baking powder. Whisk in 1 cup beer and hot sauce. Drain fish, discarding marinade. Coat fish in batter.
5. Cook fish in batches about 4 minutes, or until done. Drain on paper towels.
6. Place 2 to 3 pieces of fish on each tortilla. Squeeze lime wedges over fish; top with remaining ingredients. Drizzle with baja sauce and serve immediately.