Delicious flavor all-around in this Chipotle- Beer Shrimp with Pasta recipe!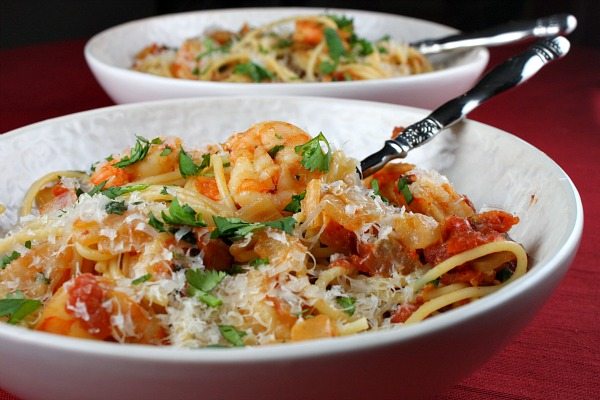 Chipotle- Beer Shrimp with Pasta
Yield:
4 servings
Prep Time: 30 min
Cook Time: 30 min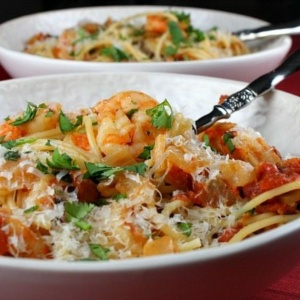 Ingredients:

PASTA:
1 pound large shelled and de-veined raw shrimp
1 cup good beer
1/4 cup coarsely chopped fresh cilantro
1 tablespoon extra-virgin olive oil
1 cup coarsely chopped yellow onion (about 1 medium-large onion)
3 medium sized cloves of garlic, minced
One 14.5 ounce can low-sodium diced tomatoes, drained
1 canned chipotle chile in adobo sauce, drained, seeded and moderately finely chopped
8 ounces spaghettini (or thin spaghetti), cooked and drained according to package directions

OPTIONAL TOPPINGS:
1/2 cup freshly grated Parmesan cheese
1/4 cup coarsely chopped fresh cilantro

Instructions:

1. Place shrimp, beer, and cilantro in a medium-sized bowl, turning shrimp in beer to coat, then let stand at room temperature while you proceed with recipe.

2. Heat olive oil in large heavy skillet over moderately high heat until ripples appear in skillet bottom- 1 1/2 to 2 minutes. Add onion and garlic and sauté, stirring now and then, until wilted- about 3 minutes.

3. Set skillet off heat and drain beer from shrimp directly into skillet. Add tomatoes and chipotle pepper, return to moderately high heat, and bring to a quick boil. Adjust heat so mixture bubbles gently, and simmer uncovered until the consistency of pasta sauce- about 15 minutes.

4. Add shrimp and cilantro, cover, and cook over low heat just until shrimp turn pink and are cooked through- about 5 minutes.

5. Dump hot spaghettini into large bowl, add shrimp mixture, and toss well.

6. To serve, divide pasta among four heated dinner plates and top each portion, if desired, with sprinklings of grated cheese and chopped cilantro.

Tips:

*You'll probably want to pass additional grated Parmesan for those who like more.