Beer Can Chicken is a simple, easy, fun and fall-off-the-bone grilling recipe that delivers tender, juicy, flavorful chicken every single time.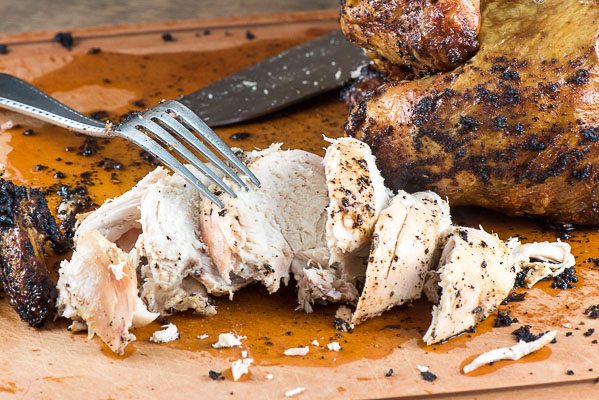 Ready for a relaxing, fun, summertime afternoon with a simple recipe that is huge on flavor? Me too!
Every summer, the one grilling recipe I always look forward to making is Beer Can Chicken. What I love about this recipe is, it is not only really easy to make, but it always results in tender, juicy, fall-off-the-bone chicken that is so flavorful, it will make your mouth water.
The spice combination mixed with rich butter and flavorful, light beer produces a cooked bird that is crispy on the outside and moist on the inside. Just the way we like it!
The other nice thing about this recipe is, it's a set-it-and-forget-it type of recipe. Just fire up the BBQ and let it cook for 1.5 hours and dinner is done. Served with a simple coleslaw or potato salad, it's the perfect backyard barbeque recipe that the entire family will love.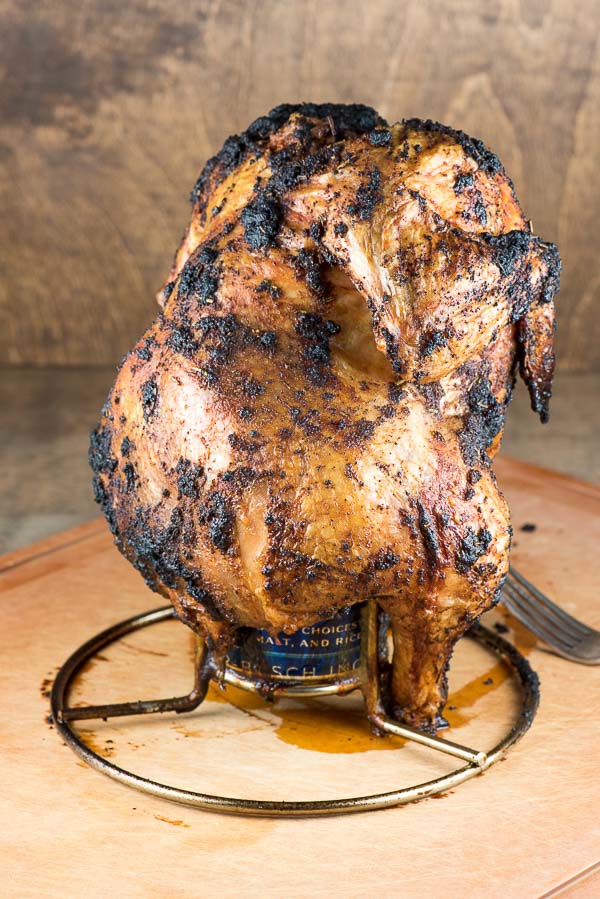 I've made this recipe many times, and whether you place the chicken on top of the beer can and then directly on the grill, or whether you have a beer can chicken holder (as I do in the photo) – let me just share that it is much easier to remove the chicken from the grill when it has a holder supporting it. 🙂
If you don't have one of these handy little gadgets, you can get them relatively inexpensively at Fred Meyer, Target or Walmart. They're a great investment and make your grilling life easier!
Enjoy!
Yield: 4 servings
Prep Time: 5 minutes
Cook Time: 1 hour and 30 minutes
Beer Can Chicken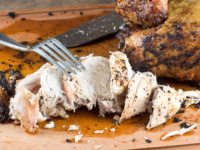 Ingredients:
1/2 can beer, set aside
1 cup (2 sticks) butter
2 tablespoons granulated garlic
2 tablespoons paprika
1 teaspoon rosemary
1/4 teaspoon black pepper
1 (5-pound) whole chicken, neck/giblets removed/discarded
Directions:
Preheat grill to low heat (350-400 degrees F).
Spray outside of beer can and holder with cooking spray and set aside.
Pour out 1/2 of can of beer and set aside for another use.
Melt the butter, garlic, paprika, rosemary and black pepper together. Stir thoroughly so spices are mixed throughout, then pour 1/2 of the melted butter mixture into the beer can and set aside.
Rinse and pat dry chicken. Place the chicken over beer can and holder. Baste with remaining 1/2 melted butter mixture. Place chicken/holder on grill grate, close lid and let cook for 1 hour. After 1 hour, check chicken for doneness. Cover grill and cook the remaining 30 minutes or until done throughout.
I used Bud Light for this recipe.
SOURCE: RecipeGirl.com
Here are a few more grilling recipes you might enjoy:
One Response to "Beer Can Chicken"
Leave a Comment