This Grilled Pork Tenderloin with Blueberry Barbecue Sauce is the perfect way to make pork in the summer months!
In keeping with a "blueberry"/vacation theme, I'm sharing the wonderful pork tenderloin recipe that we grilled on our vacation thanks to Oprah's O Magazine: Grilled Pork Tenderloin with Blueberry Barbecue Sauce. I don't really know why I get O Magazine. Though I've always been an Oprah fan, I rarely actually read the magazine but instead flip to the end where the recipes are. If anything, Oprah knows food and the recipes are usually pretty darn good. Yay for Oprah and her love of food. We definitely have that in common.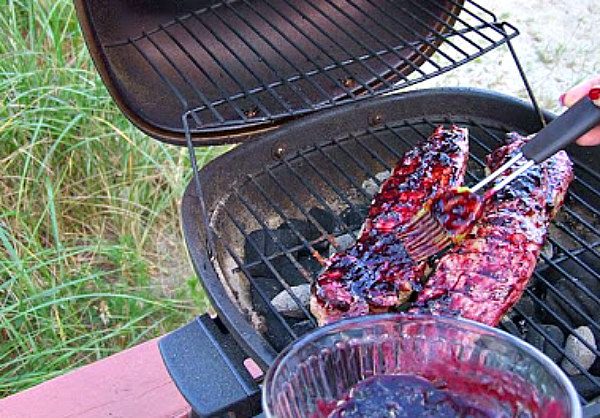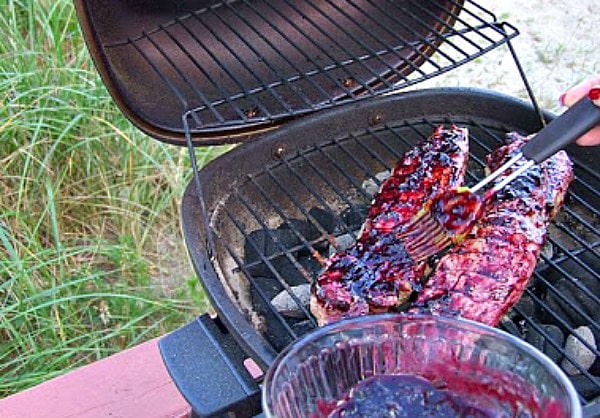 The blueberry barbecue sauce in this recipe is made ahead and divided up. Half gets brushed onto the pork after it has been seared pretty well on all sides. Brush it on too soon and you'll end up with the flames licking the sugary sauce and burning up your pork before it has reached a safe level for consumption.
You might notice that we used the old-fashioned way of barbecuing on our beach vacation… coals and all. And that I didn't wait until my coals were properly ash-colored before throwing the pork on the grill. HINT: It might be better if your barbecue is actually ready for your meat before you attempt to grill it!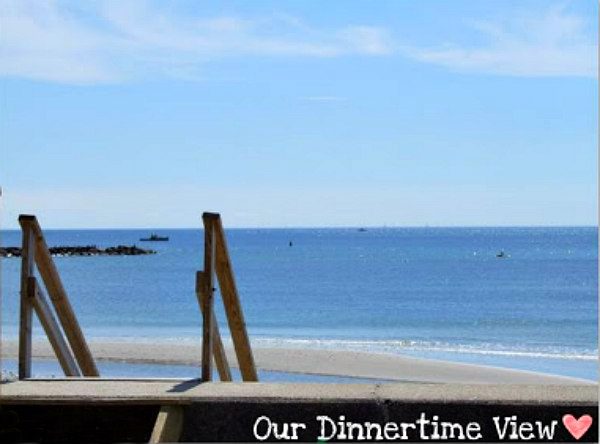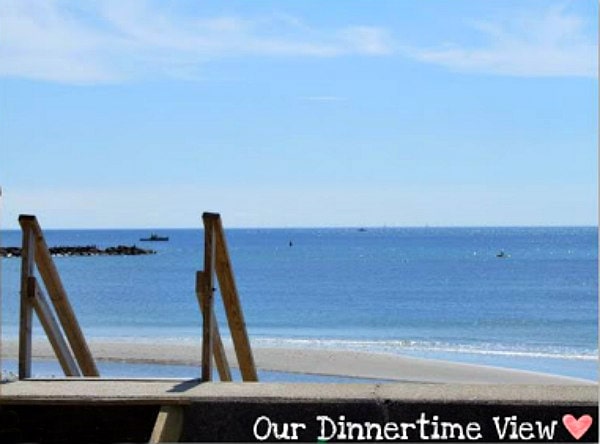 Lucky for me… after a lengthy period of grilling, this Grilled Pork Tenderloin with Blueberry Barbecue Sauce turned out perfect… tender and moist and all that good stuff. The second half of the sauce is spooned on top. It's a wonderful combination. We served it up with some freshly baked bread and a green salad, and it makes a great summertime dinner.
If you're looking for more summer grilling recipes, you might also enjoy my Grilled Cilantro Chicken or these Grilled Chicken Burrito Bowls.  Grilled Sweet Potatoes, Grilled Corn Salad, and Honey Grilled Watermelon Caprese Salads are great grilling recipes too!
Grilled Pork Tenderloin with Blueberry Barbecue Sauce
What a delicious way to cook pork in the summer!
Recipe Details
Ingredients
SAUCE:
6

cups

blueberries

2/3

cup

honey

1/2

cup

ketchup

1

medium

jalapeno pepper,

seeded and chopped finely

1/2

cup

chopped shallots

1

tablespoon

grated fresh ginger

2

teaspoons

freshly squeezed lime juice

1/2

teaspoon

dry mustard
PORK:
2

pounds

pork tenderloin,

trimmed

salt & freshly ground black pepper
Instructions
PREPARE THE SAUCE:
Combine the ingredients in a medium saucepan. Bring to a boil over medium heat; reduce heat and simmer until thickened, about 45 minutes. Divide the sauce between 2 bowls, and set aside.
PREPARE THE PORK:
Preheat the grill to medium heat. Season the pork with salt and pepper. Sear, turning to cook on all sides, 10 to 15 minutes. Brush with half of the barbecue sauce, turning frequently, until pork is thoroughly glazed, about 10 minutes more (a meat thermometer should read about 150°F). Set aside and let rest for 5 minutes. Carve crosswise, and serve with the remaining barbecue sauce.
Nutrition
Serving:
1
serving
,
Calories:
608
kcal
,
Carbohydrates:
87
g
,
Protein:
49
g
,
Fat:
8
g
,
Saturated Fat:
2
g
,
Cholesterol:
147
mg
,
Sodium:
395
mg
,
Potassium:
1186
mg
,
Fiber:
5
g
,
Sugar:
75
g
,
Vitamin A:
275
IU
,
Vitamin C:
24.1
mg
,
Calcium:
35
mg
,
Iron:
3.2
mg